Biel GMT Round 4: Harikrishna beats Keymer
Harikrishna scored a fantastic victory over Vincent Keymer with a brilliant positional sacrifice and jumped to the second spot in the standings with 18.5 points. Wojtaszek scored a fine victory to get back in the lead with 20.5 points. The other victor in the round was local GM Noel Studer who outplayed his opponent Anton Guijarro right out of the opening. Adams had a quiet draw with Edouard. Today, Saturday 25th July, all eight players will have a double Round-Robin Blitz event, part of the GMT. Round 5 of the Classical event will resume from Monday 27th July. Saturday 26th July is a rest day for the GMT participants. Who do you think will win the Blitz event today? Photo: Biel Chess Festival
Harikrishna's brilliant sacrifice
Harikrishna beat Keymer after making a perfect knight sacrifice for three pawns in Round 4 of 53rd Biel Chess Festival GMT. He went on capitalize on his opponent's mistake and stopped Keymer's momentum. With this win Harikrishna jumped to the second spot with 18.5 points. Wojtaszek scored a fine victory over Naiditsch to take sole lead with 20.5 points. Local GM Noel Studer scored his first victory in the classical format of the event as he beat Anton Guijarro who had trouble right out of the opening. Adams had a quiet draw with Edouard.
Harikrishna - Keymer 4-0
Harikrishna scored an important victory over the tournament leader Vincent Keymer. Early in the opening he surprised his opponent with 8.Bb3, he wanted to play something his opponent is not familiar with.
Harikrishna - Keymer
The main line is with 8.Bd3, however Harikrishna surprised his opponent with 8.Bb3
Harikrishna did not know why his opponent took 30 minutes to play 12...0-0 as there was no better move for black.
Black laid out an elaborate ruse if white misplays here after 28...Nh5. Which pawn white should push and which one cannot be?
Naiditsch - Wojtaszek 0-4
Wojtaszek scored a fine victory against Naiditsch in Sicilian Moscow variation to take the sole lead once again. In a seemingly equal position, he kept pushing to gain some advantage until his opponent broke in time pressure.
Naiditsch - Wojtaszek
If white didn't play 36.g4, white could have probably still survived the game. Find out how should black continue here.
Studer - Anton Guijarro 4-0
Studer got a fantastic position out of the opening and Anton Guijarro struggled to get out of the gate. His position only deteriorated as the game progressed further. It was only a matter of time for white's attack to culminate into a victory.
Studer - Anton Guijarro
The game continued with 20.e5, however 20.f4 would have been correct too.
Adams - Edouard 1.5-1.5
The sole draw of the round was between Michael Adams and Romain Edouard. It was a quiet draw.

Replay all games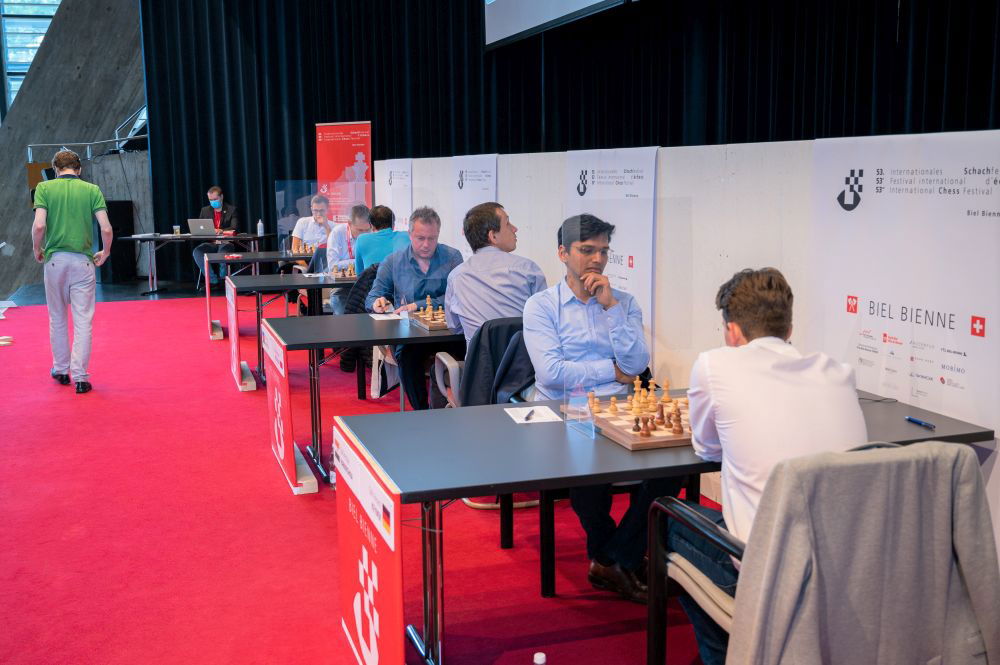 Standings after Round 4
| | | |
| --- | --- | --- |
| 1 | Radoslaw Wojtaszek | 20.5 |
| 2 | Harikrishna Pentala | 18.5 |
| 3 | Vincent Keymer | 18 |
| 4 | Michael Adams | 16.5 |
| 5 | Arkadij Naiditsch | 10.5 |
| 6 | Noel Studer | 10 |
| 7 | David Anton Guijarro | 9.5 |
| 8 | Romain Edouard | 8.5 |
Scoring system in Classical event: Win - 4 points, Draw - 1.5 points and Loss - 0 points.
Replay the live stream
Links
---