53rd Biel GMT: Harikrishna starts with a draw
Harikrishna launched a strong attack against Michael Adams but the English GM put up a staunch defence which forced the point to be split. The Biel Chess960 winner Harikrishna is currently at the third position, followed by Adams. Vincent Keymer jumped into the sole lead as he scored a comfortable victory over Spanish GM David Anton Guijarro. The only other victor in the round was Arkadij Naiditsch who punished his opponent local GM Noel Studer for his positional errors. Meanwhile Wojtaszek made a draw with Romain Edouard to remain just a half point behind the leader after Round 1. A brief report of Round 1 of the Classical event. Photo: Biel Chess Festival
Naiditsch and Keymer score victories
Arkadij Naiditsch and Vincent Keymer are the only two victors in Round 1 of the Classical event, part of GMT. Thus Keymer jumped into the sole lead with 14 points. Wojtaszek made a draw with Romain Edouard. The Polish GM is currently at the second position, a half point behind the leader at 13.5 points followed by Harikrishna at 11.5 points. Harikrishna fired all his guns against Adams but the seven-time British champion's armor was too strong and he held up his own. Harikrishna is currently at the third place with 11.5 points followed by Adams at 9.5 points. A win in Classical gives you 4 points, while a draw means only 1.5 points will be added to the total.
Harikrishna - Adams 1.5-1.5
The main event of the round was definitely the Harikrishna - Adams encounter. Harikrishna tried his best to stir up trouble but Adams did not budge and thwarted all attempts of Harikrishna in stirring up trouble.
Harikrishna - Adams
Harikrishna went for his typical attack on the flank with 21.g4 but Adams managed to make sure it did not create the storm his opponent had wanted.
Naiditsch - Studer 4-0
Naiditsch in a post-match interview says, "I have been playing chess for maybe now 29 years. For the last 20 years, I have never had such a break of six months. For the first time for six months, I haven't played a game."
Naiditsch - Studer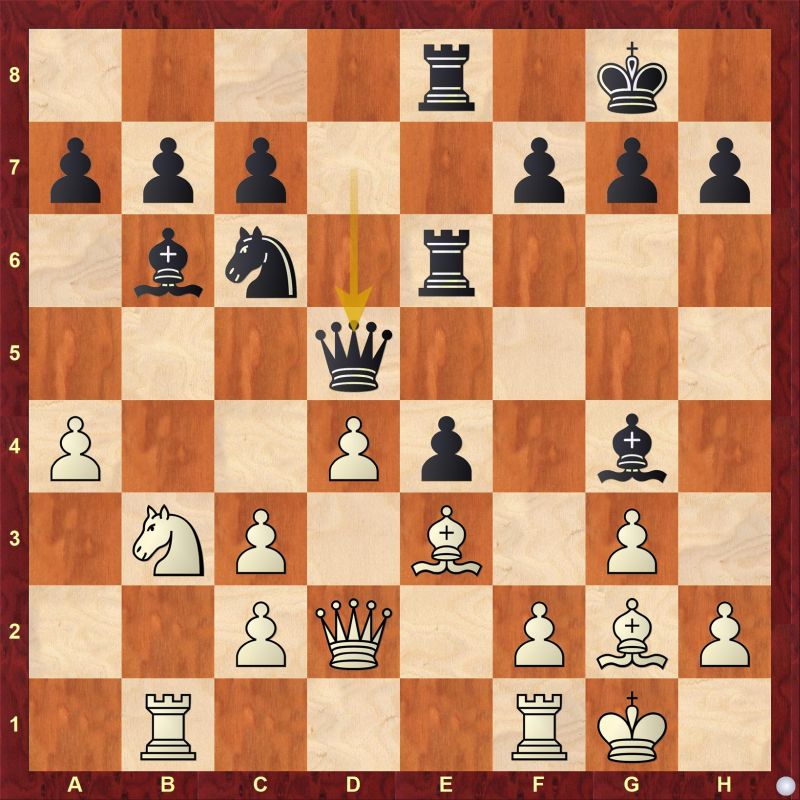 Find out why 17...Qd5 is a blunder.
Keymer - Anton Guijarro 4-0
The first win of the round was scored by Vincent Keymer against David Anton Guijarro in Nimzo-Indian Rubinstein. Keymer exploited his opponent's positional mistakes and scored a comfortable victory
Keymer - Anton Guijarro
White has an advantage in the above diagram. Find out the correct continuation for white after 25...Ng6.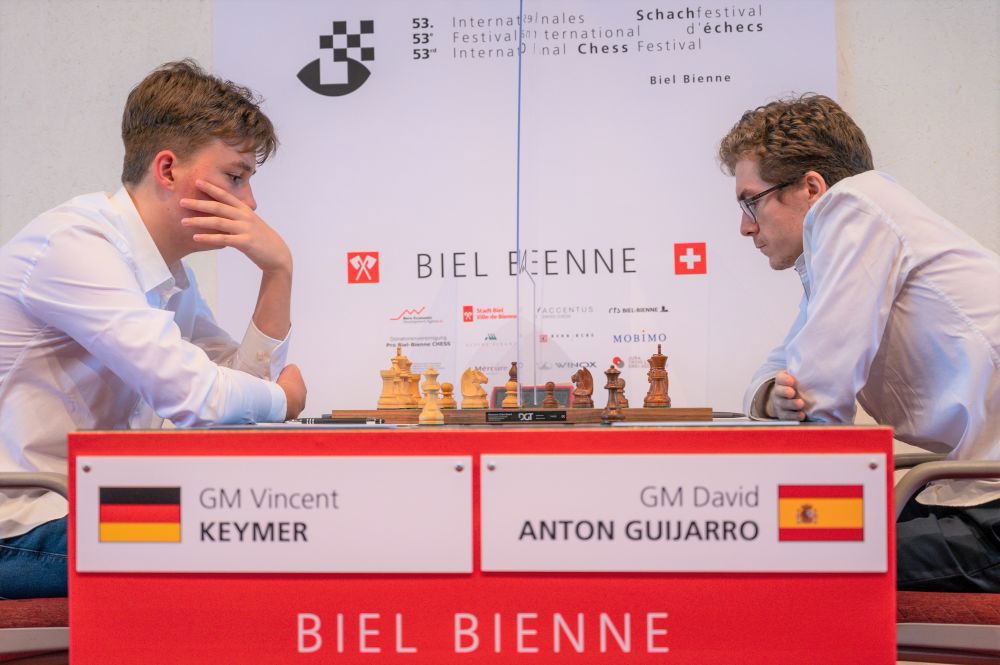 Wojtaszek - Edouard 1.5-1.5
The first game to finish in Round 1 was between Radoslaw Wojtaszek and Romain Edouard. The game was an uneventful draw but Edouard said, "I had this new idea in store for a long time but I was waiting to play against somebody strong, because I didn't want to spoil the novelty against slightly weaker players who are anyway happy to make draws." Radek shared, "For me it is important that I can actually sit over the board and play. This is what matters for me... Last event I played was in December, so this was a long break."
Replay all games
Standings after Round 1
| | | |
| --- | --- | --- |
| 1 | Vincent Keymer | 14 |
| 2 | Radoslaw Wojtaszek | 13.5 |
| 3 | Harikrishna Pentala | 11.5 |
| 4 | Michael Adams | 9.5 |
| 5 | Arkadij Naiditsch | 9 |
| 6 | Romain Edouard | 5.5 |
| 7 | David Anton Guijarro | 4 |
| 8 | Noel Studer | 3 |
Scoring system in Classical event: Win - 4 points, Draw - 1.5 points and Loss - 0 points.
Replay the live stream
Links
---