Abhimanyu Puranik clinches 3rd Yerevan Open
GM Abhimanyu Puranik scored an unbeaten 7.5/9 to clinch 3rd Yerevan Open. This is his third tournament triumph of the year. He won the Riga Technical University Rapid Open in August, individual and team Gold at Asian University in September and now his first Classical tournament win of the year with a performance of 2741. He won a beautiful trophy and AMD 2,000,000 (approx. ₹314781). GMs Vitaly Sivuk (UKR) and Arman Mikaelyan (ARM) also finished with the same score. They were placed second and third respectively according to tie-breaks. WGM Vantika Agrawal and IM Vaishali 5.5/9 secured Best Women first and second prize. Photo: Rupali Mullick
Narayanan finishes fourth
Four out of top ten places were secured by Indian players. Top seed GM Narayanan S L was placed fourth 7.0/9. Both GMs Arjun Erigaisi and Harsha Bharathakoti scored 6.5/9 each, they were placed sixth and seventh respectively according to tie-breaks.
Shahinyan - Arjun: 0-1
IM David Shahinyan (ARM) had a wild game against GM Arjun Erigaisi.
This position gives a clear idea that a lot of things have gone terribly wrong for White. It would have taken a computer-like accuracy for White to save the game.
Nazari - Harsha: 0-1
FM Arad Nazari (IRI) lost to GM Harsha Bharathakoti in a sharp game.
For more Round 9 photos, please click here.
Prize distribution ceremony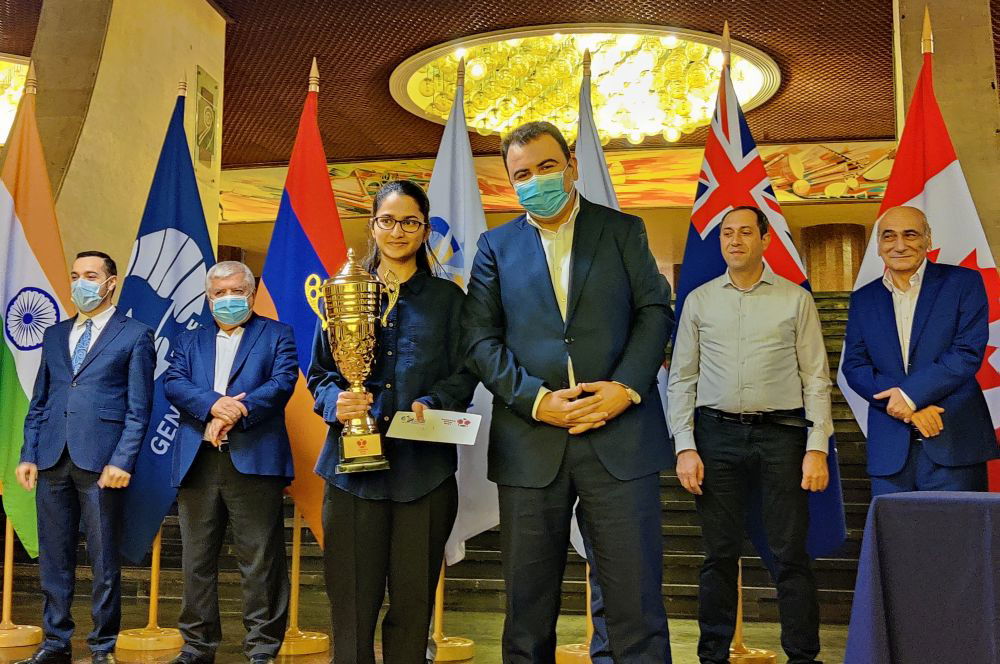 For more prize distribution ceremony photos, please click here.
Highlights
Here are a few interesting finishes of Round 9.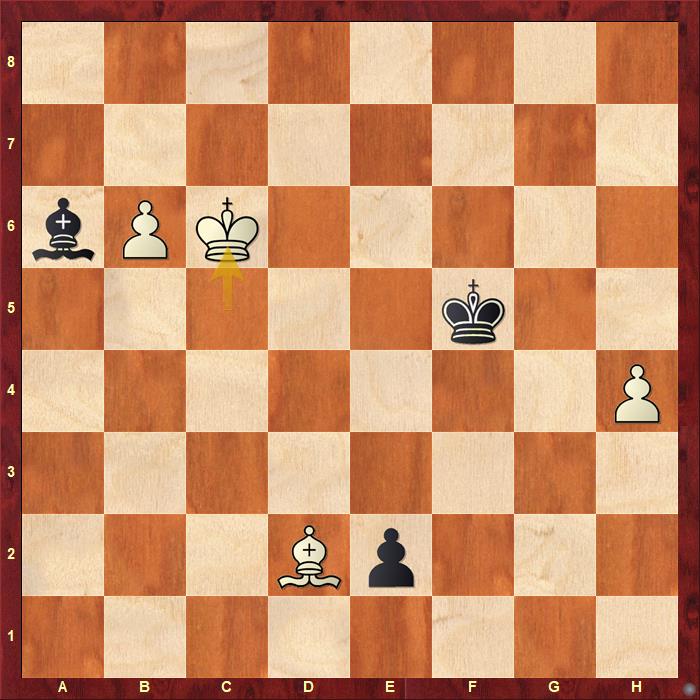 Replay Round 9 games
The tournament is taking place at Yerevan in Armenia from 14th to 22nd October 2021. Time control is 90'/40 + 30' + 30" per move. Round 1-4 and 6-8 starts at 2 p.m. local time (3:30 p.m. IST). Round 5 and the final round will start at 11:00 a.m. local time (12:30 p.m. IST).
Round 9 results
Final standings
| | | | | | | | | | | | | | | |
| --- | --- | --- | --- | --- | --- | --- | --- | --- | --- | --- | --- | --- | --- | --- |
| Rk. | SNo | | | Name | Typ | sex | FED | RtgI | Pts. | TB1 | TB2 | TB3 | K | rtg+/- |
| 1 | 5 | | GM | Puranik Abhimanyu | | | IND | 2568 | 7,5 | 50,0 | 55,0 | 0,0 | 10 | 18,7 |
| 2 | 12 | | GM | Sivuk Vitaly | | | UKR | 2529 | 7,5 | 48,0 | 51,0 | 0,0 | 10 | 20,4 |
| 3 | 17 | | GM | Mikaelyan Arman | | | ARM | 2487 | 7,5 | 46,5 | 51,0 | 0,0 | 10 | 22,6 |
| 4 | 1 | | GM | Narayanan S.L. | | | IND | 2647 | 7,0 | 46,5 | 50,5 | 0,0 | 10 | 1,0 |
| 5 | 24 | | IM | Tahbaz Arash | | | IRI | 2459 | 6,5 | 47,5 | 50,0 | 0,0 | 10 | 16,0 |
| 6 | 3 | | GM | Erigaisi Arjun | U18 | | IND | 2634 | 6,5 | 43,5 | 48,0 | 0,0 | 10 | -4,9 |
| 7 | 13 | | GM | Harsha Bharathakoti | | | IND | 2517 | 6,5 | 42,0 | 46,0 | 0,0 | 10 | -2,3 |
| 8 | 10 | | GM | Pultinevicius Paulius | | | LTU | 2552 | 6,5 | 42,0 | 45,0 | 0,0 | 10 | -2,7 |
| 9 | 14 | | GM | Hayrapetyan Hovik | | | ARM | 2500 | 6,5 | 41,0 | 45,0 | 0,0 | 10 | -1,3 |
| 10 | 8 | | GM | Goganov Aleksey | | | RUS | 2557 | 6,5 | 40,0 | 44,0 | 0,0 | 10 | 1,3 |
| 11 | 32 | | | Pour Agha Bala Amirreza | U18 | | IRI | 2432 | 6,0 | 48,0 | 49,0 | 0,0 | 10 | 12,9 |
| 12 | 2 | | GM | Gukesh D | U16 | | IND | 2640 | 6,0 | 47,5 | 52,5 | 0,0 | 10 | -6,9 |
| 13 | 16 | | GM | Quparadze Giga | | | GEO | 2495 | 6,0 | 45,0 | 48,5 | 0,0 | 10 | 3,1 |
| 14 | 7 | | GM | Petrosian Tigran L | | | ARM | 2562 | 6,0 | 43,5 | 48,0 | 0,0 | 10 | -3,2 |
| 15 | 9 | | GM | Sychev Klementy | | | RUS | 2555 | 6,0 | 43,5 | 47,5 | 0,0 | 10 | -4,9 |
| 16 | 19 | | GM | Karthik Venkataraman | | | IND | 2483 | 6,0 | 42,0 | 45,0 | 0,0 | 10 | -1,5 |
| 17 | 22 | | IM | Gharibyan Mamikon | U18 | | ARM | 2471 | 6,0 | 40,5 | 44,5 | 0,0 | 10 | -2,1 |
| 18 | 15 | | IM | Nikitenko Mihail | | | BLR | 2499 | 6,0 | 40,0 | 43,5 | 0,0 | 10 | -6,8 |
| 19 | 42 | | IM | Krishna Teja, N | | | IND | 2385 | 6,0 | 38,5 | 41,5 | 0,0 | 10 | -4,8 |
| 20 | 6 | | GM | Paichadze Luka | | | GEO | 2566 | 6,0 | 38,0 | 41,5 | 0,0 | 10 | -12,4 |
Links
---