3rd Yerevan Open R4: Sychev, Mikaelyan and Daghli at the top
Gukesh was playing well in both 3rd Yerevan Open and CoinDCX Chess Super League. However, it takes a toll on the player eventually as both tournaments have completely different format and time control. Armenian GM Arman Mikaelyan got the better of India's youngest GM in the fourth round. Kunal M's fantastic run came to an end as his opponent Klementy Sychev proved too strong for him. GMs Klementy Sychev (RUS), Arman Mikaelyan and FM Arash Daghli (IRI) are in a three-way lead 4.0/4. Arjun Erigaisi was unable to endure a drawn endgame against Arash Tahbaz. Both Narayanan S L and Abhimanyu Puranik won their respective games. They are at a half point behind the leader. Round 5 starts today at 12:30 p.m. IST. Photo: Rupali Mullick
Narayanan and Abhimanyu in pursuit
It was a tough day for the Indian players at the top as only GMs Narayanan S L and Abhimanyu Puranik managed to score victories.
A Mikaelyan - Gukesh: 1-0
GM Arman Mikaelyan (ARM) seized his opportunity when GM D Gukesh misplaced his knight which cost him two pawns in quick succession.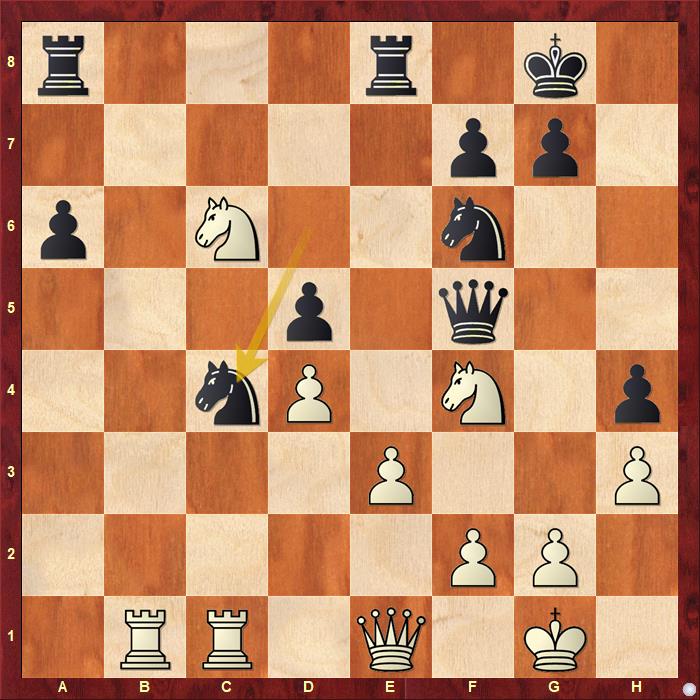 Black had to play 32...g5 to drive the knight away from f4 and remove the future threat of Nxd5. 32...Nc4 invited 33.Qb4 which threatens both Ne7+ and Nxd5. Black cannot save both of them. First d5 fell and then a6 which gave White a decisive advantage.
Sychev - Kunal: 1-0
GM Klementy Sychev (RUS) brought Kunal's fantastic run to an end.
Perhaps 20...Rab8 21.Bxd4 cxd4 22.Qxd4 Qb5 would have been a better continuation for Black. 20...e5 indirectly provoked White to play 21.f4 as the intention is to open the f-file and attack on f7 which gave White counterplay. 21...Rab8 22.Rf2 Nc6 23.Rd7 Nd8 24.Re7 Ne6 25.f5 Rc7 26.fxe6 Rxe7 27.exf7+ and it is over for Black.
Narayanan - Sturt: 1-0
GM Narayanan scored a fine victory showcasing his great understanding of the position against IM Raven Sturt (USA).
Arjun - Tahbaz: 0-1
Endgame grind is really tough to endure. The tendency to make a breakthrough incessantly increases when you feel like you are running out of things to do. That is exactly what happened with GM Arjun Erigaisi against IM Arash Tahbaz (IRI).
The game would have ended in a draw if White did not go for 59.c4 break which was unnecessary.
Black is making a checkmate threat at c1. Find out the best way for White to respond. 72.a3 turned to be fatal for White.
Abhimanyu - Bharath: 1-0
GM Abhimanyu Puranik showed fine technique in the major piece endgame against IM Bharath Subramaniyam H. A well-timed break by Abhimanyu and an incorrect response by Bharath, decided the fate of the game.
It is evident that White has the upper hand. What Black cannot afford here is to open the b1-h7 diagonal as that will end the game due to Black's lack of light square control. In a race of destructive attack, White ends up at the top 50...Bd4 51.exf5 Qd2 52.fxg6+ Kg7 53.Qf1 Kxg6 54.Qb1+ and White is completely winning.
GM Abhimanyu Puranik 3.5/4 | Photo: Rupali Mullick
For more Round 4 photos, please click here.
Highlights
Here are a few interesting finishes of Round 4.
Replay Round 4 games
The tournament is taking place at Yerevan in Armenia from 14th to 22nd October 2021. Time control is 90'/40 + 30' + 30" per move. Round 1-4 and 6-8 starts at 2 p.m. local time (3:30 p.m. IST). Round 5 and the final round will start at 11:00 a.m. local time (12:30 p.m. IST).
Round 4 results
Round 5 pairings
Links
---