3rd Yerevan Open R7: Sivuk beats Narayanan to take sole lead
Vitaly Sivuk (UKR) brought an end to Narayanan's four-game unbeaten streak as the former defeated him in the seventh round to take sole lead 6.5/7 at 3rd Yerevan Open. Narayanan got himself into a cramped position out of the opening and could not put up a good fight against the Ukrainian. Abhimanyu Puranik completely turned things around against Gukesh to win from an almost lost position. He is now just a half point behind the leader at 6.0/7. GM Karthik Venkataraman scored his fourth consecutive victory to move to 5.5/7. He will face Gukesh in the eighth round. IM Pranav Anand scored an impressive victory over GM Sandipan Chanda. Round 8 starts today at 3:30 p.m. IST. Photo: Rupali Mullick
Abhimanyu bests Gukesh
The second board witnessed an exciting battle between two Indian players - Gukesh and Abhimanyu. The former was well on his way to victory but Abhimanyu fought back well and scored a victory from a difficult position. IM Moksh Amit Doshi drew with GM Harsha Bharathakoti and CM Prraneeth Vuppala scored a victory against IM Viachaslau Zarubitski (BLR).
Sivuk - Narayanan: 1-0
GM Vitaly Sivuk (UKR) outplayed GM Narayanan S L right out of the opening as the latter made some passive choices.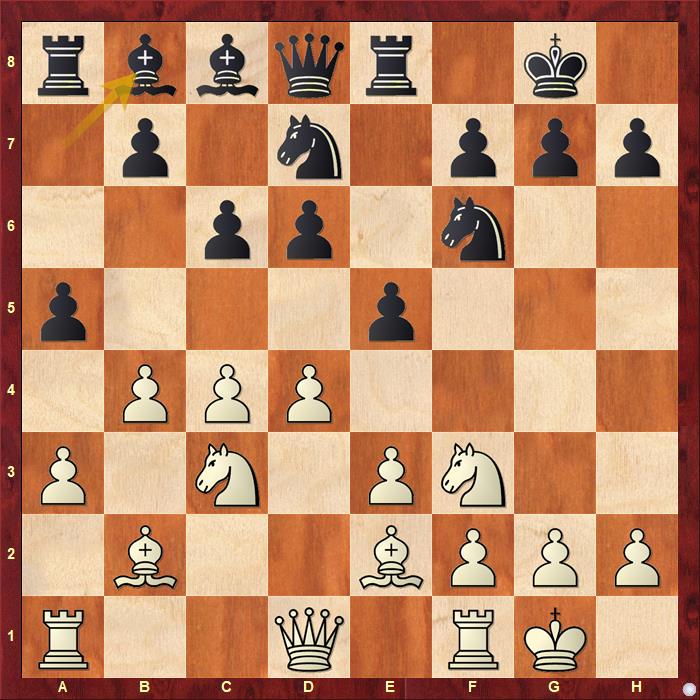 12...e4 13.Nd2 d5 would have been a better choice. 12...Bb8 led to 13.d5 e4 14.Nd2 Nb6 15.Qb3 Bf5 16.Rfd1 Nbd7 an unpleasant position for Black.
Gukesh - Abhimanyu: 0-1
GM D Gukesh had an advantage initially against GM Abhimanyu Puranik.
The bishop at a3 is not doing much and White should prioritize pushing the passed pawn. Since the d4-pawn is weak and Black's knight is out of play, 22.Bb2 threatening Bxd4 makes a lot of sense. 22.Qe4 d3 23.Qxa4 d2 allowed Black's d-pawn to become a monster. It played a key role in Black's victory.
Amirezza - Karthik: 0-1
Untitled Amirezza Pour Agha Bala (IRI) made a positional mistake of exchanging his light square bishop for GM Karthik Venkataraman's knight.
29.Bxe4 may not lose instantly for White, but it certainly puts him on the highway to a loss. 29...Bxe4 needed to be met with an interesting variation 30.f5 exf5 31.e6, if 30...gxf5 then 31.g6 according to the computer. The game continued 30.Rc4 Qb7 31.Rfc1 Kd7. Now Black has a deadly threat of Rh8-h1. White may have been able to momentarily stop it 32.Nf5 Rh8 33.Nh6. However, it left a vaccuum on the queenside 34...Nxb3. Black won the game in another eight moves.
IM Arystanbek Urazayev (KAZ) held GM Arjun Erigaisi to a draw | Photo: Rupali Mullick
Pranav - Sandipan: 1-0
IM Pranav Anand is a very strong talented youth. If you make a mistake against him, he will catch and make you pay. GM Sandipan Chanda made a mistake for which he had to suffer a loss.
Find out why 19...b5 is a big mistake and the best continuation for White.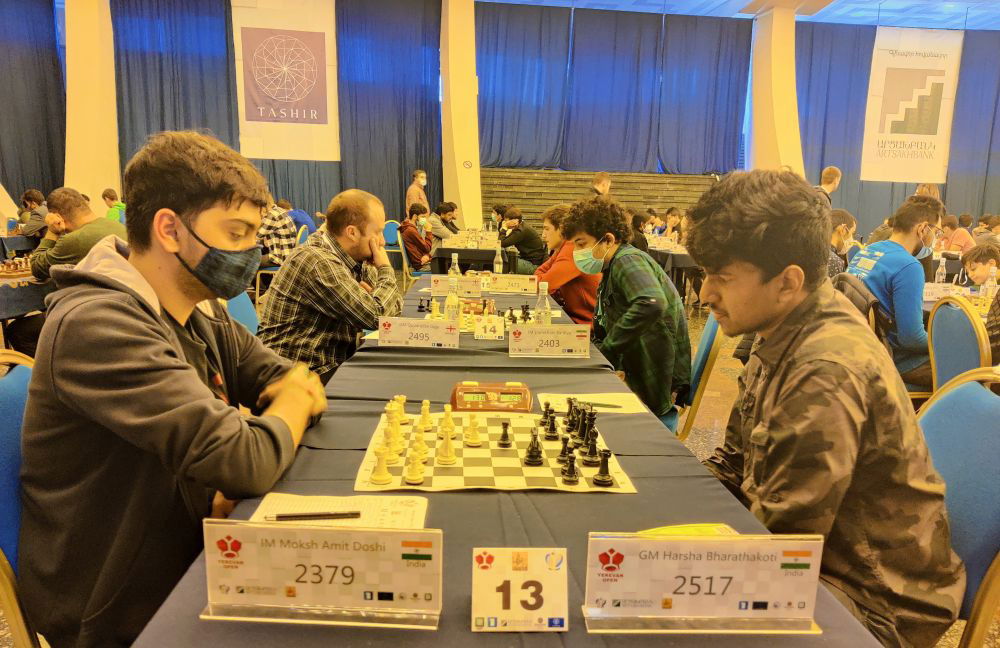 For more Round 7 photos, please click here.
Highlights
Here are a few interesting finishes of Round 7.
Replay Round 7 games
The tournament is taking place at Yerevan in Armenia from 14th to 22nd October 2021. Time control is 90'/40 + 30' + 30" per move. Round 1-4 and 6-8 starts at 2 p.m. local time (3:30 p.m. IST). Round 5 and the final round will start at 11:00 a.m. local time (12:30 p.m. IST).
Round 7 results
Round 8 pairings
Links
---