3rd Yerevan Open R1: Poormosavi holds top seed Narayanan to an exciting draw
15-year-old Iranian youth FM Seyed Kian Poormosavi (IRI) had an exciting game against GM Narayanan S L. It could have gone either player's way, yet the game, much to each player's chagrin, ended in a draw. Gukesh, Arjun and Abhimanyu scored a win each. CM Prraneeth Vuppala had Gukesh on the ropes, but he loosened his grip and let the India's youngest GM in history escape with a win. Among other upsets, untitled Sargis R Mkrtchyan (ARM) held GM Sandipan Chanda and Sambit Panda held IM P Shyam Nikhil to a draw each respectively. Vaishali will face Gukesh at the top board in Round 2 which will be an interesting rematch from their final round encounter at ChessMood Open. Round 2 starts today at 3:30 p.m. IST. Photo: Rupali Mullick
A great start
GM Narayanan S L had a topsy-turvy encounter against FM Seyed Kian Poormosavi (IRI). Both of them had their fair share of winning chances, neither of them seized it and the game eventually ended in a draw.
Poormosavi - Narayanan: 0-1
GM Narayanan S L was in quite a bit of trouble against FM Seyed Kian Poormosavi (IRI).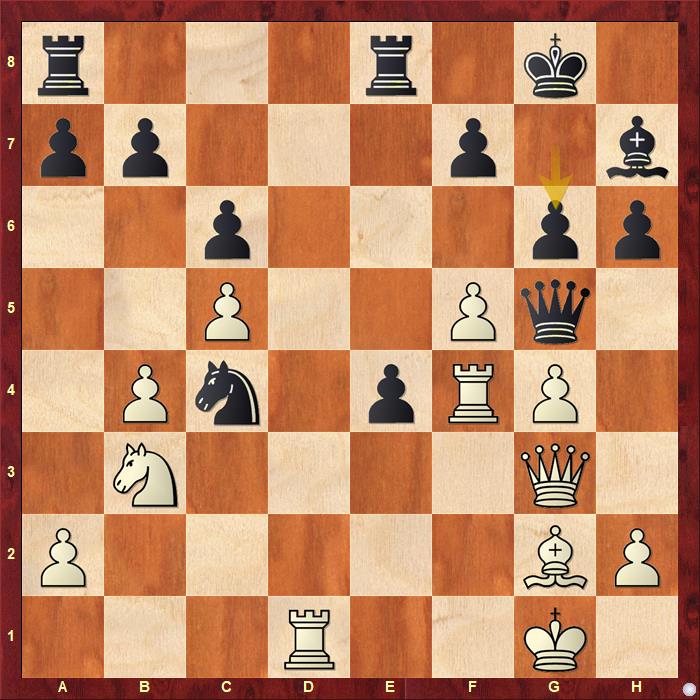 27.Rd4 leads to an interesting variation where Black promotes a queen 27...e3 28.h4 e2 29.hxg5 e1=Q+ 30.Qxe1 Rxe1 31.Kf2. The text 27.h4 is also good, provided after 27...Qf6 the follow through transposes to the previous variation 28.Rd4. White missed his opportunity and went 28.g5 Qe5 29.f6 e3 and worsened his position 30.Kh2. Soon Narayanan missed a completely winning opportunity, probably due to time scramble.
The e2-pawn is on the verge of being promoted. Can you find the winning continuation for Black after 32.Be4 ? The game eventually petered out to a draw.
Gukesh - Prraneeth: 1-0
CM Prraneeth Vuppala stirred up a lot of trouble for GM D Gukesh.
White having a passive position forced his hand to go for a b4-break. The game continued 22...axb4 23.axb4 Nxb4 24.Rxb4 Bxd3 25.Qd1 Bxf1 26.Bxf1 Qd5 27.Bxb5 and now Black made the mistake of exchanging pieces 27...Ne4. Black should not exchange any more pieces than required for two reasons, a) Black is down in material and b) White's pieces are fighting for good squares, exchanging further only helps Black. 28.Nxe4 Qxe4 29.Bb2 and White eventually overcame adverse position to win the game.
Suyog - Arjun: 0-1
GM Arjun Erigaisi showed very fine technique in the endgame against FM Suyog Wagh.
Mariam - Abhimanyu: 0-1
WFM Mariam Mkrtchyan (ARM) made an interesting exchange sacrifice against GM Abhimanyu Puranik.
White made an interesting exchange sacrifice 15.Bxe5 Bxd1 16.Bxc7 Bc2. Now the sacrifice could have been justified if White played 17.Nd5. After 17...Nxd5 18.exd5 White is doing fine. The isolated center passed pawn is a good compensation for White. The game continued 17.Bxb6 axb6 and Black won the game eventually.
For more Round 1 photos, please click here.
Highlights
Here are a few interesting finishes of Round 1.
Replay Round 1 games
The tournament is taking place at Yerevan in Armenia from 14th to 22nd October 2021. Time control is 90'/40 + 30' + 30" per move. Round 1-4 and 6-8 starts at 2 p.m. local time (3:30 p.m. IST). Round 5 and the final round will start at 11:00 a.m. local time (12:30 p.m. IST).
Round 1 results
Round 2 pairings
Links
---