3rd Yerevan Open R6: Narayanan and Sivuk share the lead
Top seed GM Narayanan S L scored his fifth consecutive victory as he defeated FM Arash Daghli (IRI) to maintain his lead 5.5/6 at the end of the sixth round of 3rd Yerevan Open. He is joined by GM Vitaly Sivuk (UKR) who also has the same points. They will clash in the seventh round. Three players are at a half point behind at 5.0/6 each. They are - GMs D Gukesh, Abhimanyu Puranik and IM David Shahinyan (ARM). Gukesh and Abhimanyu will face each other in Round 7. IM Bharath Subramaniyam H defeated GM Luka Paichadze (GEO). IMs P Shyam Nikhil, D K Sharma and WIM Isha Sharma held GMs Harsha Bharathakoti, Karen Movsziszian (ARM) and Vahe Baghdasaryan (ARM) to a draw each respectively. Round 7 starts today at 3:30 p.m. IST. Photo: Rupali Mullick
Praggnanandhaa wins 3rd Yerevan Open Blitz
A day after winning the Julius Baer Challengers Chess Tour Finals, Praggnanandhaa scored 7.5/9 to win 3rd Yerevan Open Blitz. He had a full point lead heading into the final round. A last round loss against the eventual runner-up - Harsha Bharathakoti also did not diminish his championship chances. Apart from Praggnanandhaa and Harsha, Haik Martirosyan (ARM) also finished with the same score. He was placed third according to the tie-breaks. Pragg won AMD 250,000 (approx. ₹39319), Harsha earned AMD 180,000 (approx. ₹28310) and Haik got AMD 120,000 (approx. ₹18873).
Narayanan - Daghli: 1-0
GM Narayanan S L got a better position out of the opening against FM Arash Daghli (IRI).
In an already difficult position, Black misplaced his queen 27...Qh5 which resulted in Black getting into further trouble after 28.Kg1. Now Black cannot retreat his bishop to c8 as 28...Bc8 results in 29.g4 Qh6 30.f5 Qg7 31.f6 Qh8. Thus, Black decided to sacrifice the bishop 28...Be2 29.g4 Bxg4 30.hxg4 Qxg4+ 31.Qg2. Now Black does not have enough compensation for the sacrificed bishop. Narayanan wrapped up the game in another nine moves.
Artur - Gukesh: 0-1
IM Artur Davtyan (ARM) was forced to give up his piece to prevent his queen from getting trapped by GM D Gukesh's pieces.
After taking the pawn on b7, White has made some bad decisions which resulted in the queen getting cramped and lacking safe squares. 15...g5 forced White to play 16.Nxg5, else 16.Bg3 runs into Rfc8 17.Qd6 Rb6 18.Qe7 Re8 and the queen gets trapped. Gukesh converted his material advantage into a win with ease.
Abhimanyu - Arystanbek: 1-0
GM Abhimanyu Puranik got the better of IM Arystanbek Urazayev (KAZ) after the latter misplayed the endgame.
GM Harsha Bharathakoti - IM P Shyam Nikhil: 0.5-0.5 | Photo: Rupali Mullick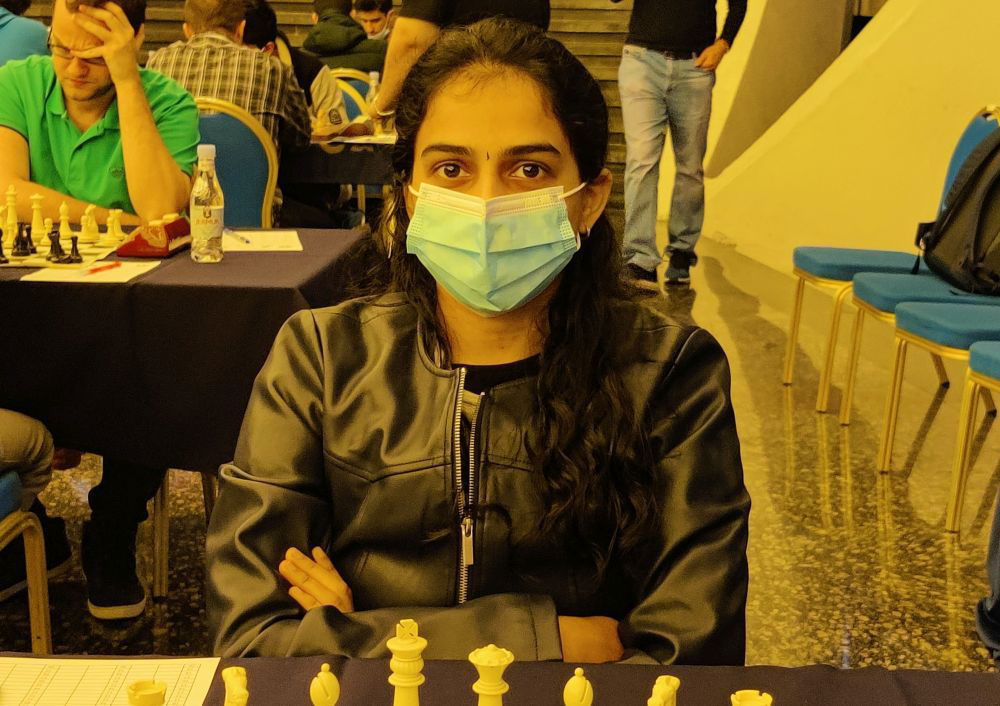 For more Round 6 photos, please click here.
Highlights
Here are a few interesting finishes of Round 6.
Replay Round 6 games
The tournament is taking place at Yerevan in Armenia from 14th to 22nd October 2021. Time control is 90'/40 + 30' + 30" per move. Round 1-4 and 6-8 starts at 2 p.m. local time (3:30 p.m. IST). Round 5 and the final round will start at 11:00 a.m. local time (12:30 p.m. IST).
Round 6 results
Round 7 pairings
Final Standings in Blitz
| | | | | | | | | | | | | |
| --- | --- | --- | --- | --- | --- | --- | --- | --- | --- | --- | --- | --- |
| Rk. | SNo | | | Name | Typ | sex | FED | Rtg | Pts. | TB1 | TB2 | TB3 |
| 1 | 4 | | GM | Praggnanandhaa R | U16 | | IND | 2599 | 7,5 | 49,0 | 53,5 | 0,0 |
| 2 | 6 | | GM | Harsha Bharathakoti | | | IND | 2576 | 7,5 | 47,5 | 50,5 | 0,0 |
| 3 | 3 | | GM | Martirosyan Haik M. | | | ARM | 2656 | 7,5 | 46,5 | 51,0 | 0,0 |
| 4 | 2 | | GM | Quparadze Giga | | | GEO | 2658 | 7,0 | 52,0 | 56,0 | 0,0 |
| 5 | 16 | | GM | Pourramezanali Amirreza | | | IRI | 2393 | 7,0 | 48,5 | 53,0 | 0,0 |
| 6 | 5 | | GM | Gabuzyan Hovhannes | | | ARM | 2580 | 7,0 | 46,0 | 50,0 | 0,0 |
| 7 | 8 | | GM | Sargsyan Shant | U20 | | ARM | 2537 | 7,0 | 45,5 | 49,5 | 0,0 |
| 8 | 17 | | GM | Golubka Petro | | | UKR | 2392 | 6,5 | 45,5 | 49,0 | 0,0 |
| 9 | 28 | | IM | Davtyan Artur | U20 | | ARM | 2311 | 6,5 | 44,0 | 47,0 | 0,0 |
| 10 | 41 | | IM | Bharath Subramaniyam H | U14 | | IND | 2230 | 6,5 | 40,0 | 42,5 | 0,0 |
| 11 | 23 | | GM | Hayrapetyan Hovik | | | ARM | 2352 | 6,0 | 44,5 | 47,0 | 0,0 |
| 12 | 63 | | | Rostami Hossein | U16 | | IRI | 1857 | 6,0 | 44,5 | 46,0 | 0,0 |
| 13 | 13 | | IM | Nikitenko Mihail | | | BLR | 2430 | 6,0 | 44,0 | 48,0 | 0,0 |
| 14 | 37 | | IM | Gharibyan Mamikon | U18 | | ARM | 2254 | 6,0 | 44,0 | 46,0 | 0,0 |
| 15 | 1 | | GM | Hovhannisyan Robert | | | ARM | 2669 | 6,0 | 43,5 | 47,5 | 0,0 |
| 16 | 33 | | IM | Morchiashvili Bachana | | | GEO | 2278 | 6,0 | 42,5 | 45,5 | 0,0 |
| 17 | 22 | | IM | Shahinyan David | | | ARM | 2372 | 6,0 | 42,5 | 45,0 | 0,0 |
| 18 | 66 | | CM | Prraneeth Vuppala | U14 | | IND | 1759 | 6,0 | 41,5 | 43,5 | 0,0 |
| 19 | 38 | | CM | Piliposyan Robert | U14 | | ARM | 2247 | 6,0 | 40,5 | 43,5 | 0,0 |
| 20 | 14 | | IM | Petriashvili Nikoloz | U20 | | GEO | 2430 | 6,0 | 38,0 | 41,5 | 0,0 |
Links
---