3rd Yerevan Open R2: Sidhant Mohapatra stuns Paulius Pultinevicius
IM Sidhant Mohapatra and untitled Kunal M scored the biggest upsets of the second round as they defeated GMs Paulius Pultinevicius (LTU) and Karen Movsziszian (ARM) respectively at 3rd Yerevan Open. GM Gukesh defeated IM Vaishali in an exciting game after the latter sacrificed her queen but was unable follow through correctly. IMs Padmini and Raahil held GMs Luka Paichadze (GEO) and Alexey Goganov (RUS) to a draw each. WGM Vantika Agrawal also drew with GM Harsha Bharathakoti. Arjun and Abhimanyu also won their games. Round 3 starts today at 3:30 p.m. IST. Photo: Rupali Mullick
Fantastic day for Indians
There are seven Indians out of 17 players who are at 100% score 2.0/2. Top seed GM Narayanan S L won his game against much lower rated Raffi Ghazaryan (ARM).
Vaishali - Gukesh: 0-1
IM Vaishali made an interesting queen sacrifice against GM Gukesh. However, there was something just before that.
31.c4 leads to fantastic position for White in all possible variations. The game continued 31.g4 g5 and White sacrificed the queen 32.gxf5 gxf4 33.Rg1+ Kh7 34.Rg7+ Kh6 35.Rdg1 Bxe4 36.Bxf4+ Bg5 and we get the following position
37.R1xg5 and White is still in the game. 37...Qxg5 38.Rxg5 Bxf3+ 39.Kh2 e5 40.Rg6+ Kh7 41.Rh6+ Kg7 42.f6+Kg8 43.Rg6+ Kh7 44.Rh6+ and it leads to a draw. White missed this probably due to time scramble and played 37.R7xg5. Black went on to win the game shortly after.
Sidhant - Paulius: 1-0
IM Sidhant Mohapatra made the most out of the position when his opponent GM Paulius Pultinevicius (LTU) decided against capturing a crucial center pawn.
28...Qxe5 29.Rde3 g5 and Black is doing absolutely fine. However, 28...Re8 29.Rde3 Qd7 30.Bh3 Qd8 31.Kh2 Rc7 32.e6 and things turned completely into White's favor which he eventually converted into a win.
GM Harsha Bharathakoti recovered well against WGM Vantika Agrawal | Photo: Rupali Mullick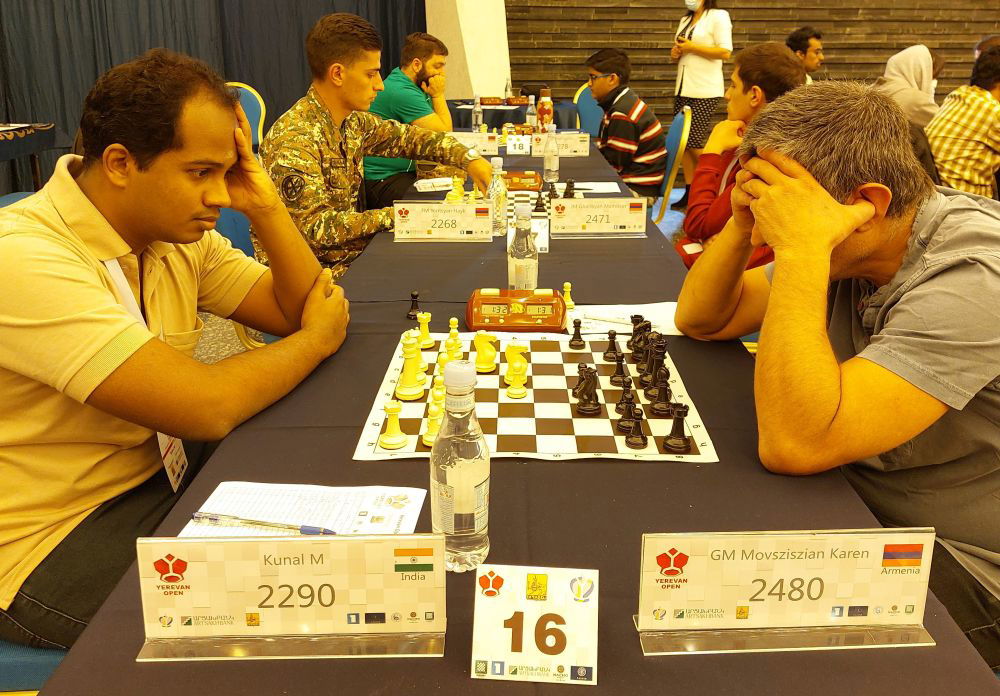 For more Round 2 photos, please click here.
Highlights
Here are a few interesting finishes of Round 2.
Replay Round 2 games
The tournament is taking place at Yerevan in Armenia from 14th to 22nd October 2021. Time control is 90'/40 + 30' + 30" per move. Round 1-4 and 6-8 starts at 2 p.m. local time (3:30 p.m. IST). Round 5 and the final round will start at 11:00 a.m. local time (12:30 p.m. IST).
Round 2 results
Round 3 pairings
Links
---