Abhimanyu Puranik is on the verge of winning 3rd Yerevan Open
GM Abhimanyu Puranik scored a hat-trick by beating the seemingly unstoppable GM Vitaly Sivuk (UKR) in the penultimate round of 3rd Yerevan Open. Both of them were having a huge momentum heading into the clash with championship implications. Abhimanyu has taken a sole lead 7.0/8 for the first time in this event. Narayanan, Sivuk and Arman Mikaelyan (ARM) are the three players at 6.5/8 each. A draw in the final round should secure the championship for Abhimanyu even if all tie-break scores matches with Sivuk, he will be ahead in direct encounter. Abhimanyu will face Narayanan in the final round. Round 9 starts today at 12:30 p.m. IST. Photo: Rupali Mullick
Narayanan poised for a podium finish
GM Karthik Venkataraman is once again having a better second half in this event, much like he had at ChessMood Open. He drew with GM D Gukesh in the penultimate round. IMs P Shyam Nikhil, Bharath Subramaniyam H and WGM Vantika Agrawal drew with GMs Aleksey Goganov (RUS), Paulius Pultinevicius (LTU) and Sandipan Chanda respectively.
Abhimanyu - Sivuk: 1-0
GM Abhimanyu Puranik got a pleasant position out of the opening against GM Vitaly Sivuk (UKR).
21...d5 22.cxd5 Nxd5 23.Nxd5 exd5 and Black does fine. However, in the game, Black opted for 21...Nd7 22.Qa2 Rc7 23.Ra1 Qc8 24.b3 and slowly Black's position started deteriorating. A series of incorrect decisions gave White the complete positional advantage which resulted in Black resigning in another eight moves.
Narayanan - Shahinyan: 1-0
GM Narayanan S L scored a fine victory over IM David Shahinyan (ARM) after the latter decided to sacrifice an exchange early in the middlegame.
White has almost completed the development of pieces, Black is far from it. 15...Rxe3 does not make things difficult for White. The lack of active pieces in Black's camp makes sure the exchange sacrifice does not cause any trouble for White. Black made another exchange sacrifice in 18 more moves but that also does not pose any threat for White.
Karthik - Gukesh: 0.5-0.5
GM Karthik Venkataraman had an interesting draw against GM D Gukesh.
16.Nexd4 could have made a lot of difference instead of the text 16.Nfxd4. 16...Nc5 17.Qb1 and White is doing absolutely fine with two threats looming large, Nxc6 and Nf5. 16.Nfxd4 allowed Black to save the position 16...Ne5 17.Qc3 Bc7 and the game was drawn in nine more moves.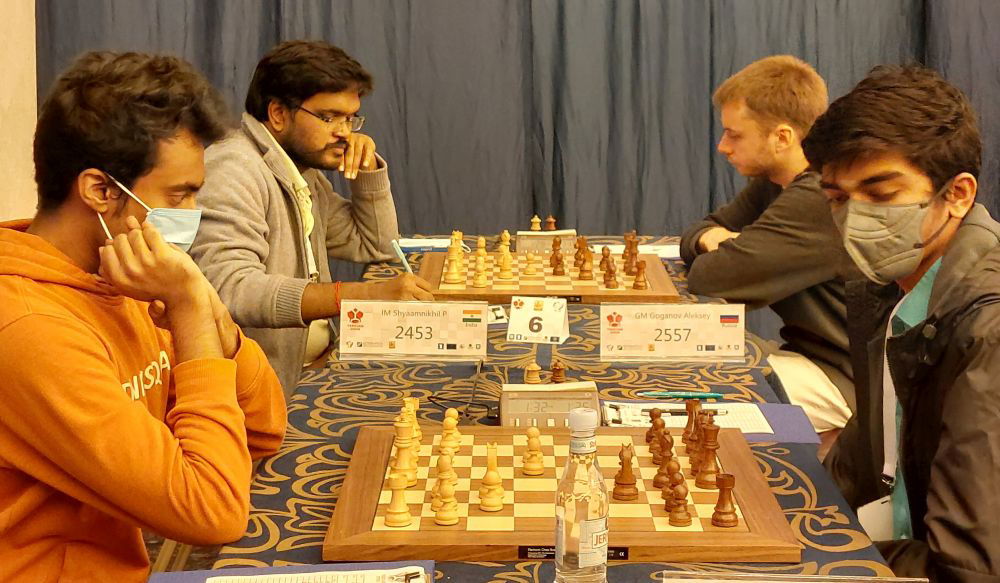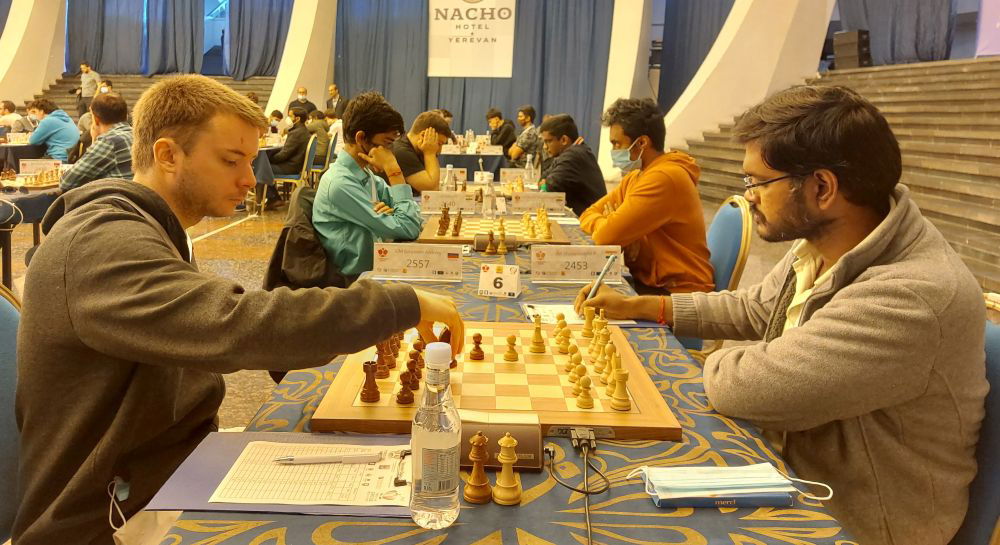 IM P Shyam Nikhil held GM Aleksey Goganov (RUS) to a quiet draw | Photo: Rupali Mullick
Arjun - Pranav: 1-0
GM Arjun Erigaisi completely outplayed IM Pranav Anand.
Find out the best continuation for White after 33...Qd7
Harsha - Daghli: 1-0
GM Harsha Bharathakoti scored a comfortable win over FM Arash Daghli (IRI) after the latter made a tactical mistake.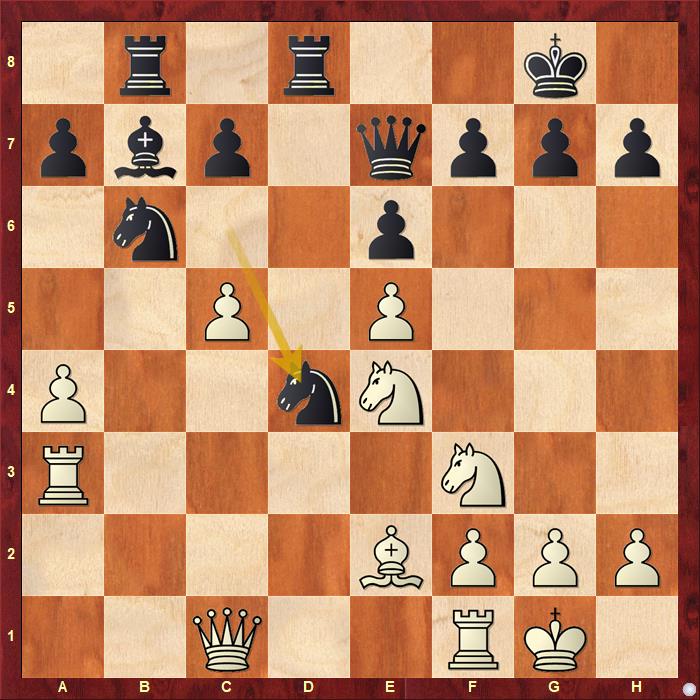 Find out why 18...Nxd4 is a big mistake. Black should have played 18...Nd5 instead.
For more Round 8 photos, please click here.
Highlights
Here are a few interesting finishes of Round 8.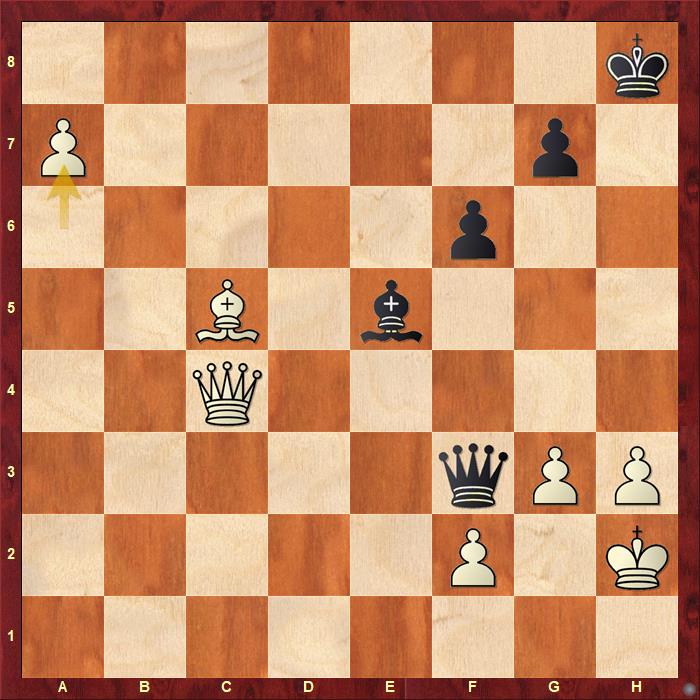 Replay Round 8 games
The tournament is taking place at Yerevan in Armenia from 14th to 22nd October 2021. Time control is 90'/40 + 30' + 30" per move. Round 1-4 and 6-8 starts at 2 p.m. local time (3:30 p.m. IST). Round 5 and the final round will start at 11:00 a.m. local time (12:30 p.m. IST).
Round 8 results
Round 9 pairings
Links
---