Utkal Ranjan Sahoo wins 1st KT Global Rating Open 2023
Utkal Ranjan Sahoo, Nilsu Pattnayak, Alekhya Mukhopadhyay and Arpan Das scored 7.5/9 each. The top seed of the event, Utkal won 1st KT Global School Rating Open 2023 due to better tie-breaks. The remaining three were placed second to fourth respectively. Utkal drew against the eventual runner-up Nilsu in the penultimate round. Both of them remained undefeated. The tournament was organized in memory of Arati Bijoy Mohanty. The total prize fund was ₹500000. The top three prizes were ₹50000, ₹30000 and ₹20000 along with a trophy each respectively. The five-day nine-round Swiss league Rating tournament was organized by IIG Sports Academy and Aarati 64 Squares Foundation. Photo: IA Jyoti Shankar Nanda/IIG Media
Top four score 7.5/9
Utkal Ranjan Sahoo headed into the final round of the tournament as a sole leader 7/8. As many as nine players were trailing by a half point at 6.5/8 each. Utkal drew against Koustuv Dash. Among the remaining eight, only Alekhya Mukhopadhyay, Nilsu Pattnayak and Arpan Das won their respective games to move to 7.5/9. However, Utkal won the tournament, due to better tie-break score. This is Utkal's second triumph of the year. He won the All India Civil Services Individal Men tournament 2022-23 in March.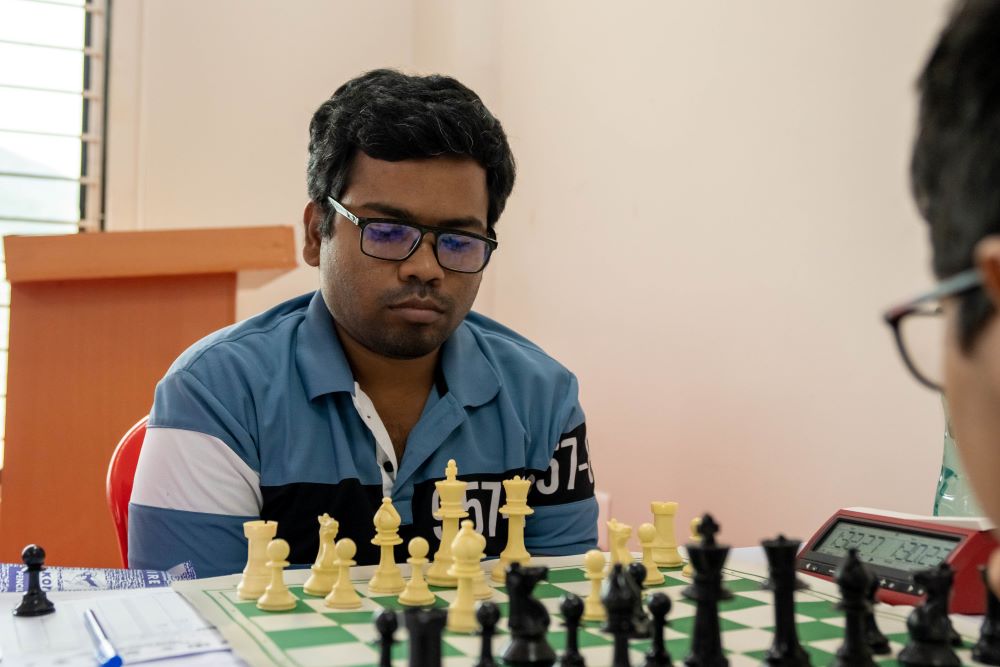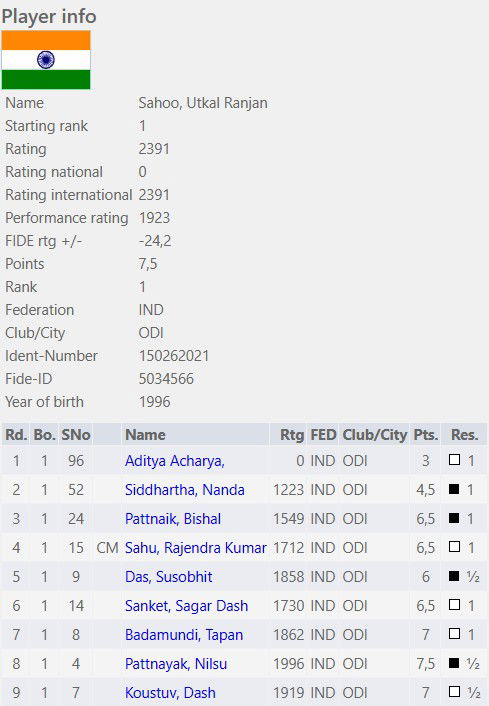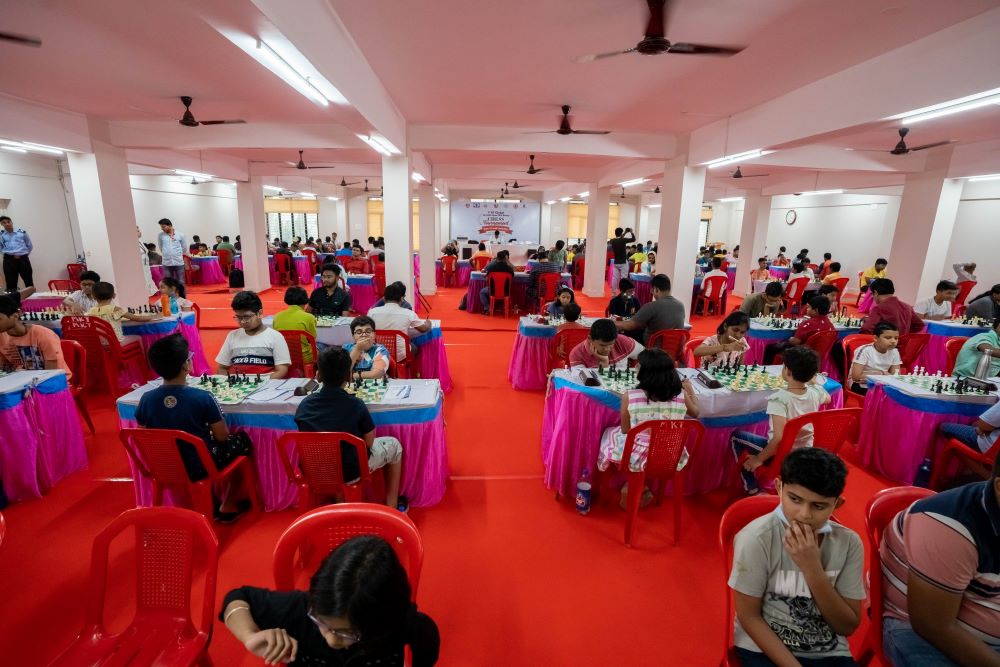 Thanks to IA Jyoti Shankar Nanda, Manager-Strategy of IIG Sports Academy for sharing photos.
A total of 187 players participated from various states across the country. The five-day nine-round Swiss league Rating tournament was organized by IIG Sports Academy and Aarati 64 Squares Foundation at KT Global School, Khordha in Odisha from 21st to 25th April 2023. The time control for the event was 90 minutes + 30 seconds increment from move no.1.
Final standings
| | | | | | | | | | | | | | | | |
| --- | --- | --- | --- | --- | --- | --- | --- | --- | --- | --- | --- | --- | --- | --- | --- |
| Rk. | SNo | | | Name | Typ | sex | FED | Rtg | Club/City | Pts. | TB1 | TB2 | TB3 | TB4 | TB5 |
| 1 | 1 | | | Sahoo, Utkal Ranjan | | | IND | 2391 | ODI | 7,5 | 51 | 54 | 43,75 | 0 | 6 |
| 2 | 4 | | | Pattnayak, Nilsu | | | IND | 1996 | ODI | 7,5 | 50 | 53,5 | 43,50 | 0 | 6 |
| 3 | 3 | | | Alekhya, Mukhopadhyay | | | IND | 1999 | WB | 7,5 | 49 | 52,5 | 42,50 | 0 | 7 |
| 4 | 5 | | | Arpan, Das | | | IND | 1981 | WB | 7,5 | 46,5 | 48,5 | 39,25 | 0 | 7 |
| 5 | 7 | | | Koustuv, Dash | U15 | | IND | 1919 | ODI | 7 | 52,5 | 57,5 | 43,50 | 0 | 6 |
| 6 | 8 | | | Badamundi, Tapan | | | IND | 1862 | ODI | 7 | 51 | 55,5 | 41,25 | 0 | 6 |
| 7 | 13 | | | Priansh, Das | U15 | | IND | 1763 | ODI | 7 | 47 | 52 | 37,50 | 0 | 7 |
| 8 | 19 | | | Nayak, Sajan Kumar | | | IND | 1650 | ODI | 7 | 47 | 51 | 37,50 | 0 | 7 |
| 9 | 31 | | | Sahoo, Stitaprangya | U15 | | IND | 1428 | ODI | 7 | 47 | 50,5 | 37,25 | 0 | 6 |
| 10 | 17 | | | Aritrya, Pal | | | IND | 1651 | WB | 7 | 42,5 | 45,5 | 32,50 | 0 | 6 |
| 11 | 25 | | | Suryapranjal, Indrajeet S P | | | IND | 1546 | ODI | 7 | 41,5 | 44,5 | 34,25 | 0 | 6 |
| 12 | 11 | | | Uddipan, Roy | U15 | | IND | 1800 | WB | 6,5 | 52,5 | 55,5 | 37,00 | 0 | 5 |
| 13 | 10 | | | Kishore, Kumar Jaganathan | | | IND | 1823 | TN | 6,5 | 51 | 55 | 36,75 | 0 | 6 |
| 14 | 14 | | | Sanket, Sagar Dash | | | IND | 1730 | ODI | 6,5 | 51 | 54 | 36,50 | 0 | 6 |
| 15 | 15 | | CM | Sahu, Rajendra Kumar | | | IND | 1712 | ODI | 6,5 | 49 | 53 | 35,00 | 0 | 6 |
| 16 | 22 | | | Majhi, Fakir | | | IND | 1566 | ODI | 6,5 | 48,5 | 50,5 | 32,75 | 0 | 6 |
| 17 | 6 | | | Panigrahi, Manoj Kumar | | | IND | 1960 | ODI | 6,5 | 47,5 | 49 | 33,00 | 0 | 6 |
| 18 | 28 | | | Nigash, G | | | IND | 1491 | TN | 6,5 | 47 | 51,5 | 35,25 | 0 | 6 |
| 19 | 24 | | | Pattnaik, Bishal | | | IND | 1549 | ODI | 6,5 | 45,5 | 49,5 | 31,25 | 0 | 6 |
| 20 | 9 | | | Das, Susobhit | | | IND | 1858 | ODI | 6 | 53,5 | 55 | 33,75 | 0 | 4 |
---