Shadhursshaan clinches 1st Dhoni's Trophy Rating Open 2023
15-year-old Shadhursshaan R scored an unbeaten 8/9 to win 1st Dhoni's Trophy Rating Open 2023. He finished a half point ahead of the competition. Sailesh R, Aakash G and Iyengar Narayan scored 7.5/9 each. They were placed second to fourth respectively according to tie-breaks. The total prize fund of the tournament was ₹720000. 208 prizes including 103 cash prize and 105 trophies were up for grabs. The top three prizes were ₹50000, ₹35000 and ₹25000 along with a trophy each respectively. This is Shadhursshaan's first open rating tournament triumph, second overall rating tournament victory of his career. Last year he won 10th National School Under-15 Open 2022. All photos are by Chess Bishop unless stated otherwise.
Shadhursshaan's first open rating tournament triumph
Shadhursshaan R (TN) had a sole lead 7.5/8, heading into the final round. He drew his game against the only pursuer, Aakash G (TN) 7/8, to become a clear champion 8/9, Aakash finished second. Sailesh R (TN) and Iyengar Narayan (TN) defeated Pournami S (KER) and Dhanush Ram M (KAR) respectively, to secure third and fourth place according to tie-breaks.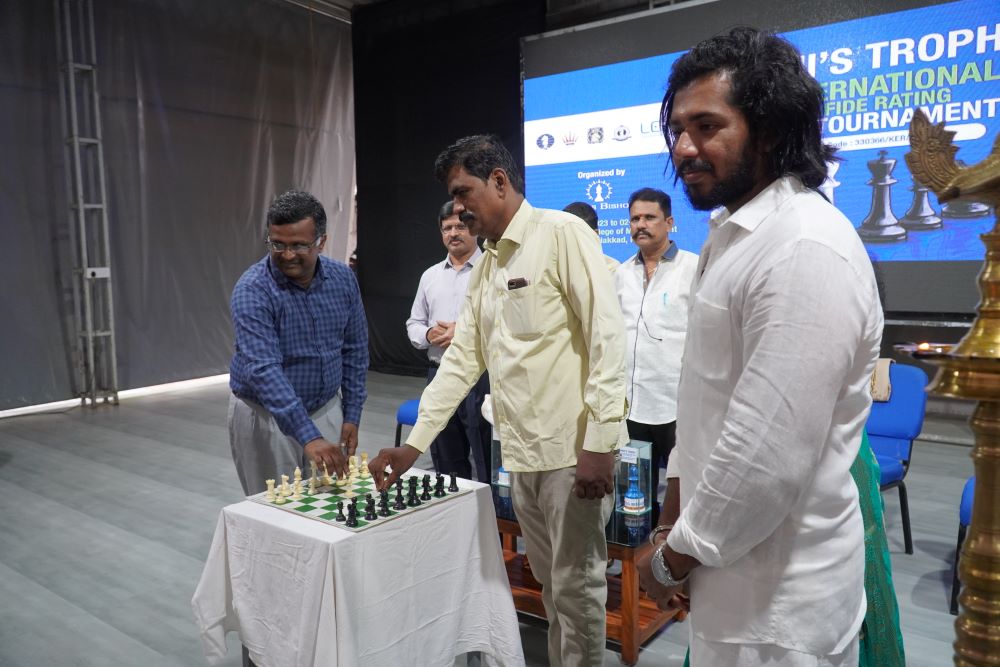 Mr. Pratheesh Venkatraman, Administrator of LEAD College of Management, Dhoni, Palakkad, inaugurated the event. Dr. Suryakumar S A, Managing Director of Chess Bishop, and Vinoth M, CEO of Chess Bishop were also present during the inauguration ceremony.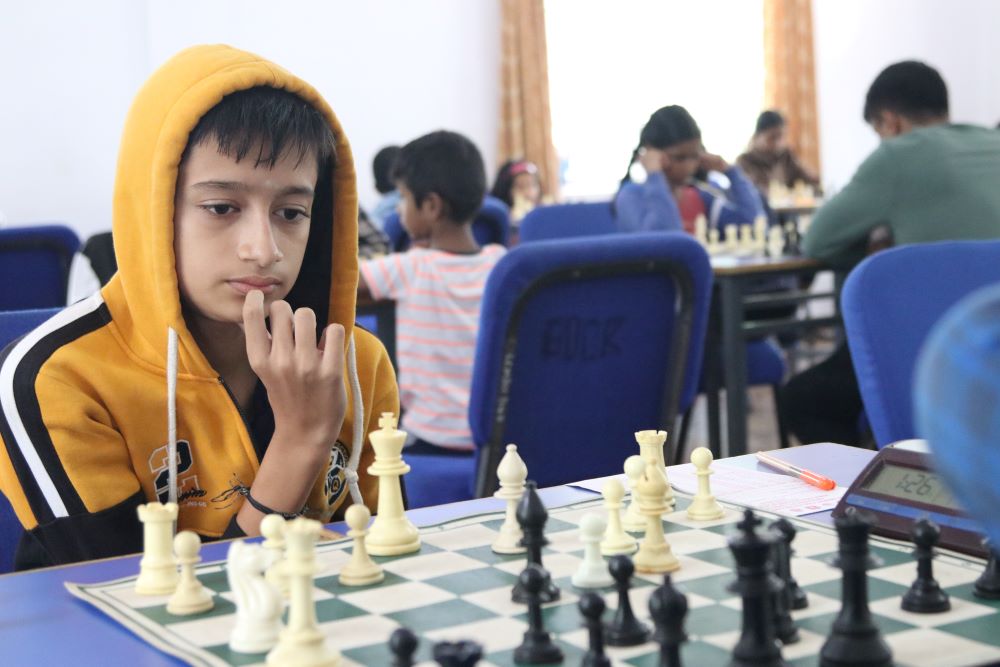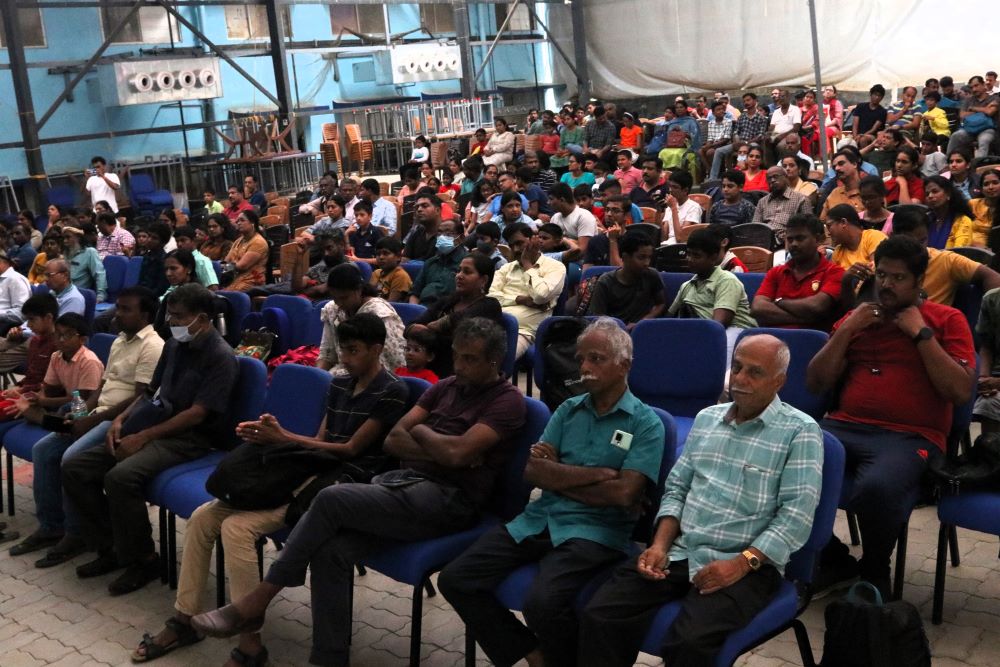 The closing ceremony was graced with the presence of Dr. Thomas George K, Director and Chairman, LEAD College of Management, the members and bearers of National Institute of Personnel Management (NIPM), Mr. Mohandas M, Asst. Manager Personnel and Administration, Malabar Cements, Mr. Ramesanunny, Chairman, Public Relations Council of India, Palakkad Chapter, Mr. Guruvayoorappan, Head HR, PRICOT and other guests. Mr. Amirtharaj G, Chief Financial Officer, Chess Bishop, and Mrs. Ishwarya Suryakumar, Operations Head, Chess Bishop.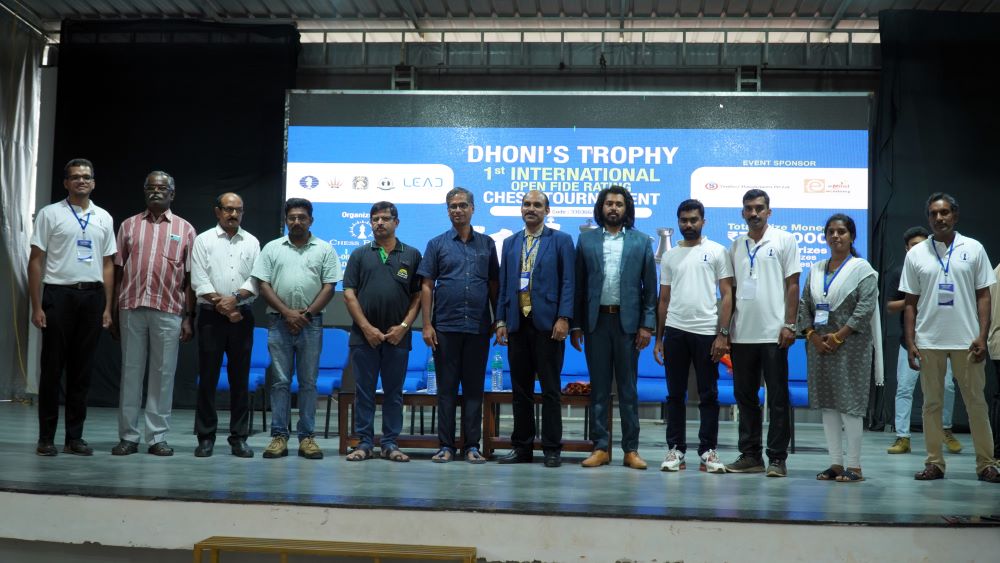 Thanks to Chess Bishop team for sharing photos and info about the tournament. Their next event is a Below 1600 Rating Tournament which will take place from 30th September to 2nd October 2023. Please click here to visit our calendar and get further details.
A total of 247 players including an IM took part from various states across the country in this five-day nine-round Swiss League Rating tournament. The tournament was organized by Chess Bishop at LEAD College of Management, Dhoni in Palakkad, Kerala from 28th June to 2nd July 2023. The time control of the event was 90 minutes + 30 seconds increment from move no.1.
Replay available games
Final standings
| | | | | | | | | | | | |
| --- | --- | --- | --- | --- | --- | --- | --- | --- | --- | --- | --- |
| Rk. | SNo | | Name | Typ | FED | Rtg | Club/City | Pts. | TB1 | TB2 | TB3 |
| 1 | 18 | | Shadhursshaan, R | | IND | 1675 | TN | 8 | 48,5 | 53,5 | 47,00 |
| 2 | 17 | | Sailesh, R | | IND | 1697 | TN | 7,5 | 46,5 | 50,5 | 42,00 |
| 3 | 12 | | Aakash, G | U13 | IND | 1725 | TN | 7,5 | 46 | 49,5 | 40,00 |
| 4 | 16 | | Narayan, Iyengar | | IND | 1701 | TN | 7,5 | 45,5 | 49 | 41,50 |
| 5 | 4 | | Selvamurugan, B | | IND | 1936 | TN | 7 | 51,5 | 56,5 | 42,50 |
| 6 | 7 | | Anilkumar, O.T. | S60 | IND | 1829 | KER-KKD | 7 | 48 | 52,5 | 38,75 |
| 7 | 2 | | Marthandan, K U | | IND | 1958 | KER-EKM | 7 | 46,5 | 50,5 | 39,00 |
| 8 | 10 | | Nawin, M S | | IND | 1766 | TN | 7 | 46 | 49,5 | 35,00 |
| 9 | 5 | IM | Ramnathan, Balasubramaniam | | IND | 1929 | TN | 7 | 45 | 49 | 37,00 |
| 10 | 9 | | Balkishan, A. | | IND | 1817 | KAR | 7 | 44 | 47,5 | 36,00 |
| 11 | 80 | | Akshaya, Sathi | F13 | IND | 1416 | KAR | 7 | 40,5 | 44 | 33,00 |
| 12 | 79 | WCM | Shriyana, S Mallya | F13 | IND | 1418 | KAR | 7 | 38,5 | 40,5 | 29,50 |
| 13 | 14 | | Abhijith, U | | IND | 1709 | KER-KKD | 6,5 | 50,5 | 55,5 | 40,00 |
| 14 | 33 | | Anupam, M Sreekumar | F15 | IND | 1617 | KER-TVM | 6,5 | 48 | 52,5 | 34,75 |
| 15 | 37 | | Dhanush, Ram M | | IND | 1601 | KAR | 6,5 | 48 | 50 | 32,25 |
| 16 | 61 | | Niranjan, J Warrier | U15 | IND | 1483 | KAR | 6,5 | 46,5 | 50,5 | 34,75 |
| 17 | 44 | | Joseph, Tom | U13 | IND | 1534 | KER-EKM | 6,5 | 43 | 47 | 32,00 |
| 18 | 40 | | Giridhar, A | U15 | IND | 1582 | KER-EKM | 6,5 | 43 | 46,5 | 31,75 |
| 19 | 57 | | Sandeep, Santhosh | | IND | 1498 | KER-PKD | 6,5 | 42,5 | 46,5 | 32,25 |
| 20 | 46 | | Pournami, S | F15 | IND | 1529 | KER-PKD | 6,5 | 41,5 | 45 | 31,50 |
| 21 | 65 | | Ahaz, E U | U13 | IND | 1470 | KER-TCR | 6,5 | 41,5 | 45 | 30,25 |
| 22 | 84 | | Niranjana, N | F13 | IND | 1409 | KER-KLM | 6,5 | 35,5 | 38,5 | 27,75 |
| 23 | 25 | | Joy, Lazar M.A. | | IND | 1640 | KER-TCR | 6 | 51 | 55 | 33,50 |
| 24 | 19 | | Godson, Merlin E | | IND | 1671 | TN | 6 | 50 | 54,5 | 35,25 |
| 25 | 29 | | Nigash, G | | IND | 1635 | TN | 6 | 49,5 | 52,5 | 30,50 |
Links
Chess Bishop: Official site, fb page, twitter
---