Mithun Anand V wins 1st Cademic International Rating Open 2022
20th seeded Mithun Anand V and Goutham Krishna H scored an unbeaten 7.5/8 each. Mithun won the 1st Cademic International Rating Open on tie-breaks, the reigning National Under-12 Open champion, Goutham was placed second. Top seed of the event, Hrithickkesh Pr scored 7/8, edged past the remaining four at the same score, to secure third place. The total prize fund of the tournament was ₹300000. Top three prizes were ₹40000, ₹30000 and ₹20000 along with a trophy each. This was the biggest chess tournament held in Thiruvananthapuram as it attracted 461 players from all over the country along with Canada, England, Germany and USA. Photo: Sreejith S Payyappat
450+ players take part
Cademic Chess Center brought the 44th Chess Olympiad fever to the capital of Kerala, Thiruvananthapuram. This was the first FIDE Rated tournament in the city since April 2019. Current Kerala State Under-14 Girls champion and Under-16 Girls runner-up, Anupam M Sreekumar was the highest finisher among female participants. She scored 6.5/8 to finish 16th and gained 38 Elo rating points.
The prize distribution ceremony was honoured by three renowned women sports personalities in Kerala - Lekha K C, Gold medalist in 2006 Women's World Amateur Boxing Championship under 75Kg, Dhyan Chand award for lifetime achievement 2021; Rosemary, Asian Championship winning Kabaddi team member in 2005 and 2007, current NIS coach and Secretariat Sports Association Secretary; Angel Adolphus, former Kerala women football team captain, formerly Kerala women cricket player, currently a football coach.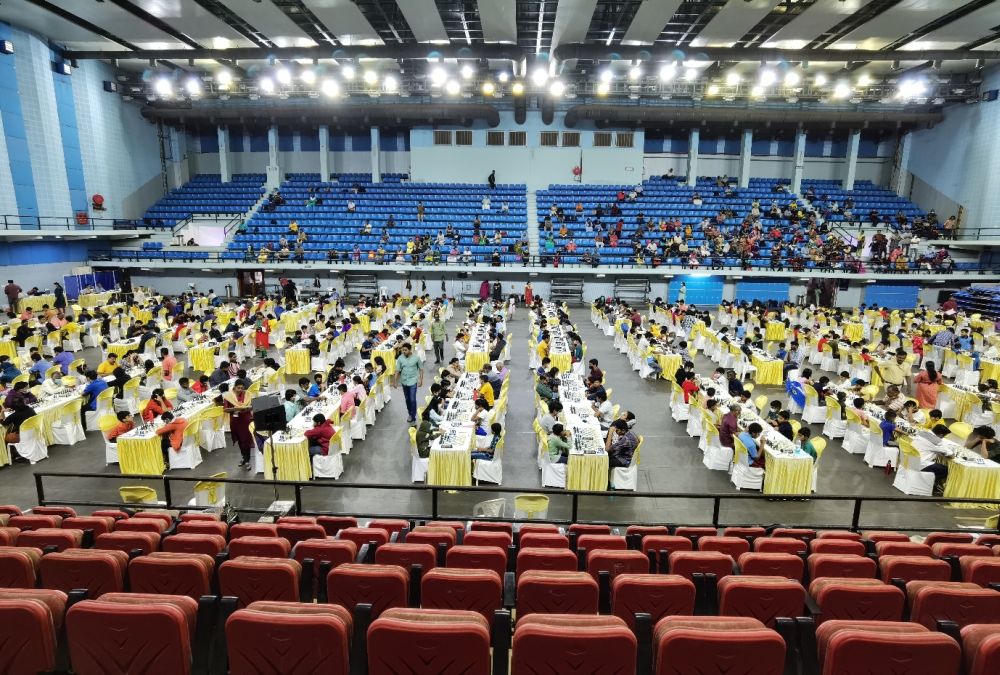 On day 3, 7th August 2022, an open chess quiz (Red Queen) was organized for chess players and parents. It was orchestrated by quiz master, Dr. Jyothi E K. She is a medical micro-biologist working as scientist at Sree Chitra Tirunal Institute of Medical Sciences and Technology (SCTIMST), Thiruvananthapuram Kerala.
Eight of the arbiters were awarded with norms (IA - 2, FA - 6) in this tournament. All the arbiters were felicitated with mementos for their excellent contribution in the success of the tournament.
Thanks to IA Smitha Selvi of Cademic Chess Center for sharing the photos and various information.
A total of 461 players including an IM took part from Canada, England, Germany, India and USA in this four-day eight round Classical Rating tournament. The event was organized by Cademic Chess Center, at Jimmy George Sports Hub in Thiruvananthapuram, Kerala from 5th to 8th August 2022. The time control of the event was 90 minutes + 30 seconds increment from move no.1.
Final standings
| | | | | | | | | | | | | | | | |
| --- | --- | --- | --- | --- | --- | --- | --- | --- | --- | --- | --- | --- | --- | --- | --- |
| Rk. | SNo | | Name | Typ | sex | Gr | FED | Rtg | Club/City | Pts. | TB1 | TB2 | TB3 | K | rtg+/- |
| 1 | 20 | | Mithun Anand V | | | | IND | 1759 | Tn | 7,5 | 41,5 | 45,5 | 42,50 | 20 | 63,6 |
| 2 | 5 | | Goutham Krishna H | U12 | | MCAT | IND | 2024 | Ker - Tvm | 7,5 | 38,5 | 41,5 | 38,75 | 40 | 17,2 |
| 3 | 1 | | Hirthickkesh Pr | | | | IND | 2201 | Tn | 7 | 44,5 | 49 | 41,50 | 20 | -5,4 |
| 4 | 8 | | Marthandan K U | | | | IND | 1987 | Ker - Ekm | 7 | 41,5 | 46 | 39,00 | 20 | 7,4 |
| 5 | 14 | | Dhanush Ragav N S | | | | IND | 1819 | Tn | 7 | 38 | 41,5 | 34,50 | 20 | 12 |
| 6 | 7 | | Hemanth Raam | | | | IND | 2008 | Tn | 7 | 38 | 41 | 35,75 | 20 | -6 |
| 7 | 54 | | Arunkumar S | | | | IND | 1489 | Ker - Tvm | 7 | 37 | 40,5 | 32,50 | 40 | 83,2 |
| 8 | 3 | IM | Ramnathan Balasubramaniam | | | | IND | 2076 | Tn | 6,5 | 42 | 46,5 | 36,25 | 10 | -10 |
| 9 | 10 | | Rohan Vijay Shandilya | | | | IND | 1970 | Jh | 6,5 | 39 | 43 | 33,50 | 20 | -19,6 |
| 10 | 11 | | Balkishan A. | | | | IND | 1958 | Ka | 6,5 | 39 | 42 | 32,75 | 20 | -7,8 |
| 11 | 9 | | Chandar Raju | | | | IND | 1980 | Ker - Ekm | 6,5 | 39 | 41,5 | 31,75 | 20 | -17,8 |
| 12 | 19 | | Majumder Shrayan | | | | IND | 1782 | Mh | 6,5 | 39 | 40,5 | 30,25 | 20 | -5,2 |
| 13 | 29 | | Dhanush Ram M | U15 | | | IND | 1659 | Ka | 6,5 | 38,5 | 42 | 32,25 | 40 | 64,8 |
| 14 | 22 | | Jagadeesh A.K. | | | | IND | 1726 | Kzk | 6,5 | 37,5 | 39,5 | 28,75 | 20 | 0,2 |
| 15 | 64 | AGM | Rutherford S | | | MCAK | IND | 1421 | Tn | 6,5 | 37 | 40 | 29,75 | 20 | 50,4 |
| 16 | 30 | | Anupam M Sreekumar | U15 | w | | IND | 1635 | Ker - Tvm | 6,5 | 37 | 38 | 29,75 | 40 | 38 |
| 17 | 69 | | Saravanan | | | | IND | 1404 | Tn | 6,5 | 36 | 37,5 | 28,50 | 40 | 70 |
| 18 | 124 | | Rahul P Nair | | | | IND | 1215 | Ker - Tvm | 6,5 | 32,5 | 35 | 26,50 | 40 | 94,4 |
| 19 | 6 | FM | Vinoth Kumar M. | | | | IND | 2015 | Tn | 6 | 44 | 48 | 33,50 | 20 | 1,2 |
| 20 | 13 | | Umashankar A | | | | IND | 1826 | Py | 6 | 40,5 | 44,5 | 32,00 | 20 | -12,2 |
| 21 | 25 | | Mishra Sanjeev | | | | IND | 1684 | Mh | 6 | 40,5 | 43,5 | 30,25 | 20 | 16,2 |
| 22 | 73 | AFM | Aadik Theophane Lenin | U12 | | MCAT | IND | 1373 | Ker - Ekm | 6 | 39 | 41,5 | 28,00 | 40 | 82,8 |
| 23 | 12 | | Genish Prakash J | | | MCAK | IND | 1847 | Tn | 6 | 38,5 | 43 | 31,00 | 20 | -22,8 |
| 24 | 18 | | Joy Lazar M.A. | | | | IND | 1791 | Ker - Tcr | 6 | 38,5 | 41,5 | 30,00 | 20 | -13 |
| 25 | 89 | | Karthikeyan Sakthivel | U15 | | BCA | IND | 1311 | Tn | 6 | 38 | 41,5 | 28,50 | 40 | 109,2 |
---