FIDE Moscow GP: Giri, Mamedyarov, Aronian and Karjakin get eliminated
At the conclusion of round 1.1 in FIDE Grand Prix 2019 Moscow, three players were on the brink of elimination. They are Mamedyarov, Aronian and So. They were in a must win situation to head for Playoffs. Two of them could not surive - Mamedyarov and Aronian. Both of them lost their round 1.2 game which caused elimination. However So bounced back and defeated Duda to head for Playoffs. Dubov played an impressive attacking game to knock Giri out of the tournament. Aronian got eliminated by Nepo after the former blundered a pawn in the opening. Vitiugov and Jakovenko failed to score in a must-score game to get eliminated from the tournament. Photo: World Chess
Six Players Advance at Grand Prix; Four Head to Playoffs
The second day of the first leg of the FIDE Grand Prix Series organized by World Chess produced five decisive results, including a spectacular win by Daniil Dubov over Anish Giri, the tournament's top seed. All told, six players, including Dubov, advanced to the second round of the tournament.
Four other players will face off on Sunday in a series of tie-breaker games to determine who else will move on.
Three of them were on the brink of elimination as they were in a must-win situation. Mamedyarov and Aronian were held to a draw by Wojtaszek and Nepomniachtchi respectivel and they got knocked out. Only So managed to bounced back by defeating Duda to head for Playoffs. Giri, Karjakin, Vitiugov, Jakovenko lost their respective games and got eliminated.
The game of the day, and perhaps of the tournament, though it is obviously still early, was Dubov's win over Giri. Dubov, who is Russian, had White and essayed a slightly offbeat line of the Queen's Gambit with 4 Bg5 instead of the more common 4 Nc3. Giri, who is Dutch, replied in what is generally considered the most appropriate way – by taking the White pawn on c4.
Daniil Dubov vs Anish Giri, Round 1.2
The game transposed to a position that resembled the Botvinnik Variation of the Semi-Slav Defense, which is among the sharpest openings in chess. Dubov, who was obviously better prepared than Giri as he took little time in the opening, played the unusual 10. Bxf6 instead of the more common 10 Bh4. The idea was that after 11. exf6, Giri faced a rather unpleasant choice of taking the pawn on f6, and leaving his queen a bit offside, or allowing the White pawn to continue to sit at f6. Giri chose the second option and the pawn eventually became a huge thorn in his side.
The game became sharper and sharper, with Giri lagging behind in development. Dubov's decision to castle long on move 19 looked almost like a joke – his king was castling where it had no pawn cover, while all of White's pawns on the kingside, the more standard resting place of the king, remained on their original squares. But Giri's queen blocked the diagonal that would have allowed Dubov to castle on the kingside, and castling on the queenside immediately threatened mate on d8.
Though logical, Dubov's follow-up, 20 Nb5 was also spectacular. The knight was taboo and the move allowed Dubov to cover the squares that Giri would normally have to deliver check. Later, in the commentator's studio Dubov explained, "Nb5 looks completely natural but it is a complete mess."
Giri found the best defensive moves until Dubov played 22 Kb1, another counterintuitive move. Dubov said later that he was trying to find the best spot for his king and to "stabilize" the position.
Giri immediately blundered (computer engines said that 22 … Bc5 was his best bet) and his position began to rapidly deteriorate. He was also in time pressure, having used up most of his time earlier in the game.
After Dubov's king found refuge on f3 (!), he was firmly in control. Giri resigned after 36 … Kh8 because 37 Nf7 would have rapidly delivered mate.
In the studio, Dubov said of the game, "In general, I probably just played well, but it is hard to believe."
That was far from the only interesting game of the day.
Wesley So of the United States faced a must-win against Jan-Krzysztof Duda of Poland as Duda had won their first game on Friday. So had White and opened with 1 e4. Duda, to his credit, or perhaps because of his youth (he is 21) and, therefore, relative inexperience, replied with the Sicilian Defense, the most dynamic response. He then steered the game into the Dragon Variation, which is particularly double-edged.
The game followed a well-known but very complex path until Duda sacrificed an exchange (rook for knight) to break up the pawns covering So's king protection on the queenside. Though the sacrifice is thought to be sound, So demonstrated cool under pressure and slowly built up his position, threatening to exchange pieces and go into an endgame with a material advantage.
Wesley So vs Jan Krzysztof Duda, Round 1.2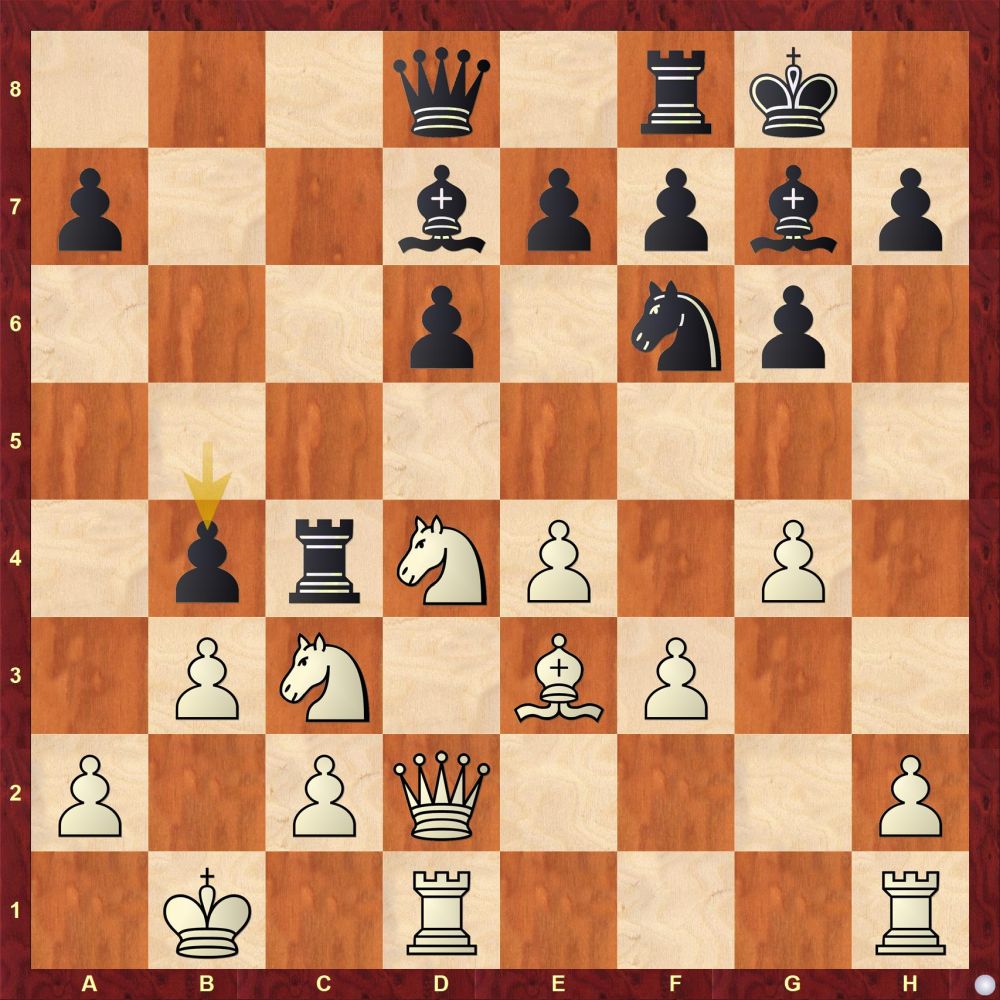 In a complicated position, So found the best moves and eventually emerged in an endgame a pawn up, which was passed on the a file. Duda began to err and though So made some mistakes, the result was not really in doubt. Duda finally resigned, sending their match into playoff on Sunday.
The game, and the match, between Dmitry Jakovenko of Russia and Wei Yi of China ended in Wei's favor when it looked for much of the day that Jakovenko would prevail. Jakovenko, who had White, opened with 1 e4 and Wei replied with 1… e5. The game entered the Ruy Lopez and Jakovenko chose the relatively quiet move 5 d3.
Dmitry Jakovenko - Wei Yi, Round 1.2
Wei delayed castling and then, after Jakovenko had pinned his knight on f6 with his dark-squared bishop, lashed out with h6 and then g5. While it gained space on the kingside, it left his king with no good place to seek shelter.
Jakovenko responded energetically by opening the center with 15 d4 and 16 e5. He soon had a clear advantage and Wei, who was also facing time pressure, had to eventually give up an exchange with 22 … c5.
Just as it seemed that Jakovenko would be moving on, he began to err. Wei's pieces soon took up active posts in the center and Jakovenko was on the ropes. After 33 … Kg6, Wei threatened to chase Jakovenko's queen away from defending g2 (and stopping mate) by playing f5. The only way to stop it was for Jakovenko to give up his bishop. He promptly resigned. In an interview afterward, Wei said, "I think that I was so lucky because my position was so dangerous."
Another player to advance on Saturday was Peter Svidler of Russia who beat his compatriot and friend, Nikita Vitiugov. Svidler, who had White, gained a pawn out of the opening of an Open Ruy Lopez and managed to hang on to it as the game headed toward the endgame. Vitiugov never generated much counterplay and Svidler eventually won a second pawn, sealing the victory.
Afterward, Svidler said that he was not entirely familiar with the opening but believed that he had managed to play the most critical line.
Alexander Grischuk of Russia beat Sergey Karjakin, another compatriot and friend, in their game on Saturday, putting him through to the second round after their first game had ended in a draw. Game 2 was a slow grind, with Grischuk, who had White, always having a slight but clear edge. Karjakin, who is known for his defensive skills, was never quite able to equalize and eventually blundered into a mating net.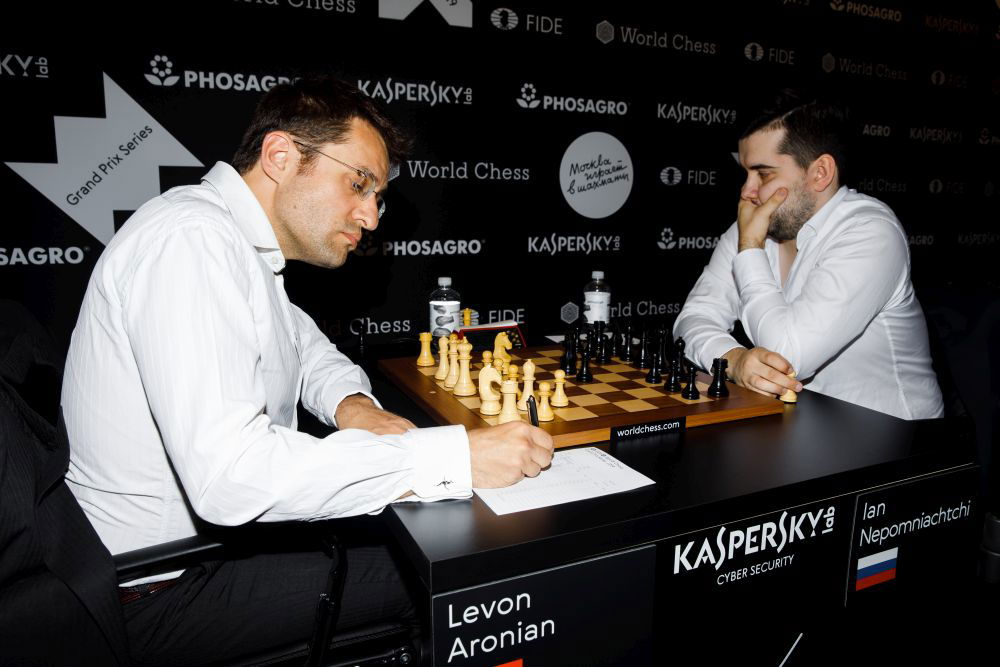 Ian Nepomniachtchi of Russia also only had to draw his game against Levon Aronian of Armenia after beating him in Game 1 on Friday. Though Aronian tried to muddy things in Game 2, he took a lot of time on his clock, got into time pressure and also lost a pawn. At the end, they agreed to a draw in which Nepomniachtchi was, if anything, slightly better.
In addition to So and Duda, Hikaru Nakamura of the United States and Teimour Radjabov of Azerbijan will also have a playoff on Sunday as their second game, like their first, was a short draw. Indeed, the game ended after just over an hour and only 14 moves. Nakamura said in the interview afterwards that Radjabov, who had Black, surprised him by playing a line he normally does not play and he could find no advantage so he proposed a draw. He said, "Why waste a few more hours when it is going to be a draw anyway?"
The tie-breakers are two rapid games and, if there is no clear winner, 10+10 games and, if there is still a tie, the blitz games followed, if necessary, by an Armageddon game (Black has less time, but is declared the winner even if the game ends in a draw).
Tie-break Rapid of the will be played on Sunday at 3 p.m. local time, 5.30 p.m. IST. The broadcast can be viewed free and live at worldchess.com. One way or another, two of the four players – So or Duda and Nakamura or Radjabov – will advance on Sunday.
Live games begin at 5.30 p.m. IST
The principal sponsors of the series are PhosAgro, a giant Russian fertilizer company, and Kaspersky Lab, a worldwide leader in data security. The series is being organized and broadcast by Worldchess on its Web site under the auspices of FIDE.
About the author:
Dylan Loeb McClain is an author for the World Chess website. Formerly, he was a staff editor and chess columnist for The New York Times.
---