Humpy wins Skolkovo FIDE Women's Grand Prix 2019
Humpy won the Skolkovo FIDE Women's Grand Prix by making a draw in the final round against reigning Women's World Champion Ju Wenjun. The Indian ace won her first major championship after returning to competitive chess since Batumi Olympiad 2018. Humpy finished at 8.0/11, gained 160 Grand Prix points and received 15000 Euro (approx. ₹11.73 lacs) for winning the tournament. Humpy, who is currently world no.3 behind Hou Yifan and Ju Wenjun has just about every accomplishment in her bag except the world title. With the FIDE Grand Prix she aims to make it to the Candidates and eventually the highest title. She will be back in the next Grand Prix in Monaco from 2nd - 15th December 2019. Photo: David Llada / FIDE
Humpy superb at Skolkovo
Humpy went for Ragozin Defence in QGD against Ju Wenjun in the final round. In a battle between world no.2 and 3 in women's chess, neither got the better of the other. In the end Ju Wenjun had to settle for a perpetual check in a queen ending and it was a draw after 35 moves.
Humpy - Ju Wenjun, round 11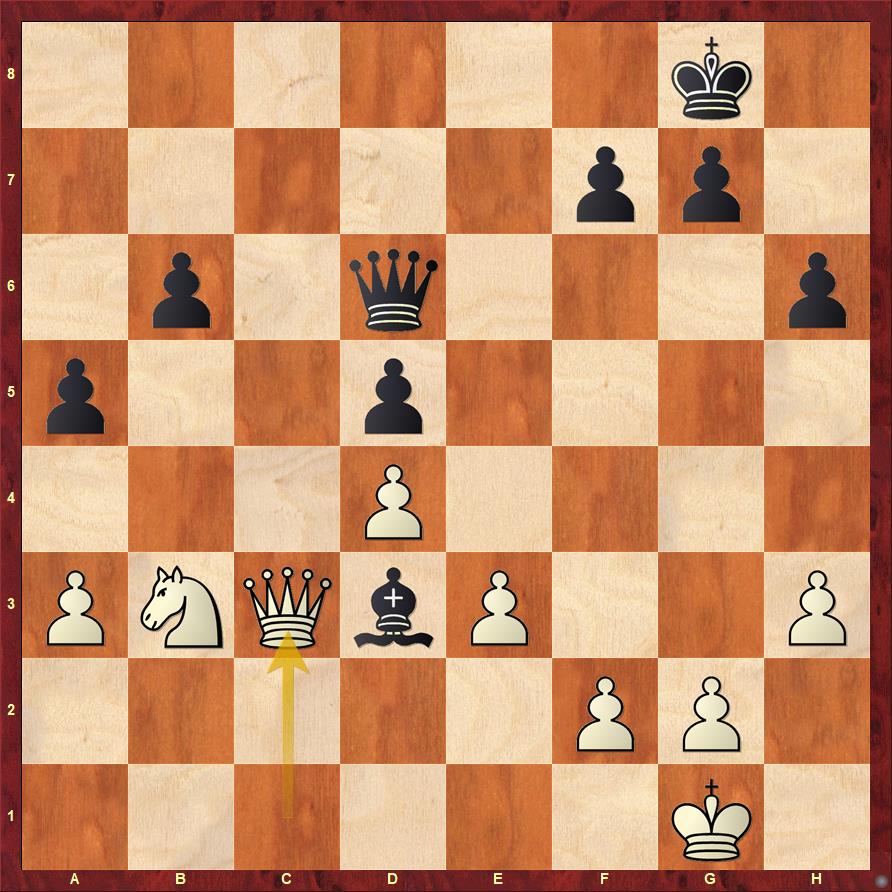 28.Qa6! A powerful move stopping axb3 and also threatening Qc8-f5 perpetual.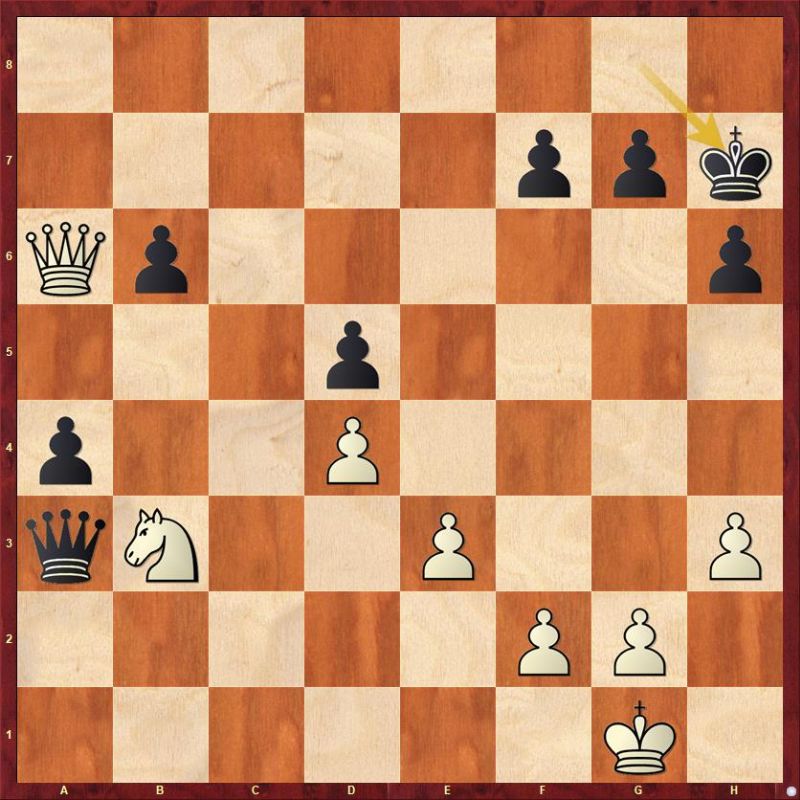 29.Nc5! was a strong move sacrificing the knight and making sure that the game ends in a draw!
After Humpy won the tournament, WGM Keti Tsatsalashvili interviewed her.
Here is a transcript of the interview:
Keti Tsatsalashvili (KT): Congratulations on your victory. How does it feel to win the Skolkovo Grand Prix?
Koneru Humpy (KH): Thank you. I am feeling very happy because it's been a long time since I won a tournament, that too after a break. Winning such a strong tournament feels good.
KT: Which is your favorite game in this particular tournament and why ?
KH: I can't say it's my favorite but I can say it was a crucial win for me. It was the ninth round game against Gunina. That win gave me the opportunity to take the lead in the tournament and I think it's a very interesting game.
KT: Your last competitive game was in 2016, then you came back in October 2018. A break of two years. How difficult was it to comeback to the chess board?
KH: Well yeah, I took a break for two years. I suppose it was very difficult when I played Olympiad and knockout World Championship. Of course the results also speak out like I lost in the second round itself in the World Championship. I struggled for few tournaments but I think from this January, I was a bit stable. In the recent times, I played the Chinese league, I did well there. So yeah, I can say that after my comeback this has been the biggest victory.
KT: You are a mother of two-year-old daughter. So how does it feel to be a mother?
KH: Well I enjoy a lot. I try to spend a lot of time with her. She just started speaking, like understanding everything slowly. So we are having good time.
KT: Does your daughter understand that she has a strong chess playing mother?
KH: No no she doesn't know (laughs). Sometimes I try to explain her, I show her all the trophies and tell her that those all belong to me and I won but she doesn't agree with me. She says, those all belong to her grandfather. She just knows that I play chess, that's it. Even when I am doing something else, she will just come and say, mom play chess, something like this in our mother tongue. So chess has become a routine word for her!
KT: Have you talked to your husband and your daughter after the victory at this tournament?
KH: Yeah of course. My daughter doesn't understand anything, that I won or something. She just knows that I will be coming home soon. So she is happy for that. My husband is very happy that I won the tournament.
KT: Usually having a kid means that your life has changed and your chess career changes too. Before Judit Polgar showed us that she could combine these two, so how do you think about this, having a kid and a chess career?
KH: Of course it's not so easy when you have a kid and family but it's not that when you have a kid, you have to lose your profession. You can still do whatever you wish. It's about a person's individual choice and also you need to balance both of these. Probably you will not get most of the time for professional career like earlier days, but I think it's still manageable. Balance is much more important here.
KT: What is your opinion about India's women chess?
KH: Indian women chess is growing slowly. Now we have few talented young girls at 2400 level. I hope we have more grandmasters in Indian women chess in the days to come.
KT: Does the dream of being the world champion still motivate you?
KH: Yes of course. I think without motivation, you can't succeed. When I came back to chess, my motivation was just to play some good games and to be in world rankings and not to drop down, to sustain the rankings. I think I managed to do that and I am slowly improving. There will be step-by-step something to aim for.
KT: Thank you very much and once again congratulations.
KH: Thank you.
Watch Live Stream of round 11
Replay all games here
Links
---