Humpy is now World no.3
The Indian ace Koneru Humpy beat former women's World no.1 Pia Cramling and former Women's World champion Antoaneta Stefanova in round 6 and 7 respectively to climb to World no.3 in the live rating list. Humpy is currently at the sole second position with a score of 5.0/7 at Skolkovo FIDE Women's Grand Prix, half point behind the sole leader, reigning Women's World champion Ju Wenjun who is at 5.5/7. Humpy is yet to face Ju Wenjun and they will face off in the final round. Photo: David Llada / FIDE
Humpy scores two emphatic victories
Humpy might have made a short draw in 27 moves with the new Women's World Championship Challenger Aleksandra Goryachkina in round 5. However, after that draw the India no.1 scored two fine victories.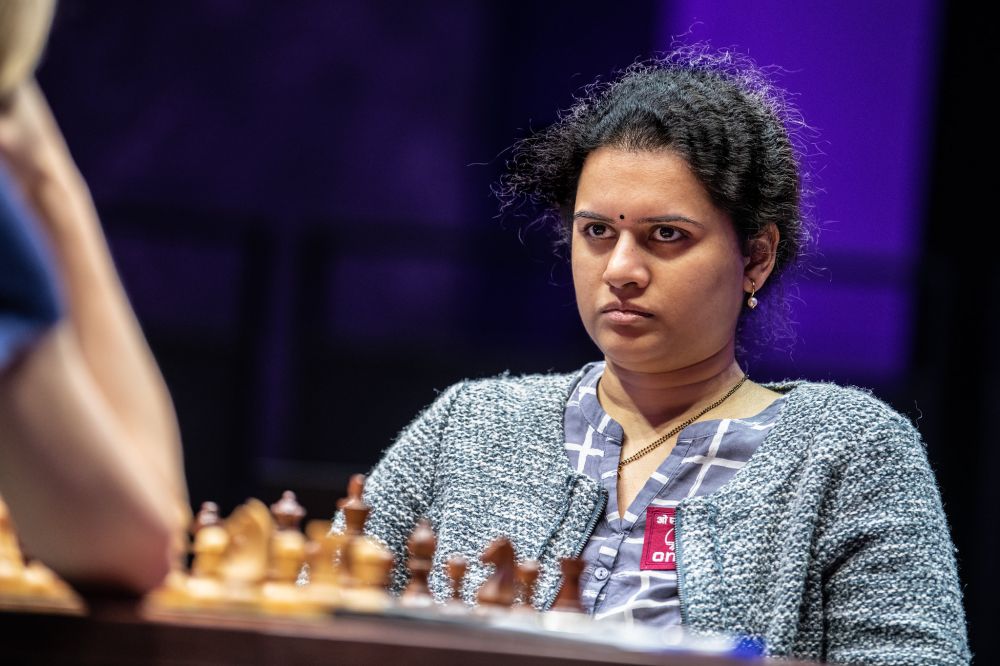 In round 6, Humpy had the sole intention of winning her game against the legendary GM Pia Cramling.
Humpy - Pia, round 6
When you play 16.f4 against someone who is playing for a win, you are going to meet with the best move. Can you find it?
16...e5 is what Humpy played and Black gets a fantastic position afterwards. Eventually, it became a matter of technique for Humpy to convert it to a full point.
Humpy continued her momentum after the rest day as she defeated the Bulgaria no.1 Antoaneta Stefanova in a game arising out of Gruenfeld exchange variation.
Humpy - Stefanova, round 7
Humpy accepted the sacrifice with 25.Bxf2 fxg4 and then Humpy continued her attack with 26.d5 and then she won the game eventually.
Watch Live Stream of round 7
Replay all games here
Links
---