Neelash Saha and Priyanka Nutakki clinch MPL National Junior Open and Girls Chess Championships 2022
IM Neelash Saha (WB) won an exciting final round game against Aryan Arora to win MPL 50th National Junior Chess Championship 2022 Open. He finished a half point ahead 8.0/9, of the competition Utsab Chatterjee (WB) and FM Rohith Krishna S (TN) 7.5/9. They secured second and third place respectively according to tie-breaks. WGM Priyanka Nutakki (AP) drew her final round game against Sajitha B (TN) to score 7.5/9. WFM Bhagyashree Patil (MAH) also scored the same, however, India's latest WGM edged past her due to better tie-breaks. Femil Chelladurai (TN) secured the third place 7.0/9. Photo: IA Jitendra Choudhary
Neelash and Priyanka make the most out of their last chance
The champions - IM Neelash Saha and WGM Priyanka Nutakki share a fun fact. They won all their National championships in their final attempt which means that was their final appearance in the respective age group due to the age eligibility criteria. Neelash won National under-13 in 2015, under-17 in 2019 and now under-20 in 2022. Priyanka clinched under-9 in 2011, under-11 in 2013, under-13 in 2015 and now under-20 in 2022. West Bengal dominated the Open event by claiming three out of top four places. The Girls event witnessed Tamil Nadu domination as they claimed five out of top ten and three out of top five places.
I caught up with Neelash after he won the tournament to get his thoughts on his victory, "Final results were satisfying but I am not that satisfied with my play. Many of my games here (especially the last two) were not that smooth and even in the other games, there were many small scopes of improvement. It feels good to be National Champion but not yet the time to start celebrating. Rather I am trying to work on the gaps left behind in my gameplay and improve overall for a better performance in the upcoming events. And also, I am starting to get ready for World Junior. Since this is my last year, I would love to win a medal , so I must start working from now only."
I also caught up with Priyanka Nutakki to know her thoughts on winning the tournament, "Hi, thank you! It feels good to have won the tournament as it's my last chance. I could've played better but I'm happy with the outcome."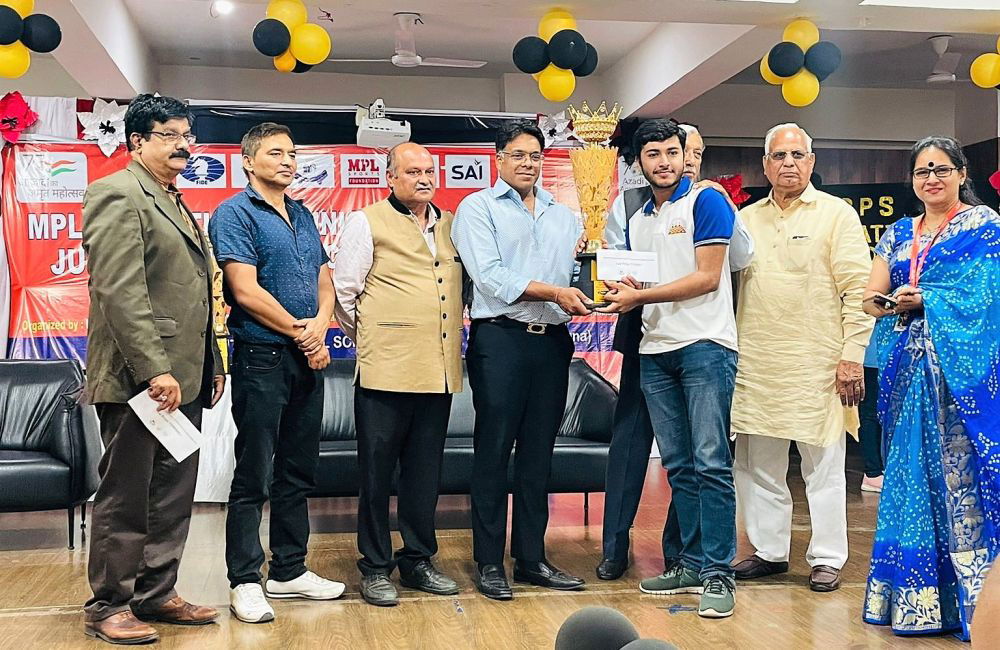 Open: Aryan - Neelash: 0-1
Aryan Arora (CHAN) created a lot of trouble for IM Neelash Saha (WB) in the endgame, after the latter offered a major piece exchange at an inopportune moment.
27...Rb8 allows White to force a queen exchange via 28.Ra1 instead of a rook exchange which Black would have preferred. 28...Qb7 29.Qxb7 Rxb7 30.Ra8+ Kh7 now White should have gone for the c6-pawn 31.Ra6 but he opted for 31.f4. White got the c6-pawn eventually.
Black could have forced a draw here 37...Rb1+ 38.Kf2 Be1+ or 39.Kg2 Rb2 and so on. However, a draw was not enough for Neelash to win the tournament. As it turns out, it would have given him a second place finish. He actually missed it in the heat of things as he described, which turned out to be in his favor. He shared, "I was ahead in tiebreaks by quite a margin after the penultimate round. So, had I seen this, I would have taken the draw and finished second." Neelash eventually won the game and the championship too.
Girls: Samriddhaa - Bhagyashree: 0-1
Samriddhaa Ghosh (WB) got substantial advantage against WFM Bhagyashree Patil (MAH).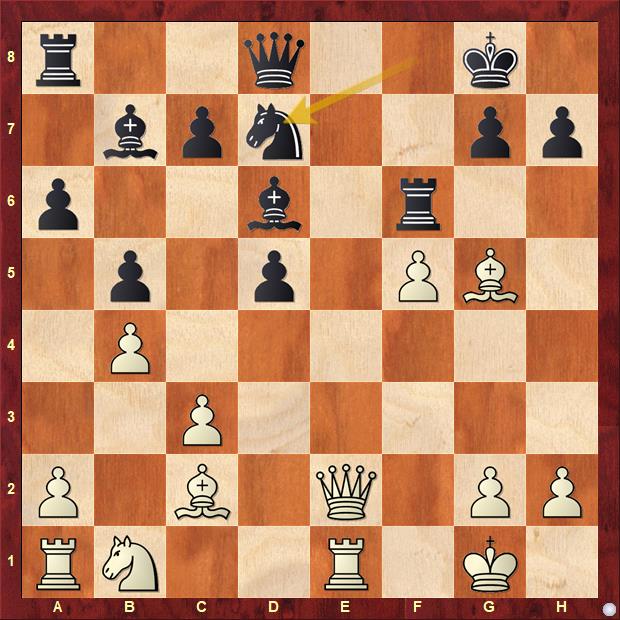 20.Bxf6 Nxf6 21.Nd2 Qf8 now 23.Nf3 plays on White's advantage. Instead, she opted for 23.Qf1 and soon White put all her pieces at the wrong places and Black started gaining the upper hand, eventually winning the game. Thus securing the second position on tie-breaks.
Bristy - Femil: 0-1
WCM Bristy Mukherjee (WB) lost a completely drawn opposite color bishop endgame against Femil Chelladurai (TN).
Even if White loses the h3-pawn it would not make a huge difference because it is still a draw unless White makes a huge blunder. The first mistake which White makes here is 55.h4 forces a breakthrough to create a passed pawn of her on g-file. It also helps Black to create a passed pawn of her own on the h-file 55...gxh4
It is still a draw. 60.g7 is not what White should play because only then Black win this. That is exactly what was played in the game and White lost.
For more Round 9 and Prize distribution ceremony photos, please click here.
A total of 186 players including 2 GMs, 6 IMs in the Open and 105 players including a WGM and a WIM in the Girls tournament took part. It was organized by Haryana Chess Association. Both tournaments were held at RPS International School, Gurgaon, Haryana from 9th to 13th March 2022. The nine-round Swiss league tournament had a time control of 90 minutes + 30 seconds increment from move no.1
Replay Open Round 9 games
Replay Girls Round 9 games
Open Round 9 results
Final standings
| | | | | | | | | | | | | | | | |
| --- | --- | --- | --- | --- | --- | --- | --- | --- | --- | --- | --- | --- | --- | --- | --- |
| Rk. | SNo | | Name | sex | FED | Rtg | Club/City | Pts. | TB1 | TB2 | TB3 | TB4 | TB5 | K | rtg+/- |
| 1 | 6 | IM | Neelash Saha | | IND | 2445 | West Bengal | 8,0 | 50,5 | 54,5 | 48,00 | 0,0 | 7 | 10 | 6,9 |
| 2 | 10 | | Utsab Chatterjee | | IND | 2324 | West Bengal | 7,5 | 51,5 | 56,0 | 45,50 | 0,0 | 6 | 20 | 44,6 |
| 3 | 11 | FM | Rohith Krishna S | | IND | 2304 | Tamil Nadu | 7,5 | 50,0 | 54,5 | 43,75 | 0,0 | 7 | 10 | 17,4 |
| 4 | 4 | IM | Koustav Chatterjee | | IND | 2466 | West Bengal | 7,0 | 52,0 | 56,5 | 42,50 | 0,0 | 6 | 10 | 2,5 |
| 5 | 12 | FM | Ayush Sharma | | IND | 2302 | Madhya Pradesh | 7,0 | 51,5 | 55,0 | 40,00 | 0,0 | 6 | 20 | 21,4 |
| 6 | 9 | | Hari Madhavan N B | | IND | 2380 | Tamil Nadu | 7,0 | 48,5 | 52,5 | 38,75 | 0,0 | 6 | 20 | -3,2 |
| 7 | 2 | GM | Arjun Kalyan | | IND | 2506 | Tamil Nadu | 7,0 | 48,0 | 52,5 | 40,25 | 0,0 | 5 | 10 | -7,4 |
| 8 | 20 | AGM | Vignesh B | | IND | 2206 | Tamil Nadu | 7,0 | 42,5 | 46,5 | 35,00 | 0,0 | 6 | 40 | -20,8 |
| 9 | 78 | | Aryan Arora | | IND | 1575 | Chandigarh | 6,5 | 51,5 | 55,5 | 38,00 | 0,0 | 5 | 40 | 191,6 |
| 10 | 13 | FM | Aaryan Varshney | | IND | 2277 | Delhi | 6,5 | 49,5 | 54,5 | 37,00 | 0,0 | 6 | 20 | -9,4 |
| 11 | 17 | IM | Manish Anto Cristiano F | | IND | 2236 | Tamil Nadu | 6,5 | 47,5 | 52,0 | 34,50 | 0,0 | 6 | 20 | -10,2 |
| 12 | 1 | GM | Iniyan P | | IND | 2516 | Tamil Nadu | 6,5 | 47,0 | 51,0 | 34,25 | 0,0 | 5 | 10 | -8,2 |
| 13 | 3 | IM | Raahul V S | | IND | 2478 | Tamil Nadu | 6,5 | 47,0 | 49,5 | 34,25 | 0,0 | 5 | 10 | -11,0 |
| 14 | 21 | | Vaibhav Jayant Raut | | IND | 2198 | Maharashtra | 6,5 | 46,5 | 51,0 | 33,50 | 0,0 | 5 | 20 | 9,4 |
| 15 | 18 | CM | Soham Kamotra | | IND | 2229 | Jammu And Kashmir | 6,5 | 44,0 | 48,0 | 32,25 | 0,0 | 6 | 40 | 4,4 |
| 16 | 22 | CM | Aaditya Dhingra | | IND | 2176 | Haryana | 6,5 | 43,0 | 47,0 | 31,50 | 0,0 | 6 | 40 | -47,6 |
| 17 | 55 | | Kumaresh A | | IND | 1754 | Tamil Nadu | 6,5 | 42,5 | 45,5 | 29,75 | 0,0 | 6 | 40 | 35,2 |
| 18 | 31 | | Esshan Wadhawan | | IND | 1983 | Delhi | 6,5 | 40,0 | 44,0 | 30,75 | 0,0 | 6 | 40 | -36,0 |
| 19 | 41 | | Garv Rai | | IND | 1869 | Delhi | 6,0 | 49,5 | 53,0 | 31,00 | 0,0 | 5 | 40 | 76,0 |
| 20 | 5 | IM | Pranesh M | | IND | 2455 | Tamil Nadu | 6,0 | 49,0 | 53,0 | 32,25 | 0,0 | 5 | 10 | -16,9 |
Girls Round 9 results
Final standings
| | | | | | | | | | | | | | | | |
| --- | --- | --- | --- | --- | --- | --- | --- | --- | --- | --- | --- | --- | --- | --- | --- |
| Rk. | SNo | | Name | sex | FED | RtgI | Club/City | Pts. | TB1 | TB2 | TB3 | TB4 | TB5 | K | rtg+/- |
| 1 | 1 | WIM | Priyanka Nutakki | w | IND | 2301 | Andhra Pradesh | 7,5 | 51,0 | 55,0 | 46,00 | 0,0 | 6 | 20 | -13,8 |
| 2 | 3 | WFM | Bhagyashree Patil | w | IND | 1974 | Maharashtra | 7,5 | 49,5 | 53,5 | 43,00 | 0,0 | 7 | 40 | 29,6 |
| 3 | 24 | | Femil Chelladurai | w | IND | 1596 | Tamil Nadu | 7,0 | 46,5 | 50,5 | 36,00 | 0,0 | 7 | 40 | 107,6 |
| 4 | 21 | | Divyabharathi Masanam | w | IND | 1711 | Tamil Nadu | 6,5 | 50,0 | 54,0 | 37,00 | 0,0 | 5 | 40 | 112,0 |
| 5 | 4 | WFM | Lakshmi C | w | IND | 1968 | Tamil Nadu | 6,5 | 49,5 | 54,0 | 37,00 | 0,0 | 5 | 20 | -2,6 |
| 6 | 8 | | Ghosh Samriddhaa | w | IND | 1877 | West Bengal | 6,5 | 47,0 | 51,0 | 33,75 | 0,0 | 6 | 20 | 7,4 |
| 7 | 2 | WFM | Bommini Mounika Akshaya | w | IND | 2145 | Andhra Pradesh | 6,5 | 46,0 | 50,5 | 35,50 | 0,0 | 6 | 20 | -34,0 |
| 8 | 27 | | Marium Fatima | w | IND | 1511 | Bihar | 6,5 | 44,5 | 47,5 | 33,50 | 0,0 | 5 | 40 | 117,6 |
| 9 | 31 | | Sajitha B | w | IND | 1455 | Tamil Nadu | 6,5 | 43,0 | 45,5 | 31,00 | 0,0 | 5 | 40 | 120,0 |
| 10 | 25 | | Kanishka S | w | IND | 1528 | Tamil Nadu | 6,5 | 42,0 | 45,0 | 29,00 | 0,0 | 6 | 40 | 76,8 |
| 11 | 15 | WCM | Bristy Mukherjee | w | IND | 1788 | West Bengal | 6,0 | 48,0 | 52,0 | 32,00 | 0,0 | 6 | 40 | -33,6 |
| 12 | 9 | | Velpula Sarayu | w | IND | 1875 | Telangana | 6,0 | 47,5 | 52,0 | 32,25 | 0,0 | 5 | 40 | -49,2 |
| 13 | 5 | | Rindhiya V | w | IND | 1949 | Tamil Nadu | 6,0 | 47,0 | 50,5 | 31,75 | 0,0 | 5 | 40 | -65,2 |
| 14 | 37 | | Sachi Jain | w | IND | 1401 | Delhi | 6,0 | 46,0 | 49,0 | 31,00 | 0,0 | 4 | 40 | 150,0 |
| 15 | 34 | AFM | Shubhi Gupta | w | IND | 1434 | Uttar Pradesh | 6,0 | 44,5 | 47,0 | 27,50 | 0,0 | 6 | 40 | 80,8 |
| 16 | 18 | | Tejasvi M | w | IND | 1751 | Tamil Nadu | 6,0 | 44,0 | 48,0 | 30,00 | 0,0 | 5 | 20 | -41,4 |
| 17 | 19 | | Anupam M Sreekumar | w | IND | 1724 | Kerala | 6,0 | 43,5 | 46,5 | 29,00 | 0,0 | 4 | 40 | -22,4 |
| 18 | 11 | WCM | Arushi Kotwal | w | IND | 1854 | Jammu And Kashmir | 6,0 | 43,0 | 47,5 | 29,75 | 0,0 | 5 | 40 | -68,0 |
| 19 | 7 | | Meenal Gupta | w | IND | 1941 | Jammu And Kashmir | 6,0 | 41,0 | 45,0 | 28,75 | 0,0 | 5 | 20 | -45,6 |
| 20 | 16 | | Abhirami Madabushi | w | IND | 1777 | Telangana | 6,0 | 41,0 | 44,5 | 27,75 | 0,0 | 5 | 40 | -63,6 |
---