Neelash, Utsab and Rohith vie for MPL 50th National Junior Chess Championship 2022
IM Neelash Saha (WB), Utsab Chatterjee (WB) and FM Rohith Krishna S (TN) are the three players in the race to win MPL 50th National Junior Chess Championship 2022 Open. Neelash and Utsab beat FM Ayush Sharma (MP) and IM Koustav Chatterjee (WB) in Round 7. Then they drew against each other in the penultimate round. Each of them would want to win the final round to win the tournament. Top seed WGM Priyanka Nutakki (AP) regained her sole lead by beating the other leader WFM Bhagyashree Patil (MAH) and then she drew with Samriddhaa Ghosh (WB). A draw in the final round by Priyanka will leave things up to the result of Samriddhaa vs Bhagyashree and how their tie-breaks turn out. Final round starts today at 9:00 a.m. IST today. Photo: IA Jitendra Choudhary
Samriddhaa puts up stiff challenge for Priyanka
Apart from Lakshmi C (TN), it was Samriddhaa Ghosh (WB) who stirred up a lot of trouble for the top seed WGM Priyanka Nutakki (AP). Somehow she managed to wriggle out of potential trouble and escaped with a draw.
Open Round 7: Koustav - Utsab: 1-0
IM Koustav Chatterje (WB) got a better position out of the opening against Utsab Chatterjee (WB).
18.Nxf7 is very tempting to play and it seems to work. The alternative 18.f4 is also very strong. 18...Kxf7 19.Bd6 reduced the intensity of White's attack. 19.Qg6+ Ke7 20.e4 is a much better continuation. The attack eventually fizzled out, Utsab managed to defend his king and use the extra piece to his advantage to convert it into a win.
It goes without saying that Black is completely winning here. Find out the finish for Black.
Neelash - Ayush: 1-0
FM Ayush Sharma (MP) made a calculation error in the relatively equal endgame against IM Neelash Saha (WB). It cost him a pawn and eventually the game.
Black had to activate his rook 23...Rd7 would have been a better continuation. 23...Ne5 leads to White gaining decisive advantage. Find out how.
Hari Madhavan N B (TN) checkmated his opponent Nilsu Pattnayak (ODI)'s king at the center of the board.
Round 8: Utsab - Neelash: 0.5-0.5
An incorrect break at the center 13...d5 by IM Neelash Saha (WB) allowed his opponent Utsab Chatterjee (WB) to pounce on his opportunity.
18.Bxf7+ looks extremely promising Kxf7 19.Qh5+ Kf8 20.f6 another important move Bxf6 21.Ne4. 21.Qxh7 was also playable. Anyway, the game continued 21...Qc4 and now White decided to trade queens because he was gaining an exchange 22.Qxe8+ Kxe8 23.Nd6+ Ke7 24.Nxc4. Black is more than happy to give away the exchange because the intense attack is now over. Find out the better continuation for White instead of 22.Qxe8+
Iniyan - Rohith: 0-1
After defeating the new National Sub-Junior champion, IM Pranesh M (TN) in Round 7, FM Rohith Krishna S (TN) survived an initial onslaught by GM Iniyan P (TN). Then he launched his own attack on Iniyan's kingside.
White has completely ignored the propensity of Black's attack on his kingside. Find out the finish for Black.
Girls Round 7: Bhagyashree - Priyanka: 0-1
WGM Priyanka Nutakki (AP) was determined to win the game. So when the opportunity arose against WFM Bhagyashree Patil (MAH), she seized it.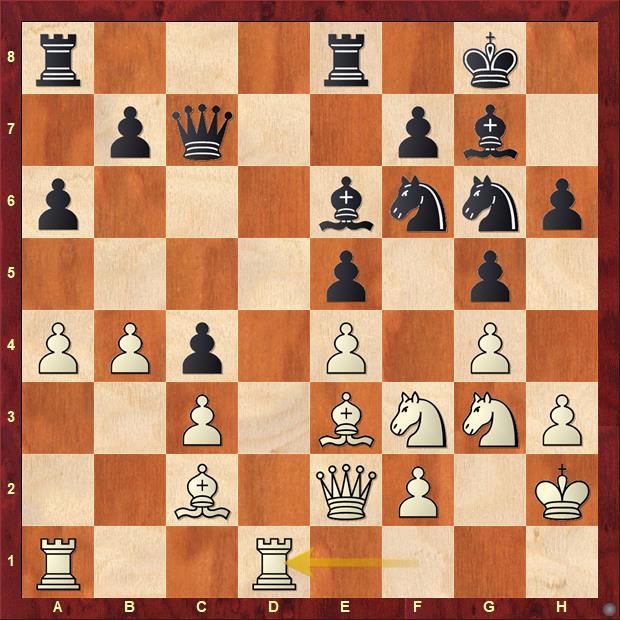 21.Rfd1 invites trouble. Find out how.
Bristy - Samriddhaa: 0-1
WCM Bristy Mukherjee (WB) went wrong early in the Nimzowitsch-Larsen Opening against Samriddhaa Ghosh (WB). Instead of correcting her mistake, she only worsened things for her.
16.Nd4 would have still allowed White to have some fighting chance. 16.Ne7 just finished things for her. Find out the winning continuation for Black.
Round 8: Samriddhaa - Priyanka: 0.5-0.5
WGM Priyanka Nutakki (AP) made a superficial break which almost landed her in deep trouble against Samriddhaa Ghosh.
14...f5 was unnecessary. 15.exf5 Nxf5 16.Nxf5 Bxf5 17.Bd4 0-0 and Black castled her king to safety. 18.Rfe1 would have made Black reeling. Even after 18.Bxg7 Kxg7 White needed to put her rook on the open e-file because Black's king is still vulnerable. 19.Rde1 would have still kept chances for White.
Femil - Bhagyashree: 0-1
WFM Bhagyashree Patil (MAH) won against Femil Chelladurai (TN) from a completely lost position.
31...Nxf3+ was a bold and interesting sacrifice. It almost did not work out for Black until White made a bigger mistake in the end.
For more Round 7 and 8 photos, please click at the respective links.
A total of 186 players including 2 GMs, 6 IMs in the Open and 105 players including a WGM and a WIM in the Girls tournament are taking part. It is organized by Haryana Chess Association. Both tournaments are taking place at RPS International School, Gurgaon, Haryana from 9th to 13th March 2022. The nine-round Swiss league tournament has a time control of 90 minutes + 30 seconds increment from move no.1
Replay Open Round 7-8 games
Replay Girls Round 7-8 games
Open Round 8 results
Round 9 pairings
Girls Round 8 results
Round 9 pairings
---