Magnus Carlsen conquers SuperUnited Rapid and Blitz 2023 with three rounds to spare, Gukesh impresses
Magnus Carlsen won SuperUnited Rapid and Blitz 2023 with three rounds to spare. Fabiano Caruana halted Magnus Carlsen's eleven-game winning streak at this event. The first GCT event winner of this season, drew against the World no.1 in Round 10, the first round of Blitz on the final day. Carlsen scored 26/36 to win this event. After winning it in Round 15, he lost the next two games consecutively against Alireza Firouzja and Richard Rapport. Ian Nepomniachtchi finished second 22.5/36, followed by Firouzja third 22/36. D Gukesh had an impressive Grand Chess Tour as he scored 19.5/36 to finish fifth overall. On the final day, he defeated Rapport, Caruana, Vishy Anand, Constantin Lupulescu, Jan-Krzysztof Duda, Ivan Saric, before finishing with a draw against Nepomniachtchi. The teenager made the most out of his opportunity and left an indelible mark, despite Rapid and Blitz not being his forte! Photos: Lennart Ootes/Grand Chess Tour
Gukesh makes a grand debut at GCT
"I'm completely spent. I had no energy to play today. Yesterday was such a great day. I felt today that I didn't have much to give, so I was really just trying to get over the finish line. But I am really happy that I did and it always feels great to win" - Magnus Carlsen on winning his second consecutive Grand Chess Tour event of the season. "I thought that if I had like a normal to good event, it would be tough. I think Alireza scored about as expected. I think he made 13/18 points (in Blitz) if I am not mistaken which is really good (+12). Also, Ian and Fabi performed fairly normally. I had my best Blitz result ever in the Grand Chess Tour. That's obviously why it was not close." - Carlsen on his statement of his opponents needing to have a great tournament to stop him from winning this event, after the Rapid portion concluded.
"...I love playing chess... There are tournaments that I can still sort of win but to be honest, that achievement feels sweeter than almost any tournament win. It's something I have never done before..." - Carlsen on his 9/9 in Blitz and a streak of 11/11, counting the last two Rapid wins before that.
Rapport - Gukesh, Round 10
The above position is equal. Black's only breakthrough is b5. Gukesh (2629) could have easily taken a draw by not doing much in the above endgame. However, he went for the break, arrived at a lost position and eventually went on to win the game. After all, it's blitz, he is not going to waste his opportunity of beating Richard Rapport (ROU, 2761) twice in two consecutive days. The teenager lost their last two rapid encounters at the recently concluded Tech Mahindra GCL last month.
Fun fact: The last time the maestro Vishy Anand defeated Ian Nepomniachtchi at a rated game was at the exact same event almost a year ago.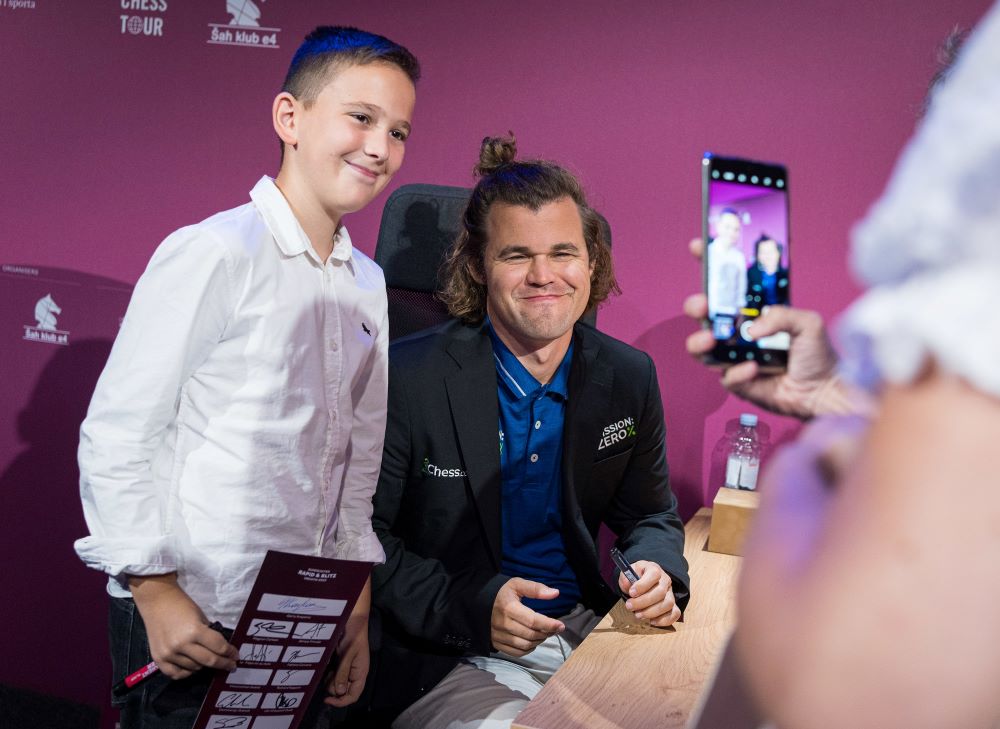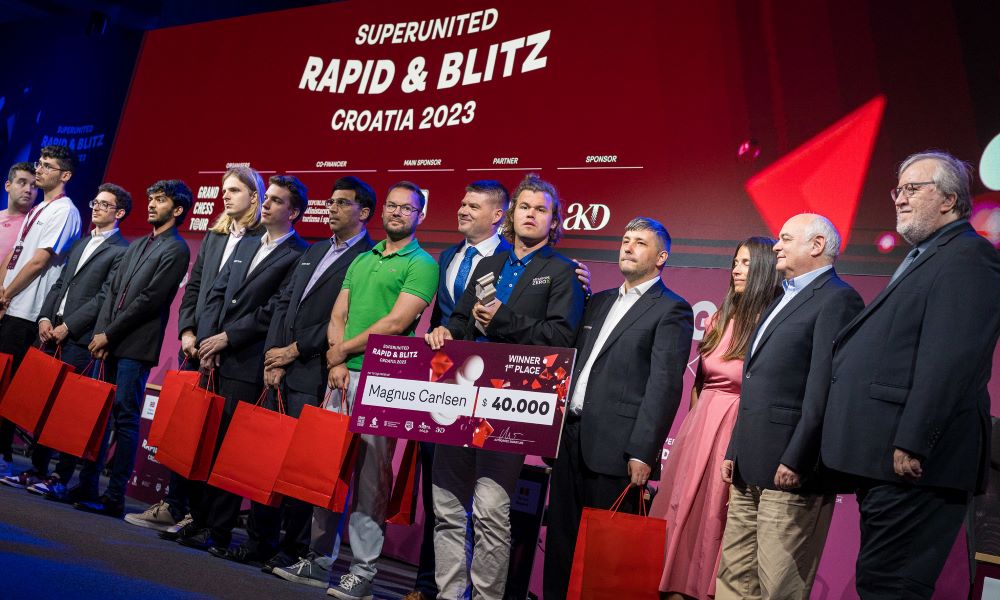 Magnus Carlsen tweeted on his performance
Gukesh tweeted on his GCT debut
Replay Blitz Round 10-18 games
Blitz Round 18 results
Bo.
No.
Rtg
Name
Result
Name
Rtg
No.
PGN
1
10
2858
GM
Carlsen, Magnus
1 - 0
GM
Lupulescu, Constantin
2576
5
PGN
2
4
2896
GM
Firouzja, Alireza
1 - 0
GM
Duda, Jan-Krzysztof
2783
6
PGN
3
3
2733
GM
Anand, Viswanathan
½ - ½
GM
Saric, Ivan
2576
7
PGN
4
2
2626
GM
Gukesh, D
½ - ½
GM
Nepomniachtchi, Ian
2781
8
PGN
5
1
2832
GM
Caruana, Fabiano
0 - 1
GM
Rapport, Richard
2707
9
PGN
Final standings after Blitz Round 18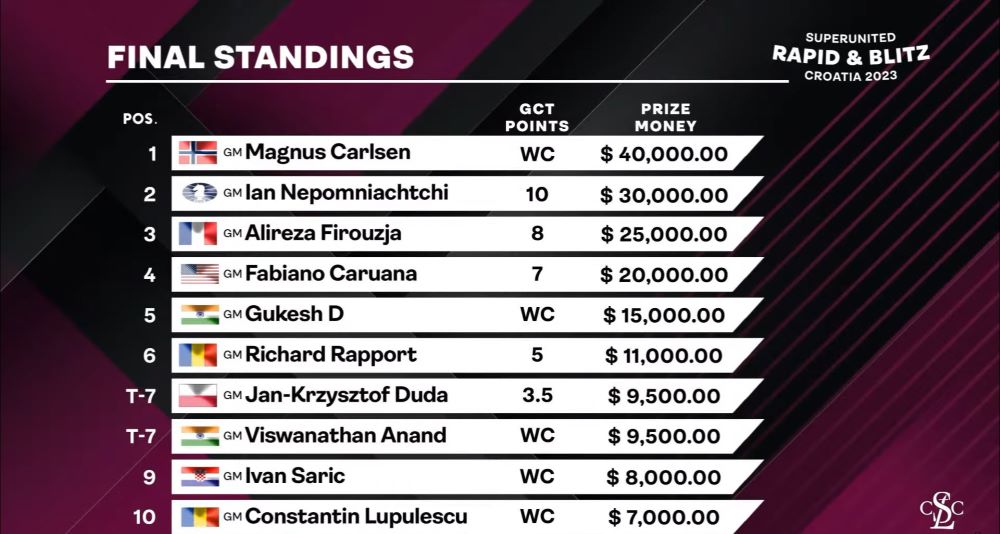 Prize
The total prize fund for each of the Rapid and Blitz event is US$ 175000 with the first prize being US$ 40000.
Links
---