SuperUnited R&B 2023 Day 1: Vishy Anand emerges early sole leader
Vishy Anand continues his great form from Tech Mahindra Global Chess League. He scored an impressive 5/6 on the first day of Grand Chess Tour SuperUnited Rapid and Blitz 2023. After starting with a solid draw against Alireza Firouzja (FRA), the maestro defeated the Romanian players - Richard Rapport and Constantin Lupulescu. The legend is now in sole lead. D Gukesh did not have the ideal start. He lost to Magnus Carlsen (NOR) and then recovered well by sharing points against Ian Nepomniachtchi and Firouzja. Carlsen, Jan-Krzysztof Duda (POL) and Rapport are in pursuit at 4/6 each. Round 4 starts today from 3 p.m. local time, 6:30 p.m. IST. Photos: Lennart Ootes/Grand Chess Tour
Carlsen, Duda and Rapport at 4/6
Firouzja, Nepomniachtchi and Gukesh, all three are at the same score 2/6.
Round 1: Gukesh - Carlsen: 0-2
D Gukesh (2629) has played Classical and Blitz rated games against Magnus Carlsen (NOR, 2829). However, he has never played a rated Rapid game against the world no.1.
20.Rc3 gave Black a clear positional advantage. He went 20...f5 although computer recommends fxe5 making an attempt to open up the bishop's path. 21.Bg5 f4 22.Qc2? turned things completely in Black's favor h6 23.Bh4 e3 24.Qg6 Qd7 25.Rec1 Bxb3 26.axb3 Qxd4 and Black won the game in another ten moves.
Rapport - Caruana
The creative genius Richard Rapport (ROU, 2761) played 61.Kh3! There is a nice trick. Fabiano Caruana (USA, 2752) was caught off guard. He did not see the trick, blundered 61...Be7 and lost the game after 62.Kg4. Find out what Black should have done instead.
Anand - Rapport, Round 2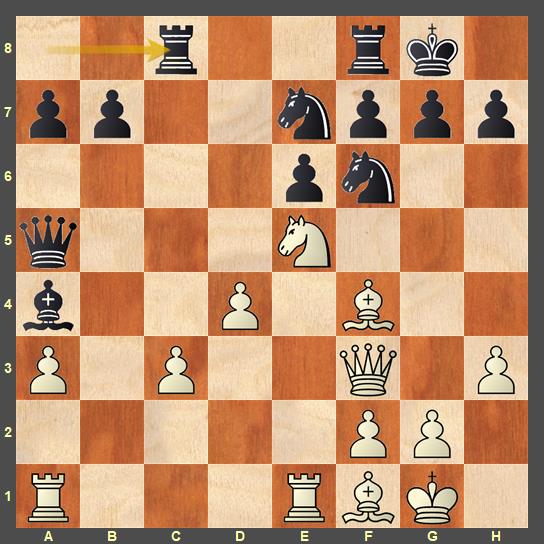 Richard Rapport casually sacrificed his b7-pawn 17...Rac8 18.Qxb7 Ned5 19.Bd2 Rb8 20.Nc4 Qd8 Black dropped another pawn. 21.Qxa7 Ra8 22.Qb7 Rb8 23.Qa6 Bb5 24.Qd6 Qc8 25.Qc5 White ensured that he keeps two split passed pawns on the queenside. Black never got any compensation for the lost pawns and White went on to win the game.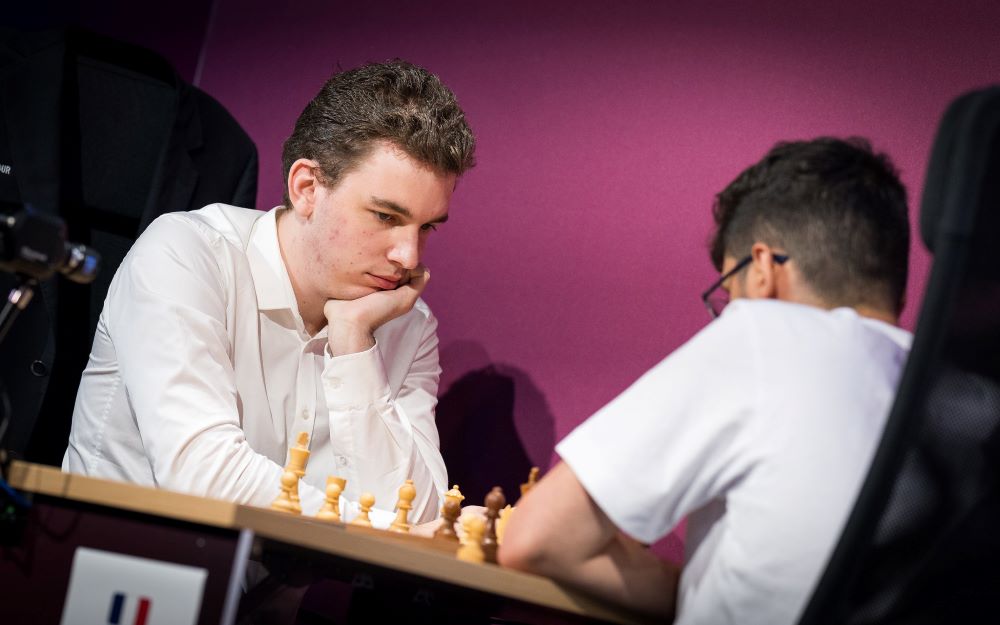 Carlsen - Saric
Find out the winning continuation for White which Magnus Carlsen missed against Ivan Saric (CRO, 2635) after 31...Be6??
Lupulescu - Anand, Round 3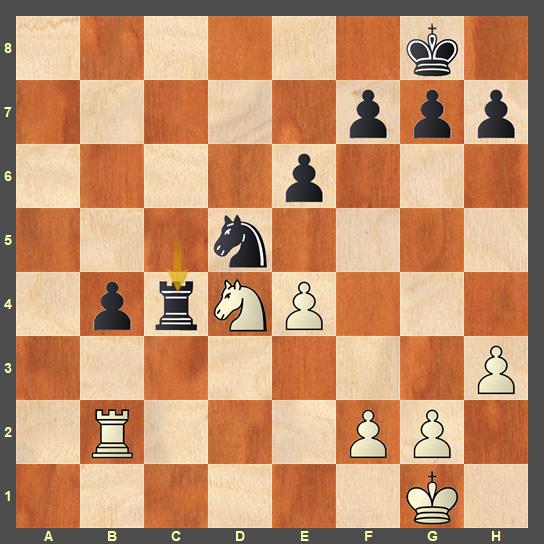 Should White take the knight first and then go Ra2 or play Ra2 directly? Only one of them is correct. Constantin Lupulescu (ROU, 2572) made an incorrect decision and went on to lose the game.
Photo Gallery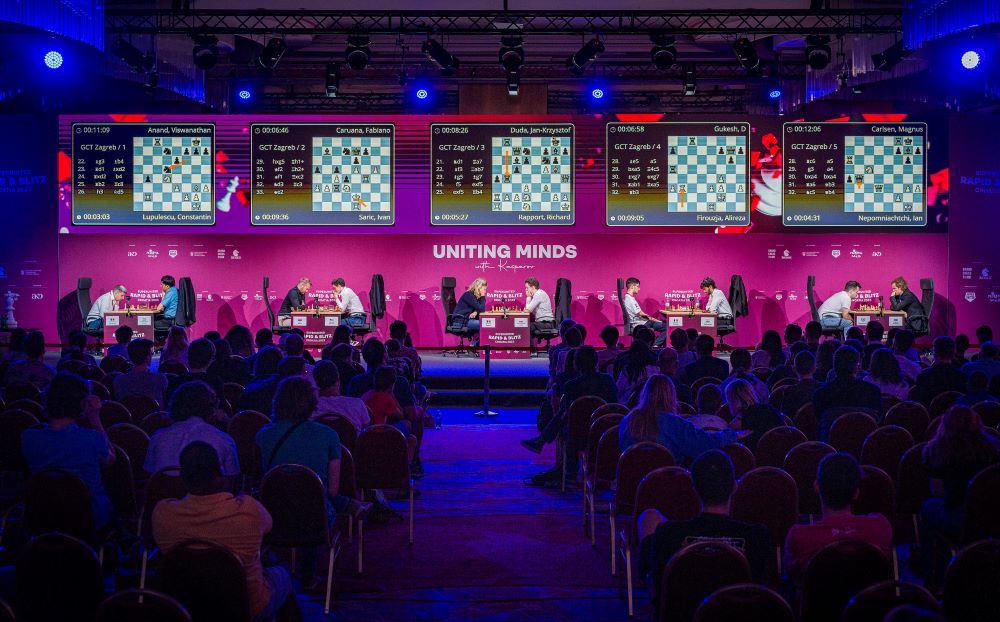 Highlights of Day 1
Replay Rapid Round 1-3 games
Round 3 results
Bo.
No.
Rtg
Name
Result
Name
Rtg
No.
PGN
1
2
2760
GM
Nepomniachtchi, Ian
½ - ½
GM
Carlsen, Magnus
2829
10
PGN
2
3
2745
GM
Firouzja, Alireza
½ - ½
GM
Gukesh, D
2629
1
PGN
3
4
2761
GM
Rapport, Richard
1 - 0
GM
Duda, Jan-Krzysztof
2794
9
PGN
4
5
2572
GM
Lupulescu, Constantin
0 - 1
GM
Anand, Viswanathan
2731
8
PGN
5
6
2635
GM
Saric, Ivan
½ - ½
GM
Caruana, Fabiano
2752
7
PGN
Standings after Rapid Round 3
Round 4 pairings
Bo.
No.
Rtg
Name
Result
Name
Rtg
No.
PGN
1
10
2829
GM
Carlsen, Magnus
GM
Caruana, Fabiano
2752
7
2
8
2731
GM
Anand, Viswanathan
GM
Saric, Ivan
2635
6
3
9
2794
GM
Duda, Jan-Krzysztof
GM
Lupulescu, Constantin
2572
5
4
1
2629
GM
Gukesh, D
GM
Rapport, Richard
2761
4
5
2
2760
GM
Nepomniachtchi, Ian
GM
Firouzja, Alireza
2745
3
Prize
The total prize fund for each of the Rapid and Blitz event is US$ 175000 with the first prize being US$ 40000.
Links
---