SuperUnited R&B 2023 Day 2: Is Magnus Carlsen's invincibility waning?
There was a time when Magnus Carlsen rarely lost a rated game. That seems to be changing in recent times. The world no.1 started his second day at SuperUnited Rapid and Blitz 2023 with two losses. One against Fabiano Caruana (USA) where the Norwegian seemed to have gotten surprised by his opponent's choice of 6...Na5. The second loss against Alireza Firouzja (FRA) froze Magnus Carlsen for 17 seconds. Of course, he was trying to figure out what cost him the game. He finished the day by ending the legend, Vishy Anand's unbeaten streak at this event. Currently, Caruana, Ian Nepomniachtchi and Anand are tied with the same score 8/12. D Gukesh had a better second day. He is now at shared fourth place with Jan-Krzysztof Duda (POL) 7/12. Final day of Rapid commences with Round 7 from 3 p.m. local time, 6:30 p.m. IST. All photos are by Lennart Ootes/Grand Chess Tour, unless stated otherwise.
Carlsen ends Anand's unbeaten streak
D Gukesh had a better day as he drew against Richard Rapport (ROU), defeated Constantin Lupulescu (ROU) and Ivan Saric (CRO).
Round 4: Carlsen - Caruana: 0-2
Magnus Carlsen (NOR, 2829) was surprised by Fabiano Caruana's (USA, 2752) 6...Na5. He made some play which landed the world no.1 in a deep trouble.
12.bxc3 would have been fine for White. 12.Nc2 Nxa2 13.Nxb4 Nxb4 14.Rxa5 Nc2+ 15.Kd1 Nd4 16.f3 Be6 17.Bc3 b6 18.Rg5 0-0-0 White is in deep trouble. 19.Ke1 g6 20.Kf2 f6 and White cannot save the rook. The result turned out to be the same as their last rated game encounter at 11th Norway Chess 2023.
Anand - Saric: 2-0
Croatia no.1, GM Ivan Saric (2635) was one of the few players whom Vishy Anand (2731) had never defeated in a rated game. They played only two rated games, both in rapid format. Saric won the first one in World Rapid 2018 and their last encounter was at the very same event which ended in a draw. It was time for the maestro to improve that statistics.
White is winning in the above position. Find out the finish for White after 36...Nc7.
Round 5: Firouzja - Carlsen: 2-0
The last time Alireza Firouzja (FRA, 2745) defeated Magnus Carlsen (NOR, 2829) in a rated game was at the very same event last year in Blitz. They have played only two rated Rapid games against each other. Both of them were won by the world no.1.
Black played wildly out of the opening and landed himself in an inferior position. 19.dxe5 dxe5 20.Nf3 Qc7 21.Nxg5 did not help Black's case.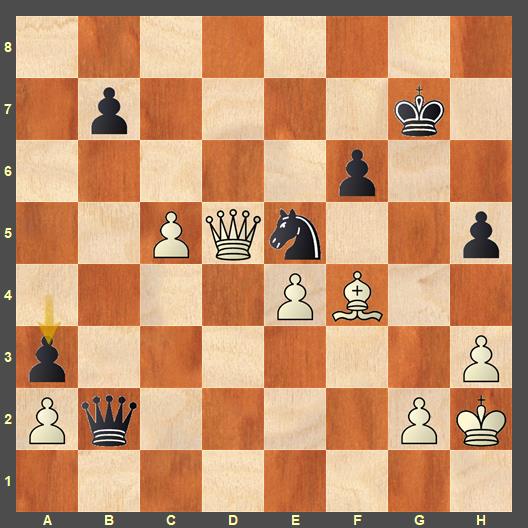 The game eventually liquidated into a queen endgame which was winning for White after 45.Bxe5 fxe5. A bit of back and forth play later, White converted his advantage into a win.
Carlsen - Anand, Round 6
19...Nfe7 allowed White to gain a pawn 20.Nb5 Qb6 21.Nxa7! It did not give White a decisive advantage immediately. However, it played a crucial role in White scoring the victory eventually in a rook and few pawns endgame.
Photo Gallery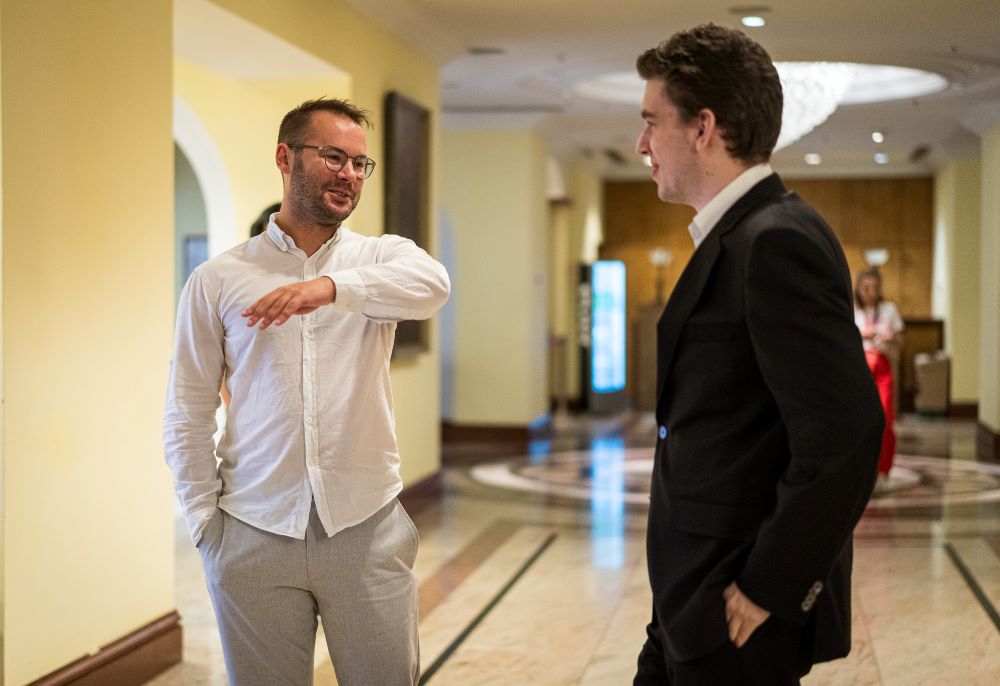 Replay Rapid Round 4-6 games
Round 6 results
Bo.
No.
Rtg
Name
Result
Name
Rtg
No.
PGN
1
10
2829
GM
Carlsen, Magnus
2 - 0
GM
Anand, Viswanathan
2731
8
PGN
2
9
2794
GM
Duda, Jan-Krzysztof
0 - 2
GM
Caruana, Fabiano
2752
7
PGN
3
1
2629
GM
Gukesh, D
2 - 0
GM
Saric, Ivan
2635
6
PGN
4
2
2760
GM
Nepomniachtchi, Ian
2 - 0
GM
Lupulescu, Constantin
2572
5
PGN
5
3
2745
GM
Firouzja, Alireza
1 - 1
GM
Rapport, Richard
2761
4
PGN
Standings after Rapid Round 6
Round 7 pairings
Bo.
No.
Rtg
Name
Result
Name
Rtg
No.
PGN
1
4
2761
GM
Rapport, Richard
GM
Carlsen, Magnus
2829
10
2
5
2572
GM
Lupulescu, Constantin
GM
Firouzja, Alireza
2745
3
3
6
2635
GM
Saric, Ivan
GM
Nepomniachtchi, Ian
2760
2
4
7
2752
GM
Caruana, Fabiano
GM
Gukesh, D
2629
1
5
8
2731
GM
Anand, Viswanathan
GM
Duda, Jan-Krzysztof
2794
9
Prize
The total prize fund for each of the Rapid and Blitz event is US$ 175000 with the first prize being US$ 40000.
Links
---