Gibraltar R02: Adhiban turns his beast mode on
Vaibhav Suri and Karthikeyan Murali are the two Indians who have scored a perfect 2.0/2 after two rounds of Gibraltar Masters but if there's anyone whose performance absolutely stood out in the second round of the event, it has to be that of Adhiban Baskaran. Adhiban drew his first round game somewhat uneventfully, in round two however he was truly able to channel his inner beast out. Raunak Sadhwani, Gukesh D, Raahil Mullick, Praggnanandhaa R, and other Indian youngsters all came back strongly in the second round after either losing or being held to draws in the first. We bring you a detailed and illustrated report.
Adhiban's sublime brilliancy
Things didn't really click for Adhiban Baskaran in the first round of Gibraltar Masters as he was held to a solid draw by Ritvars Reimanis of Latvia. But in the second round the Indian returned with all guns blazing to register an emphatic victory over the German International Master Dr. Oswald Gschnitzer. Adhiban played with the white pieces in this encounter and got a tangible edge out of the opening itself when his opponent made a small inaccuracy on move 12. The beast, as he known by his fans, built up from here and finished things off elegantly with a direct tactical attack on Black's king.
Adhiban Baskaran - Oswald Gschnitzer, Round 2
The above position was reached out of a Nimzo-Indian defense. White has just played 12.a3 threatening the b4 bishop. The most popular continuation here is to simply retreat with 12...Be7 but Dr.Oswald chose the somewhat dubious 12...a6 and after 13.axb4 axb5 14.Rxa8 Qxa8 Adhiban was already a tad better.
However, things almost evened out a few moves later but in the above position Adhiban decided to cripple Black's kingside pawns with 19.Bxf6 gxf6 which later proved key to his main idea. The game followed 20.Qc1 Kg7 21.Qc7 and the position stirred up with dangerous tactical possibilities.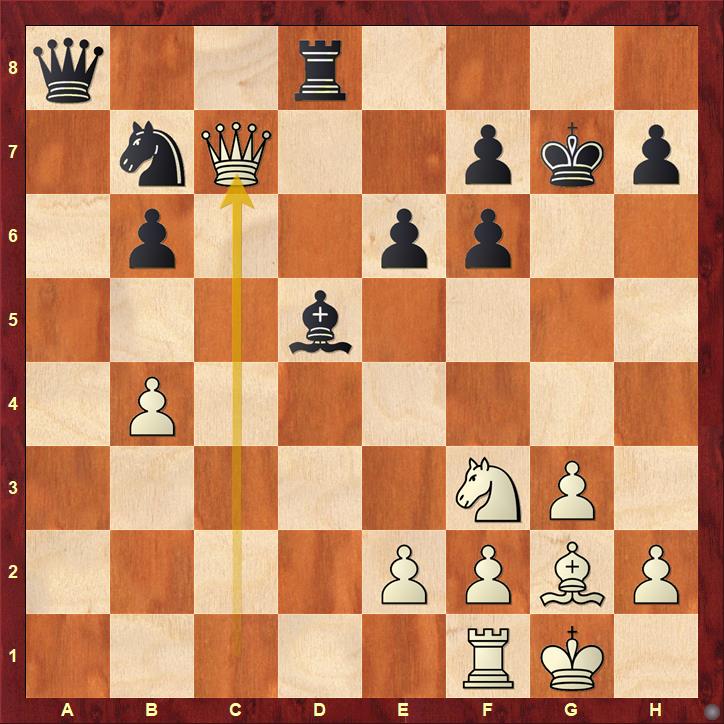 Well, White is certainly looking to pick up the b6 pawn but he has much more serious ideas in mind exploiting the pin on seventh rank and the dormant bishop-knight battery on h1-a8 diagonal. The b6 pawn is the least of Black's concern at the moment, he must actually give it up in order to prevent the far more lethal threats hidden in the position.
But what happens if Black simply takes on e4? Well, then comes 22...Bxe4 23.Ne5! hitting f7, followed by 23...Bg6 24.Nxg6 hxg6 25.Qxd6 etc. Similarly, if 22...Bc6 is played then 23.e5! is devastating. In the game Black continued with 22...Rc6 and after 24.Ne5 fxe5 25.Qg5+ Kf8 26.exd5 e4 27.dxe6 once again White crashed through.
Black resigned in the above position. There's really nothing he could do to save the game as his king is just too exposed on f8. For example, after 27...fxe6 White simply gets 28.Qf6+ rampaging all over the board; and after something like 27...Qe8 28.exf7 Qxf7 29.Ra1 White brings his rook into the foray and Black is dead. Replay the full game with analysis below.
Vaibhav and Karthikeyan on 2.0/2
The only two Indians with perfect 2.0/2 after two rounds of the Masters event are Grandmasters Vaibhav Suri and Karthikeyan Murani. While Vaibhav registered a crushing victory over Irina Bulmaga in just 27 moves in round two, Karthikeyan had to wait till the endgame to find his winning chance against Dominik Horvath.
Vaibhav Suri - Irina Bulmaga, Round 2
Photo Gallery
Results of second round
---