The Gibraltar gala is on
The Gibraltar Chess Masters opened with a cracker of a first round. A lot of Indians found themselves paired against world-class opposition and among them quite a few came out with flying colours. Praggnanandhaa R was shocked by Nandhidhaa PV in a tactically sharp game, while the Turkish Grandmaster Can Emre lost his encounter against Pranav Anand from what seemed like a completely winning position. Youngsters like Raahil Mullick and Sankalp Gupta too amassed wealth of experience playing against the titans Shakhriyar Mamedyarov and Veselin Topalov respectively, while the veterans Adhiban Baskaran and Krishnan Sasikiran found modest starts.
The Gibraltar Chess Festival - one of the most vibrant events of the year - kick-started yesterday and will continue till the 30th of this month. This time the ten-round swiss tournament is hosting 248 players from 55 different countries in the Masters section alone and with 32 participants the Indian contingent makes for the largest representation in it. Along with young talents like Praggnanandhaa R, Gukesh D, and Raunak Sadhwani, the more seasoned Grandmasters like Adhiban Baskaran and Krishnan Sasikiran too are competing in this event. And needless to say the presence of Shakhriyar Mamedyarov, Maxime Vachier-Lagrave, Wang Hao, Veselin Topalov, David Navara, and many more superstars like every year is also lending the tournament an otherworldly star-studded ambience.
The first round of the event itself saw some very interesting pairings as Raahil Mullick and Sankalp Gupta, two of India's brightest up-and-coming talents, were pitted against the top seed Shakhriyar Mamedyarov and former World Champion Veselin Topalov. The opening round also saw a few surprising upsets, foremost among them being Nandhidhaa PV beating Praggnanandhaa R in a wildly complex Sicilian game and the 14-year-old Pranav Anand getting the better of GM Can Emre from a dead lost position. In this illustrated article we bring you the glimpses of all the exciting moments.
Nandhidhaa stuns Praggnanandhaa in wild complexity
Praggnanandhaa is well known for his monstrous over-the-board calculative skills but yesterday Woman Grandmaster Nandhidhaa PV pulled off the really unexpected by not only outplaying but also out-calculating him in a highly tactical game. Nandhidhaa had the White pieces and went on the offensive right from the word go. She confidently played out the Sozin variation and grabbed a tangible edge by the twentieth move itself.
Nandhidhaa PV - Praggnanandhaa R, Round 1
The game turned quite double-edged by move 16 itself with White deciding to delay castling and start a flank attack on the kingside. In such positions it is important to keep calm. A move like 16...Rfc8 above would have been fine after which Black too is ready to begin counterplay with b6-b5 on the queenside. 17.Rg1 b5 18.axb5 axb5 19.Rxa8 Bxa8 20.Nxb5 Qxc2 is how a typical line runs and Black gets a decent position. Praggnanandhaa however hurried with 16...b5 right away and simply lost a pawn after 17.axb5 axb5 18.Rxa8 Bxa8 19.Nxb5. Both sides made quite a few inaccuracies after this. Nandhidhaa missed the most optimal continuations and Pragg failed to materialize on them but the bottom line was that White was able to get things going on the kingside.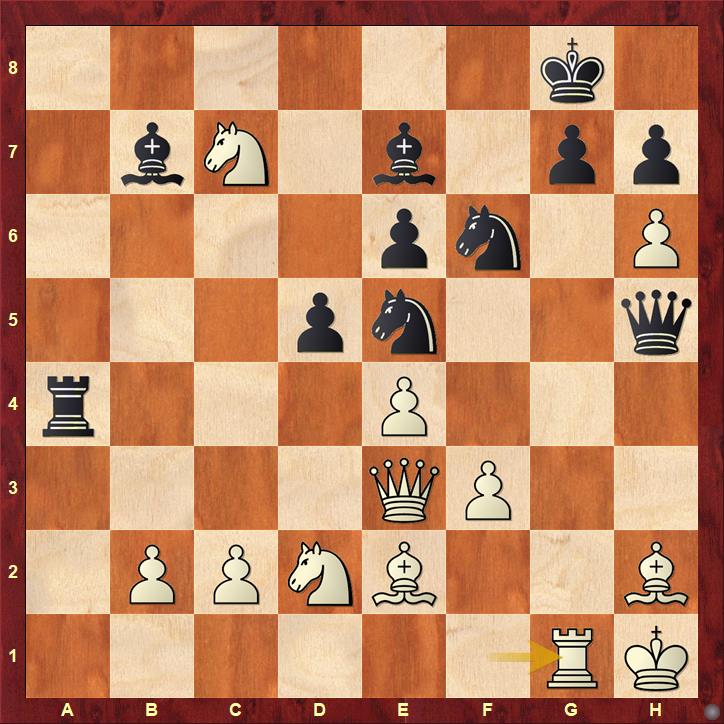 This was perhaps the most critical moment in the encounter. Although it feels natural to bring the rook on the semi-open g-file but 28.Rg1 was already a mistake. Praggnanandhaa could have turned the tables on his opponent here with 28...dxe4 29.Qb3 exf3 because now if White goes 30.Qxb7 then Black has a spectacular blow, can you see it?
Analysis Board
Yes, Black has the brilliant queen sac 30...Qxh2+!! here. After 31.Kxh2 Rh4+ 32.Kg3 Nh5+ 33.Kf2 Bc5+ 34.Ke1 f2+ Black promotes his pawn and gets his queen back with a completely winning position. In the game Pragg failed to spot this and went 28...g6 instead which handed over the initiative back to Nandhidhaa and after 29.Nxe6 Bd6 30.Nf4 Qxh6 31.Nxd5 Black was simply down two pawns without enough compensation.
Exchanging queens with 31...Qxe3 is no relief in the above position. So Black tried some tricks by sacrificing his queen with 31...Qxh2+ 32.Kxh2 and using the bishop-knight battery on b8-h2 diagonal. However it was already too late and White was completely in charge from here on. The full game with detailed annotation is presented below.
Karthikeyan's sublime 26...Nxe4 against Divya
Another very interesting encounter happened between Karthikeyan Murali and Divya Deshmukh. Divya got a comfortable position with white pieces out of the opening but Karthikeyan came up with a devious idea in the middlegame to hem White's king directly in a mating net. The former was apparently taken completely by surprise as she immediately lost the thread of the play and was crushed in just 33 moves.
Divya Deshmukh - Karthikeyan Murali, Round 1
Objectively it is perhaps White who has the better position above with the knight and queen firmly lodged on c4 and b5 respectively, one of the rooks controlling the open d-file, and the bishop on h2 eying the nice long diagonal. But Karthikeyan is a tricky opponent to play against for he always finds a way to complicate matters. Notice, Black has already advanced his g and h pawns and can potentially open up lines on the kingside to generate counter attack. Indeed, this is what he exactly did in the game and that too with a surprising knight sacrifice!
It is not the most straightforward idea to see but the Indian Grandmaster went 25...gxf3 26.gxf3 Nxe4! here sacrificing his knight. This certainly opened up unforeseen complications for Divya and she soon lost her way. The best way to continue here would have been 27.Rxb6 Rxb6 28.Qxb6 Qxb6 29.Nxb6 but White erred with 27.fxe4 and Black lashed out 27...Rg6+ 28.Kf2 Qe7 29.Rg1 Qh4+ initiating a mating attack!
Pranav Anand - Can Emre, Round 1
Pranav was playing the white pieces and was completely lost in the above position. Just the simple Ne2+ followed by Nxg3 is crushing in this position. The Turkish Grandmaster started misplaying from here and slowly but surely squandered away all the advantage and not long after the Indian found his chance to strike back!
It looks surprising at first glance but with the move 39...Rg5 the position is tilted completely in White's favour. The game followed 40.Nxg4 Qg7 41.f6 Qh7 42.Nxd6 Nbd3 43.Nh6 Rxg2+ 44.Qxg2 and suddenly Pranav was in the driver's seat. Check out the full game below to see how the 14-year-old converted the rest of it.
Photo Gallery
Video Gallery
Results of first round
---