Gibraltar R09: A crushing 27-move game by Aryan Chopra
The Gibraltar Masters goes into the final round today with five players leading the field with 7.0/9 points each and there are quite a few Indians who are still vying for a strong finish at the top. Aryan Chopra, Karthikeyan Murali, Adhiban Baskaran, and Praggnanandhaa R are just half a point behind the leaders with 6.5/9 each and have good chances to bag medals for the country. In this article we discuss Aryan Chopra's brilliant 27-move victory against Alexander Donchenko in detail and also bring you the highlights of other important moments from the last round.
Aryan Chopra played some enterprising bit of chess in the penultimate ninth round of the Gibraltar Masters to defeat the strong German Grandmaster Alexander Donchenko with the white pieces. Aryan unhesitatingly chose an extremely complex line against Alexander's Najdorf and boldly sacrificed a pawn on move 13 to blow open the center. By move 20 itself the position turned tactically quite csharp and the German soon ended up losing his way and making successive mistakes. The 19-year-old Indian, who was flawless in his technique, finished things off neatly thereafter in just 27 moves.
Aryan Chopra - Alexander Donchenko, Round 9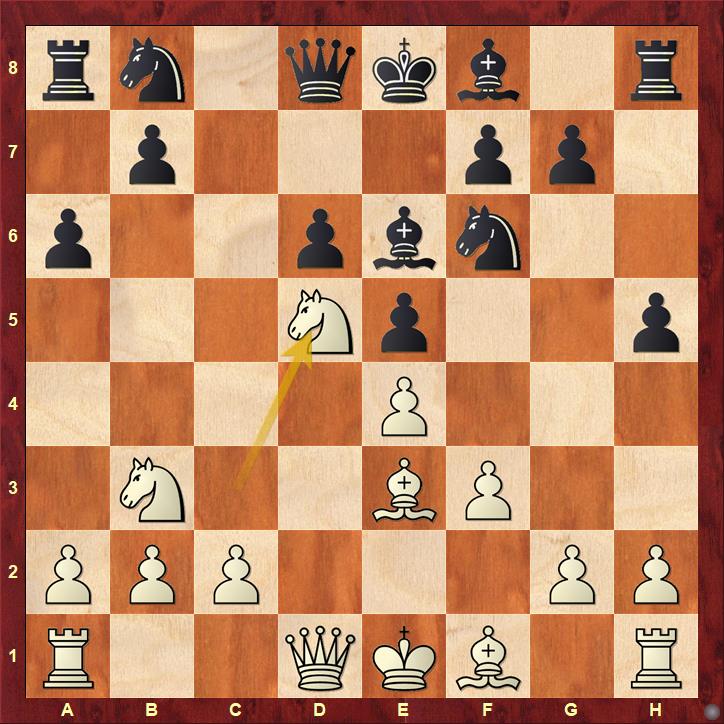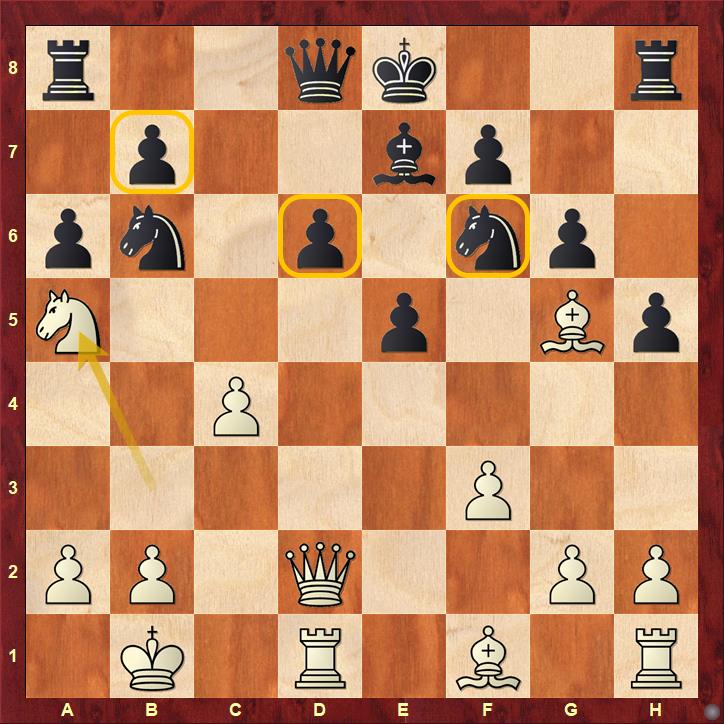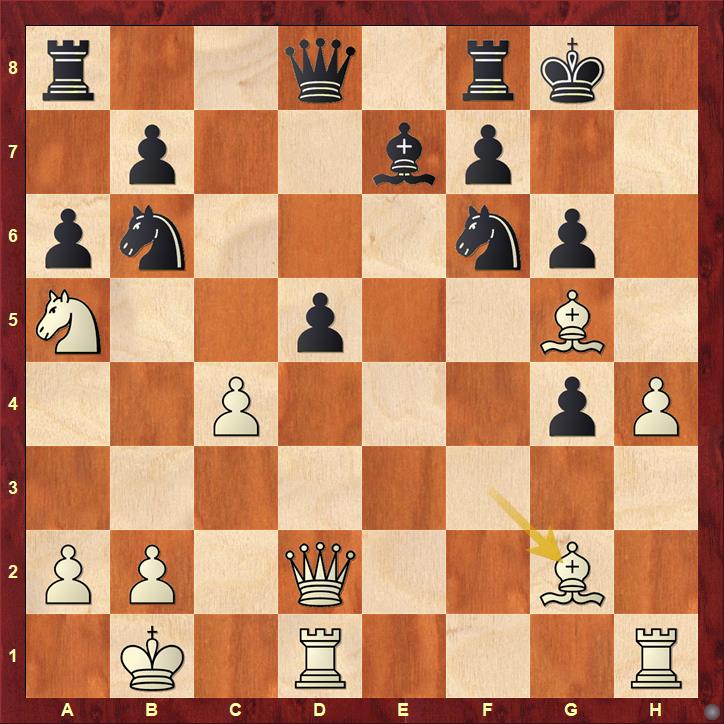 Well, the position is already very complicated and apparently the only move that keeps things sort of balanced is 21...Qc7 (see annotations below) because after something like 22.Qf2 Nbd7 23.h5 even though White seems to have an initiative, Black has everything under control. But in the game Alexander started going wrong from here and after 21...Qd7 22.cxd5 Rfd8 23.d6 Rac8 24.Qf2 found himself in grave trouble.
Karthikeyan Murali registered a fine victory against the in-form Zhansaya Abdumalik in the ninth round of the event. In this encounter, the Kazakhstani player found a solid position out of the opening with black pieces but the Indian ultimately managed to outplay her in an even rook pawn ending.
Karthikeyan Murali - Zhansaya Abdumalik, Round 9
The above position was reached after White's 47th move Kf2. Black's pawn structure optically looks a bit loose but objectively this should be equal. The best continuation here would have been 47...f5 and after 48.Ke3 h3 49.Rf4 there doesn't seem to be a good way for White to make progress. However, in the game Zhansaya misjudged the position and went for counterplay with 47...Rb6 and this was the critical mistake that decided the fate of the game.
Well, 47...Rb6 was simply a loss of tempo as Karthikeyan simply went 48.Ke3 here threatening to push d3-d4. Black had to prevent this and had to retreat with 48...Re6+ but this was already too late. The game followed 49.Kd2 f5 50.Rg3+ Kf6 51.Rg8 Ke5 52.Rc8 Rg6 and White was in charge as c5 was just too weak. Replay the full game below with analysis and check out how the Indian converted the rest of it.
Photo Gallery
Results of ninth round
Standings after nine rounds
| | | | | | | | | |
| --- | --- | --- | --- | --- | --- | --- | --- | --- |
| Rk. | SNo | | Name | FED | Rtg | Club/City | Pts. | TB1 |
| 1 | 16 | GM | Esipenko Andrey | RUS | 2654 | | 7,0 | 2819 |
| 2 | 3 | GM | Wang Hao | CHN | 2758 | | 7,0 | 2813 |
| 3 | 13 | GM | Maghsoodloo Parham | IRI | 2674 | | 7,0 | 2794 |
| 4 | 22 | GM | Paravyan David | RUS | 2629 | | 7,0 | 2783 |
| 5 | 28 | GM | Yilmaz Mustafa | TUR | 2607 | | 7,0 | 2714 |
| 6 | 56 | GM | Werle Jan | NED | 2545 | | 6,5 | 2758 |
| 7 | 46 | GM | Yuffa Daniil | RUS | 2566 | ACP Premium 2020 | 6,5 | 2739 |
| 8 | 2 | GM | Vachier-Lagrave Maxime | FRA | 2770 | | 6,5 | 2720 |
| | 4 | GM | Topalov Veselin | BUL | 2738 | | 6,5 | 2720 |
| 10 | 48 | GM | Aryan Chopra | IND | 2562 | | 6,5 | 2712 |
| 11 | 27 | GM | Kobalia Mikhail | RUS | 2609 | ACP Premium 2020 | 6,5 | 2687 |
| 12 | 5 | GM | Navara David | CZE | 2717 | ACP Premium 2020 | 6,5 | 2676 |
| 13 | 10 | GM | Adams Michael | ENG | 2694 | | 6,5 | 2675 |
| 14 | 6 | GM | Le Quang Liem | VIE | 2713 | ACP Premium 2020 | 6,5 | 2674 |
| 15 | 29 | GM | Karthikeyan Murali | IND | 2606 | | 6,5 | 2669 |
| 16 | 12 | GM | Jones Gawain C B | ENG | 2679 | ACP Premium 2020 | 6,5 | 2666 |
| | 15 | GM | Adhiban B. | IND | 2654 | ACP Premium 2020 | 6,5 | 2666 |
| 18 | 14 | GM | Saric Ivan | CRO | 2655 | ACP Premium 2020 | 6,5 | 2655 |
| 19 | 40 | GM | Kadric Denis | BIH | 2585 | ACP Premium 2019 | 6,5 | 2635 |
| 20 | 31 | GM | Praggnanandhaa R | IND | 2602 | | 6,5 | 2630 |
---