Baku Open 2023 R8: Prraneeth beats Niemann, Divya Deshmukh becomes an International Master
IM Prraneeth Vuppala bounced back with a victory over the top seed GM Hans Niemann in the penultimate round of Baku Open 2023. Niemann's attack on the kingside did not work out the way he wanted. Prraneeth seized his opportunity and scored a victory to move 6/8. GM Leon Luke Mendonca drew against GM Nijat Abasov. Leon is also at 6/8. Both Prraneeth and Leon will face each other in the final round. They are trailing the leader, GM Mahammad Muradli by a half point 6.5/8. WGM Divya Deshmukh lost to IM Aditya S Samant. However, she still became India's latest International Master with a round to spare. Round 9 starts today at 12 p.m. local time, 1:30 p.m. IST. Photo: FA Lana Afandiyeva
Leon and Prraneeth in the title fray
A win over the top seed, GM Hans Niemann (USA) has taken IM Prraneeth Vuppala's live rating to 2500.5. It means he has completed all the requirements to become a GM as he already has scored all three GM-norms. However, we are waiting for an official confirmation about it. Meanwhile, the reigning two-time National Women's champion, WGM Divya Deshmukh has become the 12th Indian female player to earn the IM title. The result of her final round game is immaterial, she still has to play it to complete the norm requirements.
Hans - Prraneeth: 0-1
GM Hans Niemann (USA, 2708) faced a lot of trouble against the Indian players at this event. He lost against GM Leon, barely scraped a draw against IM Aditya S Samant. Now he lost to GM-elect IM Prraneeth Vuppala (2442). Hans went for his usual bold approach by sacrificing a bishop 25.Bxh6!?
25.Bxh6!? does not look like it will work out for White but it clearly seems interesting. Black has to defend correctly to ensure nothing goes wrong. 25...gxh6 even Kxh6 would have worked too but practically it looks slightly audacious. 26.Qxf6 Bxe5 27.Rxe5 Rg8 28.Rf3?? is a blunder as the c-pawn starts rolling c3 29.Qxf7+ Rg7 30.Qxe6 c2 31.Re1 c1Q 32.Rxc1 Qxc1+ White has almost no compensation for the lost rook. The four pawns are not enough to salvage a draw.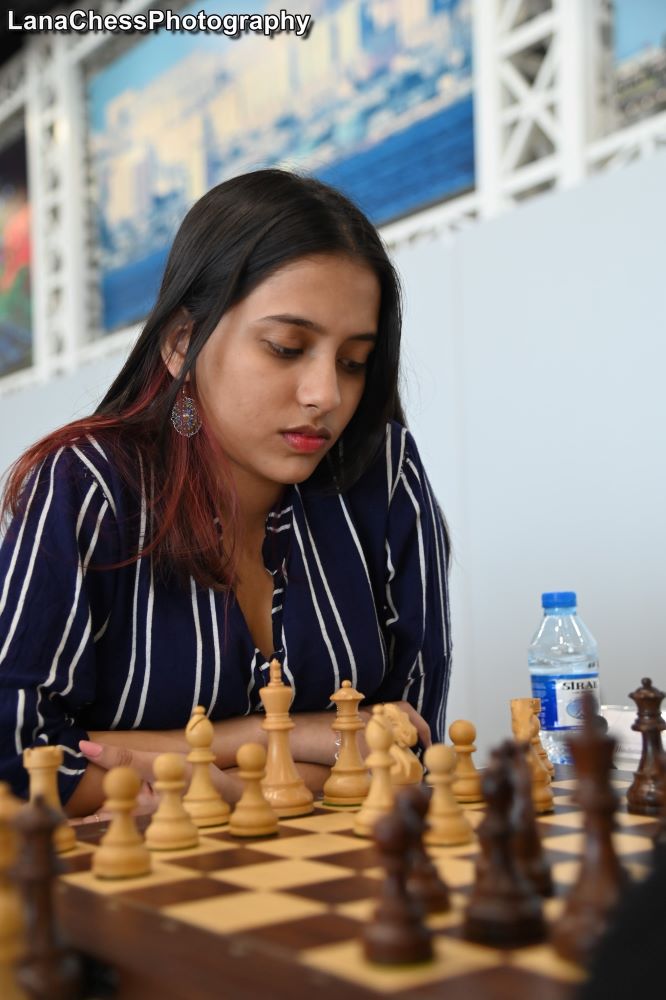 A total of 119 players including 32 GMs, 29 IMs, 11 WGMs and 7 WIMs are taking part from 14 countries across the world in Group A. The nine-day nine-round Swiss League tournament is organized by Azerbaijan Chess Federation and the Ministry of Youth & Sport of the Republic of Azerbaijan from 4th to 12th May 2023 at Baku Crystal Hall in Baku, Azerbaijan. The time control of the tournament is 90 minutes for 40 moves + 30 minutes + 30 seconds per move from the first move.
Replay Round 8 games
Round 8 results
Standings after Round 8
| | | | | | | | | | | | | |
| --- | --- | --- | --- | --- | --- | --- | --- | --- | --- | --- | --- | --- |
| Rk. | SNo | | | Name | sex | FED | Rtg | Pts. | TB1 | TB2 | TB3 | TB4 |
| 1 | 22 | | GM | Muradli, Mahammad | | AZE | 2531 | 6,5 | 2403 | 0 | 5 | 37,5 |
| 2 | 44 | | IM | Prraneeth, Vuppala | | IND | 2442 | 6 | 2545 | 0 | 5 | 39,5 |
| 3 | 11 | | GM | Mendonca, Leon Luke | | IND | 2603 | 6 | 2521 | 0 | 4 | 39,5 |
| 4 | 7 | | GM | Indjic, Aleksandar | | SRB | 2618 | 6 | 2470 | 0 | 4 | 37 |
| 5 | 36 | | GM | Sanikidze, Tornike | | GEO | 2475 | 6 | 2468 | 0 | 5 | 37,5 |
| 6 | 9 | | GM | Kovalev, Vladislav | | FID | 2612 | 6 | 2419 | 0 | 5 | 34,5 |
| 7 | 28 | | IM | Gokerkan, Cem Kaan | | TUR | 2500 | 5,5 | 2525 | 0 | 3 | 37,5 |
| 8 | 23 | | GM | Aditya, Mittal | | IND | 2522 | 5,5 | 2520 | 0 | 4 | 38 |
| 9 | 5 | | GM | Abasov, Nijat | | AZE | 2634 | 5,5 | 2494 | 0 | 3 | 43 |
| 10 | 10 | | GM | Safarli, Eltaj | | AZE | 2609 | 5,5 | 2479 | 0 | 3 | 36,5 |
| 11 | 6 | | GM | Sethuraman, S.P. | | IND | 2626 | 5,5 | 2473 | 0 | 3 | 35 |
| 12 | 4 | | GM | Mamedov, Rauf | | AZE | 2646 | 5,5 | 2466 | 0 | 3 | 37,5 |
| 13 | 77 | | IM | Ansat, Aldiyar | | KAZ | 2311 | 5,5 | 2459 | 0 | 5 | 36 |
| 14 | 25 | | IM | Samant, Aditya S | | IND | 2501 | 5,5 | 2455 | 0 | 4 | 35 |
| 15 | 40 | | IM | Samadov, Read | | AZE | 2469 | 5,5 | 2424 | 0 | 4 | 34,5 |
Round 9 pairings
Links
---