Baku Open 2023 R7: Hans Niemann escapes jaws of defeat against Aditya Samant
IM Prraneeth Vuppala lost against GM Tornike Sanikidze (GEO) in the seventh round of Baku Open 2023. Prraneeth had a better position at one point. A few inaccurate decisions eventually cost him the game. GM Leon Luke Mendonca made a quick 12-move draw against GM Rauf Mamedov (AZE). Thus, Tornike is now the sole leader 6/7, followed by Leon and GM Mahammad Muradli (AZE) at 5.5/7 each. IM Aditya S Samant was a few moves from winning the game against GM Hans Niemann (USA). However, he missed his opportunity and the American escaped with a draw. In a battle of Asian Continental medalists, WGM Divya Deshmukh made a great save from a lost position against GM Harsha Bharathakoti. Round 8 starts today at 3 p.m. local time, 4:30 p.m. IST. Photo: FA Lana Afandiyeva
Tornike gains sole lead, Leon stays in the hunt
A total of ten players are at 5/7 including three Indians. They are - IM Prraneeth Vuppala, GM Aditya Mittal and GM Sethuraman S P.
Prraneeth - Tornike: 0-1
IM Prraneeth Vuppala (2442) had a commanding position against GM Tornike Sanikidze (GEO, 2475). What he could have done is, keep his dark square bishop on the board as the counterpart was inactive and he needed it to have a firm grip on the dark squares. Moreover, all of his pawns were on dark squares.
32.h4 Qc6 33.Re3 is one of the ways to continue. White played 32.Bd1 Qh3 33.f4 Be6 34.Qf2 Rf8 35.Re3 Qf5 36.Rf3 Qf7 37.Bc5 Rfc8 38.Bd6 Bf8 now the bishop exchange is unavoidable. White needed to keep the dark square bishop on the board.
45.Qf4 Rd7 46.Ree5 was an option. However, 45.Rf1 allowed d4 without any resistance. 46.Qf4 Rd7 47.Qe4 Rad8 and Black won the game in another ten moves.
Aditya Samant - Niemann
IM Aditya S Samant (2501) had a great opportunity to beat GM Hans Niemann (USA, 2708). However, he missed it. 40.g3 Kh7 41.Ra6 Nc3 42.Rb2 Nd1 43.Rb5 Nc3 and the game ended in a draw via repetition. 40.Ra6 Nf2+ 41.Kg1 Bc5 42.Kf1 and White would have won the game.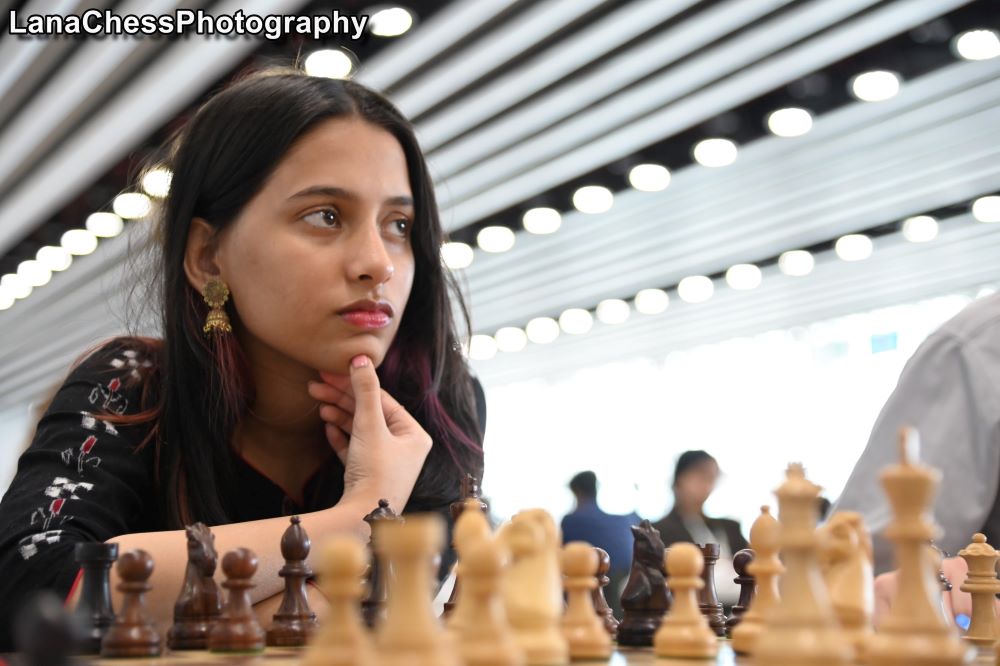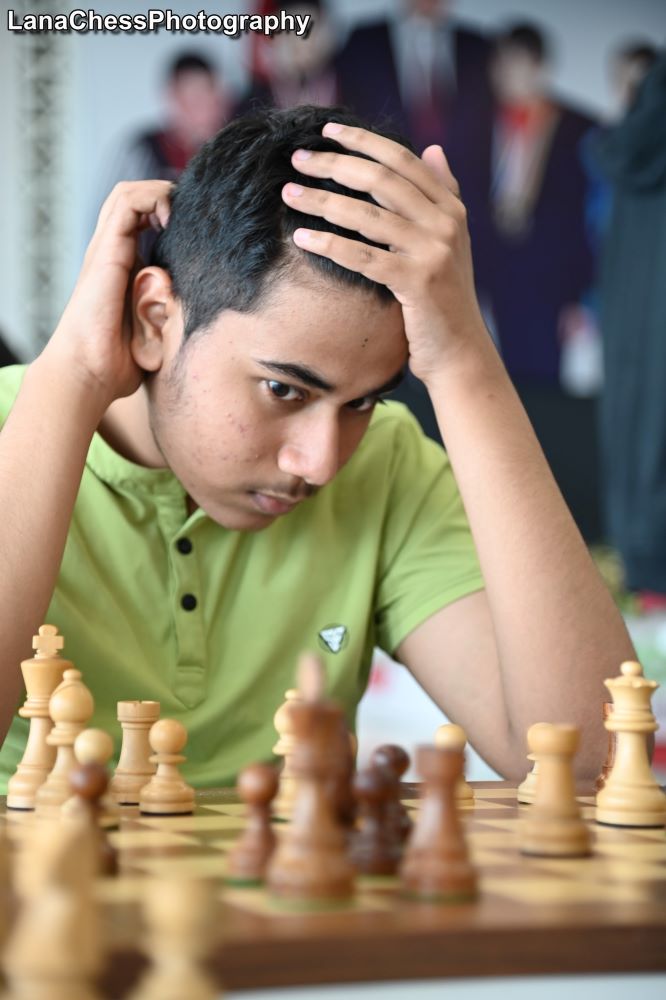 Photo Gallery
A 100-board simultaneous exhibition was played to commemorate 100th anniversary of National Leader Heydar Aliyev. Azerbaijan's best players - GM Shakhriyar Mammadyarov, GM Teimour Radjabov, GM Rauf Mamedov, along with GM Abdulla Gadimbeyli, WGM Zeinab Mamedjarova, IM Gulnar Mammadova and Nijat Mammadov played the simul. A total of 15 games ended in draws and two games were won by the teenager kids.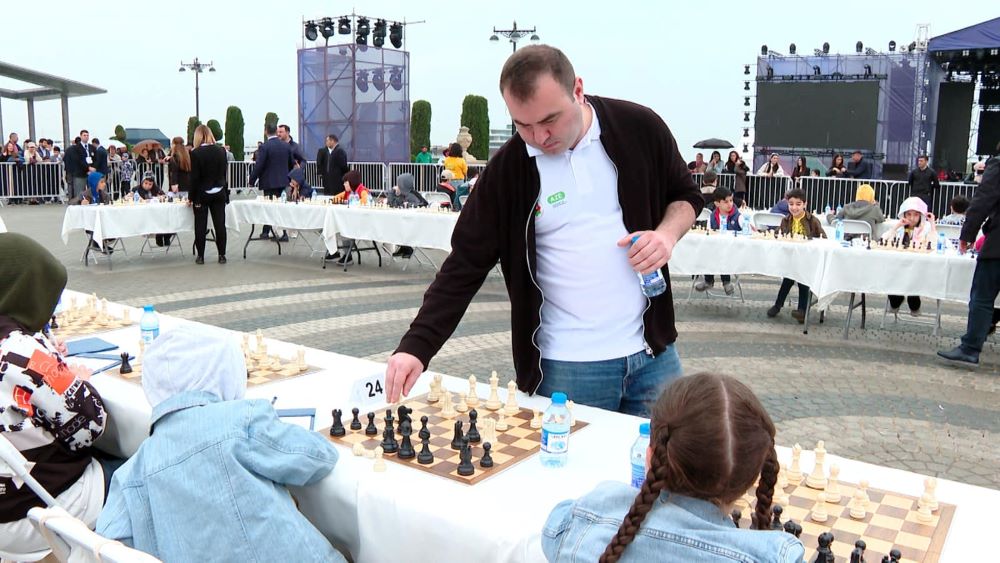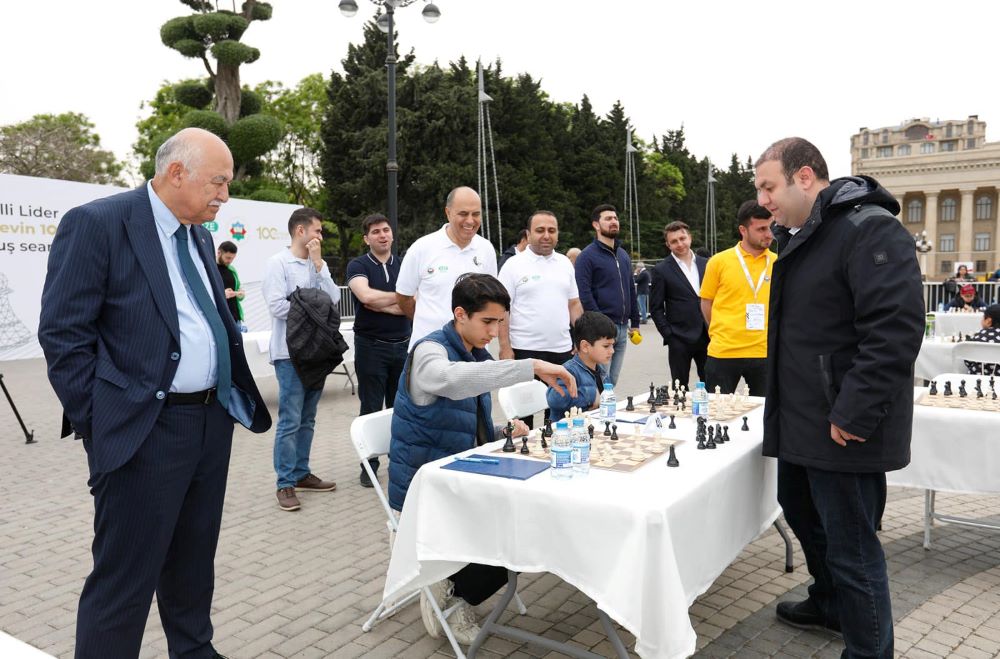 A total of 119 players including 32 GMs, 29 IMs, 11 WGMs and 7 WIMs are taking part from 14 countries across the world in Group A. The nine-day nine-round Swiss League tournament is organized by Azerbaijan Chess Federation and the Ministry of Youth & Sport of the Republic of Azerbaijan from 4th to 12th May 2023 at Baku Crystal Hall in Baku, Azerbaijan. The time control of the tournament is 90 minutes for 40 moves + 30 minutes + 30 seconds per move from the first move.
Replay Round 7 games
Round 7 results
Standings after Round 7
| | | | | | | | | | | | |
| --- | --- | --- | --- | --- | --- | --- | --- | --- | --- | --- | --- |
| Rk. | SNo | | | Name | sex | FED | Rtg | Pts. | TB1 | TB2 | TB3 |
| 1 | 36 | | GM | Sanikidze, Tornike | | GEO | 2475 | 6 | 2458 | 0 | 5 |
| 2 | 11 | | GM | Mendonca, Leon Luke | | IND | 2603 | 5,5 | 2505 | 0 | 4 |
| 3 | 22 | | GM | Muradli, Mahammad | | AZE | 2531 | 5,5 | 2393 | 0 | 4 |
| 4 | 44 | | IM | Prraneeth, Vuppala | | IND | 2442 | 5 | 2522 | 0 | 4 |
| 5 | 19 | | GM | Suleymanli, Aydin | | AZE | 2560 | 5 | 2521 | 0 | 3 |
| 6 | 23 | | GM | Aditya, Mittal | | IND | 2522 | 5 | 2504 | 0 | 4 |
| 7 | 5 | | GM | Abasov, Nijat | | AZE | 2634 | 5 | 2478 | 0 | 3 |
| 8 | 6 | | GM | Sethuraman, S.P. | | IND | 2626 | 5 | 2465 | 0 | 3 |
| 9 | 7 | | GM | Indjic, Aleksandar | | SRB | 2618 | 5 | 2457 | 0 | 3 |
| 10 | 10 | | GM | Safarli, Eltaj | | AZE | 2609 | 5 | 2455 | 0 | 3 |
| 11 | 20 | | GM | Petrov, Nikita | | MNE | 2547 | 5 | 2446 | 0 | 4 |
| 12 | 4 | | GM | Mamedov, Rauf | | AZE | 2646 | 5 | 2446 | 0 | 3 |
| 13 | 9 | | GM | Kovalev, Vladislav | | FID | 2612 | 5 | 2401 | 0 | 4 |
| 14 | 38 | | IM | Nogerbek, Kazybek | | KAZ | 2474 | 4,5 | 2520 | 0 | 2 |
| 15 | 1 | | GM | Niemann, Hans Moke | | USA | 2708 | 4,5 | 2510 | 0 | 3 |
Round 8 pairings
Links
---