Baku Open 2023 R3: Prraneeth Vuppala beats Vahap Sanal
IM Prraneeth Vuppala continues his good form as he defeated the Turkey no.2 GM Vahap Sanal. Currently GM Levan Pantsulaia (GEO) and GM Aleksandr Predke (SRB) are the only two players at 3/3 at the conclusion of the third round of Baku Open 2023. IM Aditya S Samant held Serbia no.2 GM Aleksandar Indjic to a short draw. 20 players including six Indians are at 2.5/3 each. They are - GM Sandipan Chanda, Prraneeth, GM Sethuraman S P, GM Harsha Bharathakoti, GM Leon Luke Mendonca and IM Aditya. The tournament leaders Levan and Predke will inevitably clash against each other on the top board in Round 4 which starts today at 3 p.m. local time, 4:30 p.m. IST. Photo: FA Lana Afandiyeva
Levan and Predke are coleaders
FM Nikhil Dixit held IM Khazar Babazada (AZE) to a draw.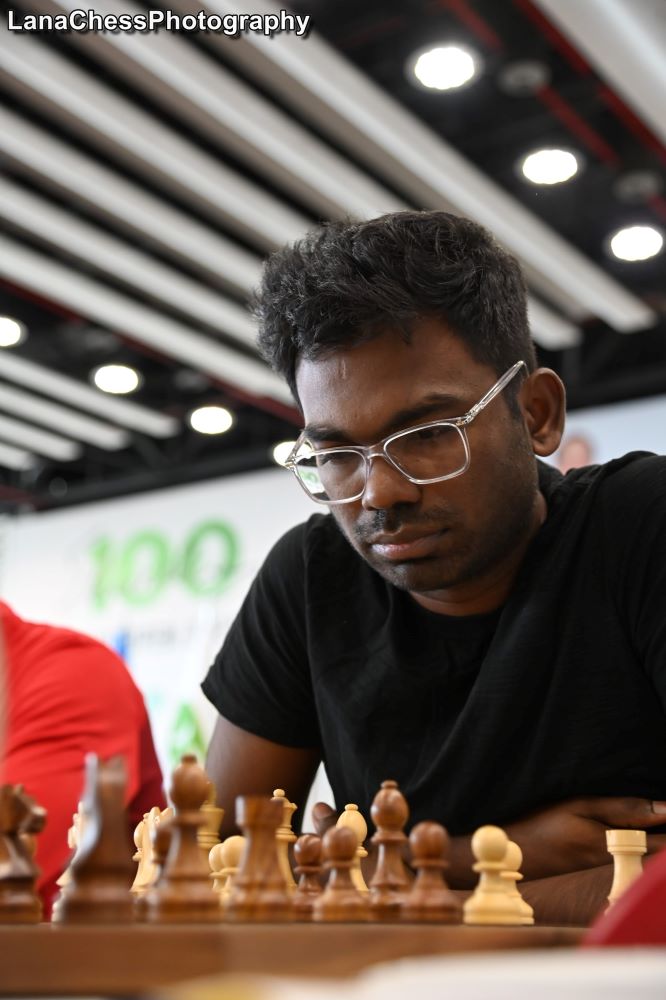 Prraneeth - Vahap
Unlike the previous round, IM Prraneeth Vuppala (2442) decided to take matters into his hands and create an opportunity himself against GM Vahap Sanal (TUR, 2600). 17.Bxg6! the only thing White is guaranteed is rook and two pawns for two minor pieces fxg6 18.Ne5 Qe6 19.Nxg6+ Kg7 20.Nxf8 Rxf8 Black's king is quite exposed too which became a crucial factor eventually.
27.e4 dxe4 28.fxe4 c5 is how Black needed to react to the center break and free up his bishop. Instead 27...h4 just worsened his position 28.e5 Nh5 29.f4 Nxf4? while the knight might not fall, opening the c-file and inviting trouble was not a good idea 30.Rf1 Qh6 31.Qf2 Rf7 32.Kh1 Kg8 33.g3 hxg3 34.Qxg3+ Kh8 35.Rxb7 and White won.
A total of 119 players including 32 GMs, 29 IMs, 11 WGMs and 7 WIMs are taking part from 14 countries across the world in Group A. The nine-day nine-round Swiss League tournament is organized by Azerbaijan Chess Federation and the Ministry of Youth & Sport of the Republic of Azerbaijan from 4th to 12th May 2023 at Baku Crystal Hall in Baku, Azerbaijan. The time control of the tournament is 90 minutes for 40 moves + 30 minutes + 30 seconds per move from the first move.
Replay Round 3 games
Round 3 results
Standings after Round 3
| | | | | | | | | | | |
| --- | --- | --- | --- | --- | --- | --- | --- | --- | --- | --- |
| Rk. | SNo | | | Name | FED | Rtg | Pts. | TB1 | TB2 | TB3 |
| 1 | 2 | | GM | Predke, Alexandr | SRB | 2685 | 3 | 2489 | 0 | 3 |
| 2 | 18 | | GM | Pantsulaia, Levan | GEO | 2570 | 3 | 2388 | 0 | 3 |
| 3 | 41 | | GM | Chanda, Sandipan | IND | 2460 | 2,5 | 2602 | 0 | 2 |
| 4 | 44 | | IM | Prraneeth, Vuppala | IND | 2442 | 2,5 | 2600 | 0 | 2 |
| 5 | 1 | | GM | Niemann, Hans Moke | USA | 2708 | 2,5 | 2488 | 0 | 2 |
| 6 | 3 | | GM | Korobov, Anton | UKR | 2664 | 2,5 | 2469 | 0 | 2 |
| 7 | 6 | | GM | Sethuraman, S.P. | IND | 2626 | 2,5 | 2460 | 0 | 2 |
| | 10 | | GM | Safarli, Eltaj | AZE | 2609 | 2,5 | 2460 | 0 | 2 |
| 9 | 12 | | GM | Harsha, Bharathakoti | IND | 2602 | 2,5 | 2455 | 0 | 2 |
| 10 | 5 | | GM | Abasov, Nijat | AZE | 2634 | 2,5 | 2432 | 0 | 2 |
| 11 | 20 | | GM | Petrov, Nikita | MNE | 2547 | 2,5 | 2400 | 0 | 2 |
| 12 | 7 | | GM | Indjic, Aleksandar | SRB | 2618 | 2,5 | 2399 | 0 | 2 |
| 13 | 11 | | GM | Mendonca, Leon Luke | IND | 2603 | 2,5 | 2391 | 0 | 2 |
| 14 | 15 | | GM | Asadli, Vugar | AZE | 2584 | 2,5 | 2387 | 0 | 2 |
| 15 | 38 | | IM | Nogerbek, Kazybek | KAZ | 2474 | 2,5 | 2375 | 0 | 2 |
Round 4 pairings
Links
---