Baku Open 2023 R2: Ilamparthi stuns Bharath Subramaniyam
World Under-14 Gold medalist, IM Ilamparthi A R scored a big victory over GM Bharath Subramaniyam H. He is now among the 14 players who are at 2/2. Six of them are Indians. The remaining five are - GM Leon Luke Mendonca, GM Harsha Bharathakoti, GM Aditya Mittal, GM Sandipan Chanda and IM Aditya S Samant. GM-elect IM Prraneeth Vuppala held Azerbaijan no.6 GM Nijat Abasov to a draw. He had a good opportunity to make things difficult. However, the teenager opted for a safer option. FM Mohamed Anees M held GM Rauf Mamedov (AZE) to a draw. IM Dushyant Sharma once again had an 88-move draw, this time against GM Vitaliy Bernadskiy (UKR). Round 3 starts today at 3 p.m. local time, 4:30 p.m. IST. Photo: FA Lana Afandiyeva
14 players at 2/2
IM Dushyant Sharma once again played solid and had an identical draw where the rook endgame lasted more than 50 moves against another Grandmaster. WGM Srija Seshadri held IM Moksh Amit Doshi to a draw.
Nijat - Prraneeth
Overstretched pawns gave White a space advantage. However, it also means that the pawns are weak. If White is not careful enough, they will start to drop. GM Nijat Abasov (AZE, 2634) opted for 26.Be4 to decline the exchange of queens momentarily and threaten fxg6 at the same time. IM Prraneeth Vuppala (2442) forced the exchange 26...Qg3+ 27.Qg2 Qxg2+ 28.Kxg2 and the game eventually ended in a draw. What Black could have done in the above diagram is 26...Nf6! which would have helped him to gain another pawn and White would have to be more careful with the rest of the game.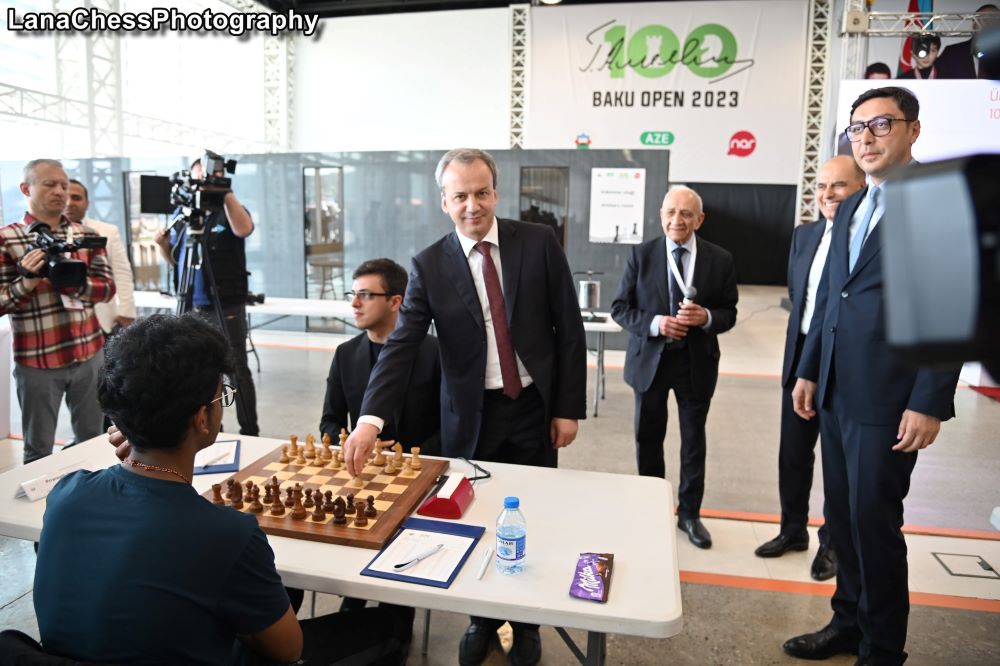 Ilamparthi - Bharath
World Under-14 Open champion, IM Ilamparthi A R (2388) seizes every opportunity he gets. 20.Nf5! makes some serious threats to destabilize Black's position exf5 21.Qxd5 Nxa4 22.Bd4 Bxg5+ White is certainly happy to give away the g5-pawn as it opens the g-file. 23.Kb1 Qh6 24.Bc4 Bf6 25.Bb3 and Black blundered Nb6 26.Bxb6+- White went on to win the game. 25...Nc5 would have continued the fight a bit longer.
A total of 119 players including 32 GMs, 29 IMs, 11 WGMs and 7 WIMs are taking part from 14 countries across the world in Group A. The nine-day nine-round Swiss League tournament is organized by Azerbaijan Chess Federation and the Ministry of Youth & Sport of the Republic of Azerbaijan from 4th to 12th May 2023 at Baku Crystal Hall in Baku, Azerbaijan. The time control of the tournament is 90 minutes for 40 moves + 30 minutes + 30 seconds per move from the first move.
Replay Round 2 games
Round 2 results
Standings after Round 2
| | | | | | | | | | | | |
| --- | --- | --- | --- | --- | --- | --- | --- | --- | --- | --- | --- |
| Rk. | SNo | | | Name | Gr | FED | Rtg | Pts. | TB1 | TB2 | TB3 |
| 1 | 1 | | GM | Niemann, Hans Moke | A | USA | 2708 | 2 | 0 | 0 | 2 |
| | 2 | | GM | Predke, Alexandr | A | SRB | 2685 | 2 | 0 | 0 | 2 |
| | 7 | | GM | Indjic, Aleksandar | A | SRB | 2618 | 2 | 0 | 0 | 2 |
| | 11 | | GM | Mendonca, Leon Luke | A | IND | 2603 | 2 | 0 | 0 | 2 |
| | 12 | | GM | Harsha, Bharathakoti | A | IND | 2602 | 2 | 0 | 0 | 2 |
| | 19 | | GM | Suleymanli, Aydin | A | AZE | 2560 | 2 | 0 | 0 | 2 |
| | 23 | | GM | Aditya, Mittal | A | IND | 2522 | 2 | 0 | 0 | 2 |
| | 41 | | GM | Chanda, Sandipan | A | IND | 2460 | 2 | 0 | 0 | 2 |
| 9 | 15 | | GM | Asadli, Vugar | A | AZE | 2584 | 2 | 0 | 0 | 2 |
| 10 | 25 | | IM | Samant, Aditya S | A | IND | 2501 | 2 | 0 | 0 | 2 |
| | 28 | | IM | Gokerkan, Cem Kaan | A | TUR | 2500 | 2 | 0 | 0 | 2 |
| | 30 | | GM | Sadikhov, Ulvi | A | AZE | 2489 | 2 | 0 | 0 | 2 |
| | 57 | | IM | Ilamparthi, A R | A | IND | 2388 | 2 | 0 | 0 | 2 |
| 14 | 18 | | GM | Pantsulaia, Levan | A | GEO | 2570 | 2 | 0 | 0 | 2 |
| 15 | 5 | | GM | Abasov, Nijat | A | AZE | 2634 | 1,5 | 0 | 0 | 1 |
Round 3 pairings
Links
---