Baku Open 2023 R1: Dushyant Sharma holds Rauf Mamedov to a draw
IM Dushyant Sharma held Azerbaijan no.5, GM Rauf Mamedov to a draw in the first round of Baku Open 2023. Dushyant played solid throughout the game and ensured no mistakes were made. The majority of the game was a rook endgame which lasted for 56 moves out of 88 in total. FM Mohamed Anees M missed a great opportunity to win against GM Vitaliy Bernadskiy (UKR). The former initially found the correct way to liquidate into a favorable knight vs bishop endgame. However, he misplayed and let his opportunity slip. FM Nikhil Dixit scored a beautiful win against IM Manish Anto Cristiano F when the latter blundered immediately after declining a guaranteed draw by perpetual check. Round 2 starts today at 3 p.m. local time, 4:30 p.m. IST. Photo: FA Lana Afandiyeva
A good start for few Indians
FM Aradhya Garg, WIM Mahalakshmi M, WGM Srija Seshadri and WIM Priyanka K drew with GM Namig Guliyev (AZE), IM Nigmatov Ortik (UZB), IM Nikoloz Petriashvili (GEO) and IM Nurgyul Salimova (BUL) each respectively. The total prize fund of the tournament is US$ 50000. Top three prizes are $12000 + Cup, $8000 and $6000 each respectively.
Bernadskiy - Anees
How should White recapture here? GM Vitaliy Bernadskiy (UKR, 2592) made an incorrect decision to capture with his rook 38.Rxe2. His opponent found the precise continuation 38...h4! 39.Rxe6+ dxe6 40.Ne2 e5 41.Kf2 Kf5 42.g3 Ke4 Black king invades on White's queenside. He does not need to be bothered about the h4-pawn. 43.gxh4 Kd3 44.Ng3 Bd7 45.Nh5 g6 46.Nf6 Bxh3 47.Nd5 Kc2 48.b4 and now Black made a mistake to allow his opponent to get back in the game.
The one thing Black should not do here is 48...Kb3. The reason is simple, it abandons the e5-pawn and Black will not gain the c3-pawn, getting the a3-pawn is not enough to win the game. Instead, 48...Kd2 49.Ne3 Be6 still keeps Black's winning chances. 49.Ke3 Bf5 50.Nc7 Kxa3 51.Nxa6 and White went to save the half point.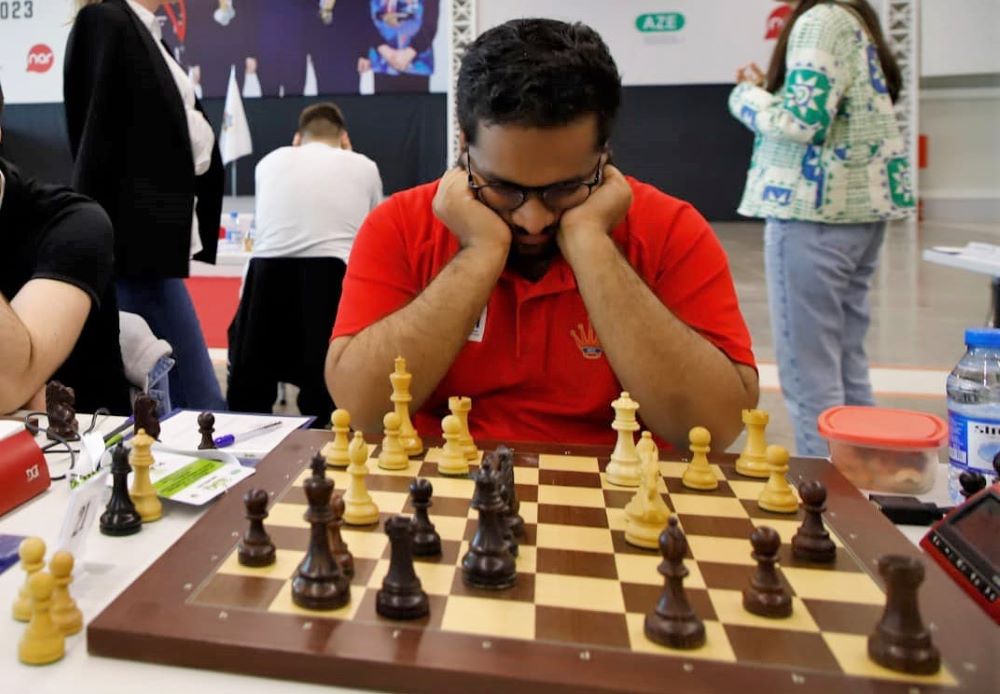 Nikhil - Manish
IM Manish Anto Cristiano F (2485) made a correct sacrifice 41...Bxd5! FM Nikhil Dixit (2257) took it 42.Qxd5 Qxf2+ 43.Qg2 Qxh4+ 44.Kg1 and now draw by perpetual check is the best result for Black. However, he made a grave mistake here
44...Qxh6?? is a big mistake. 45.Qh2! +- and it's a curtain call for Black. 45...Qxh2+ 46.Kxh2 e4 47.b5! e3 48.Kg3 ensuring neither e nor g-pawn gets to promote axb5 49.a6 and White's one pawn is enough to win the game whereas Black's five pawns are not enough to save the day. What an amazing finish. A painful loss for Black but a picturesque finish for White.
Petriashvili - Srija
WGM Srija Seshadri (2199) took advantage of the d4-bishop being pinned by her rook on the fourth rank 24...Qf6. IM Nikoloz Petriashvili (GEO, 2432) unpinned his bishop by offering his rook as a sacrifice 25.Re4 Rb1+ 26.Kh2 and now Black sacrificed her queen, actually it is an exchange because she was already ahead by an exchange Nxe4 27.Bxf6 Nxf6 28.Qd4 c5! a clever tactic to deflect the queen and force a perpetual 29.Qxc5 Ng4+ 30.Kh3 Nxf2+ 31.Kh2 Ng4+ 32.Kh3 Nf2+ and it's a draw as White cannot get out of the perpetual checks.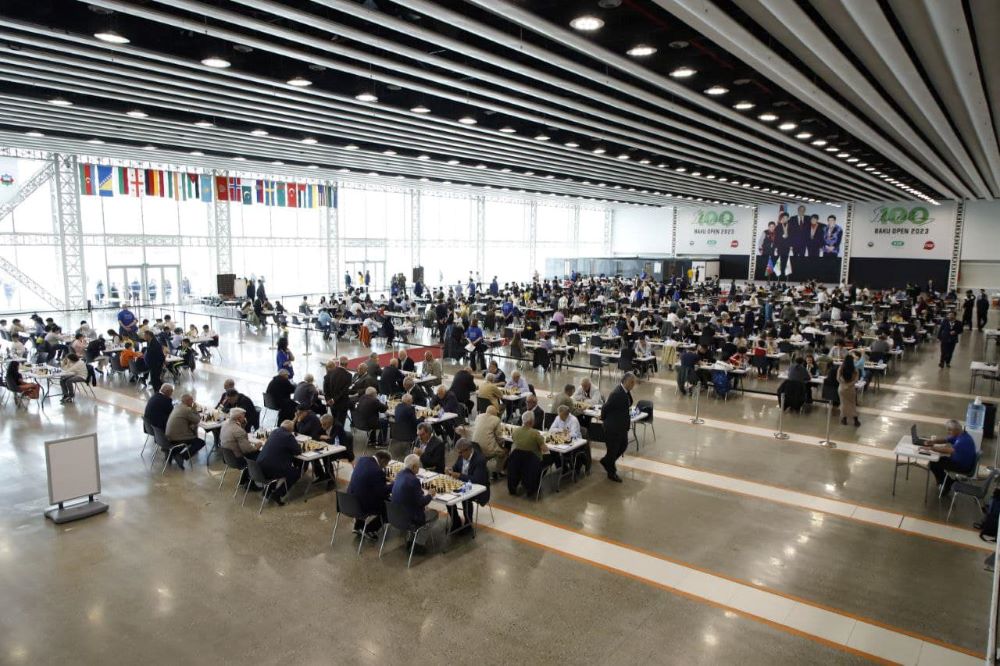 A total of 119 players including 32 GMs, 29 IMs, 11 WGMs and 7 WIMs are taking part from 14 countries across the world in Group A. The nine-day nine-round Swiss League tournament is organized by Azerbaijan Chess Federation and the Ministry of Youth & Sport of the Republic of Azerbaijan from 4th to 12th May 2023 at Baku Crystal Hall in Baku, Azerbaijan. The time control of the tournament is 90 minutes for 40 moves + 30 minutes + 30 seconds per move from the first move.
Replay Round 1 games
Round 1 results
Standings after Round 1
| | | | | | | | | | | | |
| --- | --- | --- | --- | --- | --- | --- | --- | --- | --- | --- | --- |
| Rk. | SNo | | | Name | Gr | FED | Rtg | Pts. | TB1 | TB2 | TB3 |
| 1 | 1 | | GM | Niemann, Hans Moke | A | USA | 2708 | 1 | 0 | 0 | 1 |
| | 2 | | GM | Predke, Alexandr | A | SRB | 2685 | 1 | 0 | 0 | 1 |
| | 3 | | GM | Korobov, Anton | A | UKR | 2664 | 1 | 0 | 0 | 1 |
| | 5 | | GM | Abasov, Nijat | A | AZE | 2634 | 1 | 0 | 0 | 1 |
| | 6 | | GM | Sethuraman, S.P. | A | IND | 2626 | 1 | 0 | 0 | 1 |
| | 7 | | GM | Indjic, Aleksandar | A | SRB | 2618 | 1 | 0 | 0 | 1 |
| | 8 | | GM | Gareyev, Timur | A | USA | 2617 | 1 | 0 | 0 | 1 |
| | 10 | | GM | Safarli, Eltaj | A | AZE | 2609 | 1 | 0 | 0 | 1 |
| | 11 | | GM | Mendonca, Leon Luke | A | IND | 2603 | 1 | 0 | 0 | 1 |
| | 12 | | GM | Harsha, Bharathakoti | A | IND | 2602 | 1 | 0 | 0 | 1 |
| | 15 | | GM | Asadli, Vugar | A | AZE | 2584 | 1 | 0 | 0 | 1 |
| | 16 | | GM | Romanov, Evgeny | A | NOR | 2578 | 1 | 0 | 0 | 1 |
| | 17 | | GM | Iskandarov, Misratdin | A | AZE | 2577 | 1 | 0 | 0 | 1 |
| | 18 | | GM | Pantsulaia, Levan | A | GEO | 2570 | 1 | 0 | 0 | 1 |
| | 19 | | GM | Suleymanli, Aydin | A | AZE | 2560 | 1 | 0 | 0 | 1 |
| | 20 | | GM | Petrov, Nikita | A | MNE | 2547 | 1 | 0 | 0 | 1 |
| | 23 | | GM | Aditya, Mittal | A | IND | 2522 | 1 | 0 | 0 | 1 |
| | 24 | | GM | Bharath, Subramaniyam H | A | IND | 2517 | 1 | 0 | 0 | 1 |
| | 25 | | IM | Samant, Aditya S | A | IND | 2501 | 1 | 0 | 0 | 1 |
| | 26 | | IM | Samunenkov, Ihor | A | UKR | 2501 | 1 | 0 | 0 | 1 |
Round 2 pairings
Links
---