Baku Open 2023 R6: Prraneeth Vuppala joins Leon and Tornike in the lead
GM Leon Luke Mendonca drew against GM Tornike Sanikidze (GEO) in the sixth round of Baku Open 2023. IM Prraneeth Vuppala got the better of Georgia no.2 GM Levan Pantsulaia with precise play. Prraneeth joind Leon and Tornike in a three-way lead 5/6. His live rating is now 2496.8. He already has all three norms, which means he is now just 3.2 Elo rating points away from becoming India's 82nd GM. GM Aditya Mittal and GM Raja Rithvik R drew against GM Eltaj Safarli (AZE) and GM Alexandr Predke (SRB) respectively. WGM Divya Deshmukh beat her second consecutive GM, Bharath Subramaniyam H. She is now at 4/6. Round 7 starts today at 3 p.m. local time, 4:30 p.m. IST. Photo: FA Lana Afandiyeva
Aditya Mittal in pursuit
Seven players are trailing the leaders by a half point at 4.5/6 each. GM Aditya Mittal is the sole Indian among them. WGM Divya Deshmukh is currently the highest scoring female player 4/6.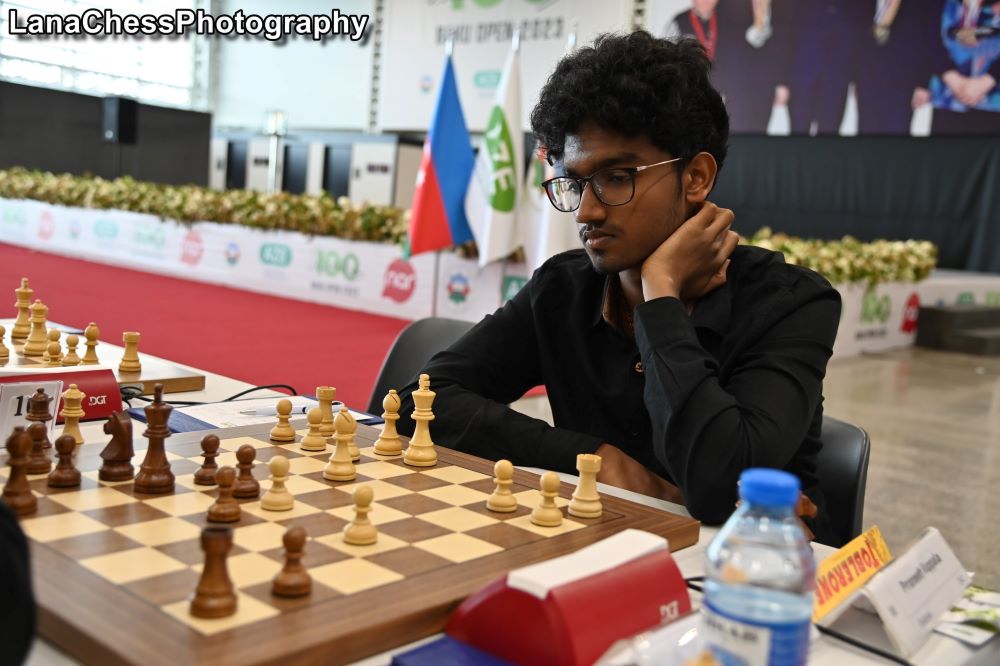 Levan - Prraneeth
IM Prraneeth Vuppala (2442) created a strong passed pawn on the d-file. 29...d2 made White's position quite uncomfortable. 30.Rd1 Ng5 31.Qb3 Qc6+ 32.Nf3 Ne4 33.a4 Qb7 34.Rdxd2 is fine as White is unable to make progress otherwise. 34...Nxd2 35.Rxd2 Rc5 36.Rd6 Rec8 37.Qd3 Ra5 38.Qd4 Rf5 39.Qg4?
39.Qg4 fixed the queen at that square. 39.Rd8+ or Qd3 would have been a better option. Black created a strong battery on the fifth rank 39...Rcc5 40.Rd4 White had to let go of the b6-pawn in order to save his knight Qxb6 41.Qe4 Qf6 Black played precisely to convert his advantage into a win eventually.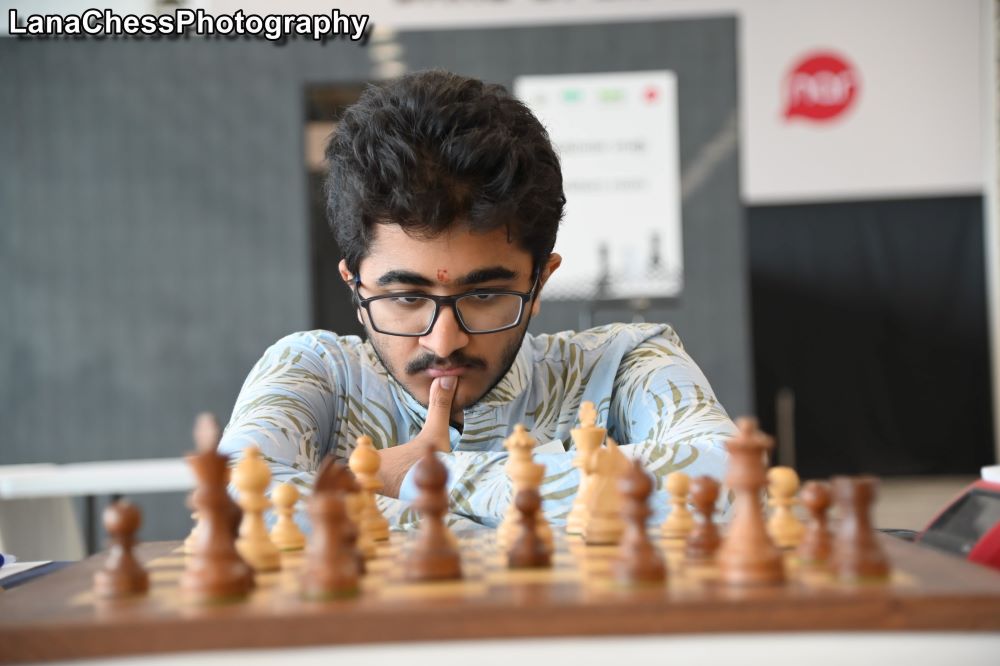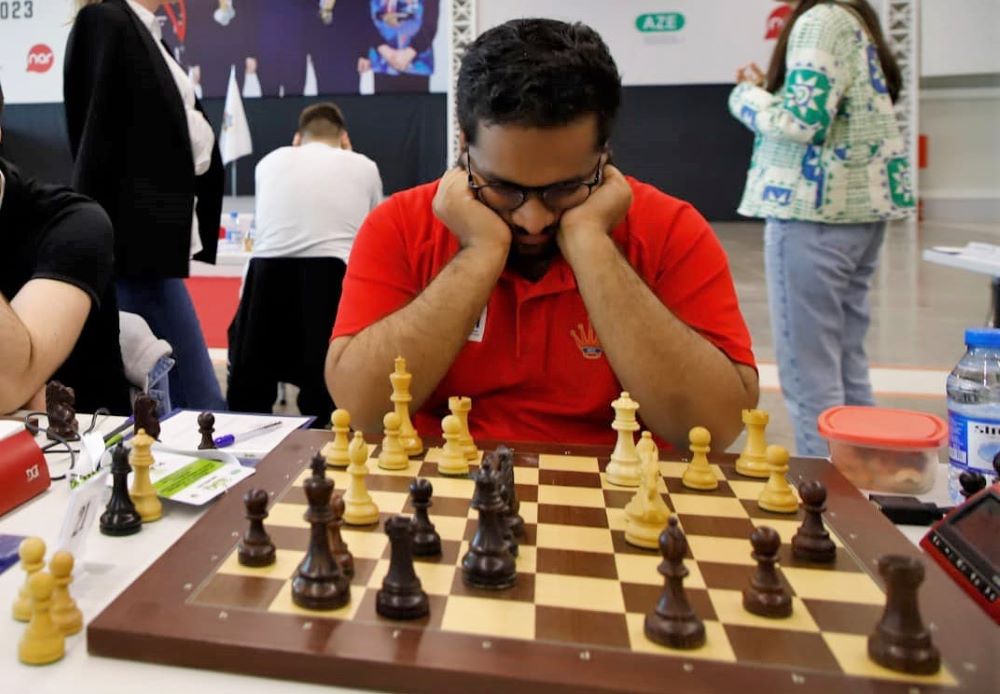 Divya - Bharath
The reigning two-time National Women's champion, WGM Divya Deshmukh (2372) persevered a difficult position and waited for his opponent, GM Bharath Subramaniyam H (2517) to make a mistake. He did eventually. 52...Kh8 dropped the support of the f7-pawn. He should have played 34...g6 long back. White started pushing her passed c-pawn 53.c4 Rd8 54.Qe7 Rb8 55.c5 Qb1 55.c6 and White went on to win the game with precise play.
Ilamparthi - Aditya Samant
The above position should give you an inkling of what the game was. It was an exciting and sharp battle between two future GMs - IM Ilamparthi A R (2388) and IM Aditya S Samant (2501).
A total of 119 players including 32 GMs, 29 IMs, 11 WGMs and 7 WIMs are taking part from 14 countries across the world in Group A. The nine-day nine-round Swiss League tournament is organized by Azerbaijan Chess Federation and the Ministry of Youth & Sport of the Republic of Azerbaijan from 4th to 12th May 2023 at Baku Crystal Hall in Baku, Azerbaijan. The time control of the tournament is 90 minutes for 40 moves + 30 minutes + 30 seconds per move from the first move.
Replay Round 6 games
Round 6 results
Standings after Round 6
| | | | | | | | | | | |
| --- | --- | --- | --- | --- | --- | --- | --- | --- | --- | --- |
| Rk. | SNo | | | Name | FED | Rtg | Pts. | TB1 | TB2 | TB3 |
| 1 | 44 | | IM | Prraneeth, Vuppala | IND | 2442 | 5 | 2529 | 0 | 4 |
| 2 | 11 | | GM | Mendonca, Leon Luke | IND | 2603 | 5 | 2481 | 0 | 4 |
| 3 | 36 | | GM | Sanikidze, Tornike | GEO | 2475 | 5 | 2461 | 0 | 4 |
| 4 | 19 | | GM | Suleymanli, Aydin | AZE | 2560 | 4,5 | 2506 | 0 | 3 |
| 5 | 23 | | GM | Aditya, Mittal | IND | 2522 | 4,5 | 2483 | 0 | 4 |
| 6 | 5 | | GM | Abasov, Nijat | AZE | 2634 | 4,5 | 2471 | 0 | 3 |
| 7 | 10 | | GM | Safarli, Eltaj | AZE | 2609 | 4,5 | 2438 | 0 | 3 |
| 8 | 4 | | GM | Mamedov, Rauf | AZE | 2646 | 4,5 | 2420 | 0 | 3 |
| 9 | 14 | | GM | Bernadskiy, Vitaliy | UKR | 2592 | 4,5 | 2379 | 0 | 3 |
| 10 | 22 | | GM | Muradli, Mahammad | AZE | 2531 | 4,5 | 2360 | 0 | 3 |
| 11 | 1 | | GM | Niemann, Hans Moke | USA | 2708 | 4 | 2512 | 0 | 3 |
| 12 | 38 | | IM | Nogerbek, Kazybek | KAZ | 2474 | 4 | 2511 | 0 | 2 |
| 13 | 28 | | IM | Gokerkan, Cem Kaan | TUR | 2500 | 4 | 2486 | 0 | 2 |
| 14 | 2 | | GM | Predke, Alexandr | SRB | 2685 | 4 | 2483 | 0 | 3 |
| 15 | 82 | | FM | Aradhya, Garg | IND | 2284 | 4 | 2481 | 0 | 3 |
Round 7 pairings
Links
---