Anand starts with a win at Sinquefield Cup 2019
Vishy Anand got lucky against Ian Nepomniachtchi when the latter made a one-move blunder and lost his rook which resulted in his immediate resignation. Anand's win was the only win in round 1 of Sinquefield Cup. All other games ended up in a draw. Carlsen would like to improve on his forgettable Saint Louis Rapid and Blitz. Nakamura, Giri and So who are fresh for this event will definitely look forward to make an impact. Sinquefield Cup 2019 is arguably the strongest close tournament of the year so far as top 9 players of the world are taking part in this event. IM V Saravanan reports from the venue. Photo: Crystal Fuller / Grand Chess Tour
Anand scores the only win in round 1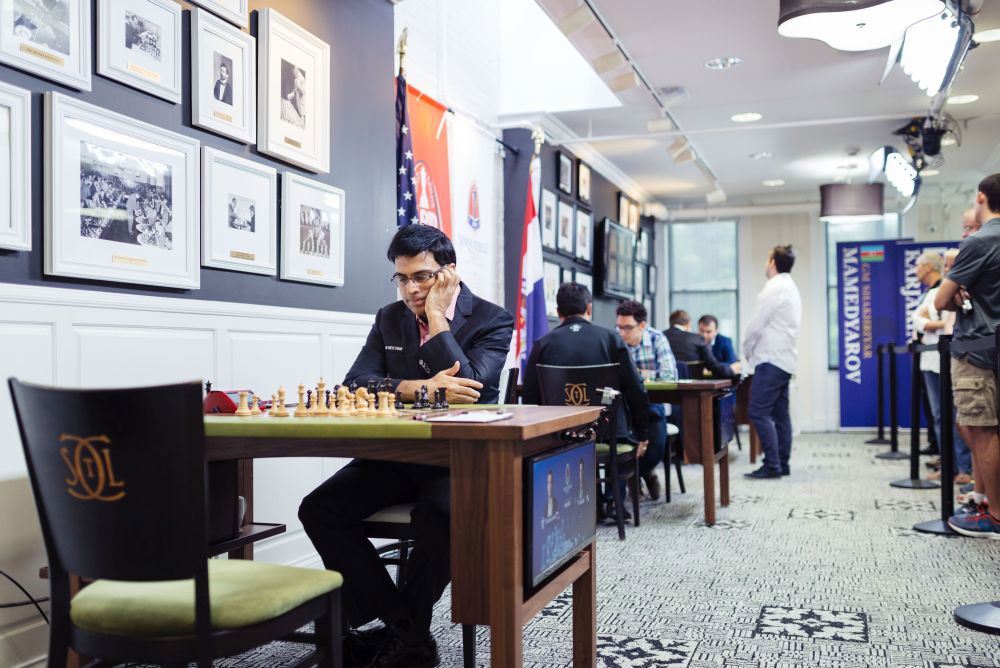 Vishy Anand's persistent pressure resulted in Ian Nepomniachtchi blundering in the fifth hour to give the former world champion a dramatic victory after 77 moves in the first round of the Sinquefield Cup. All the other games ended in draws almost without any gripping fights in an otherwise quite day.
Nepomniachtchi – Anand was a fascinating struggle right from the word go. After all, Anand introduced an Almost-Novelty on the 5th(!) move itself offering a pawn sacrifice.
When I asked him after the game if the move was a prepared surprise, he came up with a fascinating insight: "Yes, I guess we had both looked it, as he played 6.Nc3 more or less immediately. (And) rather embarrassingly, I was out of my preparation immediately at that! I realised that, after 6...Nbd7, you are a tempo up in an Old Indian (Defence), but what am I going to do with (an extra) tempo in this passive opening!?"
In the queenless middlegame, Anand showed his deep understanding of the position by expanding on the kingside rather than playing to equalise in the centre with the typical push ...d5-d4. Resembling one of those classic games of Rubinstein where black gains space on the kingside to keep white on tenterhooks.
Nepo - Anand, round 1
By continuing with 20...Kf7!? and a further ...g7-g5 & ...h7-h5 soon, Anand showed his remarkable understanding of the position. In a post game chat, I had a very enjoyable time probing on the way he conducted the play at this point.
"On one hand, I am trying to equalize with ...d5-d4. On the other hand, I realised that there is very little he can do, his Knight (on f3) and Bishop (on g3) are horrible. And I can continue with (my expansion on the kingside) as it happened in the game. In theory, there are pleasant endgames waiting in the wings. I may get them or I may not, but that's what I was aiming for."
Was it the exact point where he realised that he could push for an advantage?
"I tried to keep in mind that my only aim here is not just to equalize! Even if I (just) keep making moves it is not easy for white. As you can see, at some point (white) runs out (of moves). (White) can play Bd3-c2, but the other bishop has no useful moves."
Fantastic understanding of a genius!
It went into a fascinating endgame where Anand held the advantage for a long time, but couldn't really convert it into a win. In a clearly dominating position, he missed his chances to find an outright win, as he had only 4 minutes remaining on his clock against his opponent's 20.
This was probably the most strategically clear-cut win Anand missed over the board. The win is found – of course, with the help of an engine, analysing without any time pressure – by applying the logic that in any ending with a rook, the win is achieved by activating the rook!
51...Rc6! (Anand went wrong with 51...Re7?!) 52.Ka2 (White can't do much here) 52...Kg2 53.Be1 Rc4 54.Kb3 Re4! 55.Rd1 f5 and white is bound hand and foot.
But it was probably next to impossible to find a sophisticated plan in a tough system with only a single time control, where one cannot gain time in the clock too. The GCT follows the time control of the whole game conducted in 130 minutes with a 30-second delay per move from move 1.
And when finally reached a position where he no more had a win, lady luck smiled on him.
Now, white had to simply arrange Ra8 followed by a6 with the inevitable draw (e.g. 77.Kc5 Rd7 78.Ra8 Kf5 79.a6). But Nepomniachtchi — in a combination of being exhausted himself into the fifth hour of play and having the relaxed feeling of reached a draw already — blundered with 77.Kc4?? b5+! and resigned immediately, as he loses the rook after 78.axb6 Nxb6+.
There was no more prosaic explaining of the turnaround than the tweet by GM Romain Edouard.
Watch the live stream
Replay all games
Links
---