Carlsen wins Altibox Norway Chess 2020 with a round to spare
The world champion wins the Altibox Norway Chess 2020 with a round to spare by beating Firouzja in a dramatic fashion. The final position was a draw which gave us an inkling at the early stage of the game. However, Firouzja faltered and blundered in a completely drawn game. Thus Carlsen wins this event for the third time and second consecutive year with a score of 19.5/27. Firouzja is trailing at the second position with 15.5/27. Aronian beat Tari in the endgame after a wild encounter in their classical game. He maintained his position at third place with 14.5/27. Caruana won against Duda in the Armageddon after a solid draw in their Classical game. Final round games will be played today, Friday 16th October from 8:30 p.m. IST. Photo: Lennart Ootes / Altibox Norway Chess
Firouzja flounders a draw
Carlsen wins Altibox Norway Chess for the second year in-a-row and overall third time when he beat Firouzja in the penultimate round of the tournament. The world champion won the event with a round to spare. Firouzja made some questionable choices which resulted in a drawish game. Eventually in the endgame the position reached to a simple King and Pawn endgame which was an easy draw, however Firouzja faltered and blundered. Aronian played some wild chess in the classical game against Tari and somehow managed to walk away with a draw. In the Armageddon, Tari's choice of Scotch Game almost worked but he couldn't maintain his initiative and the Armenian won his first Armageddon of the event. Duda played some solid chess and drew with Caruana in a hard fought game. However in the Armageddon Duda was unable to steer his ship clear from a difficult endgame resulting in a loss eventually.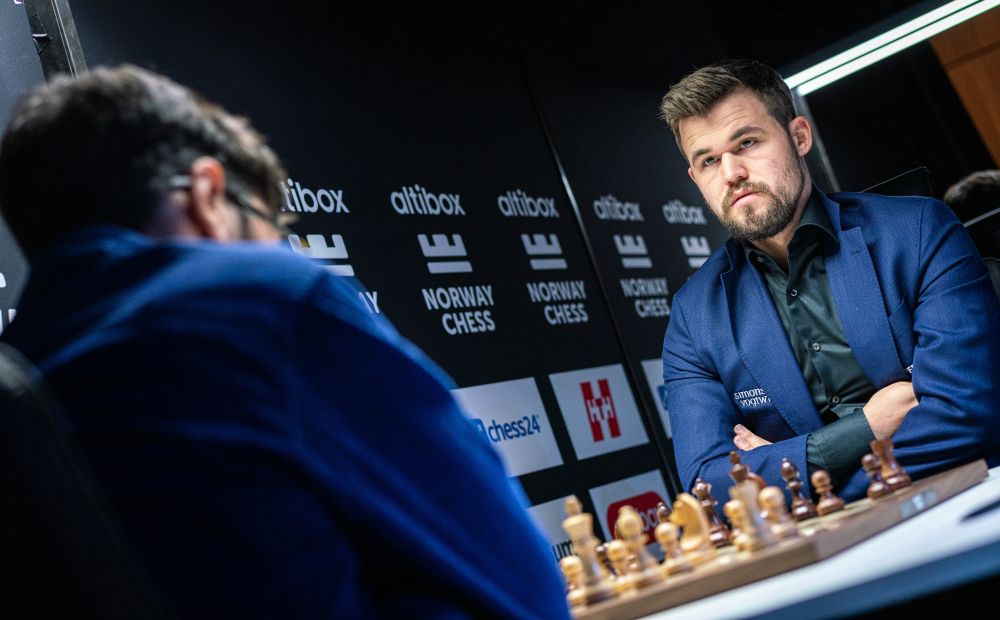 Firouzja - Carlsen 0-3
Firouzja's decision to exchange off queens early in the game in such a crucial round was definitely a bad strategy especially against the world champion. Maybe he was hoping to salvage a draw and go for the win in the Armageddon.
It is true that the position demanded him to trade the queens, but having white pieces and playing against the best of the best, he should have come up with an opening where this could have been avoided. Even the world champion was disappointed with this drawish play.
33.Rc3 was a bad idea. White doesn't need to destroy his pawn structure on the queenside. A simple 33.Rd2 or Bd5 would have maintained the equilibrium of the position.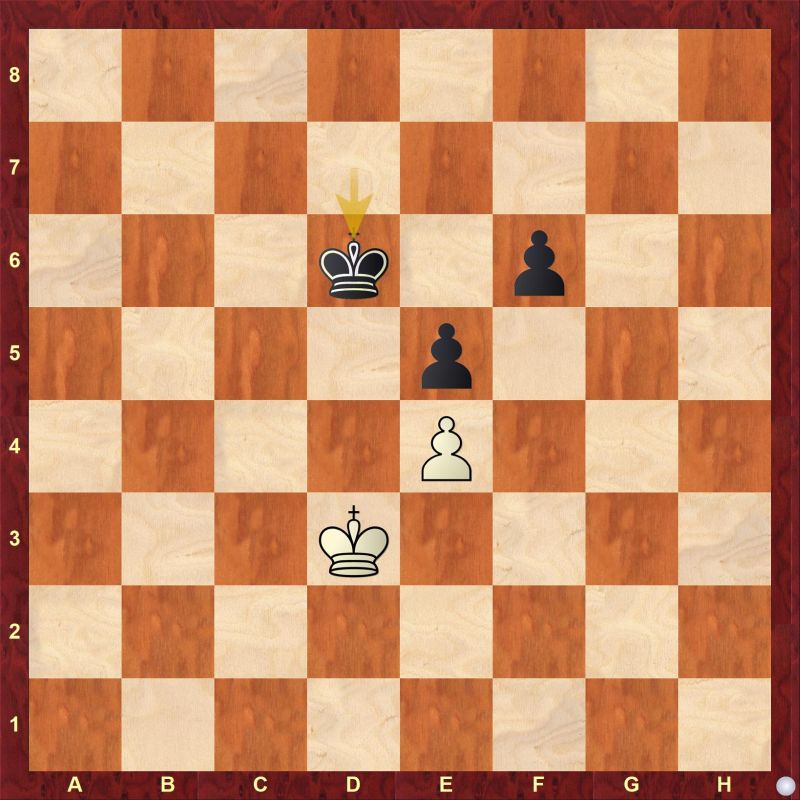 The game reached to a drawn King-Pawn endgame but here white blundered and lost the game. Find out how white should continue here to salvage a draw.
By now it is obvious that Carlsen prefers greeting his opponent with a Namaste than a bow.
Tari - Aronian 1-1.5
Aronian played pretty wild chess in the penultimate round against Tari. He took a lot of chances which resulted in Tari getting a good position but somehow he couldn't capitalize on the opportunity.
Classical
The Armenian made his intentions clear about what he wants with 10...g5. Tari continued with 11.Bxg5 and Aronian could not find a way to stir up trouble as much as he would have liked.
The game went on with 19.Nh2 but what white could have played here instead?
White is still in firm control of the position. How should white capitalize on the advantage? The game eventually ended up in a draw after another 21 moves.
Tari went for Scotch Game in the Armageddon and he managed to a slight advantage early in the middle game.
Armageddon
White played the flashy 16.Nf6+, however if anything that helps black only not white. Find out the simpler and better continuation for white here.
Here Tari made the mistake of playing 21.a4. The a-pawn cannot create anything on the queenside, the b6-knight is not getting trapped either so it was a rather pointless move. Instead 21.Bh6 Rg8 22.Bg5 Qd6 23.f4 was a much more active and better continuation for white. Black got back into the game after 21...f6 and eventually trapped white's bishop and won the game.
Duda - Caruana 1-1.5
Duda had a hard-fought draw with Caruana in their Classical encounter. Neither player gave a shred of chance to their opponent.
Classical
The position is equal and the game is heading towards a draw. It is not difficult for black to save the rook. However black has a few interesting choices here. Can you find them all?
In the Armageddon, Duda got a worse position early in the middle game and he couldn't just make a comeback from there.
Armageddon
It is evident that black has a substantial advantage in this position. What should black do here after 19.Bd5 ?
How should black capitalize on the decisive advantage after 26.Rc2 ? Black wrapped up the game in the next four moves.
Replay Round 9 games
Standings
1. Magnus Carlsen - 19.5
2. Alireza Firouzja - 15.5
3. Levon Aronian - 14.5
4. Fabiano Caruana - 14.0
5. Duda - 9.5
6. Tari - 2.5
Scoring
Players will get following points per round:
Victory in main game: 3 points
Loss in main game: 0 points
Draw in main game & victory Armageddon: 1.5 points
Draw in main game & loss Armageddon: 1 point
Armageddon Rules
• If there is a draw in the classical game then the players will move on to Armageddon within 20 minutes after the draw.
• White pieces will continue with white in Armageddon. With this, there will be a winner in each game due to the fact that black pieces will win if the game ends in a draw.
Prizes
| | |
| --- | --- |
| Rank | Prize |
| 1st | 700000 |
| 2nd | 370000 |
| 3rd | 230000 |
| 4th | 180000 |
| 5th | 170000 |
| 6th | 160000 |
Total Prize fund is NOK 1810000.
Replay the Live Stream
Links
Altibox Norway Chess official site
---