Jan-Krzysztof Duda ends Carlsen's 125-game unbeaten streak
Poland no.1 Jan-Krzysztof Duda ends world champion Carlsen's 125-game unbeaten streak in Round 5 of Altibox Norway Chess. Duda admitted of having the worst tournament of his life until he beat Carlsen to end Carlsen's seemingly invincible unbeaten streak. Carlsen knew it had to end at some point and he was disappointed with the way it ended which is quite obvious as the World no.1 had huge material deficit at the end of the game. Their rematch will take place within 24 hours within the conclusion of their monumental match of epic proportions. Of course you don't want to miss another action packed Round 6 today 11th October from 8:30 p.m. IST. Carlsen is definitely expected to look for retribution today. Photo: Lennart Ootes / Altibox Norway Chess
Aronian takes sole lead
Carlsen's unbeaten streak at one point seemed to be invincible but like he said in a post-match interview that it had to happen at some point. The last time the world champion lost in a classical game was on 31st July 2018 against Mamedyarov in 51st Biel Masters. The unbeaten streak was born on 1st August 2018. After 125 games, two years two months and nine days later, Carlsen's world record of unbeaten streak came to the end against 22-year-old Poland no.1 Jan-Krzysztof Duda. It was quite a brutal end to the streak because it happened in Carlsen's homeland Norway and also the World no.1 had a huge material deficit towards the end. Meanwhile, Aronian beat Caruana to take the sole lead with 11.0/15. Here is a trivia question for you, can you recall when was the last time both world no.1 and 2 - Carlsen and Caruana lost in the same round? Firouzja also had no trouble beating Tari and he moved to the second spot with 10.0/15.
Duda - Carlsen 3-0
Before this round Duda was yet to score a victory in the first five games he played he played in the tournament. He only managed to draw with Tari. Carlsen was leading by a full point going into the first rest day. However, something else was written for them in Round 5.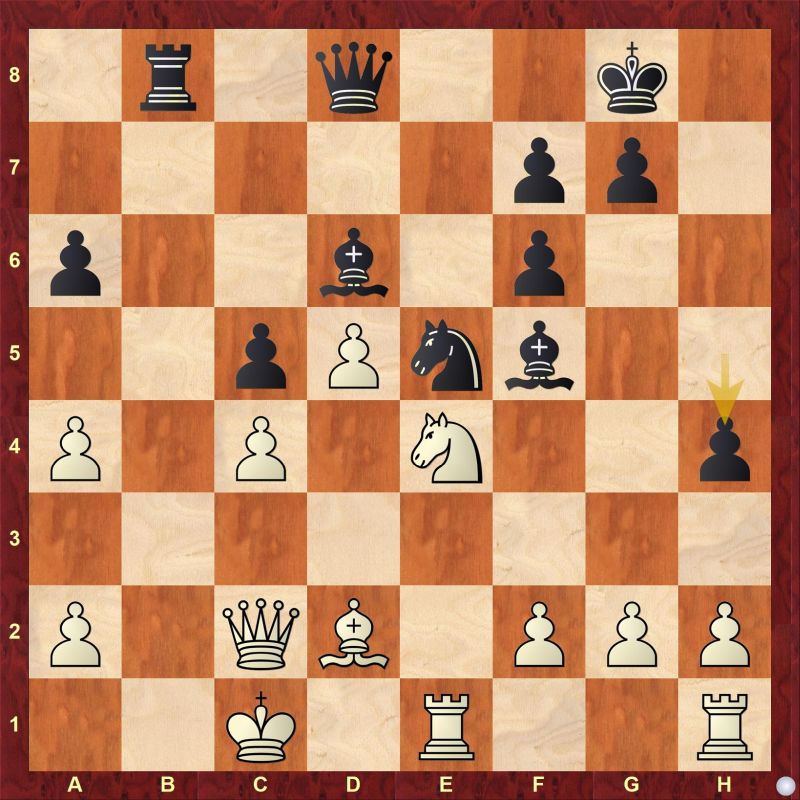 Carlsen overstretched with 21...h4 as it didn't add anything in black's favor but only helped create a target for white.
Perhaps the most critical mistake in the game was 25...f5. Duda being a daredevil and creative player, didn't hesitate to take his chances with 26.Nxd6 Qxd6 27.gxf5 and go for the maximum.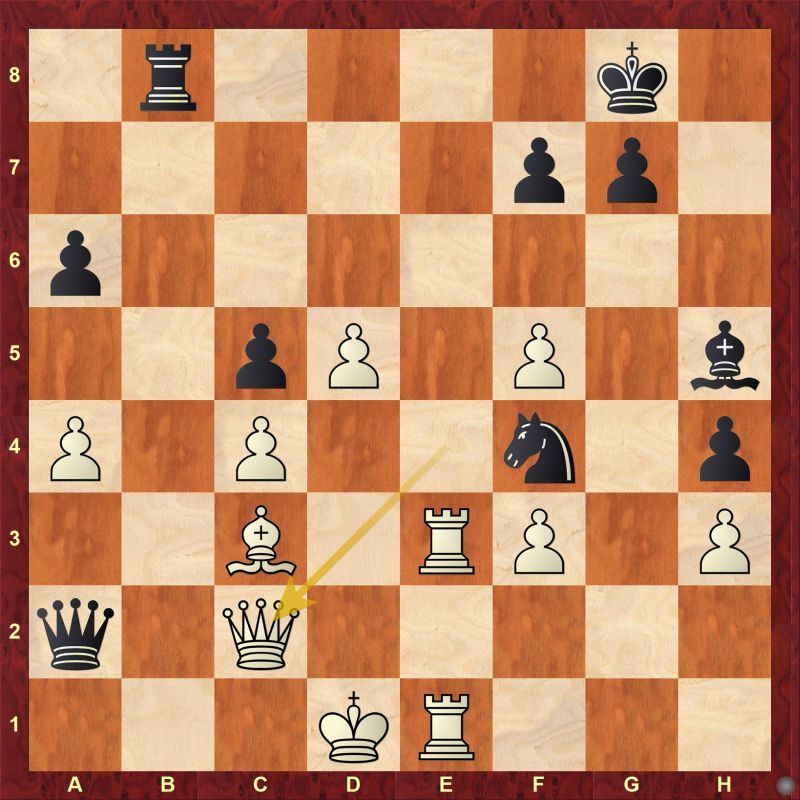 Duda thought that he almost blundered a checkmate in one move. Carlsen in a post-match interview expressed that he thought he was winning and he missed 32.Qc2. Afterwards Carlsen suffered huge material loss and it became just a matter of time, although the Poland no.1 exclaimed that he did not play accurately in the end and he should have finished at least 20 moves earlier than he did.
The last time Carlsen lost in a Classical tournament was on 31st July 2018 against Shakhriyar Mamedyarov at 51st Biel GM Masters. His 125-game unbeaten streak started from the following day - 1st August 2018.
Caruana - Aronian 0-3
Although Caruana had a pawn for his exchange, the position seemed equal until he misjudged his opponent's knight maneuver.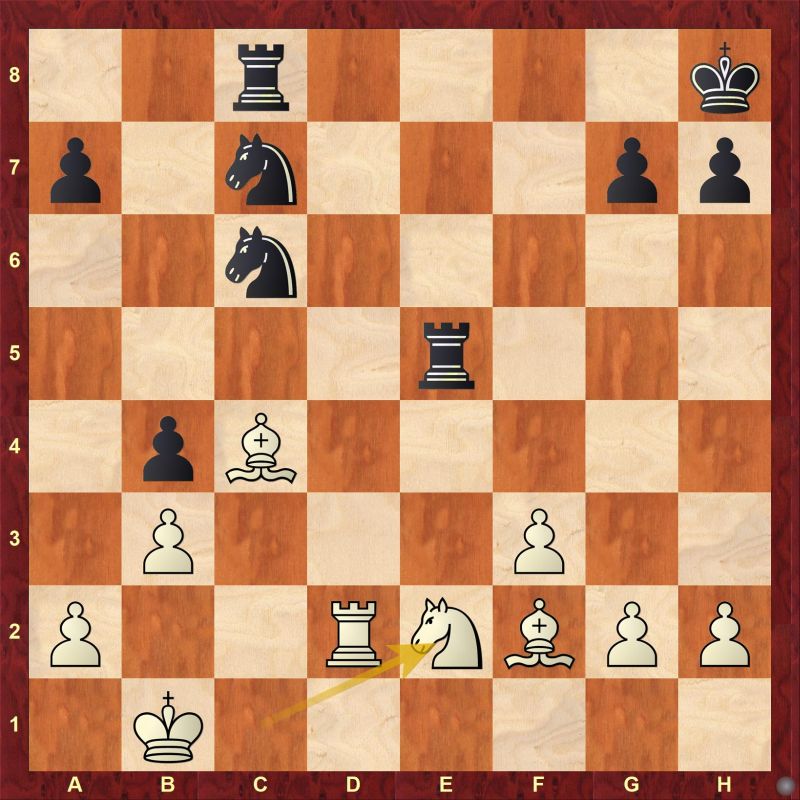 Find out why 30.Ne2 is a mistake and what white should have done instead. With this win Aronian jumped into the sole lead with 11.0/15.
Firouzja - Tari 3-0
Tari suddenly went all passive in the late middle game.
The move 25...Bb8 looks quite passive and the bishop is now out of place. Things just went downhill from here for black.
Photo Gallery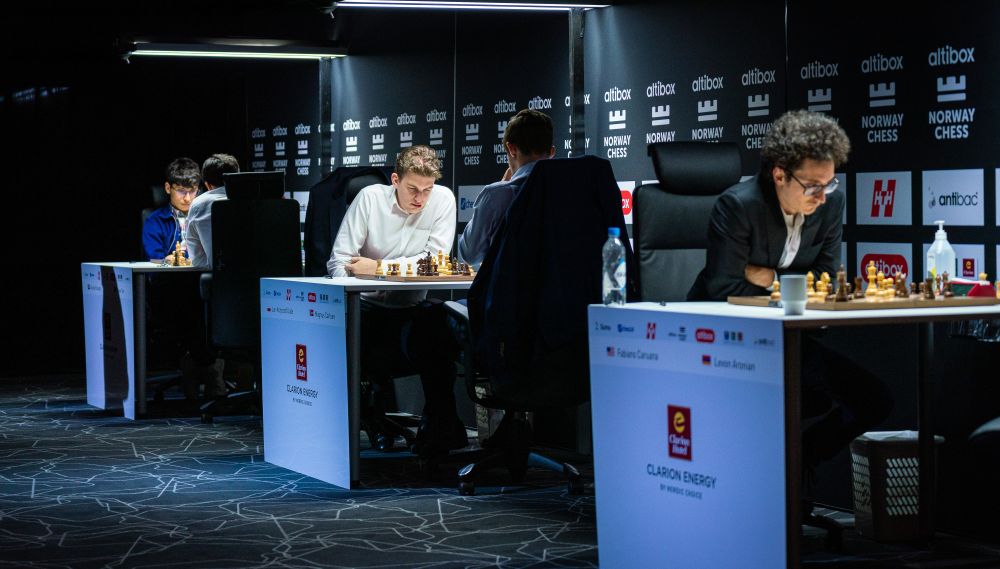 Replay Round 5 games
Results
Standings
Scoring
Players will get following points per round:
Victory in main game: 3 points
Loss in main game: 0 points
Draw in main game & victory Armageddon: 1.5 points
Draw in main game & loss Armageddon: 1 point
Armageddon Rules
• If there is a draw in the classical game then the players will move on to Armageddon within 20 minutes after the draw.
• White pieces will continue with white in Armageddon. With this, there will be a winner in each game due to the fact that black pieces will win if the game ends in a draw.
Prizes
| | |
| --- | --- |
| Rank | Prize |
| 1st | 700000 |
| 2nd | 370000 |
| 3rd | 230000 |
| 4th | 180000 |
| 5th | 170000 |
| 6th | 160000 |
Total Prize fund is NOK 1810000.
Replay the Live Stream
Links
Altibox Norway Chess official site
---