Altibox Norway Chess R8: Carlsen regains his sole lead
The world champion is back at the top as he beat his compatriot Tari quite comfortably with a beautiful finish. Carlsen takes sole lead heading towards the final rest day of Altibox Norway Chess with a score of 16.5/24. Caruana avenged his loss and beat Firouzja in the Armageddon. Firouzja is at the sole second place with 15.5/24. Carlsen and Firouzja will duke it out in Round 9, seemingly virtual final of the event as the result of that game will almost decide the winner of the event. Who do you think will win the battle between Carlsen and Firouzja? Penultimate round games of Round 9 will resume on Thursday 15th October from 8:30 p.m. IST. Photo: Lennart Ootes / Altibox Norway Chess
Aronian loses his fourth Armageddon of the event
Carlsen regained his sole lead by scoring a comfortable victory against compatriot Aryan Tari in Round 8 of Altibox Norway Chess. The world champion is now at 16.5/24. Caruana got his revenge against Firouzja as he beat him in the Armageddon. Firouzja got into trouble out of the opening as he misplayed. Firouzja is currently at second place, a full point behind Carlsen at 15.5/24. Aronian lost his fourth Armageddon of the event, this time against Poland no.1 Duda. The Armenian is at the sole third position with 13.0/24 going into the final rest day of the event. Carlsen will meet Firouzja in Round 9 on 15th October in a virtual final of the event.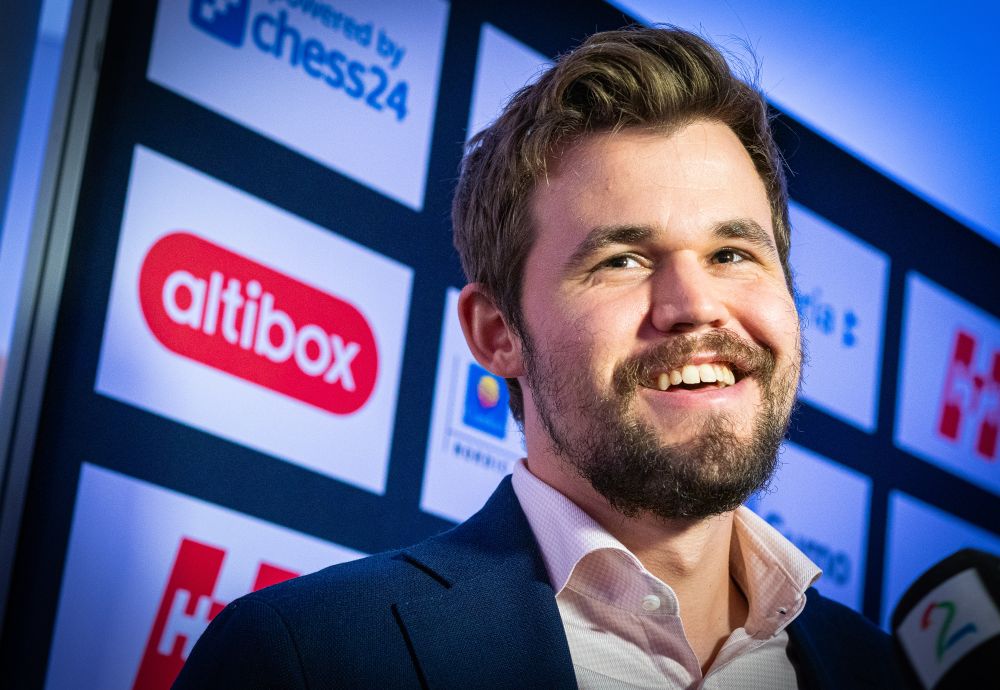 Carlsen - Tari 3-0
Tari started well in the opening but soon got into a position which was obvious that the world champion squeeze out an advantage.
It is evident that white intends to maneuver his knight to the outpost - d5 and control maximum squares, thus 20.Bxf6
In an already difficult position, black played 33...Rc7 and provoked the inevitable 34.Nd5 then Rc8 allowed white to take control of the seventh rank with 35.Ra7 and win became just a matter of time for white.
Find out the fantastic winning continuation for white after 41...Rf7
Carlsen continues his pre-match ritual with a Namaste greeting.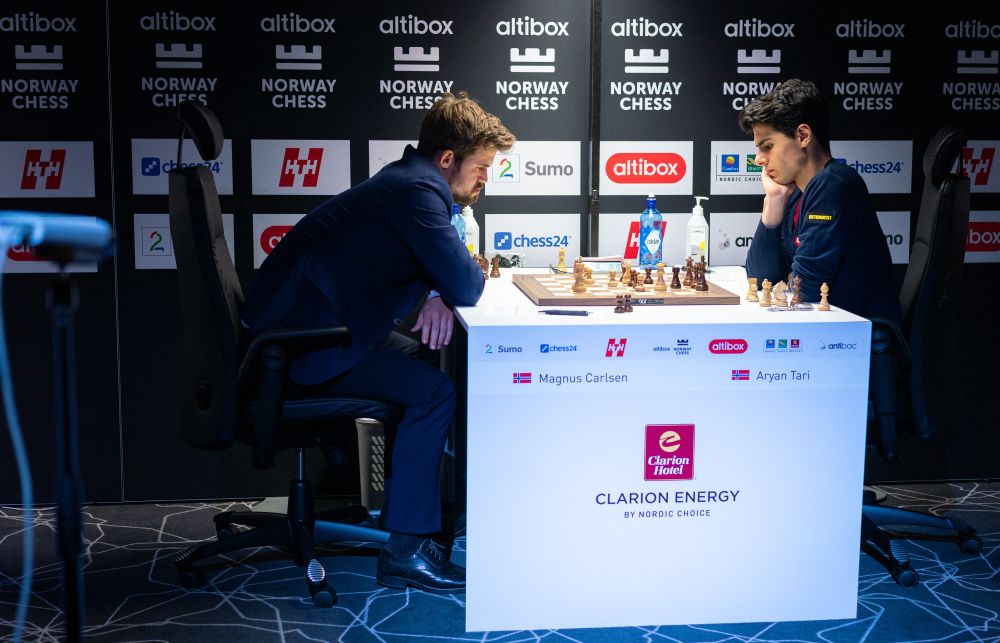 Caruana - Firouzja 1.5-1
Caruana got a good position out of the Fantasy variation of the Caro-Kann.
Classical
There are a couple of ways to create a double pawn on f6 and f7. Caruana chose to go with 16.dxe5. What was the other way? The game eventually petered out to a draw forcing an Armageddon.
Caruana repeated Fantasy variation once again in the Armageddon but Firouzja tried not to repeat the same variation as their Classical encounter.
Armageddon
The first mistake in the Armageddon was definitely 12...e6 as that blinds the d7-bishop and the position looks terrible for black.
Sacrificing the c-pawn with 15...c5 only helped white as he gained massive space advantage on the queenside.
Black seems to threaten both knights on the long diagonal with 30...Qb7 but white has a devastating reply to that. Find out the best continuation for white here.
Aronian - Duda 1-1.5
After having an uneventful draw in the Maroczy of Sicilian, Duda opted for French Defense in the Armageddon.
Armageddon
Knowing that the Armageddon is also heading towards which means Aronian will lose as per the Armageddon rules, in a desperate attempt, he went with 65.Kb5 which is of course losing for white. Find out the winning continuation for black.
Photo Gallery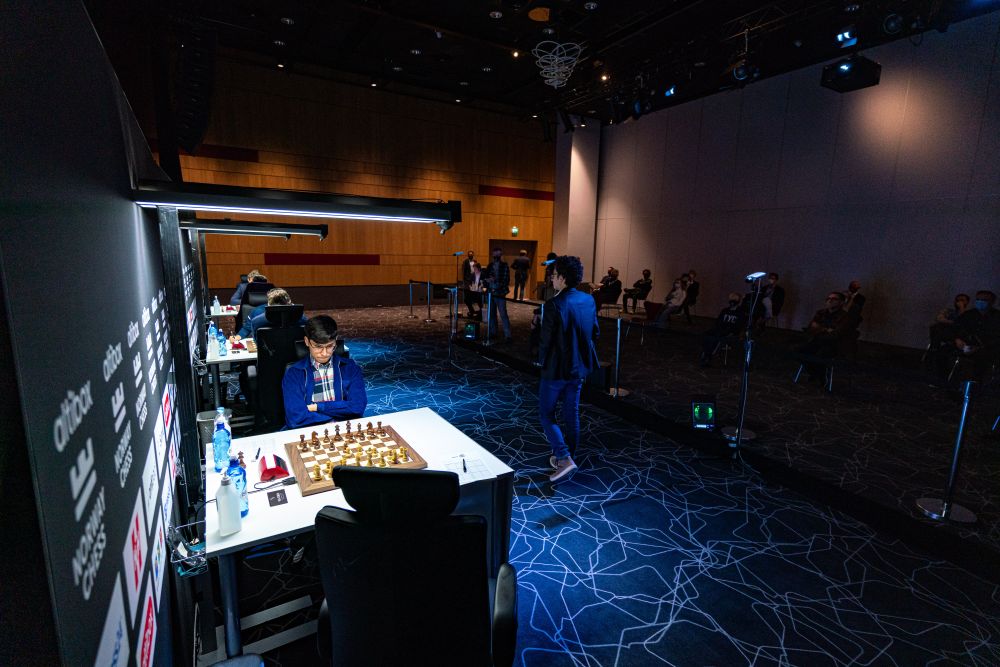 Replay Round 8 games
Results
Standings
Scoring
Players will get following points per round:
Victory in main game: 3 points
Loss in main game: 0 points
Draw in main game & victory Armageddon: 1.5 points
Draw in main game & loss Armageddon: 1 point
Armageddon Rules
• If there is a draw in the classical game then the players will move on to Armageddon within 20 minutes after the draw.
• White pieces will continue with white in Armageddon. With this, there will be a winner in each game due to the fact that black pieces will win if the game ends in a draw.
Prizes
| | |
| --- | --- |
| Rank | Prize |
| 1st | 700000 |
| 2nd | 370000 |
| 3rd | 230000 |
| 4th | 180000 |
| 5th | 170000 |
| 6th | 160000 |
Total Prize fund is NOK 1810000.
Replay the Live Stream
Links
Altibox Norway Chess official site
---