Altibox Norway Chess R4: Carlsen takes sole lead
World Champion Carlsen has taken the lead with 9.0/12 for the first time in Altibox Norway Chess 2020 when he beat World no.2 Caruana in Round 4. Caruana went into Carlsen's favorite territory of endgame by exchanging queens early in the game and then he was unable to defend properly which allowed the Norwegian to take the lead. Firouzja beat Aronian in the Armageddon after making a draw in their Classical encounter. This was the second consecutive Armageddon victory for the youngster. Aronian had his chances but he missed them. Meanwhile Tari beat Duda after his ambitious play almost cost him the Armageddon. Today is a rest day. Catch all the action of Round 5 tomorrow 10th October from 8:30 p.m. IST. Photo: Lennart Ootes / Altibox Norway Chess
Firouzja beats Aronian in the Armageddon
After 19 consecutive draws in their classical encounter, Carlsen beat Caruana in Round 4 of Altibox Norway Chess to take the sole lead with 9.0/12. Caruana opted for an early queen exchange and went straight to the endgame despite being aware of the world champion's endgame prowess. Firouzja made a draw in the classical game against Aronian and beat him in the Armageddon despite arriving almost two minutes late, he jumped to the shared third place with 7.0/12. The Armageddon was a topsy-turvy one where the evaluation kept changing every now and then. Aronian being unable to seize the chances allowed his young opponent to win his second consecutive Armageddon. Tari was determined to win against Duda. Although his ambitions blinded him from seizing decisive advantage in the classical encounter which allowed Duda to salvage a draw. A desperation knight sacrifice almost cost Tari the game but Duda missed his opportunity to capitalize and lost once again.
Carlsen - Caruana 3-0
It is quite a surprise that Caruana went for an early Queen exchange against Carlsen, knowing the fact of the world champion's endgame prowess.
c4 is dangling. What should black do about it?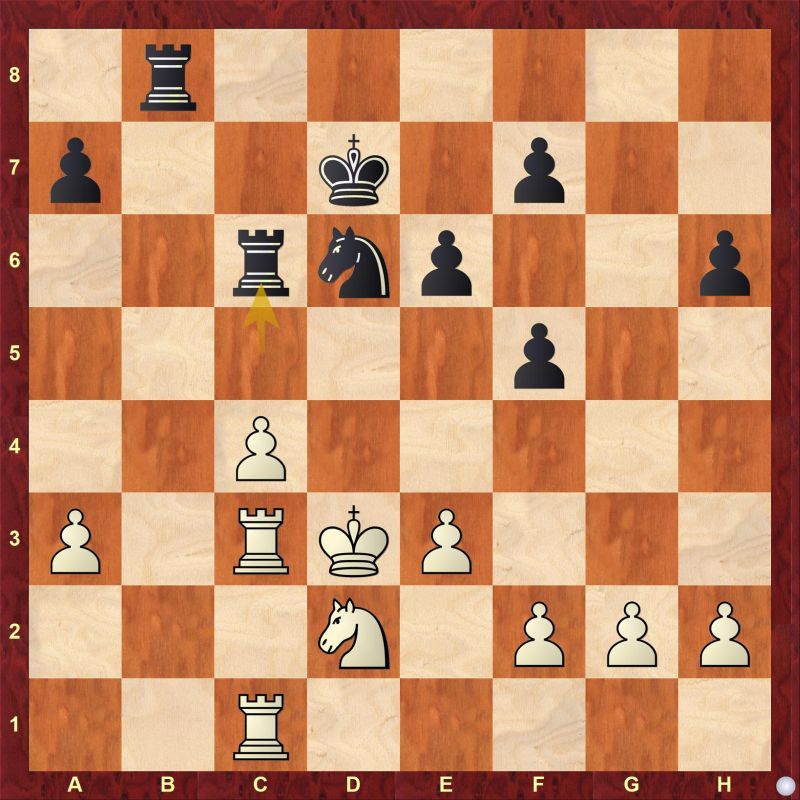 Black again made an incorrect retreat with 30...Rc6. What should have black played instead?
Black's finale mistake in the game was 39...e5 as he lost another pawn and the lost total control of the game.
Carlsen switched back to Namaste greeting from bowing
Aronian - Firouzja 1-1.5
After having an uneventful draw in the Classical encounter, Firouzja played his third consecutive Armageddon, this time against Aronian.
Armageddon
Black has some interesting continuations after 19.b3. Find out what are those.
At one point, black was in grave danger but white didn't play 27.Qxh5 here. Who knows things could have ended in a different way. Both sides got a few winning chances, eventually it was Firouzja who scored his second consecutive Armageddon victory.
Tari - Duda 1.5-1
It was evident that the Norway no.2 wanted to go for a win as he played ambitiously from the very beginning. However when the opportunity presented itself in the endgame, he could not seize it.
Classical game
The game continued with 27.Rxe6 and black managed to save the game. Find out what was the better continuation for white to maintain the decisive advantage.
Being in a must-win situation, Tari out of desperation sacrificed his knight which was certainly not correct.
Armageddon
Black has two choices. Where should black move the king?
Soon after losing the extra material, black made another mistake and lost two more pawns. Find out what black should have played instead of 51...Bxe4
Photo Gallery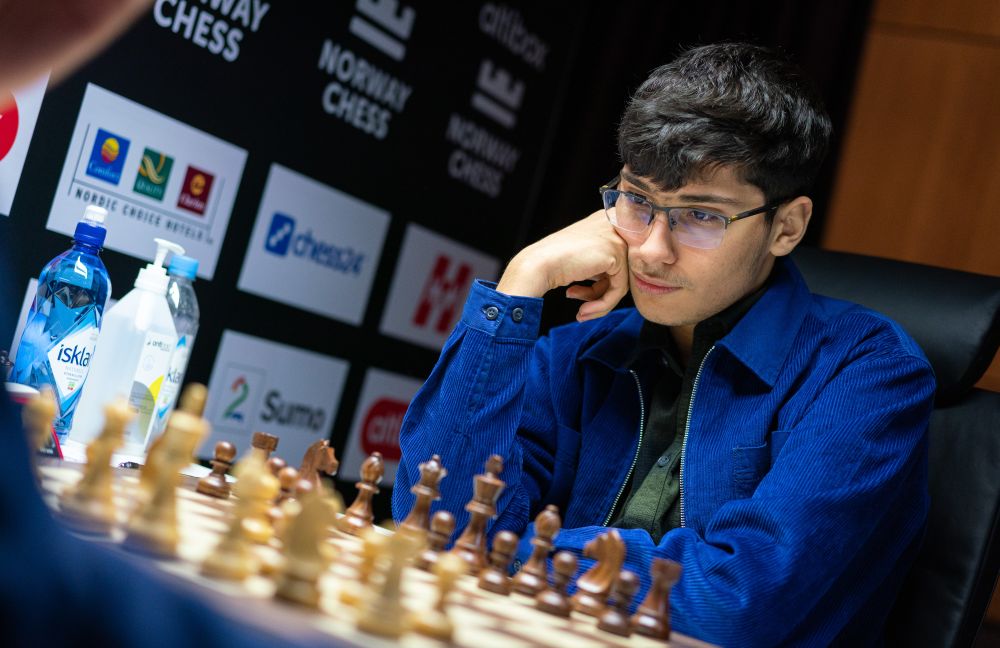 Replay Round 4 games
Results
Standings
Scoring
Players will get following points per round:
Victory in main game: 3 points
Loss in main game: 0 points
Draw in main game & victory Armageddon: 1.5 points
Draw in main game & loss Armageddon: 1 point
Armageddon Rules
• If there is a draw in the classical game then the players will move on to Armageddon within 20 minutes after the draw.
• White pieces will continue with white in Armageddon. With this, there will be a winner in each game due to the fact that black pieces will win if the game ends in a draw.
Prizes
| | |
| --- | --- |
| Rank | Prize |
| 1st | 700000 |
| 2nd | 370000 |
| 3rd | 230000 |
| 4th | 180000 |
| 5th | 170000 |
| 6th | 160000 |
Total Prize fund is NOK 1810000.
Replay the Live Stream
Links
Altibox Norway Chess official site
---