Altibox Norway Chess R2: Carlsen survives a massive scare
Altibox Norway Chess already started heating up as Carlsen steers clear from the jaws of defeat. Although he had a good chance to win the Classical game, it ended up in a draw which turned things in Firouzja's favor as he just needed a draw in the Armageddon to win the round. Firouzja got a winning position but he was unable to seize the brilliant opportunity and Carlsen swerved with a victory. Caruana scored second consecutive victory to take the sole lead with 6.0/6 and birthday boy Aronian won against Tari without breaking a sweat to jump to the shared second spot 4.0/6 with Firouzja. Catch all the action of Round 3 tonight from 8:30 p.m. IST. Photo: Lennart Ootes / Altibox Norway Chess
Caruana takes sole lead
Round 2 witnessed the World Champion Carlsen making another draw in the Classical game, this time against Firouzja. He had quite a decent chance in the endgame but he didn't capitalize on it. In the Armageddon, Carlsen was reeling and was on the brink of defeat. Firouzja despite enjoying the advantage for the better part of the game, couldn't finish properly and lost a golden opportunity to defeat Carlsen in his homeland. Meanwhile Caruana picked up another fine victory and claimed the sole lead with 6.0/6 after Round 2 against Duda. Aronian on his 38th birthday had a cakewalk against Norway no.2 Aryan Tari.
Carlsen - Firouzja 1.5-1
Firouzja faced Carlsen for the first time in an over-the-board tournament since their last encounter at Tata Steel Master 2020 early this year. This time he managed to hold the World Champion to a solid draw. Although Carlsen got a little bit of edge in the endgame which he did not seize.
Classical game
Kramnik during live commentary, "I can assure you that in my childhood if I would have gone 11...b5 in this position, I think I would be immediately excluded from the Botvinnik-Kasparov school for a terrible positional mistake."
Black has played 34...Bc5 to pin the e3-pawn, opening the door for white to capitalize on the mistake. What is the mistake here?
Carlsen played some pretty wild chess in the Armageddon against Firouzja but the young 17-year-old lad maintained his advantage for the better part of the game but was unable to finish it in his favor.
Armageddon
The position definitely screams that it is in black's favor but with great fervor black lost the game on time eventually.
One of the best chances Firouzja had in the Armageddon was after 31.Rxf3. He continued with 31...Nxg3 which is certainly not the best continuation. Find out what did he miss.
One of the final opportunity black had in the game was after 42.Kd3. Once again black missed the opportunity and played 42...Rg3+ instead.
Once again Carlsen greeted his opponent by doing Namaste before the game began.
Caruana - Duda 3-0
Duda once again made a positional mistake in the middlegame, this time against World no.2 Caruana.
Black made the mistake of playing 23...b6 here. Find out what black should have played instead.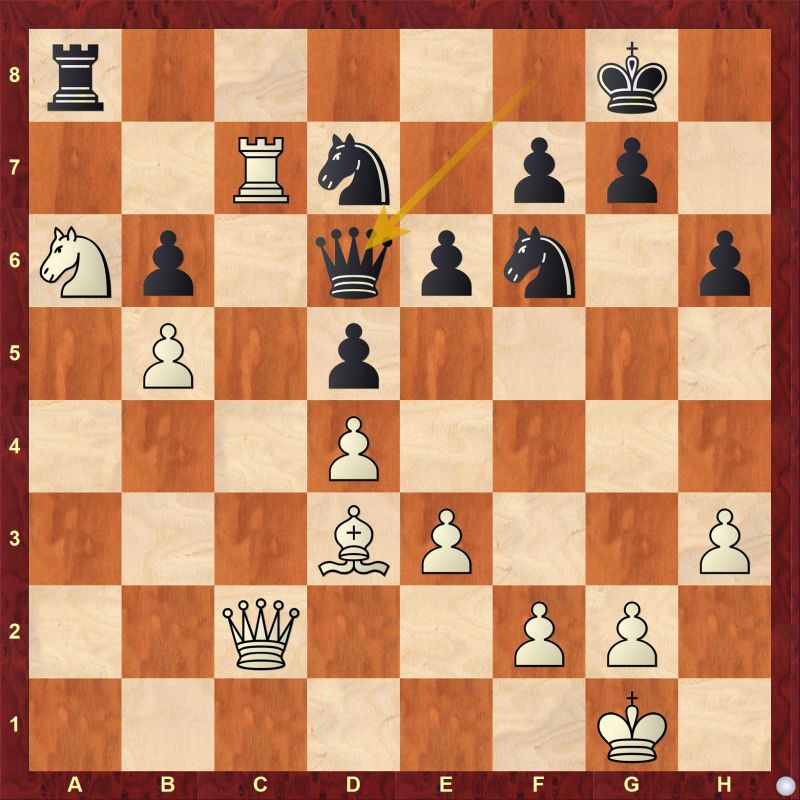 White is in firm control of the position. How should white continue after 29...Qd6 ?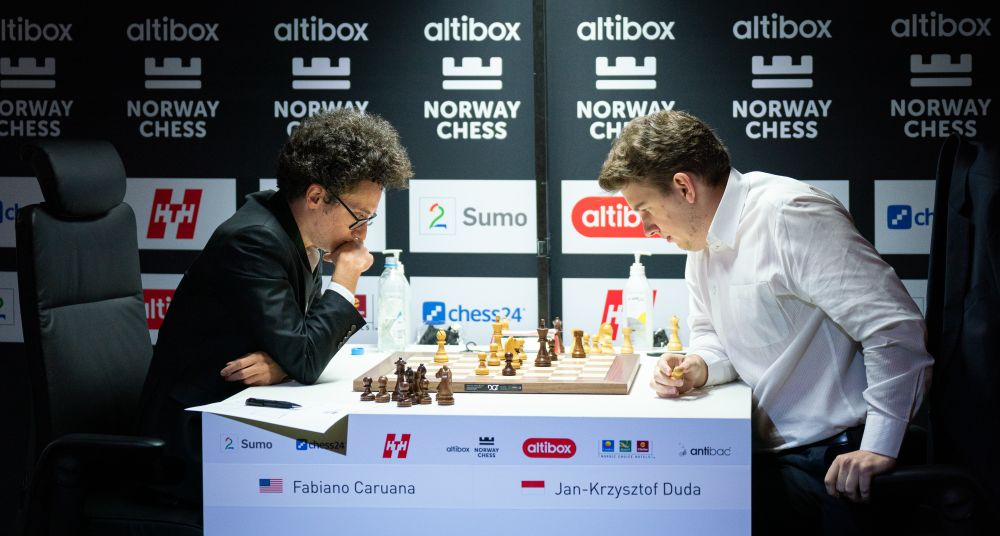 Aronian - Tari 3-0
Aronian on his 38th birthday refuted Marshall Attack and beat Tari without any difficulty.
How should black continue here? Soon afterwards white got a winning position and rest became just a matter of technique.
Aronian was surprised on his birthday with a live performance after his game.
Photo Gallery
Replay Round 2 games
Results
Standings
Scoring
• Players will get following points per round:
Victory in main game: 3 points
Loss in main game: 0 points
Draw in main game & victory Armageddon: 1.5 points
Draw in main game & loss Armageddon: 1 point
Armageddon Rules
• If there is a draw in the classical game then the players will move on to Armageddon within 20 minutes after the draw.
• White pieces will continue with white in Armageddon. With this, there will be a winner in each game due to the fact that black pieces will win if the game ends in a draw.
Prizes
| | |
| --- | --- |
| Rank | Prize |
| 1st | 700000 |
| 2nd | 370000 |
| 3rd | 230000 |
| 4th | 180000 |
| 5th | 170000 |
| 6th | 160000 |
Total Prize fund is NOK 1810000.
Replay the Live Stream
Links
Altibox Norway Chess official site
---