Altibox Norway Chess R6: Carlsen avenges his loss
Less than 24 hours after a fantastic day for Poland sports, Duda faced Carlsen in their rematch. Of course the rematch was according to the pairings only. Carlsen decimated Duda in just 26 moves as the Pole kept changing his plans and landed himself in deep trouble. Meanwhile Caruana also avenged his loss of the previous round against Aronian after the Armenian was unable to continue the attack which had promises to be devastating. Firouzja continues his fantastic form as he defeated Tari once again with a beautiful finish to take sole lead with 13.0/18. Catch all the action of Round 7 today 12th October from 8:30 p.m. IST. Photo: Lennart Ootes / Altibox Norway Chess
Firouzja takes sole lead
For the second consecutive round, Altibox Norway Chess witnessed zero draws. All three games had decisive results. Carlsen faced Duda less than 24 hours after losing to him. Of course after a loss, he is that much more fierce which was evident as he defeated Duda without any difficulty in just 26 moves. With this win the world champion jumped to the sole second position with 12.0/18. Caruana managed to turn things around against Aronian as it was the Armenian who launched an attack initially but he could not continue it. Aronian is now at third position with 11.0/18, followed by Caruana at fourth with 10.0/18. Firouzja scored another fantastic victory over Tari with a beautiful finish. He takes the sole lead with 13.0/18
Carlsen - Duda 3-0
Less than 24 hours after Duda ended Carlsen's 125-game unbeaten streak, their rematch took place and the game got over in just 26 moves. It was short and almost one-sided.
Carlsen in a post-match interview said, "I knew the position after 10.Ng3, basically all the way up till that point I was thinking, I know Ng3, how am I going to respond to c5? I couldn't see anything other than this pawn sacrifice. So I was just hoping that it would be good." He also mentioned that losing the streak wasn't that big a deal as it had to happen at some point.
Like the world champion said, Duda kept changing plans and pieces are also not well placed, so things went south very quickly for the Pole and the game ended in another seven moves.
Aronian - Caruana 0-3
Aronian got a fantastic attack in the middle game but he somehow misplayed and allowed his opponent Caruana to make a comeback.
White is obviously having a fantastic position. Find out what is the best way for white to continue the attack.
What is the best way for black to continue the attack?
Tari - Firouzja 0-3
Firouzja scored another fantastic win over Tari to take the sole lead with 13.0/18
The f4-bishop does not have any good square it can go to. So what should black do here?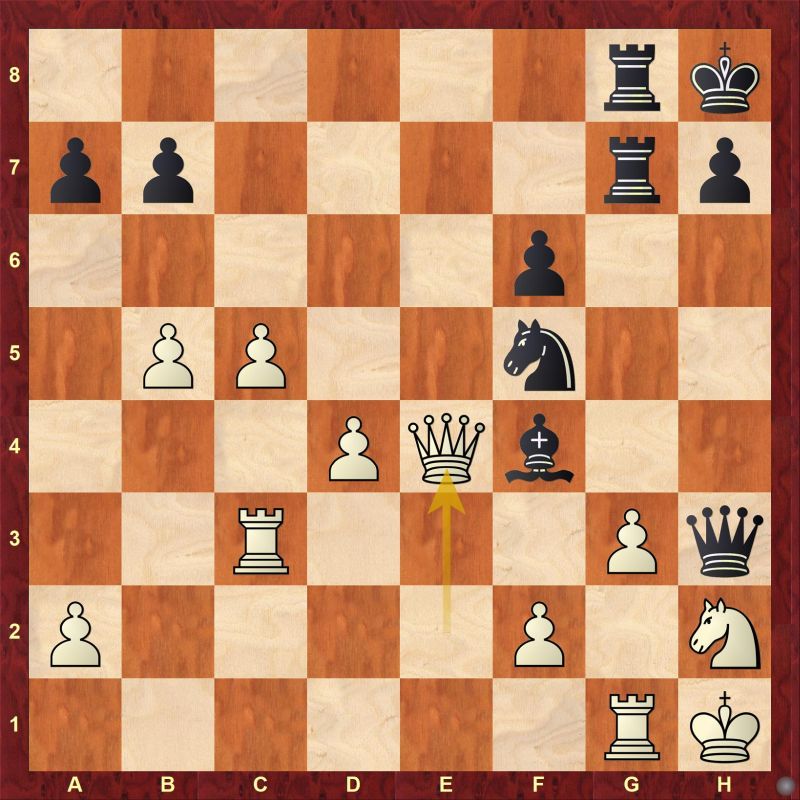 Find out the beautiful finish for black after 32.Qxe4
Replay Round 6 games
Results
Standings
Scoring
Players will get following points per round:
Victory in main game: 3 points
Loss in main game: 0 points
Draw in main game & victory Armageddon: 1.5 points
Draw in main game & loss Armageddon: 1 point
Armageddon Rules
• If there is a draw in the classical game then the players will move on to Armageddon within 20 minutes after the draw.
• White pieces will continue with white in Armageddon. With this, there will be a winner in each game due to the fact that black pieces will win if the game ends in a draw.
Prizes
| | |
| --- | --- |
| Rank | Prize |
| 1st | 700000 |
| 2nd | 370000 |
| 3rd | 230000 |
| 4th | 180000 |
| 5th | 170000 |
| 6th | 160000 |
Total Prize fund is NOK 1810000.
Replay the Live Stream
Links
Altibox Norway Chess official site
---