56th Biel MTO R5: Vantika Agrawal makes a strong start 4/5
GM Xiangzhi Bu defeated his fellow compatriot GM Yan Liu to emerge sole leader 4.5/5 at 56th Biel Chess Festival 2023 MTO. IM Aditya S Samant played solid chess to hold GM Pranav Anand to a draw after 99 moves. IM Harikrishnan A Ra made a quick draw against GM Ngoc Truong Son Nguyen (VIE). GM Aryan Chopra bounced back by scoring a victory over IM Lukasz Licznerski (POL). IM Vantika Agrawal defeated Xiongjian Peng (CHN) to register her third win in-a-row and move to 4/5. In the GMT, Arjun Erigaisi suffered his second consecutive loss in the Classical event. This time against the defending champion, Liem Quang Le (VIE). Vincent Keymer (GER) won against Yangyi Yu (CHN) to gain sole lead 21/30. GMT Blitz Round 1 starts today from 2 p.m. local time, 5:30 p.m. IST. Today is a rest day for the MTO. Photos: Biel Chess Festival
GMT R4: Arjun Erigaisi loses two in-a-row
Arjun Erigaisi has not been able to get start at this iconic event. With FIDE World Cup 2023 looming large, he needs to regroup quickly and get himself back on track. This is the best event he could ask for before the important event.
MTO Round 5: Xiongjian - Vantika: 0-1
Xiongjian Peng (CHN, 2489) might be untitled. However, his rating clearly indicates his strength.
30.Qa3? does not help White to gain the c5-pawn. It actually turns things in his opponent, IM Vantika Agrawal's (2428) favor. 30...Bh3 31.Bh1 Qg4+ 32.Kf2 b6 and Black eventually went on to win the game with precise play.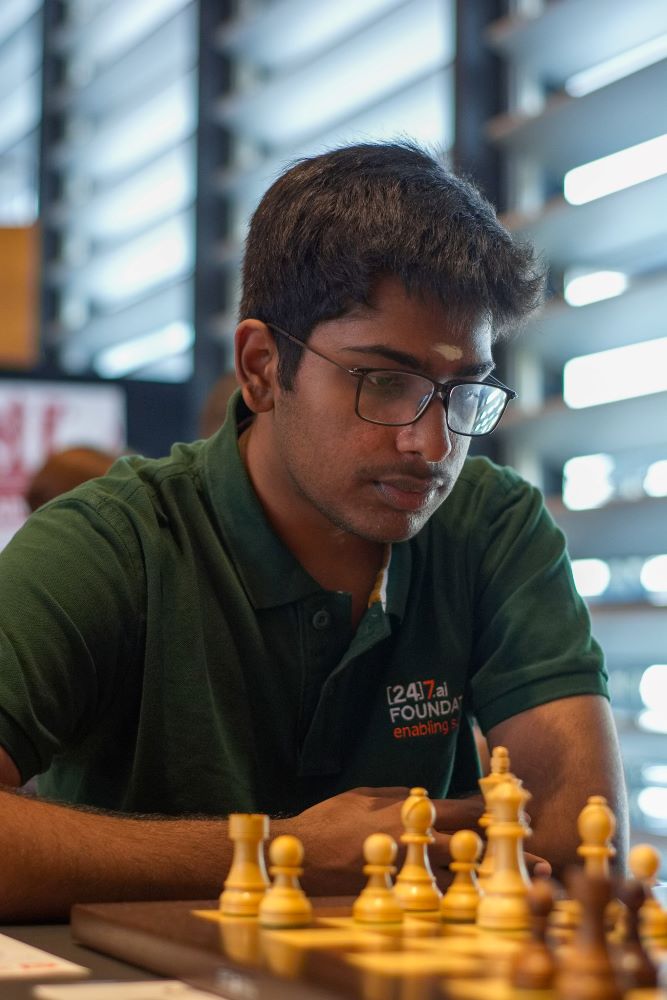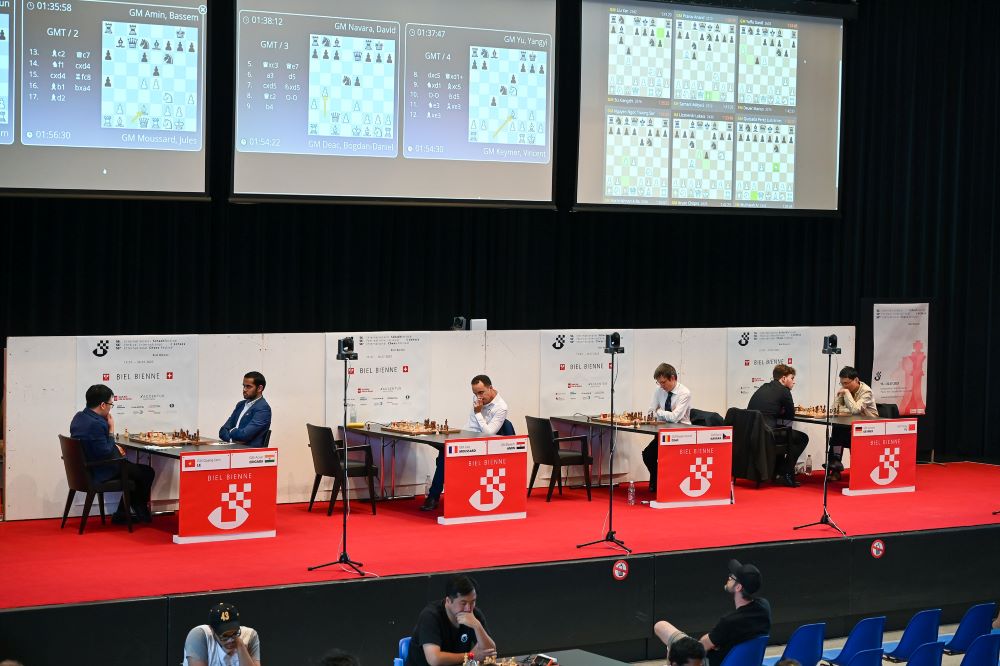 GMT Scoring
Rapid: Win = 2 points, Draw = 1 point and Loss = 0
Classical: Win = 4 points, Draw = 1.5 points and Loss = 0
Replay GMT Round 4 games
Replay MTO Round 5 games
GMT Round 4 results
Current GMT standings
Round 5 pairings
MTO Round 5 results
| | | | | | | | | | | | | |
| --- | --- | --- | --- | --- | --- | --- | --- | --- | --- | --- | --- | --- |
| Bo. | No. | | Name | Rtg | Pts. | Result | Pts. | | Name | Rtg | No. | PGN |
| 1 | 1 | GM | Bu, Xiangzhi | 2676 | 3½ | 1 - 0 | 4 | GM | Liu, Yan | 2542 | 9 | PGN |
| 2 | 11 | IM | Samant, Aditya S | 2510 | 3½ | ½ - ½ | 3½ | GM | Pranav, Anand | 2510 | 10 | PGN |
| 3 | 39 | FM | Deuer, Marius | 2374 | 3½ | ½ - ½ | 3 | GM | Yuffa, Daniil | 2603 | 4 | PGN |
| 4 | 32 | IM | Harikrishnan, A Ra | 2406 | 3 | ½ - ½ | 3 | GM | Nguyen, Ngoc Truong Son | 2645 | 2 | PGN |
| 5 | 3 | GM | Aryan, Chopra | 2626 | 3 | 1 - 0 | 3 | IM | Licznerski, Lukasz | 2430 | 26 | PGN |
| 6 | 5 | GM | Albornoz Cabrera, Carlos Daniel | 2591 | 3 | ½ - ½ | 3 | | Huang, Renjie | 2445 | 22 | PGN |
| 7 | 21 | IM | Muthaiah, Al | 2445 | 3 | ½ - ½ | 3 | GM | Quesada Perez, Luis Ernesto | 2553 | 8 | PGN |
| 8 | 35 | IM | Ajay Krishna, S | 2390 | 3 | 0 - 1 | 3 | IM | Rodrigue-Lemieux, Shawn | 2495 | 12 | PGN |
| 9 | 13 | | Peng, Xiongjian | 2489 | 3 | 0 - 1 | 3 | WGM | Vantika, Agrawal | 2428 | 28 | PGN |
| 10 | 17 | IM | Wang, Chen | 2477 | 3 | 1 - 0 | 3 | FM | Jain, Kashish Manoj | 2375 | 37 | PGN |
Standings after Round 5
| | | | | | | | | |
| --- | --- | --- | --- | --- | --- | --- | --- | --- |
| Rk. | SNo | | Name | FED | Rtg | Pts. | TB1 | TB2 |
| 1 | 1 | GM | Bu, Xiangzhi | CHN | 2676 | 4,5 | 12,5 | 52,5 |
| 2 | 3 | GM | Aryan, Chopra | IND | 2626 | 4 | 14,5 | 50 |
| 3 | 10 | GM | Pranav, Anand | IND | 2510 | 4 | 14 | 51,5 |
| 4 | 9 | GM | Liu, Yan | CHN | 2542 | 4 | 13,5 | 52,5 |
| 5 | 39 | FM | Deuer, Marius | GER | 2374 | 4 | 13,5 | 52 |
| 6 | 12 | IM | Rodrigue-Lemieux, Shawn | CAN | 2495 | 4 | 13 | 51,5 |
| 7 | 11 | IM | Samant, Aditya S | IND | 2510 | 4 | 12 | 52,5 |
| 8 | 17 | IM | Wang, Chen | CHN | 2477 | 4 | 11,5 | 52 |
| 9 | 28 | WGM | Vantika, Agrawal | IND | 2428 | 4 | 11,5 | 51,5 |
| 10 | 32 | IM | Harikrishnan, A Ra | IND | 2406 | 3,5 | 14 | 53 |
Round 6 pairings
| | | | | | | | | | | | |
| --- | --- | --- | --- | --- | --- | --- | --- | --- | --- | --- | --- |
| Bo. | No. | | Name | Rtg | Pts. | Result | Pts. | | Name | Rtg | No. |
| 1 | 3 | GM | Aryan, Chopra | 2626 | 4 | | 4½ | GM | Bu, Xiangzhi | 2676 | 1 |
| 2 | 12 | IM | Rodrigue-Lemieux, Shawn | 2495 | 4 | | 4 | GM | Liu, Yan | 2542 | 9 |
| 3 | 10 | GM | Pranav, Anand | 2510 | 4 | | 4 | FM | Deuer, Marius | 2374 | 39 |
| 4 | 28 | WGM | Vantika, Agrawal | 2428 | 4 | | 4 | IM | Samant, Aditya S | 2510 | 11 |
| 5 | 5 | GM | Albornoz Cabrera, Carlos Daniel | 2591 | 3½ | | 4 | IM | Wang, Chen | 2477 | 17 |
| 6 | 2 | GM | Nguyen, Ngoc Truong Son | 2645 | 3½ | | 3½ | IM | Muthaiah, Al | 2445 | 21 |
| 7 | 4 | GM | Yuffa, Daniil | 2603 | 3½ | | 3½ | IM | Materia, Marco | 2436 | 25 |
| 8 | 8 | GM | Quesada Perez, Luis Ernesto | 2553 | 3½ | | 3½ | | Jinan, Jomon | 2409 | 31 |
| 9 | 20 | IM | Chasin, Nico | 2455 | 3½ | | 3½ | IM | Samadov, Read | 2482 | 16 |
| 10 | 22 | | Huang, Renjie | 2445 | 3½ | | 3½ | IM | Rathanvel, V S | 2463 | 19 |
Links
---