56th Biel GMT R2: Arjun Erigaisi misses against David Navara
GM Arjun Erigaisi had a great opportunity to win against GM David Navara (CZE) for the first time at 56th Biel Chess Festival GMT 2023. Despite finding the correct way to gain substantial advantage, the teenager could not find the intricate maneuver of his rooks, before creating an escape route for his king. This draw helped the Czech Republic no.1 to maintain his sole lead in the GMT 15.5/22. GM Aryan Chopra and IM Aditya S Samant scored comfortable victories to become the early leaders with GM Yan Liu (CHN) 3/3. IM Harikrishnan A Ra continues his great form as he drew a difficult endgame against GM Pranav Anand. Round 3 GMT and Round 4 MTO starts today from 2 p.m. local time, 5:30 p.m. IST. Photos: Biel Chess Festival
MTO R3: Aryan Chopra and Aditya Samant in a three-way lead
GMT Round 2: Arjun - Navara: 1.5-1.5
Both Classical rated games earlier between GM Arjun Erigaisi (2710) and GM David Navara (CZE, 2689) ended in draws. Arjun gained a significant upper hand by sacrificing his knight to break the center wide open.
White sacrificed his knight 21.Nxd5! exd5 22.e6! now the best way for Black to minimize the damage is to go 22...Bxd4 23.exd7+ Kxd7 24.Qxd4 Qxd4 25.Rxd4 Kc6. The Czech Republic no.1 opted for 22...Bxe6? 23.Nxe6 fxe6 24.Qxd5 gave White a decisive advantage Kf7 25.Qd7+ Be7 26.Rd3 Rh7 27.Rf3+ Kg8 28.Rxe6 Rd8 29.Qxe7 Rxe7 30.Rxb6 Rd1+ 31.Ka2 Ree1 32.b4 a4
White does not need to play 33.b3 immediately to prevent the checkmate. He needed to improve the position of his rooks first before creating an escape route for his king. Thus, 33.Rg6+ Kh8 34.Rf8+ Kh7 35.Rf7+ Kf8 36.b3 Ra1+ 37.Kb2 a3+ 38.Kc3 a2 now the difference maker happens 39.Rgf6 makes the checkmate threat which forces Black to retreat one of his rooks 39...Re8 40.Kb2 now a2-pawn drops. Black's last threat is eliminated and White is winning comfortably. Playing 33.b3? directly allowed Black to salvage a draw Ra1+ 34.Kb2 a3+ 35.Kc3 Re7 now White is unable to make any checkmate threats.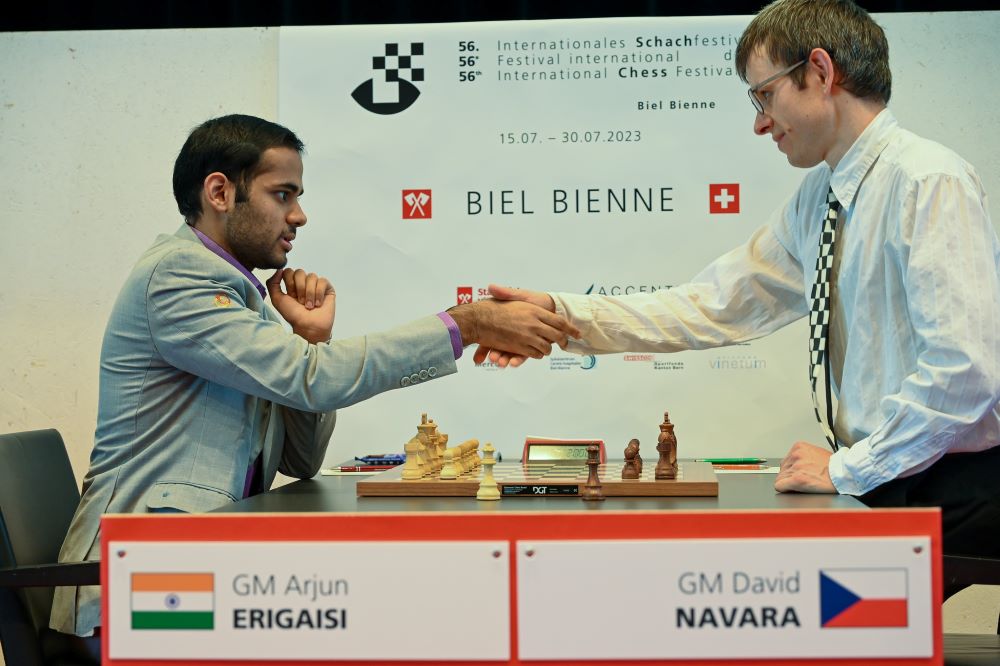 MTO Round 3: Harikrishnan - Pranav: 0.5-0.5
IM Harikrishnan A Ra (2406) had a complex rook and same color bishop endgame against GM Pranav Anand (2510).
The idea behind 51...Kf6 is quite simple. Black wants to go Ra3 and deliver Rf3# White has many ways to defend it, however, it is not easy to figure out which is the best. 52.h3 is one of the obvious choices. White went for 52.Rc2? Ra3 53.e5+ Kg6? 54.Bg2 and the game ended in a draw in another dozen moves. According to the computer, 53...Ke7 would have maintained a decisive advantage for Black. The difference is, now Be4 is no longer a check which gives Black enough time to use the c4-passed pawn and win the game.
The longest game of the day was between GM Carlos Daniel Albornoz Cabrera (CUB) and IM Irene Kharisma Sukandar (INA). It went for 8 hours and 1 minute spanning 168 moves when a draw was agreed
GMT Scoring
Rapid: Win = 2 points, Draw = 1 point and Loss = 0
Classical: Win = 4 points, Draw = 1.5 points and Loss = 0
Replay GMT Round 2 games
Replay MTO Round 3 games
GMT Round 2 results
Current GMT standings
Round 3 pairings
MTO Round 3 results
| | | | | | | | | | | | | |
| --- | --- | --- | --- | --- | --- | --- | --- | --- | --- | --- | --- | --- |
| Bo. | No. | | Name | Rtg | Pts. | Result | Pts. | | Name | Rtg | No. | PGN |
| 1 | 1 | GM | Bu, Xiangzhi | 2676 | 2 | ½ - ½ | 2 | IM | Chasin, Nico | 2455 | 20 | PGN |
| 2 | 3 | GM | Aryan, Chopra | 2626 | 2 | 1 - 0 | 2 | | Huang, Renjie | 2445 | 22 | PGN |
| 3 | 25 | IM | Materia, Marco | 2436 | 2 | ½ - ½ | 2 | GM | Quesada Perez, Luis Ernesto | 2553 | 8 | PGN |
| 4 | 9 | GM | Liu, Yan | 2542 | 2 | 1 - 0 | 2 | IM | Licznerski, Lukasz | 2430 | 26 | PGN |
| 5 | 32 | IM | Harikrishnan, A Ra | 2406 | 2 | ½ - ½ | 2 | GM | Pranav, Anand | 2510 | 10 | PGN |
| 6 | 11 | IM | Samant, Aditya S | 2510 | 2 | 1 - 0 | 2 | FM | Toktomushev, Teimur | 2206 | 64 | PGN |
| 7 | 5 | GM | Albornoz Cabrera, Carlos Daniel | 2591 | 1½ | ½ - ½ | 2 | IM | Sukandar, Irine Kharisma | 2358 | 42 | PGN |
| 8 | 31 | | Jinan, Jomon | 2409 | 1½ | 0 - 1 | 1½ | GM | Nguyen, Ngoc Truong Son | 2645 | 2 | PGN |
| 9 | 29 | WGM | Huang, Qian | 2422 | 1½ | 0 - 1 | 1½ | GM | Yuffa, Daniil | 2603 | 4 | PGN |
| 10 | 33 | IM | Shlyakhtenko, Robert | 2401 | 1½ | ½ - ½ | 1½ | GM | Erdos, Viktor | 2571 | 6 | PGN |
Standings after Round 3
| | | | | | | | | |
| --- | --- | --- | --- | --- | --- | --- | --- | --- |
| Rk. | SNo | | Name | FED | Rtg | Pts. | TB1 | TB2 |
| 1 | 3 | GM | Aryan, Chopra | IND | 2626 | 3 | 4 | 10 |
| 2 | 9 | GM | Liu, Yan | CHN | 2542 | 3 | 4 | 9,5 |
| 3 | 11 | IM | Samant, Aditya S | IND | 2510 | 3 | 3 | 9,5 |
| 4 | 32 | IM | Harikrishnan, A Ra | IND | 2406 | 2,5 | 4,5 | 9 |
| 5 | 20 | IM | Chasin, Nico | USA | 2455 | 2,5 | 4,5 | 8,5 |
| 6 | 8 | GM | Quesada Perez, Luis Ernesto | CUB | 2553 | 2,5 | 4,5 | 8 |
| | 10 | GM | Pranav, Anand | IND | 2510 | 2,5 | 4,5 | 8 |
| 8 | 1 | GM | Bu, Xiangzhi | CHN | 2676 | 2,5 | 4 | 9 |
| 9 | 42 | IM | Sukandar, Irine Kharisma | INA | 2358 | 2,5 | 4 | 8 |
| 10 | 2 | GM | Nguyen, Ngoc Truong Son | VIE | 2645 | 2,5 | 3,5 | 10 |
Round 4 pairings
| | | | | | | | | | | | |
| --- | --- | --- | --- | --- | --- | --- | --- | --- | --- | --- | --- |
| Bo. | No. | | Name | Rtg | Pts. | Result | Pts. | | Name | Rtg | No. |
| 1 | 9 | GM | Liu, Yan | 2542 | 3 | | 3 | GM | Aryan, Chopra | 2626 | 3 |
| 2 | 2 | GM | Nguyen, Ngoc Truong Son | 2645 | 2½ | | 3 | IM | Samant, Aditya S | 2510 | 11 |
| 3 | 42 | IM | Sukandar, Irine Kharisma | 2358 | 2½ | | 2½ | GM | Bu, Xiangzhi | 2676 | 1 |
| 4 | 4 | GM | Yuffa, Daniil | 2603 | 2½ | | 2½ | IM | Muthaiah, Al | 2445 | 21 |
| 5 | 8 | GM | Quesada Perez, Luis Ernesto | 2553 | 2½ | | 2½ | IM | Harikrishnan, A Ra | 2406 | 32 |
| 6 | 10 | GM | Pranav, Anand | 2510 | 2½ | | 2½ | IM | Materia, Marco | 2436 | 25 |
| 7 | 18 | IM | Saraci, Nderim | 2472 | 2½ | | 2½ | FM | Deuer, Marius | 2374 | 39 |
| 8 | 20 | IM | Chasin, Nico | 2455 | 2½ | | 2 | | Peng, Xiongjian | 2489 | 13 |
| 9 | 34 | IM | Morawietz, Dieter | 2396 | 2 | | 2 | GM | Albornoz Cabrera, Carlos Daniel | 2591 | 5 |
| 10 | 6 | GM | Erdos, Viktor | 2571 | 2 | | 2 | IM | Ajay Krishna, S | 2390 | 35 |
Links
---