56th Biel MTO R8: Aditya Samant on the verge of becoming India's next GM
IM Aditya Samant held the sole leader GM Xiangzhi Bu (CHN) to a draw in the eighth round of 56th Biel Chess Festival MTO 2023. Aditya's ninth round opponent, GM Aryan Chopra needs to turn up, irrespective of the outcome, they must play a game, for Aditya to become India's next Grandmaster. Apart from them, GM Pranav Anand and IM Rathanvel V S are two more Indians also at 6/8, a half point behind the leader Xiangzhi 6.5/8. Rathanvel won a nice game after he accepted his opponent, GM Carlos Daniel Albornoz Cabrera's (CUB) knight sacrifice and ensured he never gets anything out of it. GM Vincent Keymer (GER) defeated GM Bassem Amin (EGY) to throw the Grandmaster Triathlon (GMT) wide open before the final round. GMT Round 7 and MTO Round 9 starts today from 2 p.m. local time, 5:30 p.m. IST. Photos: Biel Chess Festival
Keymer, Liem or Navara, who will win the GMT?
GM Vincent Keymer (GER) has regained his sole lead 31.5/52. However, the defending champion, GM Liem Quang Le (VIE) 30/52 and GM David Navara (CZE) 29/52 are the championship race. A four-point win in the final round makes all three of them eligible to win the tournament. In the final round, it will be Arjun vs Keymer and Navara vs Liem.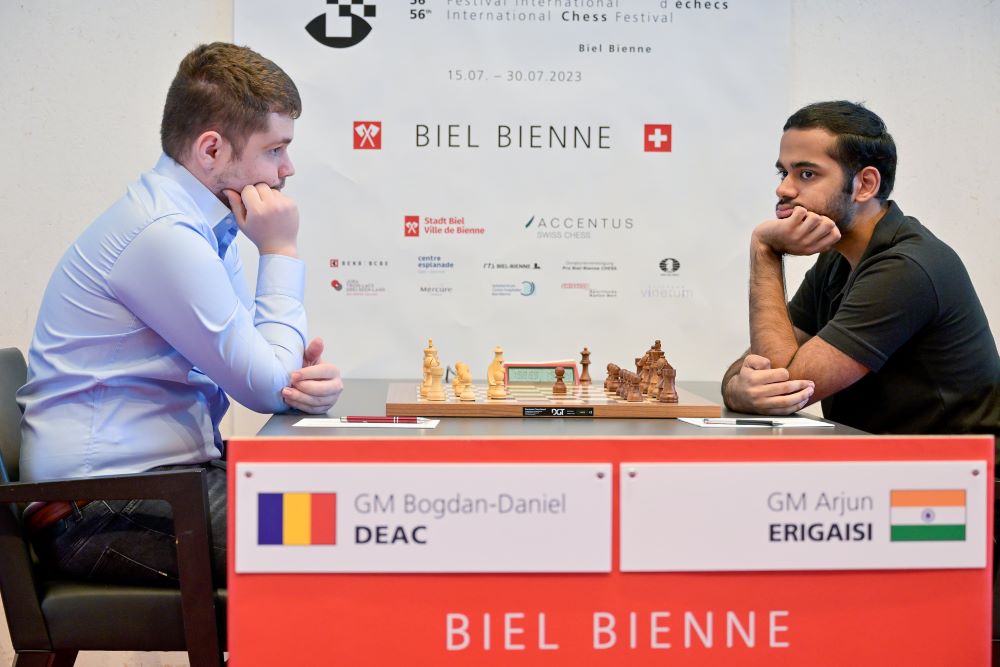 Saraci - Aryan, MTO Round 8
Kosovo no.1 IM Nderim Saraci (2472) decided to exchange his two minor pieces for a rook and two pawns against GM Aryan Chopra (2626). His passed pawns was not as strong as he would have wanted them to be. Aryan managed to equalize comfortably.White was a critical juncture - which pawn to save a6 or d4 ? He decided to save d4-pawn 37.Rd1 Kc7 38.Ra1 Kb6 39.Re1 Nc6 preventing Re7 40.Re8 h5 41.Ra8 g6 42.f3 Nd6 43.Kf2 Nxd4 44.g4 hxg4 45.fxg4 Ne6 and White resigned after six more moves.
Carlos Daniel - Rathanvel
GM Carlos Daniel Albornoz Cabrera (CUB, 2591) decided to sacrifice his knight 15.Nf5 to expose IM Rathanvel V S' (2463) king. 15...exf5 16.exf5 d5 17.f6 gxf6 18.gxf6 Qxf4+ 19.Kb1 Qxf6 20.Bxd5 0-0-0! 21.Rhf1 Qg5 22.h4 Qxh4 Black kept munching all the pawns he was offered. 23.Bh1 Bg4 24.Qg2 Rxd1+! ensuring his king's escape 25.Nxd1 Kd8 26.Ne3 h5 soon Black got out of danger and went on to win the game.
Replay GMT Round 6 games
Replay MTO Round 8 games
GMT Scoring
Rapid: Win = 2 points, Draw = 1 point and Loss = 0
Classical: Win = 4 points, Draw = 1.5 points and Loss = 0
Blitz: Win = 1 point, Draw = 0.5 point and Loss = 0
GMT Round 6 results
Standings after Round 6
Round 7 pairings
MTO Round 8 results
| | | | | | | | | | | | | |
| --- | --- | --- | --- | --- | --- | --- | --- | --- | --- | --- | --- | --- |
| Bo. | No. | | Name | Rtg | Pts. | Result | Pts. | | Name | Rtg | No. | PGN |
| 1 | 11 | IM | Samant, Aditya S | 2510 | 5½ | ½ - ½ | 6 | GM | Bu, Xiangzhi | 2676 | 1 | PGN |
| 2 | 8 | GM | Quesada Perez, Luis Ernesto | 2553 | 5 | ½ - ½ | 5½ | GM | Liu, Yan | 2542 | 9 | PGN |
| 3 | 18 | IM | Saraci, Nderim | 2472 | 5 | 0 - 1 | 5 | GM | Aryan, Chopra | 2626 | 3 | PGN |
| 4 | 5 | GM | Albornoz Cabrera, Carlos Daniel | 2591 | 5 | 0 - 1 | 5 | IM | Rathanvel, V S | 2463 | 19 | PGN |
| 5 | 20 | IM | Chasin, Nico | 2455 | 5 | 0 - 1 | 5 | GM | Pranav, Anand | 2510 | 10 | PGN |
| 6 | 39 | FM | Deuer, Marius | 2374 | 5 | 0 - 1 | 5 | | Peng, Xiongjian | 2489 | 13 | PGN |
| 7 | 2 | GM | Nguyen, Ngoc Truong Son | 2645 | 4½ | 1 - 0 | 4½ | IM | Sanchez Alvarez, Roberto Carlos | 2444 | 23 | PGN |
| 8 | 4 | GM | Yuffa, Daniil | 2603 | 4½ | 0 - 1 | 4½ | IM | Harikrishnan, A Ra | 2406 | 32 | PGN |
| 9 | 22 | | Huang, Renjie | 2445 | 4½ | ½ - ½ | 4½ | GM | Meshkovs, Nikita | 2565 | 7 | PGN |
| 10 | 12 | IM | Rodrigue-Lemieux, Shawn | 2495 | 4½ | 0 - 1 | 4½ | IM | Shlyakhtenko, Robert | 2401 | 33 | PGN |
Standings after Round 8
| | | | | | | | | |
| --- | --- | --- | --- | --- | --- | --- | --- | --- |
| Rk. | SNo | | Name | FED | Rtg | Pts. | TB1 | TB2 |
| 1 | 1 | GM | Bu, Xiangzhi | CHN | 2676 | 6,5 | 37,5 | 249,5 |
| 2 | 3 | GM | Aryan, Chopra | IND | 2626 | 6 | 38 | 246,5 |
| 3 | 11 | IM | Samant, Aditya S | IND | 2510 | 6 | 37 | 240 |
| 4 | 9 | GM | Liu, Yan | CHN | 2542 | 6 | 36,5 | 243,5 |
| 5 | 10 | GM | Pranav, Anand | IND | 2510 | 6 | 35,5 | 248,5 |
| 6 | 19 | IM | Rathanvel, V S | IND | 2463 | 6 | 31,5 | 229 |
| 7 | 13 | | Peng, Xiongjian | CHN | 2489 | 6 | 31 | 240 |
| 8 | 2 | GM | Nguyen, Ngoc Truong Son | VIE | 2645 | 5,5 | 36 | 238 |
| 9 | 32 | IM | Harikrishnan, A Ra | IND | 2406 | 5,5 | 36 | 235 |
| 10 | 28 | WGM | Vantika, Agrawal | IND | 2428 | 5,5 | 35 | 233 |
Round 9 pairings
| | | | | | | | | | | | |
| --- | --- | --- | --- | --- | --- | --- | --- | --- | --- | --- | --- |
| Bo. | No. | | Name | Rtg | Pts. | Result | Pts. | | Name | Rtg | No. |
| 1 | 1 | GM | Bu, Xiangzhi | 2676 | 6½ | | 6 | GM | Pranav, Anand | 2510 | 10 |
| 2 | 3 | GM | Aryan, Chopra | 2626 | 6 | | 6 | IM | Samant, Aditya S | 2510 | 11 |
| 3 | 9 | GM | Liu, Yan | 2542 | 6 | | 6 | | Peng, Xiongjian | 2489 | 13 |
| 4 | 19 | IM | Rathanvel, V S | 2463 | 6 | | 5½ | WGM | Vantika, Agrawal | 2428 | 28 |
| 5 | 16 | IM | Samadov, Read | 2482 | 5½ | | 5½ | GM | Nguyen, Ngoc Truong Son | 2645 | 2 |
| 6 | 33 | IM | Shlyakhtenko, Robert | 2401 | 5½ | | 5½ | GM | Quesada Perez, Luis Ernesto | 2553 | 8 |
| 7 | 32 | IM | Harikrishnan, A Ra | 2406 | 5½ | | 5 | GM | Albornoz Cabrera, Carlos Daniel | 2591 | 5 |
| 8 | 7 | GM | Meshkovs, Nikita | 2565 | 5 | | 5 | FM | Deuer, Marius | 2374 | 39 |
| 9 | 46 | FM | Huston, Gus | 2341 | 5 | | 5 | IM | Saraci, Nderim | 2472 | 18 |
| 10 | 41 | FM | Dotzer, Lukas | 2369 | 5 | | 5 | IM | Chasin, Nico | 2455 | 20 |
Links
---