56th Biel MTO R2: Harikrishnan's passed pawns too strong for Meshkovs
GM Arjun Erigaisi salvaged a draw against GM Yangyi Yu in the first round of 56th Biel GMT 2023. Arjun was lost for the better part of the endgame against the China no.2. However, he persevered tough positions and eventually managed to escape with a 1.5 points. GM Liem Quang Le (VIE) and GM David Navara (CZE) scored the victories over GM Bogdan-Daniel Deac (ROU) and GM Bassem Amin (EGY) respectively. Navara is the early sole leader in the GMT with 14/18 points. IM Harikrishnan A Ra scored a fantastic win over Latvia no.2 GM Nikita Meshkovs. GM Aryan Chopra won the 'Beauty Award' for his first round win. Aryan, GM Pranav Anand, IM Aditya S Samant and Harikrishnan are at 2/2 in the MTO. Round 2 GMT and Round 3 MTO starts today from 2 p.m. local time, 5:30 p.m. IST. Photo: 50th Dortmund Chess Days
Arjun Erigaisi survives against Yangyi Yu
GMT Round 1: Yangyi - Arjun: 1.5-1.5
Last month, GM Arjun Erigaisi (2710) defeated GM Yangyi Yu (CHN, 2735) in their first-ever Classical rated game at 23rd Dubai Open 2023. Once again, Arjun got the black pieces. However, this time he landed himself in trouble.
39...g6 allowed 40.Bh6+ Kg8 41.Ne7+ Kh7 42.Bd2 Kg7 43.f4 Kf6 44.h4 exf4 45.gxf4 Re8 46.f5 gxf5 47.exf5 Nf8 48.Bg5+ Ke5 49.Ra5+ Kd6 50.f6?
Here, computer suggests 50.Ng8 to maintain White's substantial advantage. 50.f6 gave Black some fighting chances after Kc7. White got some more chances in the end, yet he could not capitalize on any. Arjun managed to salvage a draw.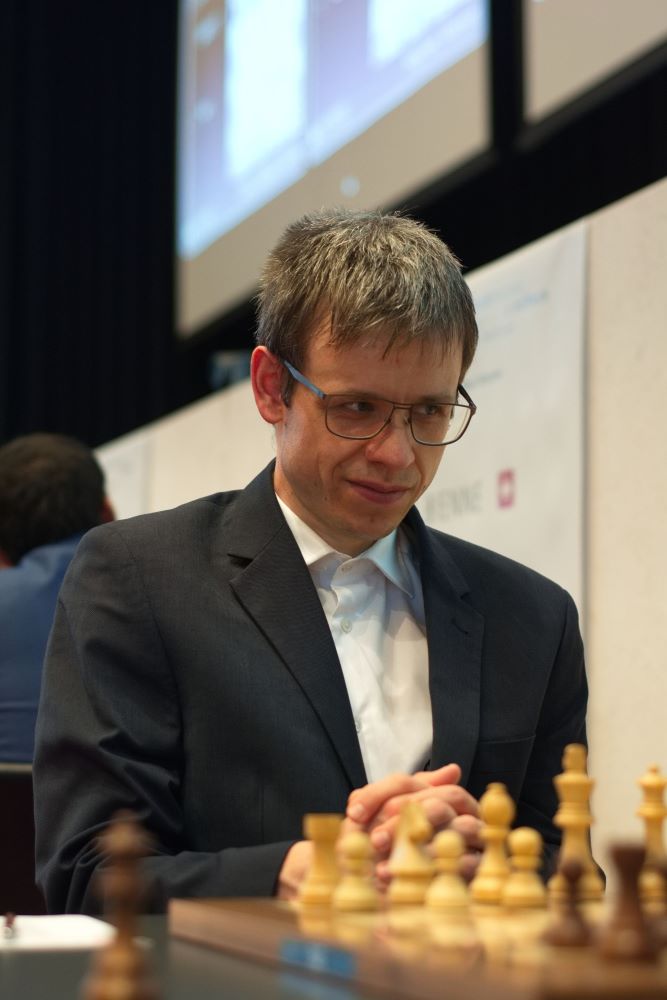 MTO Round 1: Aryan - Al Taher
GM Aryan Chopra (2626) found a beautiful checkmate combination against FM Al Taher Abdulrahman Mohammad (UAE, 2258) in the first round.
Find out the forced winning sequence for White which Aryan executed in the game after 26...Rad8. Aryan won the Beauty Award for this game in MTO Round 1.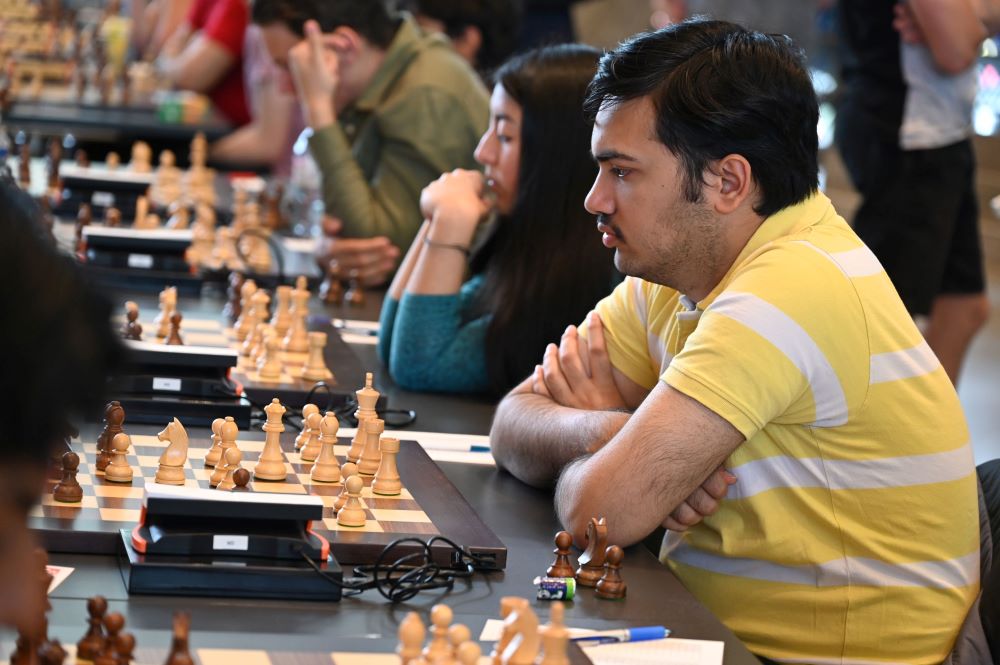 Harikrishnan - Meshkovs, Round 2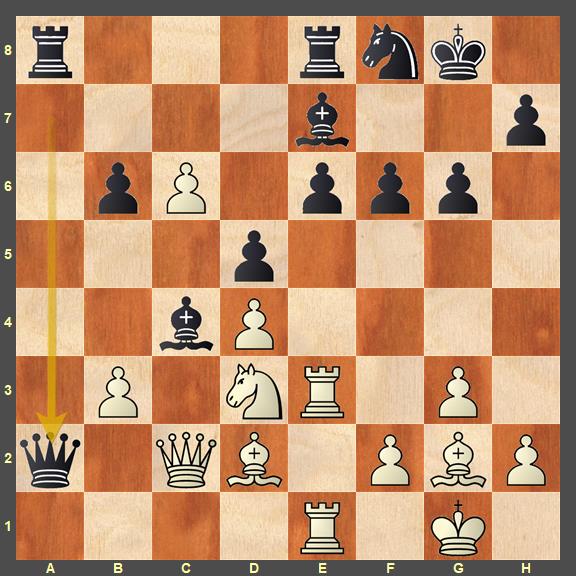 GM Nikita Meshkov's (LAT, 2565) position was in shambles. 25...Qxa2?? did not help his case. IM Harikrishnan A Ra (2406) seized his opportunity 26.Qxa2 Rxa2 27.bxc4 dxc4 28.Bb4 cxd3 29.Bxe7 d2 30.Rf1 Rxe7 31.d5 Rc2 32.d6
White beautifully used his connected passed pawns on c and f-file to win the game. It goes without saying that this game is a top contender for the Beauty Award in MTO Round 2.
A total of 122 players including 6 GMs, 10 IMs, a WGM and a WIM took part from 22 countries across the world in the Rapid Open tournament. The one-day nine-round Swiss-League Rapid Rating event had a time control of 15 minutes + 5 seconds increment. It was held on Sunday 16th July at Congress Hall, Biel Congress Center in Switzerland.
GMT Scoring
Rapid: Win = 2 points, Draw = 1 point and Loss = 0
Classical: Win = 4 points, Draw = 1.5 points and Loss = 0
Replay GMT Round 1 games
Replay MTO Round 1-2 games
GMT Round 1 results
Current GMT standings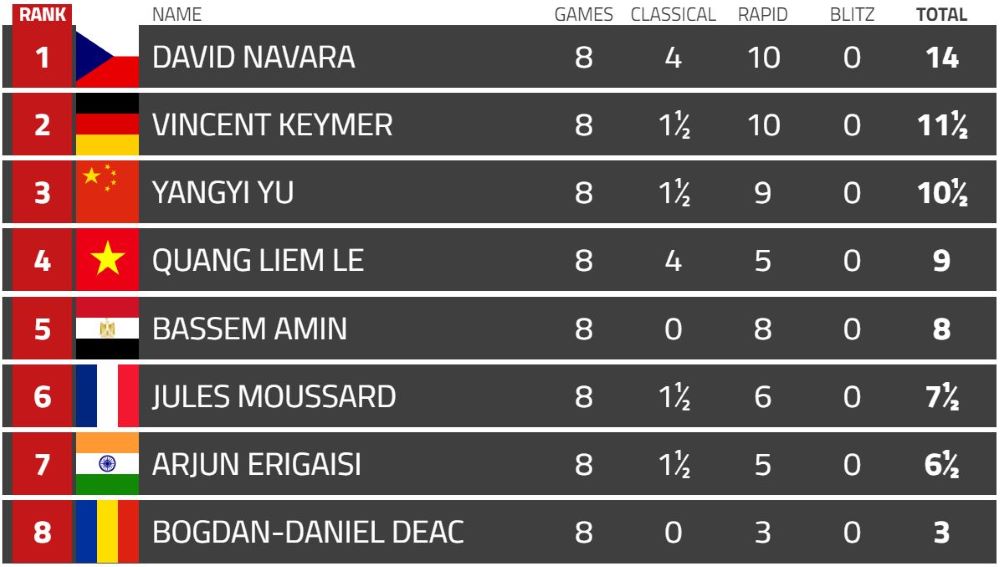 Round 2 pairings
MTO Round 2 results
| | | | | | | | | | | | | |
| --- | --- | --- | --- | --- | --- | --- | --- | --- | --- | --- | --- | --- |
| Bo. | No. | | Name | Rtg | Pts. | Result | Pts. | | Name | Rtg | No. | PGN |
| 1 | 27 | IM | Rohith, Krishna S | 2429 | 1 | 0 - 1 | 1 | GM | Bu, Xiangzhi | 2676 | 1 | PGN |
| 2 | 2 | GM | Nguyen, Ngoc Truong Son | 2645 | 1 | ½ - ½ | 1 | WGM | Huang, Qian | 2422 | 29 | PGN |
| 3 | 28 | WGM | Vantika, Agrawal | 2428 | 1 | 0 - 1 | 1 | GM | Aryan, Chopra | 2626 | 3 | PGN |
| 4 | 4 | GM | Yuffa, Daniil | 2603 | 1 | ½ - ½ | 1 | | Jinan, Jomon | 2409 | 31 | PGN |
| 5 | 30 | IM | Wessman, Richard | 2410 | 1 | ½ - ½ | 1 | GM | Albornoz Cabrera, Carlos Daniel | 2591 | 5 | PGN |
| 6 | 32 | IM | Harikrishnan, A Ra | 2406 | 1 | 1 - 0 | 1 | GM | Meshkovs, Nikita | 2565 | 7 | PGN |
| 7 | 8 | GM | Quesada Perez, Luis Ernesto | 2553 | 1 | 1 - 0 | 1 | IM | Ajay Krishna, S | 2390 | 35 | PGN |
| 8 | 34 | IM | Morawietz, Dieter | 2396 | 1 | 0 - 1 | 1 | GM | Liu, Yan | 2542 | 9 | PGN |
| 9 | 10 | GM | Pranav, Anand | 2510 | 1 | 1 - 0 | 1 | FM | Jain, Kashish Manoj | 2375 | 37 | PGN |
| 10 | 36 | IM | Seul, Georg | 2376 | 1 | 0 - 1 | 1 | IM | Samant, Aditya S | 2510 | 11 | PGN |
Standings after Round 2
| | | | | | | | | |
| --- | --- | --- | --- | --- | --- | --- | --- | --- |
| Rk. | SNo | | Name | FED | Rtg | Pts. | TB1 | TB2 |
| 1 | 1 | GM | Bu, Xiangzhi | CHN | 2676 | 2 | 1 | 2 |
| | 3 | GM | Aryan, Chopra | IND | 2626 | 2 | 1 | 2 |
| | 8 | GM | Quesada Perez, Luis Ernesto | CUB | 2553 | 2 | 1 | 2 |
| | 9 | GM | Liu, Yan | CHN | 2542 | 2 | 1 | 2 |
| | 10 | GM | Pranav, Anand | IND | 2510 | 2 | 1 | 2 |
| | 11 | IM | Samant, Aditya S | IND | 2510 | 2 | 1 | 2 |
| | 20 | IM | Chasin, Nico | USA | 2455 | 2 | 1 | 2 |
| | 22 | | Huang, Renjie | CHN | 2445 | 2 | 1 | 2 |
| | 26 | IM | Licznerski, Lukasz | POL | 2430 | 2 | 1 | 2 |
| | 32 | IM | Harikrishnan, A Ra | IND | 2406 | 2 | 1 | 2 |
Round 3 pairings
| | | | | | | | | | | | |
| --- | --- | --- | --- | --- | --- | --- | --- | --- | --- | --- | --- |
| Bo. | No. | | Name | Rtg | Pts. | Result | Pts. | | Name | Rtg | No. |
| 1 | 1 | GM | Bu, Xiangzhi | 2676 | 2 | | 2 | IM | Chasin, Nico | 2455 | 20 |
| 2 | 3 | GM | Aryan, Chopra | 2626 | 2 | | 2 | | Huang, Renjie | 2445 | 22 |
| 3 | 25 | IM | Materia, Marco | 2436 | 2 | | 2 | GM | Quesada Perez, Luis Ernesto | 2553 | 8 |
| 4 | 9 | GM | Liu, Yan | 2542 | 2 | | 2 | IM | Licznerski, Lukasz | 2430 | 26 |
| 5 | 32 | IM | Harikrishnan, A Ra | 2406 | 2 | | 2 | GM | Pranav, Anand | 2510 | 10 |
| 6 | 11 | IM | Samant, Aditya S | 2510 | 2 | | 2 | FM | Toktomushev, Teimur | 2206 | 64 |
| 7 | 5 | GM | Albornoz Cabrera, Carlos Daniel | 2591 | 1½ | | 2 | IM | Sukandar, Irine Kharisma | 2358 | 42 |
| 8 | 31 | | Jinan, Jomon | 2409 | 1½ | | 1½ | GM | Nguyen, Ngoc Truong Son | 2645 | 2 |
| 9 | 29 | WGM | Huang, Qian | 2422 | 1½ | | 1½ | GM | Yuffa, Daniil | 2603 | 4 |
| 10 | 33 | IM | Shlyakhtenko, Robert | 2401 | 1½ | | 1½ | GM | Erdos, Viktor | 2571 | 6 |
Links
---