Xiangzhi Bu triumphs at 56th Biel MTO 2023, Aryan Chopra second
GM Xiangzhi Bu (CHN) drew his final round game against his compatriot Xiongjiang Peng to win 56th Biel Chess Festival MTO 2023. Although, Xiangzhi was winning, since a draw was enough to become champion 8/10, he decided to finish the game soon. GM Aryan Chopra was held to a draw by IM Rathanvel V S. Aryan secured sole second position, scoring 7.5/10. This is Aryan's second consecutive runner-up finish after a second place finish at La Plagne Soleil Masters 2023 before this event. Rathanvel is the only other Indian to make a top ten finish. He scored 7/10 to finish seventh on tie-breaks. IM Harikrishnan A Ra earned his maiden GM-norm with a 6/10 score. IM Vantika Agrawal won the Best Woman prize 6/10. Photos: Biel Chess Festival
Harikrishnan earns maiden GM-norm
The MTO (Master Tournament) 2023 witnessed seven norms that were scored at this event which is an unusually huge number. Apart from Aditya Samant and Harikrishnan A Ra which we mentioned earlier, Vantika Agrawal is the only other Indian to score an IM-norm. Since she has already fulfilled all her title requirements, this one is an extra.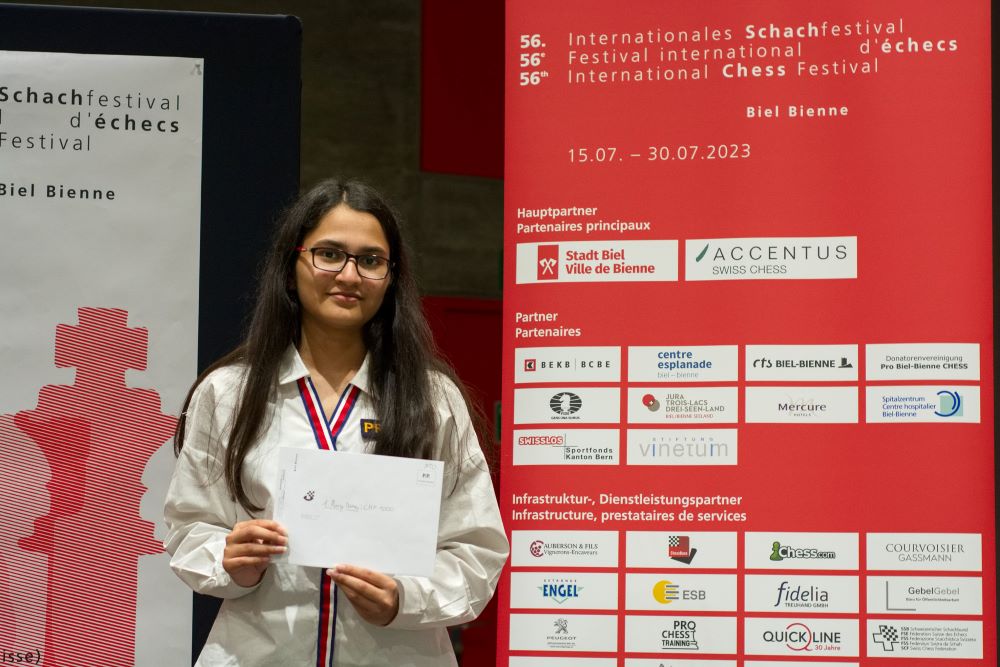 Norm scorers names:
GM-norm: Aditya S Samant and Harikrishnan a Ra
IM-norm: Xiongjian Peng (CHN), Renjie Huang (CHN), Vantika Agrawal (IND) and Marius Deuer (GER).
WIM-norm: Lanlin Zhang (CHN)
Replay MTO Round 10 games
MTO Round 10 results
| | | | | | | | | | | | | |
| --- | --- | --- | --- | --- | --- | --- | --- | --- | --- | --- | --- | --- |
| Bo. | No. | | Name | Rtg | Pts. | Result | Pts. | | Name | Rtg | No. | PGN |
| 1 | 13 | | Peng, Xiongjian | 2489 | 6½ | ½ - ½ | 7½ | GM | Bu, Xiangzhi | 2676 | 1 | PGN |
| 2 | 3 | GM | Aryan, Chopra | 2626 | 7 | ½ - ½ | 6½ | IM | Rathanvel, V S | 2463 | 19 | PGN |
| 3 | 9 | GM | Liu, Yan | 2542 | 6½ | ½ - ½ | 6½ | IM | Shlyakhtenko, Robert | 2401 | 33 | PGN |
| 4 | 2 | GM | Nguyen, Ngoc Truong Son | 2645 | 6 | 1 - 0 | 6 | WGM | Vantika, Agrawal | 2428 | 28 | PGN |
| 5 | 10 | GM | Pranav, Anand | 2510 | 6 | 0 - 1 | 6 | IM | Samadov, Read | 2482 | 16 | PGN |
| 6 | 22 | | Huang, Renjie | 2445 | 6 | ½ - ½ | 6 | IM | Samant, Aditya S | 2510 | 11 | PGN |
| 7 | 20 | IM | Chasin, Nico | 2455 | 6 | 1 - 0 | 6 | IM | Harikrishnan, A Ra | 2406 | 32 | PGN |
| 8 | 36 | IM | Seul, Georg | 2376 | 6 | 1 - 0 | 5½ | GM | Meshkovs, Nikita | 2565 | 7 | PGN |
| 9 | 4 | GM | Yuffa, Daniil | 2603 | 5½ | 1 - 0 | 5½ | IM | Sanchez Alvarez, Roberto Carlos | 2444 | 23 | PGN |
| 10 | 48 | | Nie, Xinyang | 2288 | 5½ | ½ - ½ | 5½ | GM | Albornoz Cabrera, Carlos Daniel | 2591 | 5 | PGN |
Final standings
| | | | | | | | | | | | |
| --- | --- | --- | --- | --- | --- | --- | --- | --- | --- | --- | --- |
| Rk. | SNo | | Name | Typ | sex | FED | RtgI | Pts. | TB1 | TB2 | Rp |
| 1 | 1 | GM | Bu, Xiangzhi | | | CHN | 2676 | 8 | 60 | 503 | 2724 |
| 2 | 3 | GM | Aryan, Chopra | | | IND | 2626 | 7,5 | 58,5 | 504 | 2666 |
| 3 | 9 | GM | Liu, Yan | | | CHN | 2542 | 7 | 57,5 | 490 | 2622 |
| 4 | 13 | | Peng, Xiongjian | | | CHN | 2489 | 7 | 56,5 | 489 | 2567 |
| 5 | 2 | GM | Nguyen, Ngoc Truong Son | | | VIE | 2645 | 7 | 56,5 | 488 | 2598 |
| 6 | 20 | IM | Chasin, Nico | U18 | | USA | 2455 | 7 | 55,5 | 484 | 2555 |
| 7 | 19 | IM | Rathanvel, V S | | | IND | 2463 | 7 | 54,5 | 469 | 2560 |
| 8 | 16 | IM | Samadov, Read | U16 | | AZE | 2482 | 7 | 53,5 | 477,5 | 2550 |
| 9 | 33 | IM | Shlyakhtenko, Robert | U18 | | USA | 2401 | 7 | 48 | 456 | 2509 |
| 10 | 36 | IM | Seul, Georg | S60 | | GER | 2376 | 7 | 46,5 | 449 | 2424 |
Links
---