56th Biel MTO R7: Aditya Samant destroys Daniil Yuffa
GM Xiangzhi Bu (CHN) defeated GM Ngoc Truong Son Nguyen (VIE) to maintain his sole lead 6/7 at 56th Biel Chess Festival 2023 MTO. IM Aditya S Samant got the better of GM Daniil Yuffa (ESP) to be one of the two pursuers at 5.5/7. The other one is GM Yan Liu (CHN) who defeated IM Vantika Agrawal. Yuffa sacrificed an exchange against Aditya and could not gain any compensation for it. GM Pranav Anand once again had a great opportunity to win with the white pieces. This time GM Aryan Chopra was his opponent. However, he missed it and the game ended in a draw. GM Arjun Erigaisi drew against GM Jules Moussard (FRA) in the fifth round of the GMT. The defending champion, GM Liem Quang Le (VIE) emeged sole leader by winning against GM Yangyi Yu (CHN). GMT Round 6 and MTO Round 8 starts today from 2 p.m. local time, 5:30 p.m. IST. Photos: Biel Chess Festival
GMT R5: The defending champion rises to the top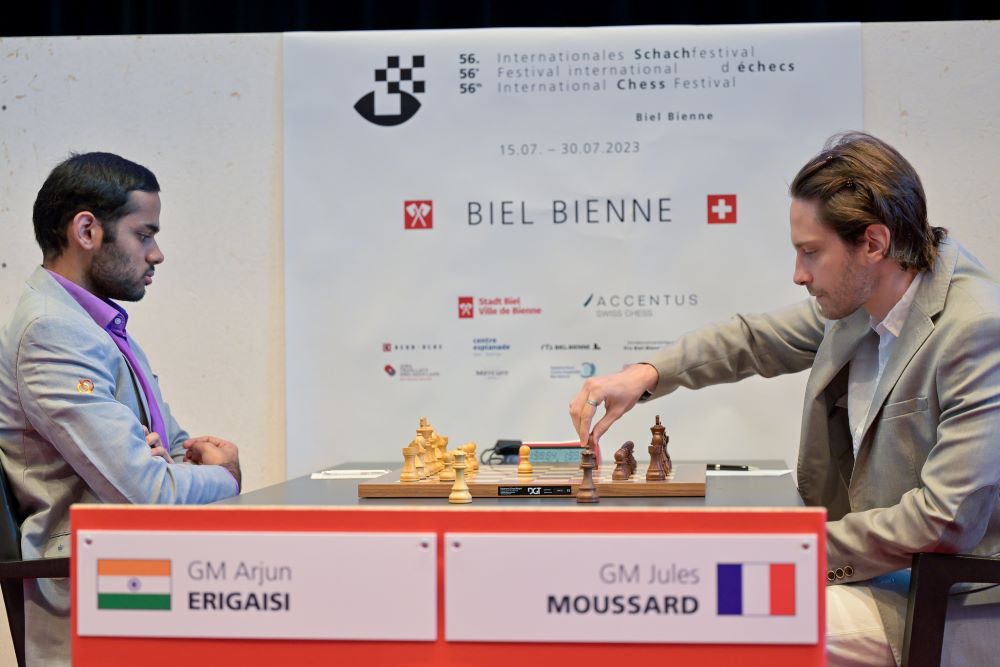 Pranav - Aryan, MTO Round 7
Black's king is more vulnerable than White's. Hence, GM Pranav Anand (2510) need not be worried about keeping the queens on the board. 45.Qd2 would have been a better continuation as it would not have been easy to thwart White's attack. 45...R1a2 does no good for Black 46.R4f5 Qf8 47.Rxh6+ Kg8 48.Qf4 Rxc2 49.Rg5+ Ng6 50.hxg6 is one of the many ways White could have won by declining the queen exchange. 45.Qxc8 Rxc8 reduced White's chances drastically. Still he had a decisive advantage, albeit not as much as before. However, GM Aryan Chopra (2626) eventually managed to salvage a half point.
Aditya Samant - Yuffa
GM Daniil Yuffa (ESP, 2603) decided to sacrifice an exchange 14...bxc3 15.Bxa8 Qxa8 16.exf6 cxb2+ 17.Bxb2 gxf6 18.Qe3 Black never got enough compensation for the exchange. IM Aditya S Samant (2510) played masterfully to convert his advantage into a win.
Replay GMT Round 5 games
Replay MTO Round 7 games
GMT Scoring
Rapid: Win = 2 points, Draw = 1 point and Loss = 0
Classical: Win = 4 points, Draw = 1.5 points and Loss = 0
Blitz: Win = 1 point, Draw = 0.5 point and Loss = 0
GMT Round 5 results
Standings after Round 5
Round 6 pairings
MTO Round 7 results
| | | | | | | | | | | | | |
| --- | --- | --- | --- | --- | --- | --- | --- | --- | --- | --- | --- | --- |
| Bo. | No. | | Name | Rtg | Pts. | Result | Pts. | | Name | Rtg | No. | PGN |
| 1 | 1 | GM | Bu, Xiangzhi | 2676 | 5 | 1 - 0 | 4½ | GM | Nguyen, Ngoc Truong Son | 2645 | 2 | PGN |
| 2 | 10 | GM | Pranav, Anand | 2510 | 4½ | ½ - ½ | 4½ | GM | Aryan, Chopra | 2626 | 3 | PGN |
| 3 | 11 | IM | Samant, Aditya S | 2510 | 4½ | 1 - 0 | 4½ | GM | Yuffa, Daniil | 2603 | 4 | PGN |
| 4 | 39 | FM | Deuer, Marius | 2374 | 4½ | ½ - ½ | 4½ | GM | Albornoz Cabrera, Carlos Daniel | 2591 | 5 | PGN |
| 5 | 9 | GM | Liu, Yan | 2542 | 4½ | 1 - 0 | 4½ | WGM | Vantika, Agrawal | 2428 | 28 | PGN |
| 6 | 13 | | Peng, Xiongjian | 2489 | 4 | 1 - 0 | 4½ | IM | Rodrigue-Lemieux, Shawn | 2495 | 12 | PGN |
| 7 | 23 | IM | Sanchez Alvarez, Roberto Carlos | 2444 | 4 | ½ - ½ | 4 | GM | Meshkovs, Nikita | 2565 | 7 | PGN |
| 8 | 41 | FM | Dotzer, Lukas | 2369 | 4 | 0 - 1 | 4 | GM | Quesada Perez, Luis Ernesto | 2553 | 8 | PGN |
| 9 | 16 | IM | Samadov, Read | 2482 | 4 | ½ - ½ | 4 | | Huang, Renjie | 2445 | 22 | PGN |
| 10 | 17 | IM | Wang, Chen | 2477 | 4 | ½ - ½ | 4 | FM | Weishaeutel, Moritz | 2442 | 24 | PGN |
Standings after Round 7
| | | | | | | | | |
| --- | --- | --- | --- | --- | --- | --- | --- | --- |
| Rk. | SNo | | Name | FED | Rtg | Pts. | TB1 | TB2 |
| 1 | 1 | GM | Bu, Xiangzhi | CHN | 2676 | 6 | 27,5 | 165,5 |
| 2 | 9 | GM | Liu, Yan | CHN | 2542 | 5,5 | 27,5 | 159 |
| 3 | 11 | IM | Samant, Aditya S | IND | 2510 | 5,5 | 25,5 | 159 |
| 4 | 3 | GM | Aryan, Chopra | IND | 2626 | 5 | 29,5 | 159,5 |
| 5 | 39 | FM | Deuer, Marius | GER | 2374 | 5 | 27,5 | 153 |
| 6 | 20 | IM | Chasin, Nico | USA | 2455 | 5 | 27,5 | 148 |
| 7 | 10 | GM | Pranav, Anand | IND | 2510 | 5 | 27 | 162,5 |
| 8 | 5 | GM | Albornoz Cabrera, Carlos Daniel | CUB | 2591 | 5 | 25 | 157 |
| 9 | 8 | GM | Quesada Perez, Luis Ernesto | CUB | 2553 | 5 | 24,5 | 154 |
| 10 | 13 | | Peng, Xiongjian | CHN | 2489 | 5 | 24 | 159,5 |
Round 8 pairings
| | | | | | | | | | | | |
| --- | --- | --- | --- | --- | --- | --- | --- | --- | --- | --- | --- |
| Bo. | No. | | Name | Rtg | Pts. | Result | Pts. | | Name | Rtg | No. |
| 1 | 11 | IM | Samant, Aditya S | 2510 | 5½ | | 6 | GM | Bu, Xiangzhi | 2676 | 1 |
| 2 | 8 | GM | Quesada Perez, Luis Ernesto | 2553 | 5 | | 5½ | GM | Liu, Yan | 2542 | 9 |
| 3 | 18 | IM | Saraci, Nderim | 2472 | 5 | | 5 | GM | Aryan, Chopra | 2626 | 3 |
| 4 | 5 | GM | Albornoz Cabrera, Carlos Daniel | 2591 | 5 | | 5 | IM | Rathanvel, V S | 2463 | 19 |
| 5 | 20 | IM | Chasin, Nico | 2455 | 5 | | 5 | GM | Pranav, Anand | 2510 | 10 |
| 6 | 39 | FM | Deuer, Marius | 2374 | 5 | | 5 | | Peng, Xiongjian | 2489 | 13 |
| 7 | 2 | GM | Nguyen, Ngoc Truong Son | 2645 | 4½ | | 4½ | IM | Sanchez Alvarez, Roberto Carlos | 2444 | 23 |
| 8 | 4 | GM | Yuffa, Daniil | 2603 | 4½ | | 4½ | IM | Harikrishnan, A Ra | 2406 | 32 |
| 9 | 22 | | Huang, Renjie | 2445 | 4½ | | 4½ | GM | Meshkovs, Nikita | 2565 | 7 |
| 10 | 12 | IM | Rodrigue-Lemieux, Shawn | 2495 | 4½ | | 4½ | IM | Shlyakhtenko, Robert | 2401 | 33 |
Links
---