49th National Women 2023 R9: Mary escapes against Mrudul
The top six boards ended in draws. IM Bhakti Kulkarni (Goa) and IM Padmini Rout (PSPB) had the same result as their last rated game encounter over seven years. Bhakti maintains her sole lead 7.5/9. Five players are trailing her by a half point. They are - WGM Srija Seshadri (TN), WGM Mary Ann Gomes (PSPB), WIM Mahalakshmi M (TN), WIM Mrudul Dehankar (MAH) and IM Padmini Rout (PSPB). Mrudul had a great opportunity to go for a win against Mary. Unfortunately for her, she could not find it. The reigning Telangana State Women champion, Sarayu Velpula is having a fantastic tournament. She drew against WGM Swati Ghate (LIC) to remain undefeated at 6.5/9. Bhakti will face Mahalakshmi in the penultimate Round 10 which starts today at 10 a.m. IST. Photo: Shahid Ahmed
Bhakti still at the top, Divya reduces the gap
After suffering two losses, the defending champion and top seed of the tournament, IM Divya Deshmukh (MAH) won two games in-a-row to move to 6.5/9.
Mary - Mrudul: 0.5-0.5
WGM Mary Ann Gomes (PSPB, 2315) was facing WIM Mrudul Dehankar (MAH, 2030) in their second-ever battle. The first game between them ended in a draw in 2019. Mary got into a big trouble in the middlegame.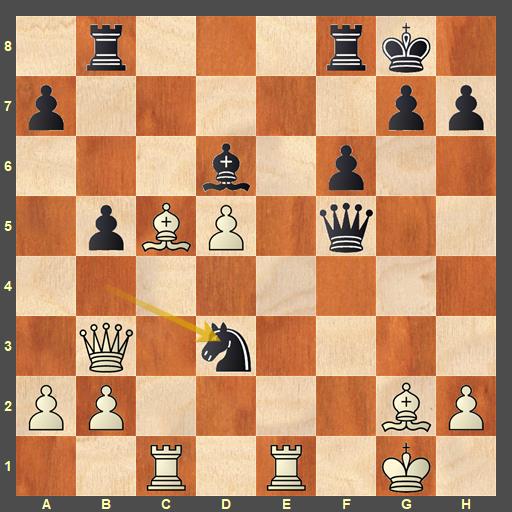 Black has made a deadly family fork 24...Nxd3 which forced White to concede an exchange. 25.Bxd6 Qf2+? immediate material recovery turned out to be incorrect for Black. Instead, 25...Rbc8 would have been winning for her. 26.Kh1 Rxc1 27.Rxc1 Nxc1 28.Qe3 Qc2 29.Bxf8 Qd1+ 30.Qg1 Qxg1+ 31.Kxg1 Kxf8 would have been one the lines where Black has a decisive advantage. The game continued 26.Kh1 Nxe1 27.Bh3 Qe2 28.Bxb8 Qe4+ and it ended in a draw via perpetual check.
A total of 156 players including 6 IMs, 6 WGMs and 10 WIMs are taking part from various states and units across the country in this eleven-day eleven-round Swiss League National Women Rating tournament. The tournament is organized by Gujarat State Chess Association at Rajpath Club in Ahmedabad, Gujarat from 30th June to 10th July 2023. The time control of the event is 90 mins/40 moves + 30 mins/end + 30 seconds increment from move no. 1.
Replay Round 9 games
Round 9 results
| | | | | | | | | | | | | | |
| --- | --- | --- | --- | --- | --- | --- | --- | --- | --- | --- | --- | --- | --- |
| Bo. | No. | | Name | Rtg | Club/City | Pts. | Result | Pts. | | Name | Rtg | Club/City | No. |
| 1 | 2 | IM | Padmini, Rout | 2353 | PSPB | 6½ | ½ - ½ | 7 | IM | Kulkarni, Bhakti | 2315 | GOA | 3 |
| 2 | 4 | WGM | Gomes, Mary Ann | 2315 | PSPB | 6½ | ½ - ½ | 6½ | WIM | Mrudul, Dehankar | 2030 | MAH | 23 |
| 3 | 10 | WGM | Srija, Seshadri | 2226 | TN | 6½ | ½ - ½ | 6½ | WIM | Mahalakshmi, M | 2242 | RSPB | 9 |
| 4 | 6 | IM | Soumya, Swaminathan | 2293 | PSPB | 6 | ½ - ½ | 6 | WIM | Chitlange, Sakshi | 2225 | MAH | 11 |
| 5 | 8 | WGM | Pratyusha, Bodda | 2250 | AP | 6 | ½ - ½ | 6 | WIM | Sharma, Isha | 2267 | KAR | 7 |
| 6 | 34 | | Velpula, Sarayu | 1845 | TEL | 6 | ½ - ½ | 6 | WGM | Swati, Ghate | 2008 | LIC | 25 |
| 7 | 36 | | Sneha, Halder | 1807 | WB | 5½ | 0 - 1 | 5½ | WGM | Divya, Deshmukh | 2389 | MAH | 1 |
| 8 | 28 | WIM | Tejaswini, Sagar | 1931 | GUJ | 5½ | ½ - ½ | 5½ | IM | Karavade, Eesha | 2293 | PSPB | 5 |
| 9 | 37 | WFM | Potluri, Supreetha | 1796 | AP | 5½ | 0 - 1 | 5½ | WIM | Arpita, Mukherjee | 2160 | WB | 15 |
| 10 | 49 | | Sachi, Jain | 1675 | DEL | 5½ | 0 - 1 | 5½ | WFM | Nimmy, A.G. | 2151 | KER | 17 |
Standings after Round 9
| | | | | | | | | | | | | | | | |
| --- | --- | --- | --- | --- | --- | --- | --- | --- | --- | --- | --- | --- | --- | --- | --- |
| Rk. | SNo | | Name | Typ | sex | Gr | FED | Rtg | Club/City | Pts. | TB1 | TB2 | TB3 | TB4 | TB5 |
| 1 | 3 | IM | Kulkarni, Bhakti | | w | N | IND | 2315 | GOA | 7,5 | 51 | 56 | 44,75 | 0 | 6 |
| 2 | 10 | WGM | Srija, Seshadri | | w | N | IND | 2226 | TN | 7 | 52 | 56 | 41,75 | 0 | 6 |
| 3 | 4 | WGM | Gomes, Mary Ann | | w | N | IND | 2315 | PSPB | 7 | 50 | 53,5 | 40,00 | 0 | 5 |
| 4 | 9 | WIM | Mahalakshmi, M | | w | N | IND | 2242 | RSPB | 7 | 49,5 | 53,5 | 40,25 | 0 | 5 |
| 5 | 23 | WIM | Mrudul, Dehankar | U20 | w | N | IND | 2030 | MAH | 7 | 49 | 53 | 39,25 | 0 | 6 |
| 6 | 2 | IM | Padmini, Rout | | w | N | IND | 2353 | PSPB | 7 | 46 | 50,5 | 38,00 | 0 | 6 |
| 7 | 34 | | Velpula, Sarayu | U18 | w | S | IND | 1845 | TEL | 6,5 | 49 | 54 | 38,00 | 0 | 4 |
| 8 | 6 | IM | Soumya, Swaminathan | | w | N | IND | 2293 | PSPB | 6,5 | 49 | 53,5 | 37,50 | 0 | 5 |
| 9 | 18 | WGM | Varshini, V | | w | N | IND | 2120 | TN | 6,5 | 48,5 | 52 | 34,75 | 0 | 5 |
| 10 | 1 | WGM | Divya, Deshmukh | U18 | w | N | IND | 2389 | MAH | 6,5 | 47,5 | 52 | 36,00 | 0 | 6 |
| 11 | 11 | WIM | Chitlange, Sakshi | | w | N | IND | 2225 | MAH | 6,5 | 46 | 50,5 | 34,25 | 0 | 5 |
| 12 | 8 | WGM | Pratyusha, Bodda | | w | N | IND | 2250 | AP | 6,5 | 45,5 | 49,5 | 32,75 | 0 | 6 |
| 13 | 17 | WFM | Nimmy, A.G. | | w | N | IND | 2151 | KER | 6,5 | 44,5 | 48 | 33,25 | 0 | 5 |
| 14 | 7 | WIM | Sharma, Isha | | w | N | IND | 2267 | KAR | 6,5 | 44 | 48 | 34,50 | 0 | 5 |
| 15 | 20 | WFM | Saranya, J | | w | N | IND | 2050 | TN | 6,5 | 44 | 48 | 33,25 | 0 | 6 |
| 16 | 15 | WIM | Arpita, Mukherjee | | w | N | IND | 2160 | WB | 6,5 | 44 | 48 | 32,50 | 0 | 6 |
| 17 | 21 | WGM | Kiran, Manisha Mohanty | | w | N | IND | 2049 | LIC | 6,5 | 43,5 | 47,5 | 32,75 | 0 | 6 |
| 18 | 25 | WGM | Swati, Ghate | | w | N | IND | 2008 | LIC | 6,5 | 39,5 | 43,5 | 32,25 | 0 | 6 |
| 19 | 19 | WIM | Bommini, Mounika Akshaya | U20 | w | N | IND | 2094 | AP | 6 | 50 | 53,5 | 33,75 | 0 | 4 |
| 20 | 28 | WIM | Tejaswini, Sagar | | w | N | IND | 1931 | GUJ | 6 | 47 | 50,5 | 29,75 | 0 | 5 |
Round 10 pairings
| | | | | | | | | | | | | | |
| --- | --- | --- | --- | --- | --- | --- | --- | --- | --- | --- | --- | --- | --- |
| Bo. | No. | | Name | Rtg | Club/City | Pts. | Result | Pts. | | Name | Rtg | Club/City | No. |
| 1 | 3 | IM | Kulkarni, Bhakti | 2315 | GOA | 7½ | | 7 | WIM | Mahalakshmi, M | 2242 | RSPB | 9 |
| 2 | 23 | WIM | Mrudul, Dehankar | 2030 | MAH | 7 | | 7 | IM | Padmini, Rout | 2353 | PSPB | 2 |
| 3 | 10 | WGM | Srija, Seshadri | 2226 | TN | 7 | | 7 | WGM | Gomes, Mary Ann | 2315 | PSPB | 4 |
| 4 | 1 | WGM | Divya, Deshmukh | 2389 | MAH | 6½ | | 6½ | | Velpula, Sarayu | 1845 | TEL | 34 |
| 5 | 17 | WFM | Nimmy, A.G. | 2151 | KER | 6½ | | 6½ | IM | Soumya, Swaminathan | 2293 | PSPB | 6 |
| 6 | 7 | WIM | Sharma, Isha | 2267 | KAR | 6½ | | 6½ | WGM | Varshini, V | 2120 | TN | 18 |
| 7 | 21 | WGM | Kiran, Manisha Mohanty | 2049 | LIC | 6½ | | 6½ | WGM | Pratyusha, Bodda | 2250 | AP | 8 |
| 8 | 11 | WIM | Chitlange, Sakshi | 2225 | MAH | 6½ | | 6½ | WFM | Saranya, J | 2050 | TN | 20 |
| 9 | 25 | WGM | Swati, Ghate | 2008 | LIC | 6½ | | 6½ | WIM | Arpita, Mukherjee | 2160 | WB | 15 |
| 10 | 5 | IM | Karavade, Eesha | 2293 | PSPB | 6 | | 6 | WIM | Chandreyee, Hajra | 1845 | WB | 33 |
Links
Gujarat State Chess Association: Official site
---