49th National Women 2023 R4: Mounika Akshaya mauls Padmini Rout
The defending champion, IM Divya Deshmukh (MAH) did not have it easy to register her fourth win at 49th National Women 2023. The Asian Continental 2023 Women Gold medalist had to battle for 101 moves against WIM Arpita Mukherjee (WB) in a queen and minor piece endgame. Arpita played the difficult endgame quite well until she pushed her passed pawn and made it weak. Divya pounced on that opportunity and converted it into a win with ease. On the second board, WIM Mounika Akshaya (AP) correctly punished the four-time National Women champion, IM Padmini Rout (PSPB) for her mistakes in the middlegame. WGM Varshini V (WGM) made a solid draw against IM Bhakti Kulkarni (Goa). Currently four players - Divya, Mounika, WIM Mahalakshmi M (RSPB) and WGM Srija Seshadri (TN) are at 4/4 each. Round 5 starts today at 10 a.m. IST. Photo: Aditya Sur Roy
Arpita puts up stiff challenge for Divya
IM Divya Deshmukh (MAH) had two tough wins to score against the West Bengal players in consecutive round. 12-year-old Sherali Pattnaik (UTT) was on the verge of winning against IM Nisha Mohota (PSPB). After surviving an initial onslaught, Sherali was had a substantial decisive advantage for the better part of the game. Only in the final moments, she made a significant error which allowed the well-experienced IM to salvage a draw. Telangana girls, Yashvi Jain and Natura Bethi defeated WGM Swati Ghate (LIC) and WIM Chandreyee Hajra (WB) respectively.
Divya - Arpita
After giving up the a6-pawn to ensure her queen and bishop have freedom to move around, WIM Arpita Mukherjee (2160) found a nice resource 64...f4! White obviously cannot take it due to the threat of Qd7+. Thus, 65.Nf1 fxe3 66.Qe2 White still cannot take it with the knight as 66.Nxe3? Qe6+ 67.Ng4 h5 and the knight falls. 66...c4 67.Nxe3 c3 and Black managed to equalize.
One of the hardest thing to do in chess is - inaction. It means, a move which does not significant change in the position. Black's position is slightly more difficult to play. Despite the position being open, the bishop is mostly busy defending the c3-pawn. We all know that the combined power of queen and knight is much stronger than a queen and bishop. White has an extra pawn but it is not easy to utilize as Black will start relentless checks and the passed c-pawn is another thorn in White's side. 88...Bg5 was the best course of action for Black. A sample line could be 89.Qe5 Bf6 90.Qc5+ Kg8 91.Nh6+ Kg7. The strong support between queen, bishop and c3-pawn combined with the defense of king is good enough. It is easier said than done in reality. 88...c2?? disintegrated Black's stronghold 89.Qc6 and Black cannot save both her bishop and the c2-pawn at the same time.
Mounika - Padmini
Position after 19...Qc8
WIM Mounika Akshaya Bommini (2094) got a good position when her opponent IM Padmini Rout made a strange 17...Rc7?! 18.Qb2 Bf5 19.Rad1 Qc8 and we reached the above position. 20.Nxg6 is the simplest and safe way to gain a pawn. There was an interesting option of 20.g4! which would have dropped a piece immediately Be6 21.Nef3! a backward move which is hard to spot. 20...hxg6 21.Bxf6 Bxf6 22.Qxf6 and White went on to win the game.
WGM Varshini V (TN) won First Saturday IM June 2023 scoring an unbeaten 6/9. She increased her rating by 125.97 points in the month of June, including 57.95 points at the round-robin tournament triumph. Increasing rating by more than 125 points in a month for a player above 18 years is no easy task, unlike under-18 players who get the benefit of k-factor 40.
Nisha - Sherali
Both IM Nisha Mohota (PSPB, 2185) and Sherali Pattnaik (UTT, 1565) had their fair share of chances to win. Sherali was winning for the better part after surviving onslaughts in the middlegame. In the final moments of the endgame, Black was winning with almost any move. After 76.Nd4, Black did one thing she should not have which is 76...e2?? 77.Nxe2 Bxe2+ 78.Kc2 now White didn't require taking the bishop as stopping the passed a-pawn is a priority and since Black has a wrong color bishop for the a-pawn, she could not win.
Swati - Yashvi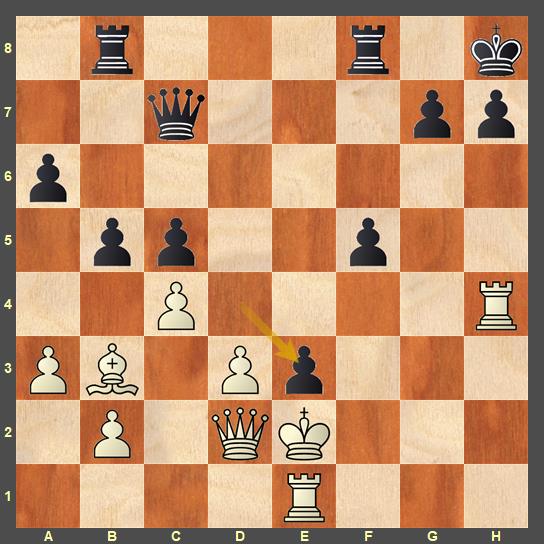 How should White continue here? There is an incredible continuation starting with 27.Reh1 exd2 28.Rxh7+ Kg8 29.cxb5+ c4 30.Bxc4+ Qxc4 31.Rh8+ Kf7 32.Rxf8+ Rxf7 33.dxc4 and White is doing fine. Instead, WGM Swati Ghate (LIC, 2008) opted for 27.Qc3?? which turned things in Black's favor. Find out the winning plan.
Replay Round 4 games
Round 4 results
| | | | | | | | | | | | | | |
| --- | --- | --- | --- | --- | --- | --- | --- | --- | --- | --- | --- | --- | --- |
| Bo. | No. | | Name | Rtg | Club/City | Pts. | Result | Pts. | | Name | Rtg | Club/City | No. |
| 1 | 1 | WGM | Divya, Deshmukh | 2389 | MAH | 3 | 1 - 0 | 3 | WIM | Arpita, Mukherjee | 2160 | WB | 15 |
| 2 | 19 | WIM | Bommini, Mounika Akshaya | 2094 | AP | 3 | 1 - 0 | 3 | IM | Padmini, Rout | 2353 | PSPB | 2 |
| 3 | 3 | IM | Kulkarni, Bhakti | 2315 | GOA | 3 | ½ - ½ | 3 | WGM | Varshini, V | 2120 | TN | 18 |
| 4 | 9 | WIM | Mahalakshmi, M | 2242 | RSPB | 3 | 1 - 0 | 3 | WFM | Saranya, J | 2050 | TN | 20 |
| 5 | 23 | WIM | Mrudul, Dehankar | 2030 | MAH | 3 | 0 - 1 | 3 | WGM | Srija, Seshadri | 2226 | TN | 10 |
| 6 | 13 | IM | Mohota, Nisha | 2185 | PSPB | 3 | ½ - ½ | 3 | | Sherali, Pattnaik | 1565 | UTT | 67 |
| 7 | 14 | WIM | Vishwa, Vasnawala | 2181 | GUJ | 2½ | 0 - 1 | 2½ | WGM | Gomes, Mary Ann | 2315 | PSPB | 4 |
| 8 | 5 | IM | Karavade, Eesha | 2293 | PSPB | 2½ | 1 - 0 | 2½ | WCM | Ankitha, Goud Palle | 1977 | TEL | 26 |
| 9 | 47 | | Kanishka, S | 1676 | TN | 2½ | 0 - 1 | 2½ | IM | Soumya, Swaminathan | 2293 | PSPB | 6 |
| 10 | 7 | WIM | Sharma, Isha | 2267 | KAR | 2½ | ½ - ½ | 2½ | | Velpula, Sarayu | 1845 | TEL | 34 |
Standings after Round 4
| | | | | | | | | | | | | | | | |
| --- | --- | --- | --- | --- | --- | --- | --- | --- | --- | --- | --- | --- | --- | --- | --- |
| Rk. | SNo | | Name | Typ | sex | Gr | FED | Rtg | Club/City | Pts. | TB1 | TB2 | TB3 | TB4 | TB5 |
| 1 | 1 | WGM | Divya, Deshmukh | U18 | w | N | IND | 2389 | MAH | 4 | 9 | 11 | 11,00 | 0 | 4 |
| 2 | 10 | WGM | Srija, Seshadri | | w | N | IND | 2226 | TN | 4 | 8 | 10 | 10,00 | 0 | 4 |
| | 19 | WIM | Bommini, Mounika Akshaya | U20 | w | N | IND | 2094 | AP | 4 | 8 | 10 | 10,00 | 0 | 4 |
| 4 | 9 | WIM | Mahalakshmi, M | | w | N | IND | 2242 | RSPB | 4 | 7,5 | 8 | 8,00 | 0 | 4 |
| 5 | 3 | IM | Kulkarni, Bhakti | | w | N | IND | 2315 | GOA | 3,5 | 9,5 | 12 | 10,25 | 0 | 3 |
| 6 | 18 | WGM | Varshini, V | | w | N | IND | 2120 | TN | 3,5 | 8,5 | 10,5 | 8,75 | 0 | 3 |
| 7 | 11 | WIM | Chitlange, Sakshi | | w | N | IND | 2225 | MAH | 3,5 | 8,5 | 10 | 8,50 | 0 | 3 |
| 8 | 67 | | Sherali, Pattnaik | U14 | w | N | IND | 1565 | UTT | 3,5 | 8,5 | 8,5 | 6,75 | 0 | 3 |
| 9 | 6 | IM | Soumya, Swaminathan | | w | N | IND | 2293 | PSPB | 3,5 | 8 | 10 | 8,75 | 0 | 3 |
| 10 | 13 | IM | Mohota, Nisha | | w | N | IND | 2185 | PSPB | 3,5 | 7,5 | 9,5 | 7,75 | 0 | 3 |
| 11 | 12 | WIM | Salonika, Saina | U20 | w | N | IND | 2223 | ODI | 3,5 | 7,5 | 8,5 | 7,25 | 0 | 3 |
| 12 | 4 | WGM | Gomes, Mary Ann | | w | N | IND | 2315 | PSPB | 3,5 | 7 | 9 | 7,75 | 0 | 3 |
| | 5 | IM | Karavade, Eesha | | w | N | IND | 2293 | PSPB | 3,5 | 7 | 9 | 7,75 | 0 | 3 |
| 14 | 2 | IM | Padmini, Rout | | w | N | IND | 2353 | PSPB | 3 | 10 | 13 | 9,00 | 0 | 3 |
| 15 | 34 | | Velpula, Sarayu | U18 | w | S | IND | 1845 | TEL | 3 | 9,5 | 12 | 8,75 | 0 | 2 |
| 16 | 15 | WIM | Arpita, Mukherjee | | w | N | IND | 2160 | WB | 3 | 9,5 | 11,5 | 7,50 | 0 | 3 |
| 17 | 23 | WIM | Mrudul, Dehankar | U20 | w | N | IND | 2030 | MAH | 3 | 9 | 11 | 7,00 | 0 | 3 |
| 18 | 51 | | Kalyani, Sirin | U14 | w | N | IND | 1660 | KER | 3 | 8,5 | 10,5 | 7,00 | 0 | 3 |
| 19 | 20 | WFM | Saranya, J | | w | N | IND | 2050 | TN | 3 | 8,5 | 10 | 6,00 | 0 | 3 |
| 20 | 27 | | Mrittika, Mallick | U16 | w | S | IND | 1948 | WB | 3 | 8 | 10 | 6,00 | 0 | 3 |
Round 5 pairings
| | | | | | | | | | | | | | |
| --- | --- | --- | --- | --- | --- | --- | --- | --- | --- | --- | --- | --- | --- |
| Bo. | No. | | Name | Rtg | Club/City | Pts. | Result | Pts. | | Name | Rtg | Club/City | No. |
| 1 | 10 | WGM | Srija, Seshadri | 2226 | TN | 4 | | 4 | WGM | Divya, Deshmukh | 2389 | MAH | 1 |
| 2 | 19 | WIM | Bommini, Mounika Akshaya | 2094 | AP | 4 | | 4 | WIM | Mahalakshmi, M | 2242 | RSPB | 9 |
| 3 | 12 | WIM | Salonika, Saina | 2223 | ODI | 3½ | | 3½ | IM | Kulkarni, Bhakti | 2315 | GOA | 3 |
| 4 | 4 | WGM | Gomes, Mary Ann | 2315 | PSPB | 3½ | | 3½ | WIM | Chitlange, Sakshi | 2225 | MAH | 11 |
| 5 | 18 | WGM | Varshini, V | 2120 | TN | 3½ | | 3½ | IM | Karavade, Eesha | 2293 | PSPB | 5 |
| 6 | 6 | IM | Soumya, Swaminathan | 2293 | PSPB | 3½ | | 3½ | IM | Mohota, Nisha | 2185 | PSPB | 13 |
| 7 | 67 | | Sherali, Pattnaik | 1565 | UTT | 3½ | | 3 | IM | Padmini, Rout | 2353 | PSPB | 2 |
| 8 | 40 | | Rebecca, Jesumarian | 1750 | TN | 3 | | 3 | WIM | Sharma, Isha | 2267 | KAR | 7 |
| 9 | 8 | WGM | Pratyusha, Bodda | 2250 | AP | 3 | | 3 | WCM | Arushi, Kotwal | 1704 | JK | 43 |
| 10 | 15 | WIM | Arpita, Mukherjee | 2160 | WB | 3 | | 3 | | Sachi, Jain | 1675 | DEL | 49 |
Links
Gujarat State Chess Association: Official site
---