49th National Women 2023 R3: Divya Deshmukh averts a disaster against Mrittika Mallick
Top seed IM Divya Deshmukh averted disaster against Mrittika Mallick (WB) in the third round of 49th National Women 2023. The reigning National Under-17 Girls champion correctly launched an attack when the opportunity was presented. However, she was unable to follow through. Thus, the defending two-time National Women and reigning Asian Women 2023 Gold medalist managed to escape with a win. WFM Sai Nirupama Kotepalli (AP), WCM Bristy Mukherjee (WB) and Sarayu Velpula (TEL) held IM Eesha Karavade (PSPB), IM Soumya Swaminathan (PSPB) and WIM Sakshi Chitlange (MAH) to a solid draw each respectively. Round 4 starts today at 10 a.m. IST. All photos are by Ankit Dalal unless stated otherwise.
Missed opportunities
WIM Tejaswini Sagar (GUJ) missed a great opportunity to draw against the former Asian and National Women champion, IM Bhakti Kulkarni (Goa). 12-year-old Sherali Pattnaik (UTT) showed great tenacity against WGM Kiran Manisha Mohanty (LIC). Despite being lost for the better part of the game, she waited for her opportunity. Once she got it at the very end, she took it and scored the full point.
Mrittika - Divya
The reigning National Under-17 Girls champion, Mrittika Mallick (WB, 1948) seized her opportunity when her opponent made a mistake 17...Re8? The position demanded her to play 18.Ng5! and she made it. Black is forced to take it to prevent checkmate 18...fxg5 19.hxg5 Bxc5?? another mistake. Now White needed to play 20.Bxd5 first before going dxc5 then she could have scored the biggest victory of the tournament so far. Instead, she went 20.dxc5 Rxe4 Black got some life back into the position. 21.Bc3 Ne8. White has enough compensation for the lost piece. 22.Bf6? lost all advantage for White Nxf6 23.gxf6 Qxf6 Black has managed to equalize.
White needed to keep the rook on the board to have some chances to draw the game. Thus, 35.Kd2 was a necessity. 35.Kxe4?? Qxd1-+ and the resultant queen ending is completely winning for Black as she has a lot of extra pawns and there is no perpetual check opportunity for White.
Tejaswini - Bhakti
Position after 60...f3+
This endgame is a draw. However, White needs to play precisely. There is only one thing White should avoid - moving the king to the back rank. That is exactly what WIM Tejaswini Sagar (GUJ, 1931) did 61.Kg1?? Ke2 62.Rf5 Rxh5! and it's over for White. What White needed to do was 61.Kh3! f2 62.Kg2 Ke2 63.Rf5 Rg8+ 64.Kh3 Rg5 65.Rxf2+ Kxf2 66.Kh4 and it ends up in a draw.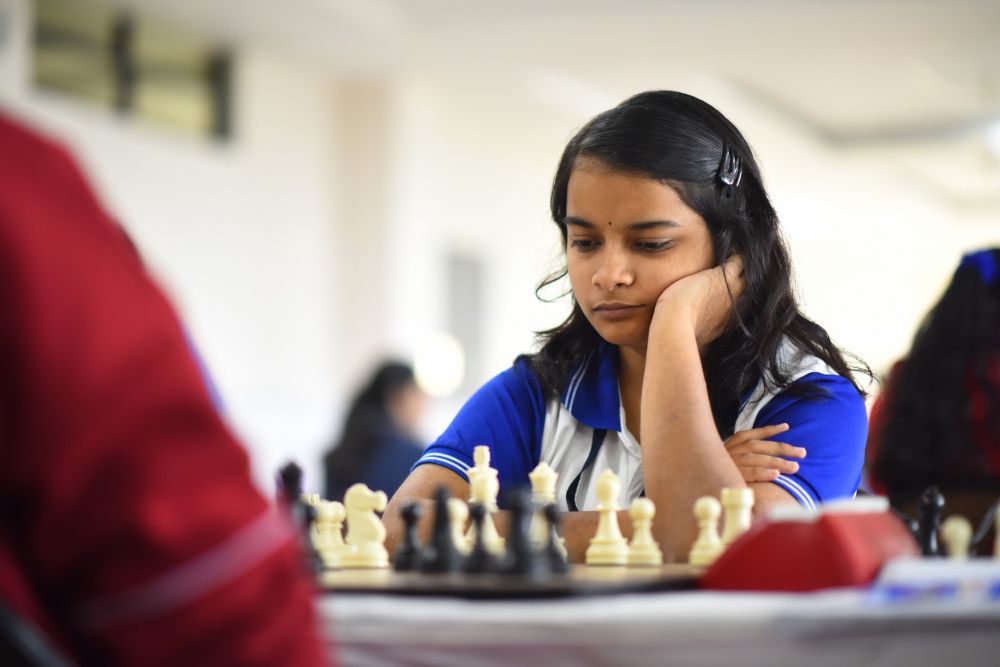 Sherali - Kiran
Black can still save the game. Find out how.
Replay Round 3 games
Round 3 results
| | | | | | | | | | | | | | |
| --- | --- | --- | --- | --- | --- | --- | --- | --- | --- | --- | --- | --- | --- |
| Bo. | No. | | Name | Rtg | Club/City | Pts. | Result | Pts. | | Name | Rtg | Club/City | No. |
| 1 | 27 | | Mrittika, Mallick | 1948 | WB | 2 | 0 - 1 | 2 | WGM | Divya, Deshmukh | 2389 | MAH | 1 |
| 2 | 2 | IM | Padmini, Rout | 2353 | PSPB | 2 | 1 - 0 | 2 | | Potluri, Saye Srreezza | 1919 | TEL | 29 |
| 3 | 28 | WIM | Tejaswini, Sagar | 1931 | GUJ | 2 | 0 - 1 | 2 | IM | Kulkarni, Bhakti | 2315 | GOA | 3 |
| 4 | 30 | WFM | Kotepalli, Sai Nirupama | 1899 | AP | 2 | ½ - ½ | 2 | IM | Karavade, Eesha | 2293 | PSPB | 5 |
| 5 | 6 | IM | Soumya, Swaminathan | 2293 | PSPB | 2 | ½ - ½ | 2 | WCM | Bristy, Mukherjee | 1885 | WB | 31 |
| 6 | 33 | WIM | Chandreyee, Hajra | 1845 | WB | 2 | 0 - 1 | 2 | WIM | Mahalakshmi, M | 2242 | RSPB | 9 |
| 7 | 10 | WGM | Srija, Seshadri | 2226 | TN | 2 | 1 - 0 | 2 | | Manasa, K. | 1827 | KAR | 35 |
| 8 | 34 | | Velpula, Sarayu | 1845 | TEL | 2 | ½ - ½ | 2 | WIM | Chitlange, Sakshi | 2225 | MAH | 11 |
| 9 | 38 | | Janani, J | 1764 | TN | 2 | 0 - 1 | 2 | IM | Mohota, Nisha | 2185 | PSPB | 13 |
| 10 | 40 | | Rebecca, Jesumarian | 1750 | TN | 2 | 0 - 1 | 2 | WIM | Arpita, Mukherjee | 2160 | WB | 15 |
Standings after Round 3
| | | | | | | | | | | | | | | | |
| --- | --- | --- | --- | --- | --- | --- | --- | --- | --- | --- | --- | --- | --- | --- | --- |
| Rk. | SNo | | Name | Typ | sex | Gr | FED | Rtg | Club/City | Pts. | TB1 | TB2 | TB3 | TB4 | TB5 |
| 1 | 1 | WGM | Divya, Deshmukh | U18 | w | N | IND | 2389 | MAH | 3 | 4 | 6 | 6,00 | 0 | 3 |
| | 2 | IM | Padmini, Rout | | w | N | IND | 2353 | PSPB | 3 | 4 | 6 | 6,00 | 0 | 3 |
| 3 | 3 | IM | Kulkarni, Bhakti | | w | N | IND | 2315 | GOA | 3 | 4 | 5,5 | 5,50 | 0 | 3 |
| | 13 | IM | Mohota, Nisha | | w | N | IND | 2185 | PSPB | 3 | 4 | 5,5 | 5,50 | 0 | 3 |
| | 20 | WFM | Saranya, J | | w | N | IND | 2050 | TN | 3 | 4 | 5,5 | 5,50 | 0 | 3 |
| 6 | 10 | WGM | Srija, Seshadri | | w | N | IND | 2226 | TN | 3 | 4 | 5 | 5,00 | 0 | 3 |
| | 18 | WGM | Varshini, V | | w | N | IND | 2120 | TN | 3 | 4 | 5 | 5,00 | 0 | 3 |
| | 19 | WIM | Bommini, Mounika Akshaya | U20 | w | N | IND | 2094 | AP | 3 | 4 | 5 | 5,00 | 0 | 3 |
| 9 | 9 | WIM | Mahalakshmi, M | | w | N | IND | 2242 | RSPB | 3 | 4 | 4 | 4,00 | 0 | 3 |
| | 67 | | Sherali, Pattnaik | U14 | w | N | IND | 1565 | UTT | 3 | 4 | 4 | 4,00 | 0 | 3 |
| 11 | 15 | WIM | Arpita, Mukherjee | | w | N | IND | 2160 | WB | 3 | 3,5 | 4,5 | 4,50 | 0 | 3 |
| 12 | 23 | WIM | Mrudul, Dehankar | U20 | w | N | IND | 2030 | MAH | 3 | 3 | 4 | 4,00 | 0 | 3 |
| 13 | 34 | | Velpula, Sarayu | U18 | w | S | IND | 1845 | TEL | 2,5 | 4,5 | 6,5 | 5,25 | 0 | 2 |
| 14 | 30 | WFM | Kotepalli, Sai Nirupama | | w | N | IND | 1899 | AP | 2,5 | 4,5 | 6 | 4,75 | 0 | 2 |
| 15 | 4 | WGM | Gomes, Mary Ann | | w | N | IND | 2315 | PSPB | 2,5 | 4,5 | 5,5 | 4,25 | 0 | 2 |
| | 5 | IM | Karavade, Eesha | | w | N | IND | 2293 | PSPB | 2,5 | 4,5 | 5,5 | 4,25 | 0 | 2 |
| | 6 | IM | Soumya, Swaminathan | | w | N | IND | 2293 | PSPB | 2,5 | 4,5 | 5,5 | 4,25 | 0 | 2 |
| | 11 | WIM | Chitlange, Sakshi | | w | N | IND | 2225 | MAH | 2,5 | 4,5 | 5,5 | 4,25 | 0 | 2 |
| | 31 | WCM | Bristy, Mukherjee | U20 | w | N | IND | 1885 | WB | 2,5 | 4,5 | 5,5 | 4,25 | 0 | 2 |
| 20 | 47 | | Kanishka, S | U16 | w | S | IND | 1676 | TN | 2,5 | 4 | 5 | 3,75 | 0 | 2 |
Round 4 pairings
| | | | | | | | | | | | | | |
| --- | --- | --- | --- | --- | --- | --- | --- | --- | --- | --- | --- | --- | --- |
| Bo. | No. | | Name | Rtg | Club/City | Pts. | Result | Pts. | | Name | Rtg | Club/City | No. |
| 1 | 1 | WGM | Divya, Deshmukh | 2389 | MAH | 3 | | 3 | WIM | Arpita, Mukherjee | 2160 | WB | 15 |
| 2 | 19 | WIM | Bommini, Mounika Akshaya | 2094 | AP | 3 | | 3 | IM | Padmini, Rout | 2353 | PSPB | 2 |
| 3 | 3 | IM | Kulkarni, Bhakti | 2315 | GOA | 3 | | 3 | WGM | Varshini, V | 2120 | TN | 18 |
| 4 | 9 | WIM | Mahalakshmi, M | 2242 | RSPB | 3 | | 3 | WFM | Saranya, J | 2050 | TN | 20 |
| 5 | 23 | WIM | Mrudul, Dehankar | 2030 | MAH | 3 | | 3 | WGM | Srija, Seshadri | 2226 | TN | 10 |
| 6 | 13 | IM | Mohota, Nisha | 2185 | PSPB | 3 | | 3 | | Sherali, Pattnaik | 1565 | UTT | 67 |
| 7 | 14 | WIM | Vishwa, Vasnawala | 2181 | GUJ | 2½ | | 2½ | WGM | Gomes, Mary Ann | 2315 | PSPB | 4 |
| 8 | 5 | IM | Karavade, Eesha | 2293 | PSPB | 2½ | | 2½ | WCM | Ankitha, Goud Palle | 1977 | TEL | 26 |
| 9 | 47 | | Kanishka, S | 1676 | TN | 2½ | | 2½ | IM | Soumya, Swaminathan | 2293 | PSPB | 6 |
| 10 | 7 | WIM | Sharma, Isha | 2267 | KAR | 2½ | | 2½ | | Velpula, Sarayu | 1845 | TEL | 34 |
Links
Gujarat State Chess Association: Official site
---