49th National Women 2023 R7: Bhakti Kulkarni gains sole lead
IM Bhakti Kulkarni (Goa) defeated IM Soumya Swaminathan (PSPB) to emerge sole leader 6.5/7 at 49th National Women Championship 2023. In a battle of former National Women champions, Bhakti made a beautiful staircase pawn break at the center of the board. She might not have correctly capitalized on her advantage. However, her opponent's erroneous play allowed her to regain control and win the game convincingly. WGM Mary Ann Gomes (PSPB) and WIM Mahalakshmi M (RSPB) won their respective games against WIM Mounika Akshaya Bommini (AP) and Rebecca Jesumarian (TN). WIM Tejaswini Sagar (GUJ) handed IM Divya Deshmukh (MAH) her second consecutive loss which means she is virtually out of the race for her title defense. Round 8 starts today at 10 a.m. IST. Photo: Kolhapur Chess Association
Divya loses two in-a-row
The defending champion, IM Divya Deshmukh (MAH) suffered her second consecutive loss of the event. Despite having an advantageous position, she misplayed, then declined a draw by repetition and went on to lose the game. WIM Mrudul Dehankar (MAH), Mrittika Mallick (WB) and Sneha Halder (WB) drew against WGM Varshini V (TN), IM Eesha Karavade (PSPB) and WIM Sakshi Chitlange (MAH) respectively. Sarayu Velpula (TEL) scored an upset over WIM Arpita Mukherjee (WB).
Soumya - Bhakti: 0-1
IM Bhakti Kulkarni (Goa, 2315) has not lost a game against IM Soumya Swaminathan (PSPB, 2293) at a National championship since 2015. Bhakti ensured that remains unchanged.
Having her king safely tucked away at a8 and White's king stranded at the middle of the board on d1, Bhakti found a nice staircase break 19...f6! 20.exf6 e5! 21.dxe5 d4! 22.Ke1 d3. 22...Bc2 was better as d3 allowed White to get back in the game 23.cxd3 cxd3 24.e6 now Black has things to be worried about. 24.Qxa4 Qxe5 25.Nf4 dxe2 26.Nxe2 Rxf6 27.Bf4 Qd5 and Black went on to win the game.
Mary - Mounika
WGM Mary Ann Gomes (2315) could have won her game a lot earlier, if she had spotted her opponent, WIM Mounika Akshaya Bommini (AP, 2094) blundering 30...Ra6?? Find out what White missed in the game.
Rebecca - Mahalakshmi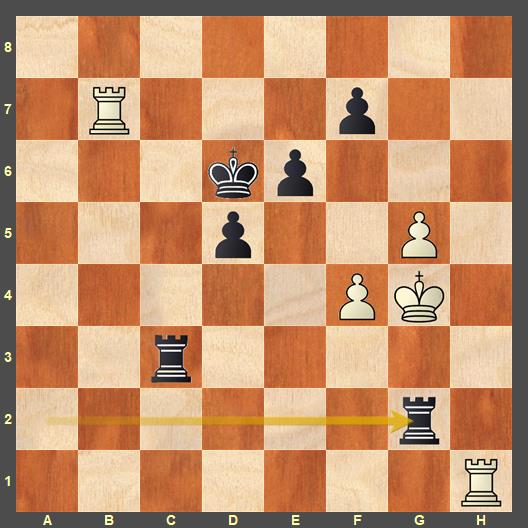 h4 or h5 which is the safe square for the king move? Rebecca Jesumarian (TN, 1750) blundered and lost her game against WIM Mahalakshmi M (RSPB, 2242).
Tejaswini - Divya
A simple 31...Nxf2 32.Rxf2 fxg3 33.hxg3 Bxg3 would have kept the decisive advantage for Black. Instead, she went for the flashy 31...Nxh2? which allows White to equalize 32.Qd3 Qe7 33.Kxh2 fxg3+ 34.Bxg3 Rh4+ 35.Kg1 Qxg5 36.Rg2 Rg4 37.Kf2 Qf6+ 38.Kg1 Qg5 39.Kf2 Black should have been with a draw and repeated moves Qf6. Instead, she overpushed 39...Be5, tried her luck and eventually went on to lose.
A total of 156 players including 6 IMs, 6 WGMs and 10 WIMs are taking part from various states and units across the country in this eleven-day eleven-round Swiss League National Women Rating tournament. The tournament is organized by Gujarat State Chess Association at Rajpath Club in Ahmedabad, Gujarat from 30th June to 10th July 2023. The time control of the event is 90 mins/40 moves + 30 mins/end + 30 seconds increment from move no. 1.
Replay Round 7 games
Round 7 results
| | | | | | | | | | | | | | |
| --- | --- | --- | --- | --- | --- | --- | --- | --- | --- | --- | --- | --- | --- |
| Bo. | No. | | Name | Rtg | Club/City | Pts. | Result | Pts. | | Name | Rtg | Club/City | No. |
| 1 | 6 | IM | Soumya, Swaminathan | 2293 | PSPB | 5½ | 0 - 1 | 5½ | IM | Kulkarni, Bhakti | 2315 | GOA | 3 |
| 2 | 4 | WGM | Gomes, Mary Ann | 2315 | PSPB | 5 | 1 - 0 | 5 | WIM | Bommini, Mounika Akshaya | 2094 | AP | 19 |
| 3 | 40 | | Rebecca, Jesumarian | 1750 | TN | 5 | 0 - 1 | 5 | WIM | Mahalakshmi, M | 2242 | RSPB | 9 |
| 4 | 18 | WGM | Varshini, V | 2120 | TN | 5 | ½ - ½ | 5 | WIM | Mrudul, Dehankar | 2030 | MAH | 23 |
| 5 | 28 | WIM | Tejaswini, Sagar | 1931 | GUJ | 4½ | 1 - 0 | 4½ | WGM | Divya, Deshmukh | 2389 | MAH | 1 |
| 6 | 30 | WFM | Kotepalli, Sai Nirupama | 1899 | AP | 4½ | 0 - 1 | 4½ | IM | Padmini, Rout | 2353 | PSPB | 2 |
| 7 | 27 | | Mrittika, Mallick | 1948 | WB | 4½ | ½ - ½ | 4½ | IM | Karavade, Eesha | 2293 | PSPB | 5 |
| 8 | 10 | WGM | Srija, Seshadri | 2226 | TN | 4½ | 1 - 0 | 4½ | WFM | Nimmy, A.G. | 2151 | KER | 17 |
| 9 | 36 | | Sneha, Halder | 1807 | WB | 4½ | ½ - ½ | 4½ | WIM | Chitlange, Sakshi | 2225 | MAH | 11 |
| 10 | 12 | WIM | Salonika, Saina | 2223 | ODI | 4½ | 0 - 1 | 4½ | WGM | Kiran, Manisha Mohanty | 2049 | LIC | 21 |
Standings after Round 7
| | | | | | | | | | | | | | | | |
| --- | --- | --- | --- | --- | --- | --- | --- | --- | --- | --- | --- | --- | --- | --- | --- |
| Rk. | SNo | | Name | Typ | sex | Gr | FED | Rtg | Club/City | Pts. | TB1 | TB2 | TB3 | TB4 | TB5 |
| 1 | 3 | IM | Kulkarni, Bhakti | | w | N | IND | 2315 | GOA | 6,5 | 30 | 33 | 30,25 | 0 | 6 |
| 2 | 9 | WIM | Mahalakshmi, M | | w | N | IND | 2242 | RSPB | 6 | 29 | 32,5 | 27,00 | 0 | 5 |
| 3 | 4 | WGM | Gomes, Mary Ann | | w | N | IND | 2315 | PSPB | 6 | 29 | 31,5 | 26,25 | 0 | 5 |
| 4 | 10 | WGM | Srija, Seshadri | | w | N | IND | 2226 | TN | 5,5 | 29 | 32 | 23,25 | 0 | 5 |
| 5 | 6 | IM | Soumya, Swaminathan | | w | N | IND | 2293 | PSPB | 5,5 | 28,5 | 32,5 | 23,75 | 0 | 5 |
| 6 | 34 | | Velpula, Sarayu | U18 | w | S | IND | 1845 | TEL | 5,5 | 28 | 31,5 | 24,25 | 0 | 4 |
| 7 | 18 | WGM | Varshini, V | | w | N | IND | 2120 | TN | 5,5 | 28 | 30,5 | 22,00 | 0 | 4 |
| 8 | 23 | WIM | Mrudul, Dehankar | U20 | w | N | IND | 2030 | MAH | 5,5 | 27 | 30 | 21,75 | 0 | 5 |
| 9 | 2 | IM | Padmini, Rout | | w | N | IND | 2353 | PSPB | 5,5 | 26,5 | 30 | 22,50 | 0 | 5 |
| 10 | 28 | WIM | Tejaswini, Sagar | | w | N | IND | 1931 | GUJ | 5,5 | 26 | 28,5 | 19,75 | 0 | 5 |
| 11 | 21 | WGM | Kiran, Manisha Mohanty | | w | N | IND | 2049 | LIC | 5,5 | 25 | 27,5 | 21,75 | 0 | 5 |
| 12 | 19 | WIM | Bommini, Mounika Akshaya | U20 | w | N | IND | 2094 | AP | 5 | 30 | 33,5 | 22,00 | 0 | 4 |
| 13 | 11 | WIM | Chitlange, Sakshi | | w | N | IND | 2225 | MAH | 5 | 29 | 32,5 | 21,25 | 0 | 4 |
| 14 | 5 | IM | Karavade, Eesha | | w | N | IND | 2293 | PSPB | 5 | 28,5 | 32 | 22,00 | 0 | 3 |
| 15 | 27 | | Mrittika, Mallick | U16 | w | S | IND | 1948 | WB | 5 | 28,5 | 31,5 | 21,25 | 0 | 4 |
| 16 | 8 | WGM | Pratyusha, Bodda | | w | N | IND | 2250 | AP | 5 | 26,5 | 29,5 | 19,50 | 0 | 5 |
| 17 | 7 | WIM | Sharma, Isha | | w | N | IND | 2267 | KAR | 5 | 25,5 | 28,5 | 19,25 | 0 | 4 |
| 18 | 40 | | Rebecca, Jesumarian | U18 | w | N | IND | 1750 | TN | 5 | 25,5 | 27 | 17,00 | 0 | 5 |
| 19 | 69 | ACM | Nivedita, V C | U12 | w | N | IND | 1529 | TN | 5 | 24 | 25,5 | 15,00 | 0 | 5 |
| 20 | 36 | | Sneha, Halder | U14 | w | S | IND | 1807 | WB | 5 | 23 | 25,5 | 18,50 | 0 | 4 |
Round 8 pairings
| | | | | | | | | | | | | | |
| --- | --- | --- | --- | --- | --- | --- | --- | --- | --- | --- | --- | --- | --- |
| Bo. | No. | | Name | Rtg | Club/City | Pts. | Result | Pts. | | Name | Rtg | Club/City | No. |
| 1 | 3 | IM | Kulkarni, Bhakti | 2315 | GOA | 6½ | | 6 | WGM | Gomes, Mary Ann | 2315 | PSPB | 4 |
| 2 | 9 | WIM | Mahalakshmi, M | 2242 | RSPB | 6 | | 5½ | IM | Soumya, Swaminathan | 2293 | PSPB | 6 |
| 3 | 2 | IM | Padmini, Rout | 2353 | PSPB | 5½ | | 5½ | WGM | Varshini, V | 2120 | TN | 18 |
| 4 | 21 | WGM | Kiran, Manisha Mohanty | 2049 | LIC | 5½ | | 5½ | WGM | Srija, Seshadri | 2226 | TN | 10 |
| 5 | 23 | WIM | Mrudul, Dehankar | 2030 | MAH | 5½ | | 5½ | WIM | Tejaswini, Sagar | 1931 | GUJ | 28 |
| 6 | 19 | WIM | Bommini, Mounika Akshaya | 2094 | AP | 5 | | 5½ | | Velpula, Sarayu | 1845 | TEL | 34 |
| 7 | 5 | IM | Karavade, Eesha | 2293 | PSPB | 5 | | 5 | | Sneha, Halder | 1807 | WB | 36 |
| 8 | 7 | WIM | Sharma, Isha | 2267 | KAR | 5 | | 5 | | Mrittika, Mallick | 1948 | WB | 27 |
| 9 | 39 | | Rindhiya, V | 1764 | TN | 5 | | 5 | WGM | Pratyusha, Bodda | 2250 | AP | 8 |
| 10 | 11 | WIM | Chitlange, Sakshi | 2225 | MAH | 5 | | 5 | | Rebecca, Jesumarian | 1750 | TN | 40 |
Links
Gujarat State Chess Association: Official site
---