Padmini Rout becomes five times National Women champion by convincingly clinching the 49th edition
IM Padmini Rout (PSPB) defeated the defending champion IM Divya Deshmukh (MAH) convincingly to become 49th National Women 2023 champion. Despite suffering a loss against the eventual tenth place finisher, WIM Mounika Akshaya Bommini (AP), Padmini bounced back by scoring 6/7 in the next seven games. Apart from her own performance of 9/11, her championship was secured thanks to WIM Isha Sharma's (KAR) resilience against WGM Mary Ann Gomes (PSPB). Mary was winning the better part of the endgame. However, she missed all her opportunities and could only manage a draw. Thus, missing the first place and had to settle with the runner-up scoring 8.5/11. WIM Arpita Mukherjee (WB) defeated former National Women champion, IM Bhakti Kulkarni (Goa) to secure third place 8.5/11. Photo: Ankit Dalal
Mary secures second place in two consecutive editions
"I am feeling very happy, especially how the tournament went and how I conducted myself." - IM Padmini Rout on winning 49th National Women Chess Championship 2023. This is also her favorite triumph among all the five National Women titles she has won. Whether she prefers the Round-Robin or Swiss League format, the 41st Olympiad individual Gold medalist responded, "I am not sure which one I prefer, both are tough. Both have it's pros and cons."
Padmini - Divya: 1-0
Before the final round battle for the championship, IM Padmini Rout (PSPB, 2353) had played two rated game against IM Divya Deshmukh (MAH, 2389). The score was 1-1, both players had a win over the other. This was their first-ever Classical rated game. It is also Padmini's favorite game of the event. She mentioned, "There were nerves, preparation, good sleep. I was playing the top seed and the reigning champion. I think it was a good game."
White certainly has a stronghold at the center of the board, thanks to her knight at e5. 24.f4 consolidated it. Divya made a positional mistake 24...Nxe5? 25.dxe5! ensuring no counterplay on the kingside for Black. 25...Qb8 26.Nf3 Rc8 27.Nd4 knight is the best blockader, and Black's bishop is now a glorified pawn. 27...Rfe8 28.Rxc8 Rxc8 29.h3 soon White beautifully maneuvered her knight to convert her positional advantage into a material one.
Just when it seemed like Black has managed to setup a defense using her bishop and queen battery, White found a very nice resource 45.e6! The idea is to sacrifice the pawn and remove Black's d4 to open up the position. White crashed through Black's defenses and won the game in another eight moves.
"A few of the rounds GM Swayams (Mishra) helped me during the tournament and we have training sessions sometimes when possible." - Padmini on whom she is currently working with.
Players who have won National Women championship five times or more:
6 - IM Subbaraman Vijayalakshmi (1995, 1998, 1999, 2000, 2001, 2002)
5 - WIM Rohini Khadilkar (1976, 1977, 1979, 1981 and 1983), WIM Bhagyashree Sathe Thipsay (1985, 1986, 1988, 1991, 1994), WIM Anupama Abhyankar Gokhale (1989, 1990, 1991, 1993, 1997) and IM Padmini Rout (2014, 2015, 2016, 2017, 2023)
"It would be important to be able to keep the title as you qualify for Asians and sometimes the World Cup but not necessarily to make the record." when asked about her thoughts on being one victory away from making a tie with IM Subbaraman Vijayalakshmi's record of winning the National Women title a record six times."
Arpita - Bhakti: 1-0
WIM Arpita Mukherjee (WB, 2160) had never faced IM Bhakti Kulkarni (Goa, 2315) in a rated game until this game. Bhakti opted for a passive line in French Defense. She got herself in a slightly inferior position.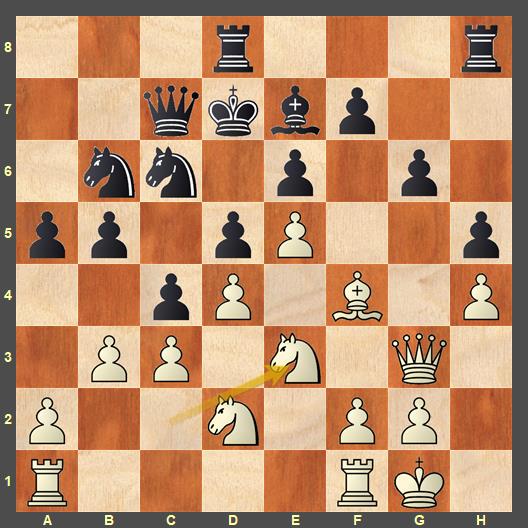 Black went for an incorrect break 20...b4 21.bxc4 bxc3 here White had an interesting continuation 22.Nxd5 Nxd5 23.cxd5 cxd2 24.d6. Instead, White decided to go for a relatively quiet 22.Nf3. Soon Black sacrificed her knight to create an imbalance. She never got enough compensation for it and White went on to win the game.
Mary - Isha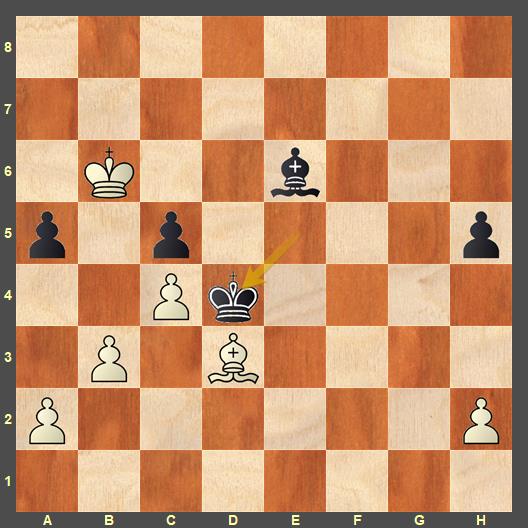 WGM Mary Ann Gomes (PSPB, 2315) was completely winning for the better part of the endgame against WIM Isha Sharma (KAR, 2267). 43.Bg6 is also winning for White. 43.Be2 is slightly better as it prevents a4. White missed all her opportunities. Isha persevered a lost position and eventually salvaged a draw.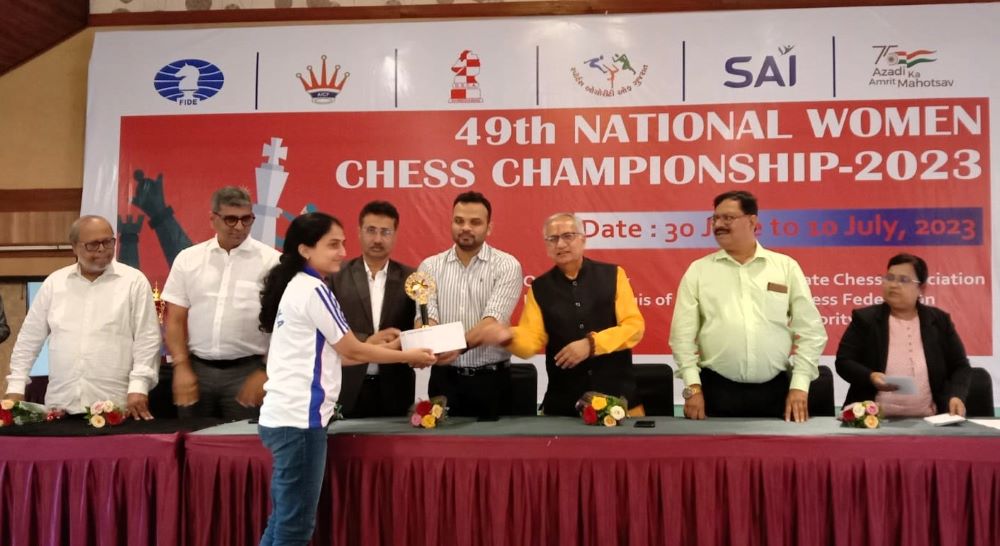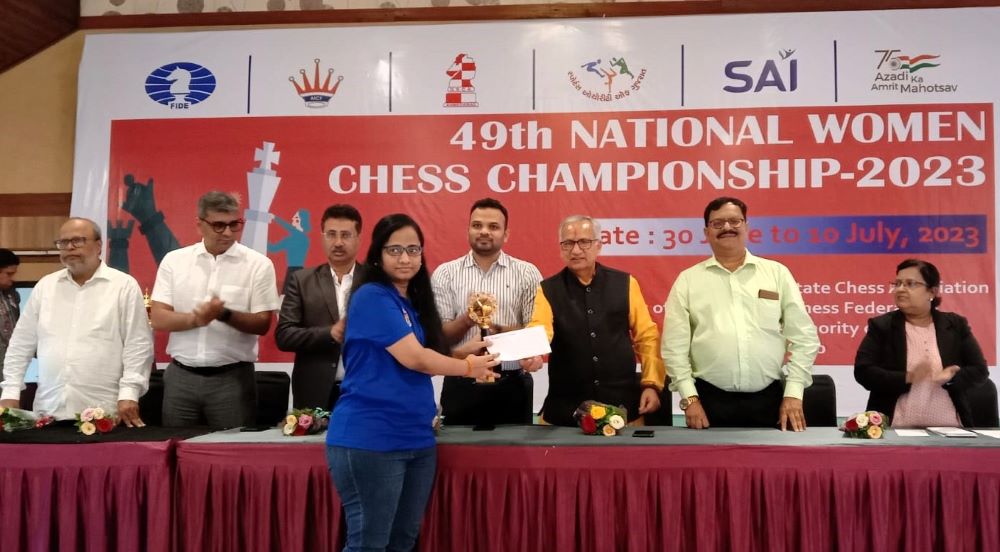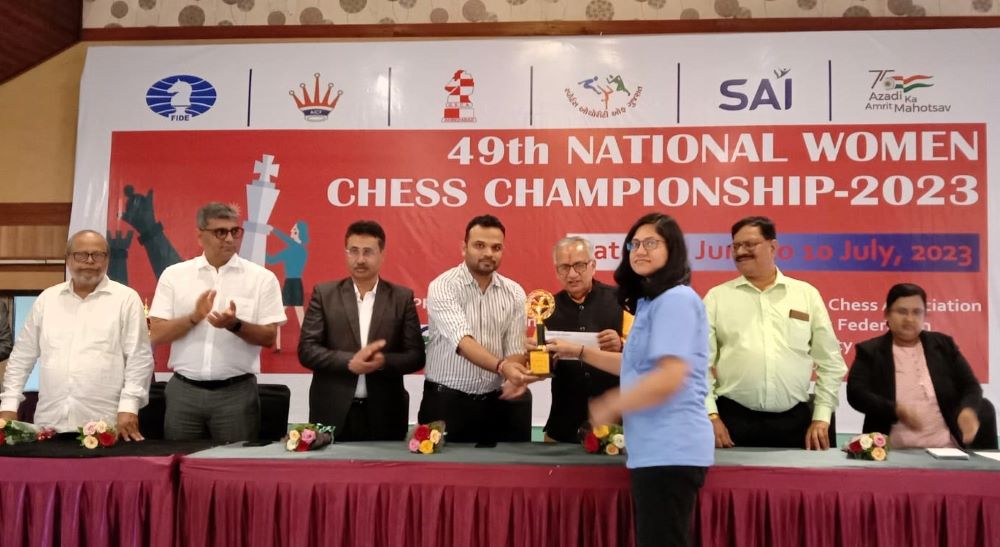 A total of 156 players including 6 IMs, 6 WGMs and 10 WIMs took part from various states and units across the country in this eleven-day eleven-round Swiss League National Women Rating tournament. The tournament was organized by Gujarat State Chess Association at Rajpath Club in Ahmedabad, Gujarat from 30th June to 10th July 2023. The time control of the event was 90 mins/40 moves + 30 mins/end + 30 seconds increment from move no. 1.
Replay Round 11 games
Round 11 results
| | | | | | | | | | | | | | | |
| --- | --- | --- | --- | --- | --- | --- | --- | --- | --- | --- | --- | --- | --- | --- |
| Bo. | No. | | Name | Rtg | Club/City | Pts. | Result | Pts. | | Name | Rtg | Club/City | No. | PGN |
| 1 | 2 | IM | Padmini, Rout | 2353 | PSPB | 8 | 1 - 0 | 7½ | WGM | Divya, Deshmukh | 2389 | MAH | 1 | PGN |
| 2 | 15 | WIM | Arpita, Mukherjee | 2160 | WB | 7½ | 1 - 0 | 8 | IM | Kulkarni, Bhakti | 2315 | GOA | 3 | PGN |
| 3 | 4 | WGM | Gomes, Mary Ann | 2315 | PSPB | 8 | ½ - ½ | 7½ | WIM | Sharma, Isha | 2267 | KAR | 7 | PGN |
| 4 | 9 | WIM | Mahalakshmi, M | 2242 | RSPB | 7½ | 0 - 1 | 7 | WIM | Chitlange, Sakshi | 2225 | MAH | 11 | PGN |
| 5 | 6 | IM | Soumya, Swaminathan | 2293 | PSPB | 7 | ½ - ½ | 7 | | Kalyani, Sirin | 1660 | KER | 51 | PGN |
| 6 | 8 | WGM | Pratyusha, Bodda | 2250 | AP | 7 | ½ - ½ | 7 | WFM | Nimmy, A.G. | 2151 | KER | 17 | PGN |
| 7 | 28 | WIM | Tejaswini, Sagar | 1931 | GUJ | 7 | ½ - ½ | 7 | WGM | Srija, Seshadri | 2226 | TN | 10 | PGN |
| 8 | 20 | WFM | Saranya, J | 2050 | TN | 7 | ½ - ½ | 7 | IM | Mohota, Nisha | 2185 | PSPB | 13 | PGN |
| 9 | 19 | WIM | Bommini, Mounika Akshaya | 2094 | AP | 7 | ½ - ½ | 7 | WGM | Kiran, Manisha Mohanty | 2049 | LIC | 21 | PGN |
| 10 | 33 | WIM | Chandreyee, Hajra | 1845 | WB | 6½ | 1 - 0 | 7 | WIM | Mrudul, Dehankar | 2030 | MAH | 23 | PGN |
Final standings after Round 11
| | | | | | | | | | | | | | | | |
| --- | --- | --- | --- | --- | --- | --- | --- | --- | --- | --- | --- | --- | --- | --- | --- |
| Rk. | SNo | | Name | Typ | sex | Gr | FED | Rtg | Club/City | Pts. | TB1 | TB2 | TB3 | TB4 | TB5 |
| 1 | 2 | IM | Padmini, Rout | | w | N | IND | 2353 | PSPB | 9 | 69 | 74,5 | 59,75 | 0 | 8 |
| 2 | 4 | WGM | Gomes, Mary Ann | | w | N | IND | 2315 | PSPB | 8,5 | 72 | 77,5 | 59,25 | 0 | 6 |
| 3 | 15 | WIM | Arpita, Mukherjee | | w | N | IND | 2160 | WB | 8,5 | 68,5 | 73,5 | 55,75 | 0 | 8 |
| 4 | 3 | IM | Kulkarni, Bhakti | | w | N | IND | 2315 | GOA | 8 | 76 | 81,5 | 54,75 | 0 | 6 |
| 5 | 11 | WIM | Chitlange, Sakshi | | w | N | IND | 2225 | MAH | 8 | 70,5 | 75 | 51,75 | 0 | 6 |
| 6 | 7 | WIM | Sharma, Isha | | w | N | IND | 2267 | KAR | 8 | 67,5 | 71,5 | 51,50 | 0 | 6 |
| 7 | 9 | WIM | Mahalakshmi, M | | w | N | IND | 2242 | RSPB | 7,5 | 74,5 | 79,5 | 52,00 | 0 | 5 |
| 8 | 1 | WGM | Divya, Deshmukh | U18 | w | N | IND | 2389 | MAH | 7,5 | 73,5 | 79,5 | 51,75 | 0 | 7 |
| 9 | 10 | WGM | Srija, Seshadri | | w | N | IND | 2226 | TN | 7,5 | 73,5 | 79 | 51,25 | 0 | 6 |
| 10 | 19 | WIM | Bommini, Mounika Akshaya | U20 | w | N | IND | 2094 | AP | 7,5 | 73 | 77,5 | 49,75 | 0 | 5 |
Links
Gujarat State Chess Association: Official site
---