3rd Gujarat GM Open R5-6: 12-year-old Daakshin Arun outplays GM Sandipan Chanda
12-year-old CM Daakshin Arun played beautiful positional chess to beat the strong GM Sandipan Chanda in Round 6 of 3rd Gujarat International GM Open 2022. GM Neelotpal Das, IM Nitin S, IM Srihari L R, IM Ortik Nigmatov (UZB) and GM Hesham Abdelrahman (EGY) are the five leaders at 5.5/6. Neelotpal beat GM Azer Mirzoev (AZE) and Nitin won against Anilkumar in the fifth round. They drew their game against each other in the sixth round. IM Srihari L R beat the reigning National Junior champion, IM Neelash Saha in Round 6 to rejoin the lead. WIM Arpita Mukherjee is currently the highest scorer among female participants. Round 7 starts today at 10:00 a.m. IST. Photo: Aditya Sur Roy
Srihari regains the lead
Apart from Daakshin, Shiva Pavan Teja Sharma U beat GM Cristhian Camilo Rios (COL) in Round 6. Sparsh Khandelwal, Shriraj Bhosale and Ritvik Krishnan were victorious against an IM each. Daakshin won the December Youtube membership funds which helped him to participate in this event.
Round 5: Azer - Neelotpal: 0-1
GM Azer Mirzoev (AZE, 2476) went for a queenless endgame after exchanging queens on the twelfth move against GM Neelotpal Das (2409).
27.Rdc1 allowed Black to improve his position Nd3 28.Rcb1 a3! 29.bxa3 Na4 30.Rb7 Bf8 31.Nb3 Nxc3 32.Nxc3 a4 33.Nc1 Rxd4. White not only lost the d4-pawn but the position also fell apart in a hurry.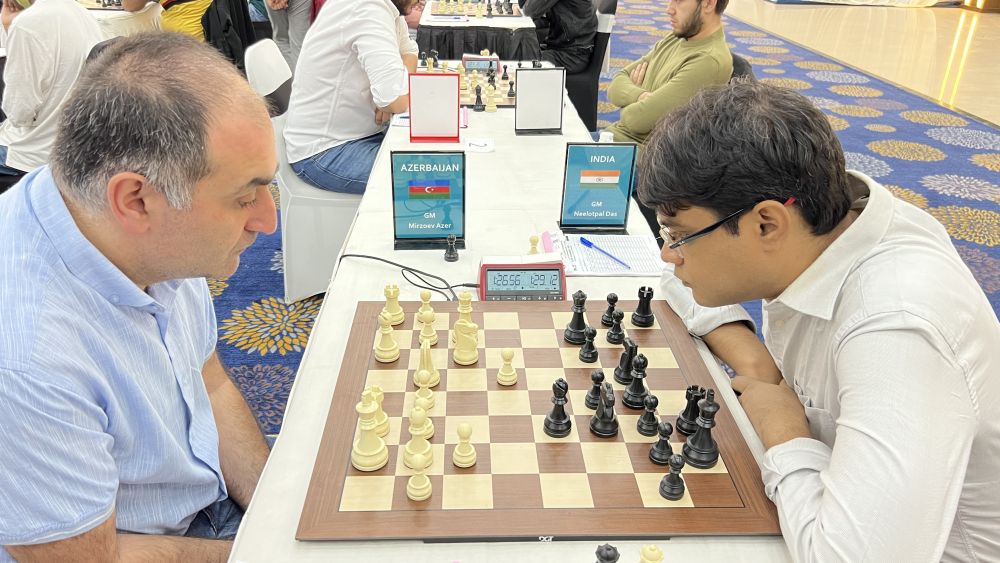 Nitin - Anilkumar: 1-0
IM Nitin S (2427) brought Anilkumar O T's (1915) fantastic momentum to a screeching halt.
15...Ba4 traps his own bishop and ignores White's potential attack on the kingside. White played 16.b5 to ensure the bishop is unable to retreat. 16...Rf5 17.Bd3 Bxc2 18.Bxc2 Rf8 19.Qd3 Rf5 20.g4 and it's over for Black. He decided to give up an exchange 20...Bxe5 in order to keep his king safe. However, that also led to the same effect of White winning the game.
Round 6: Neelash - Srihari: 0-1
IM Srihari L R (2400) defeated the reigning National Junior champion, IM Neelash Saha (2415). Despite having the upper hand for the better part of the game, a missed opportunity and mistake cost latter the game.
38.Bc1 was played here to prepare for a3. White actually could have played 38.a3 directly as Bxa3 39.Bxh6 maintains the advantage for White. If Black does not take on a3, the c5-pawn will drop.
53.a5 keeps things in balance. However, 53.Rc3 gives Black the opportunity he wanted 53...c4+ 54.Ke2 Rf2+ 55.Kd1 the white king gets pushed to the rim and now the black king can play a crucial role in earning a full point.
Daakshin - Sandipan: 1-0
12-year-old CM Daakshin Arun (2173) showed great positional understanding against the well experienced and strong GM Sandipan Chanda (2485).
The kid shows fantastic understanding of the position when he played 20.b4. It vacates the c4-square for the knight to occupy which actually happened in the game. However, White was ready with a remedy for it. 20...Nd6 21.Ne5 Qc7 22.b5 Bb7 23.Rc1 Nc4 24.Qe2 and now Black cannot avoid losing the d5-pawn. Not only the pawn, Black's position also becomes worse. White just made the realization of the advantage into a win, look easy which was not actually that easy.
For more Round 5 and Round 6 photos, please click at the respective links.
A total of 374 players including 14 GMs, 30 IMs and 3 WIM are taking part from 14 countries across the world including India. The tournament is organized by Gujarat State Chess Association from 31st March to 7th April 2022 at Karnavati Club, Ahmedabad. The ten-round Swiss league tournament has a time control of 90 minutes + 30 seconds increment from move no.1.
Replay Round 5-6 games
Round 6 results
Round 7 pairings
---