19th Delhi GM Open R7: Arjun Erigaisi and Gukesh ascend to the top
Top seed GM Arjun Erigaisi, GM Pavel Ponkratov, GM D Gukesh, GM Harsha Bharathakoti and IM Ortik Nigmatov (UZB) scored a victory each to join the seven-way lead at 19th Delhi International GM Open 2022. The remaining two are previous round leaders GM Lalit Rohit and GM Karthik Venkataraman who drew their game against each other. Gukesh arguably played the most exciting game of the round. 14 players are in the chase at 5.5/7. Current National Women champion WGM Divya Deshmukh defeated National Under-13 Girls 2019 champion, Sarayu Velpula. Round 8 starts today at 10:00 a.m. IST. Photo: Aditya Sur Roy
Seven in the lead
10-year-old Kian Dishank Shah (1339) defeated IM Praveen Kumar C (2158).
Lalith - Karthik: 0.5-0.5
GM Lalit Rohit (2558) got his opponent GM Karthik Venkataraman (2485) on the ropes.
26.Ne5 Rf6 27.Nf3 ensures White maintains the upper hand. The game continued 26.Rc7 Rg7 27.Ne5 Rd8 28.Rdc1 Nd7 29.Nf3 Nc5 30.Ng5+ White found the correct knight maneuvering, although it was not as effective as it could have been due to the displacement of the rooks. Black equalized and the game ended in a draw.
Gukesh - Tahbaz: 1-0
GM D Gukesh (2614) defeated IM Tahbaz Arash (IRI, 2469) in a very exciting game.
Gukesh had made his intentions very clear early in the game 11.g4 which his opponent took in the next move 12...fxg4. Black's position seemed worse in a hurry and once again White announced that he is playing for only one result 17.f3. Of course taking on f4 with either piece results in an immediate loss after 18.Rxh7+ followed by Qh2+, Qh6# or Qxg6 depending on the variation. Black was forced to play 17...h5 18.gxh6+ Kh7 19.Rg1 Qf6 20.Bxd7 exf4 21.Bxc8 Rxc8 22.e4 dxe4 23.fxe4 f3 24.0-0-0 Qf4+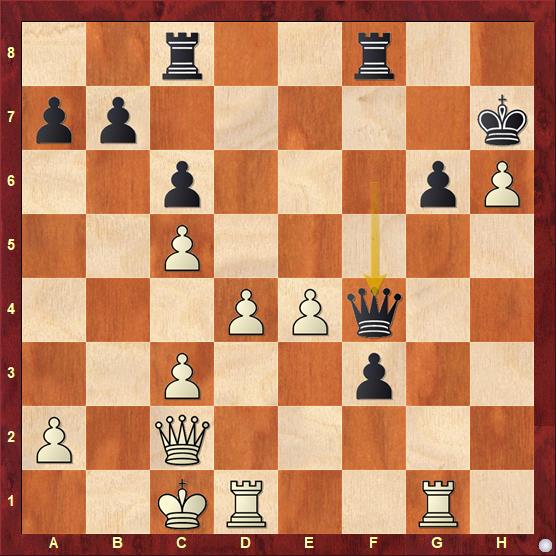 The position is absolutely complex due to the imbalance. 25.Rd2 g5 26.e5+ Rf5 computer would say Black would have had decisive advantage after 26...Kh8 which is not easy to find for humans and especially when you are playing against someone like Gukesh, one is bound to get rattled.
Once again Black should have retreated his king back 34...Kh8 was safer. Find out the winning continuation for White after 34...Kg6
Mahdi - Abhijeet: 0-1
GM Abhijeet Gupta (2628) scored a nice combination against Mahdi Gholami Orimi (IRI, 2420).
Find out the winning continuation for Black after 43.Qf3.
For more Round 7 photos, please click here.
A total of 298 players including 21 GMs, 26 IMs, 3 WGMs and 6 WIMs are taking part from 13 federations across the world including India. The tournament is organized by Delhi Chess Association from 22nd to 29th March 2022 at Tivoli Grand Resort Hote, New Delhi. The ten-round Swiss league tournament has a time control of 90 minutes + 30 seconds increment from move no.1. Accelerated pairings are used in the first three rounds.
Replay Round 7 games
Round 7 results
Round 8 pairings
---