19th Delhi GM Open R2-3: Rohith Krishna showcases his endgame endurance
16-year-old FM Rohith Krishna S had a fantastic second day at 19th Delhi International GM Open 2022. The 2304-rated teenager first survived an endgame against GM Deepan Chakkravarthy in Round 2. In the third round, Rohith was once again in another Rook and Knight endgame, only this time it was his opponent, the five-time Commonwealth Gold medalist, GM Abhijeet Gupta who needed to play accurately to save the day. Unfortunately, he could not, and Rohith won the game. IM Shahil Dey beat GM Masoud Mosadeghpour. Accelerated pairings are over, now similar point group players or their nearest will be paired together. Round 4 starts today at 10:00 a.m. IST. Photo: Aditya Sur Roy
Sri Lanka no.1 Ranindu Dilshan Liyanage beats D Gukesh
Sri Lanka no.1 pulled a big shocker in the second round when he beat one of the tournament favorites GM D Gukesh. He drew the next round against GM Karthik Venkataraman. IM Padmini Rout drew both of his games against GM Abhijeet Gupta and GM Deepan Chakkravarthy. 13-year-old Shreyas Seshadri Nallore defeated GM Cristhian Camilo Rios (COL) in Round 2.
Round 3: Ranindu - Gukesh: 1-0
Sri Lanka no.1 FM Ranindu Dilshan Liyanage (2340) scored the biggest upset of the round by winning against one of the tournament favorites, GM D Gukesh (2614) in a back and forth game.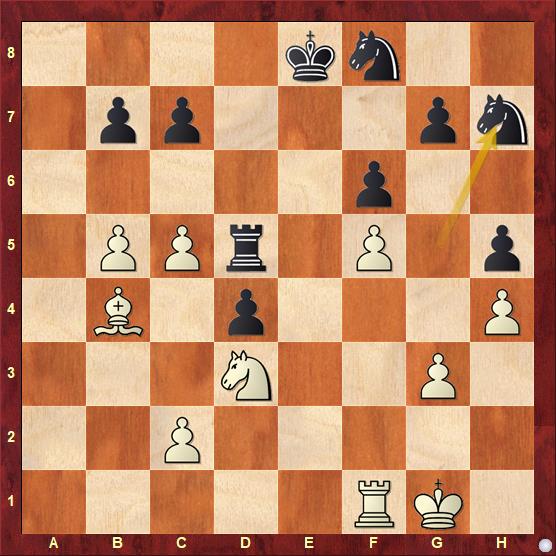 In a very humane game where both players had their fair share of advantages, it was Gukesh who made the final mistake. He cornered his own knight 43...Ngh7. The knight got virtually immobilized, it has nowhere to go. His opponent, Ranindu took advantage of it 44.Re1+ Kf7 45.Re4 Rxf5 46.Rxd4. Trying to reactivate his knights only accelerated the demise of Black's position.
Abhijeet - Padmini: 0.5-0.5
GM Abhijeet Gupta (2628) reached an interesting endgame against IM Padmini Rout (2350).
The queens got exchanged at e4 to reach the above position. The key element Black needs to remember is the g-pawn is expendable. Why? Because the knight cannot take the g-pawn without losing his own d4-pawn. If the king comes to take g5, Black will roll the h-pawn down the board. Thus, White will try to gain the e4-pawn and stop the g and h-pawns from being promoted. Black must carefully push the pawns, so that White cannot gobble them up and keep d4-pawn alive too. It is not that difficult if you know about magic box and pawn endings. Padmini being very strong in the endgame managed to find the draw without any difficulty.
Round 4: Rohith - Abhijeet: 1-0
FM Rohith Krishna S (2304) scored a big victory over GM Abhijeet Gupta (2628).
55...Kb5, Nc4 or b2 would have saved the game. However, 55...Kb4 loses the game for Black because Kb4 loses a tempo. It does not add anything to the position for Black since the threat of Nd3+ is looming large. Thus, Black lost the endgame which could have ended in a draw.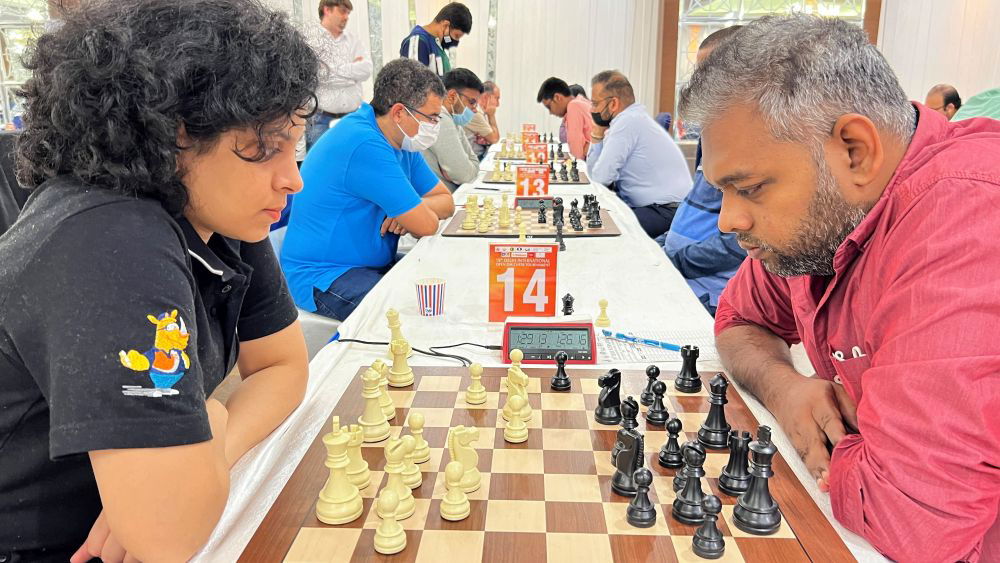 For more Round 2 and Round 3 photos, please click at the respective links.
A total of 298 players including 21 GMs, 26 IMs, 3 WGMs and 6 WIMs are taking part from 13 federations across the world including India. The tournament is organized by Delhi Chess Association from 22nd to 29th March 2022 at Tivoli Grand Resort Hote, New Delhi. The ten-round Swiss league tournament has a time control of 90 minutes + 30 seconds increment from move no.1. Accelerated pairings are used in the first three rounds.
Replay Round 2-3 games
Round 3 results
Round 4 pairings
---